It is never too soon to start reading to your little one! From the time they are in utero your baby is are already being stimulated through talking, singing and reading — all of which are believed to enhance your baby's intellectual development. Once they are born, reading aloud with your child is a wonderful shared activity that you can enjoy together for years to come. It is important stimulation that teaches them about communication, and introduces them to concepts such as numbers, letters, colors and shapes, while building their listening, memory and vocabulary skills. As a parent, I find myself stopping in stores and flipping through books trying to find new books that we will enjoy reading together. Here is my list of the top 20 books to read with your little one that both your child (and you) will enjoy!
20. BROWN BEAR BROWN BEAR WHAT DO YOU SEE?
Back in 1967 Bill Martin Jr and Eric Carle collaborated and came up with their first book together, Brown Bear, Brown Bear, What Do You See? It has since sparked inspiration for a whole series of beautiful books that have been favorites for many parents, caregivers, educators, and children.
The four book series includes: Brown Bear, Brown Bear, What Do You See?, Polar Bear, Polar Bear, What Do You Hear?, Panda Bear, Panda Bear, What Do You See? Baby Bear, Baby Bear, What Do You See? Little ones will discover colors with the classic Brown Bear, sounds with Polar Bear, endangered species with Panda Bear, and North American animals with Baby Bear. I remember these being a favorite of mine when I was little, and now as a parent I am happy to see they are a go-to favorite of my son!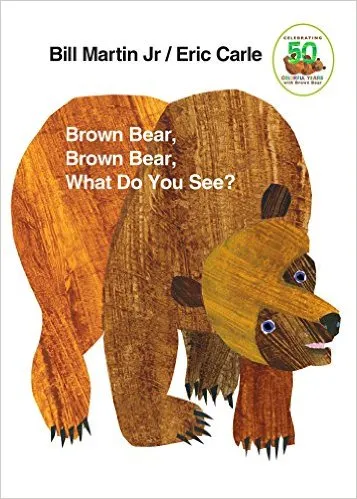 Buy on Amazon: Brown Bear Brown Bear What Do You See?
19. THE VERY HUNGRY CATERPILLAR
Another classic written by author Eric Carle enjoyed from generation to generation is The Very Hungry Caterpillar. Published in 1969, it features a little caterpillar who eats his way through a variety of foods before wrapping himself in a cocoon and emerging as a beautiful butterfly.
Even though the caterpillars diet is fictional as opposed to scientifically accurate, this children's' book introduces little ones to the concept of the caterpillar's life stages, beginning by emerging from an egg, transforming into a hungry little caterpillar to a very full big caterpillar, and lastly into a beautiful butterfly. The distinctive collage illustration of Carle's will capture your little ones interest, and this will surely be another popular book to keep on your child's nursery shelves.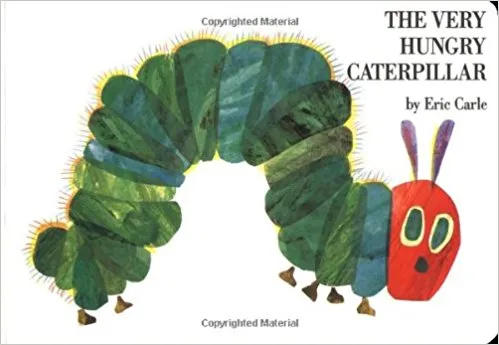 Buy on Amazon: The Very Hungry Caterpillar
18. EACH PEACH PEAR PLUM
Yet another classic picture book for this list is Janet and Allan Ahlberg's Each Peach Pear Plum. Each page is beautifully illustrated and encourages young children to interact with the pictures on the pages to find the hidden fairy tale and nursery rhyme characters.
You're little one will enjoy the rhymes and illustrations in their early infancy, and as they enter toddler age they will love engaging in a little game of 'I Spy' on each of this books pages. It has been another favorite of both my son and I, and is a go-to book on our bedtime story circuit!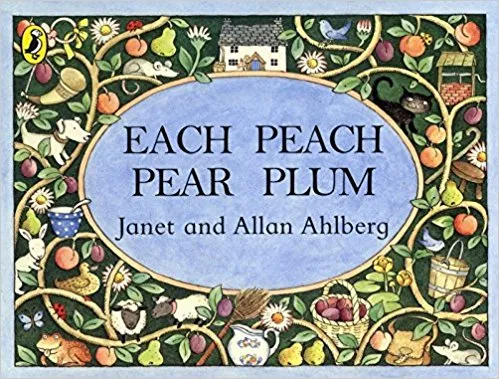 Buy on Amazon: Each Peach Pear Plum
17. NURSERY RHYMES
Every nursery bookshelf should have a book of nursery rhymes. This one by Kate Toms is a great option! This book offers a wonderful collection of favorite nursery rhymes combined with beautiful, hand-stitched illustrations, that can be enjoyed by parents and children alike.
This book of classic nursery rhymes includes: Baa Baa Black Sheep, Humpty Dumpty, Here We Go 'Round the Mulberry Bush, Mary, Mary, Quite Contrary, Row, Row, Row Your Boat, Hickory Dickory Dock, This Little Piggy Went to Market, Pat-a-Cake, Itsy Bitsy Spider, and Three Blind Mice. Author Kate Toms also has many other wonderful popular nursery rhyme children's books including: Hey Diddle Diddle, Twinkle Twinkle Little Star, There Was an Old Lady Who Swallowed a Fly, Old MacDonald Had A Farm and the Wheels on the Bus — to name a few.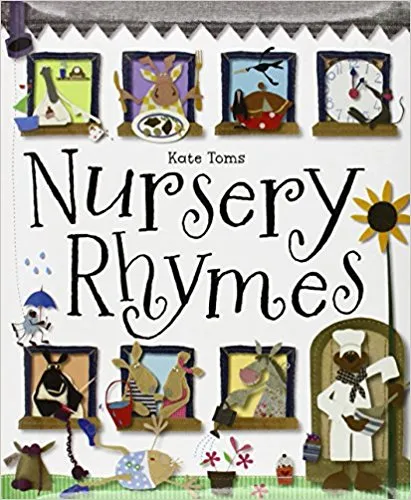 Buy on Amazon: Nursery Rhymes Book
16. EATING THE ALPHABET
Author Lois Ehlert found a great way to introduce your little one not only to the alphabet, but also to an array of healthy fruits and vegetables from A to Z! It is a fun picture book that is intended for children ages 1 to 4, with the purpose of educating children on the alphabet, while teaching them the name of many fruits and vegetables.
Some of the letters have only one fruit or vegetable picture, while some others have up to six pictures. The illustrations are quite beautiful — they are bright and vibrant — and will surely capture the interest and attention of your little one. There are so many alphabet books available, but I like how this one introduces your little one to healthy foods, too! It might be a fun opportunity to introduce your little one to these new foods in your own kitchen, as seen in this book. It could be a great way to expose them to new tastes and flavors!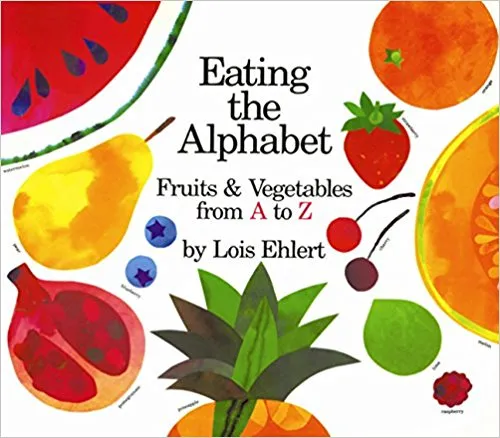 Buy on Amazon: Eating the Alphabet
15. THE RAINBOW FISH
I discovered this book by Marcus Pfister through my niece. During a visit to her home, I read this book with her and I was immediately captured by the message of this story. Written in 1992, this award-winning book is about a beautiful fish who finds friendship and happiness when he learns to share.
The Rainbow Fish is best known for its morals and for the distinctive eye-catching shiny foil scales on every page! This bright and colorful book will capture your little ones interest, and will certainly be a book that they will ask you to read with them time and time again.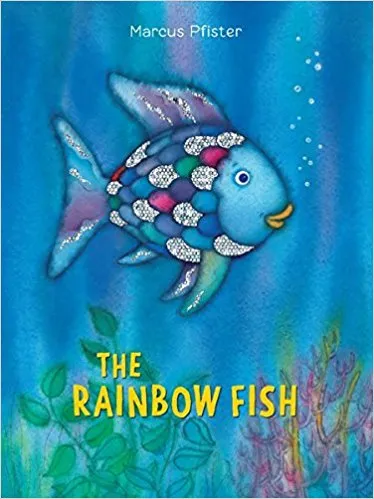 Buy on Amazon: The Rainbow Fish
14. THE WONDERFUL THINGS YOU WILL BE
Some of the best books, are not only enjoyed by our little one, but something that we find great pleasure in reading to them, and brings us just as much joy as it brings to them. The Wonderful Things You Will be by author Emily Winfield Martin, is one such book.
Through its rhythmic rhyme this story expresses all of the loving things that parents think of when then look at their children. It has such a loving and truthful message to it, and I promise that this is a book that grown-ups will love reading over and over to their little one, just as much as your little one will enjoy hearing it read to them!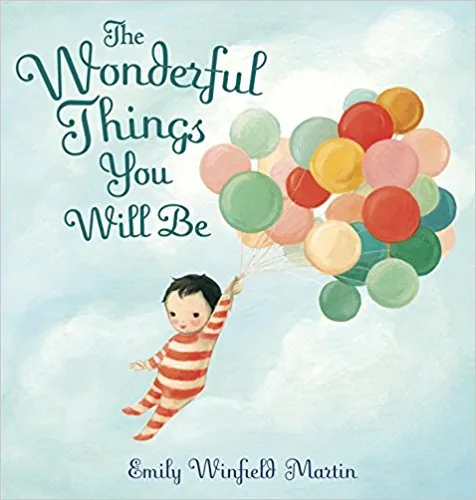 Buy on Amazon: The Wonderful Things You Will Be
13. ALL BY MYSELF
With over 300 books to his name, Mercer Mayer is a well-known author best known for his Little Critter and Little Monster series of books. With so many great stories to choose from, one of my favourites has always been All By Myself.
In this story, Little Critter is growing more and more independent — learning to get dressed, how to tie his shoes, and how to brush his teeth — all by himself. It is another classic for this list that is funny and heartwarming, and something that both parents and children will relate to. It is a wonderful way to teach children a little bit about independence!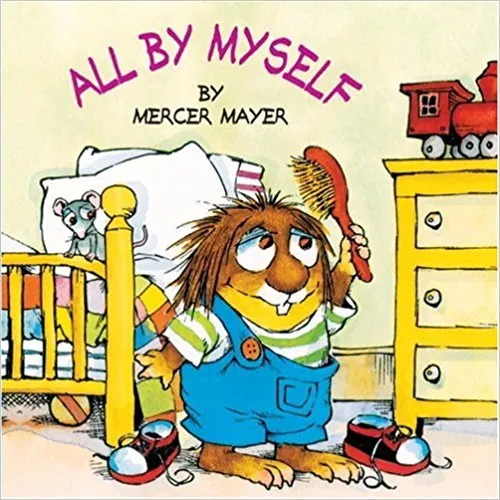 Buy on Amazon: All By Myself
12. IF I COULD KEEP YOU LITTLE
This was a book that I stumbled upon while doing my research for this topic, and I think it would make a wonderful book for your little one's collection. This is another one that both parent and child will enjoy equally as much.
Its playful theme, and adorable watercolor illustrations are sure to capture your little one's interest. It is a story that will speak to every parent's heart about wanting our your child grow up while savoring each and every moment.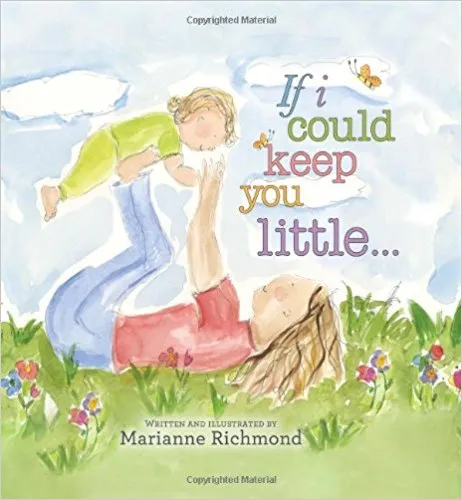 Buy on Amazon: If I Could Keep You Little
11. LICK/SNIFF/MUNCH/HEADS/TAILS – by Matthew van Fleet
Your little one will absolutely adore this whole series of books by author Matthew van Fleet. Each book is packed with pull tabs, textures, flaps and more! These are wonderful interactive books that are also quite humorous to read.
They can be purchased in box sets or individually. Sniff, Lick, Munch, Heads, Tails, Moo, Cat, Dog, are some favourites — to name a few. My son owns the DOG book and he loves helping me pull the tabs and feeling the textures representing the various breeds of dogs fur. Any of these books would make a great addition to your child's library!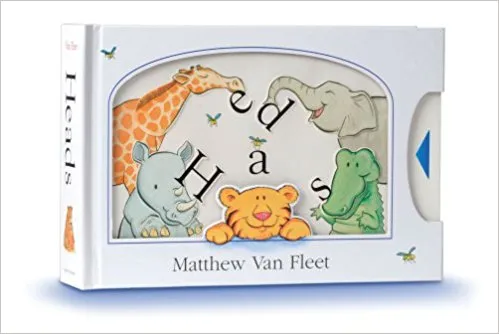 Buy on Amazon: Heads by Matthew van Fleet
10. YOU MUST NEVER TOUCH A DINOSAUR
Another fun touch and feel series for children are these cute and colorful books illustrated by Stuart Lynch: Never Touch A Dinosaur, Never Touch a Monster and Never Touch a Dragon! Children will love the funny rhymes that tells them the dangers of touching these creatures — and then ignoring the advice and feeling the fun silicone textures in the book!
Each page features a different texture for children to explore, and parents will also love to feel along too! These are wonderful tactile books that will surely help promote an early love of reading!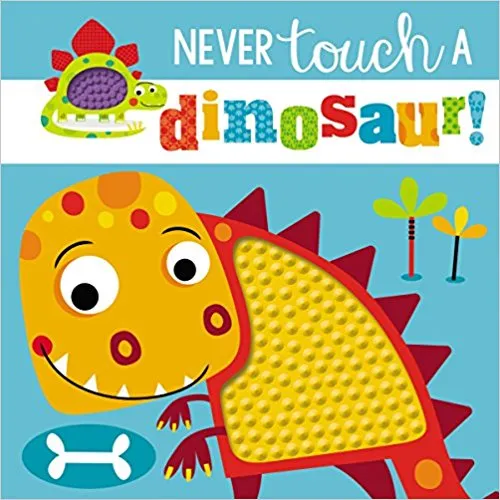 Buy on Amazon: You Must Never Touch A Dinosaur
9. OPPOSITES
Let your little one learn about opposites with this cute book by Sandra Boynton. Sandra Boynton collection of books are great for children from baby to 3 years old. Her books are quite funny and feature nontraditional texts and her famous animal characters.
These board books are sure to entertain and even educate your little one like this one called Opposites — which is my favorite book of hers. I always love things that are both educational and enjoyable for my kiddo. Some other favorites include The Going To Bed Book, Moo Baa La La La, and Barnyard Dance — to name just a few. Next time you are at your local bookstore flip through some of these and see which one you think your little one will like most!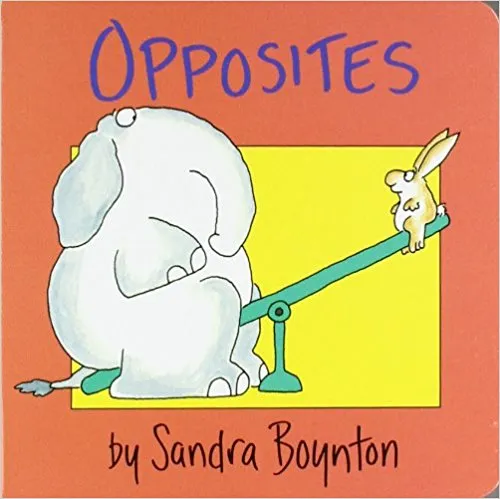 Buy on Amazon: Opposites
8. WHERE'S SPOT?
You might remember this book that became very popular in the 1980's. Within the first week of this book being released, it topped bestseller lists worldwide. Eric Hill's character Spot (the dog) quickly became one of the most loved pre-school characters of all time, and his adventures remain incredibly popular and are enjoyed by little ones around the world.
Where's Spot? was Eric Hill's first book of the Spot series, which grew to a whopping 130 books! These interactive lift-the-flap books are easy to read, and have charming illustrations that are sure to capture the heart of your little one.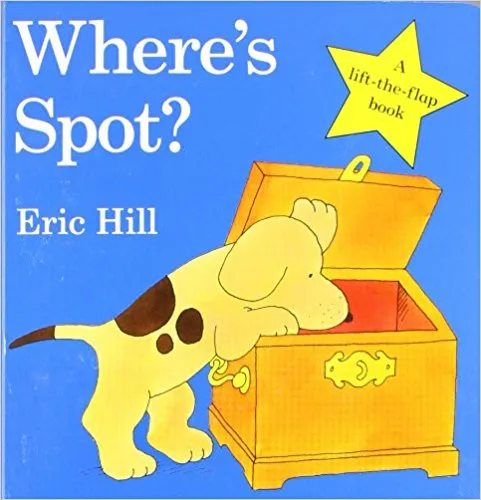 Buy on Amazon: Where's Spot?
7. I LOVE YOU THROUGH AND THROUGH
I Love You Through and Through is a very sweet book that should be in every child's book collection! You're little one is sure to feel loved as they listen to this story and its declaration of adoration and affection whether they are happy, sad, silly, or mad — you're love for them is unconditional!
It is a beautiful story and book itself. It has sturdy cardstock pages that your little one will love to help turn the pages, and its padded cover with rounded corners make it safe to handle for little ones. Check out some of the other books in this collection by Caroline Jayne Church, like: How Do I Love You?, Good Night, I Love You or Sweet Child of Mine — to name just a few. There are also cute options called Potty Time, I Am a Big Brother!, or I Am a Big Sister! — for future learning as your little one gets a bit older!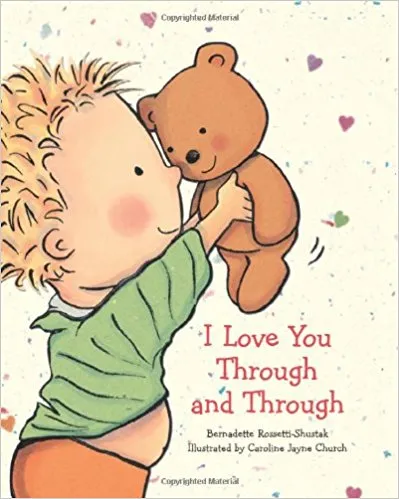 Buy on Amazon: I Love You Through and Through
6. THAT'S NOT MY BEAR!
Parents will no doubt admit to having a least one of these "That's Not My" books on their child's bookshelf. These Usborne touchy-feely books are quite popular, and well liked by parents and little ones.
This books repetitive text, tactile patches and bold, colorful illustrations are well suited for babies and toddlers. Each page features a different texture, designed to help little ones develop sensory and language awareness. There are lots of titles to choose from– I highly encourage you to pick up one (or a few) of these fun interactive books in this children's book series!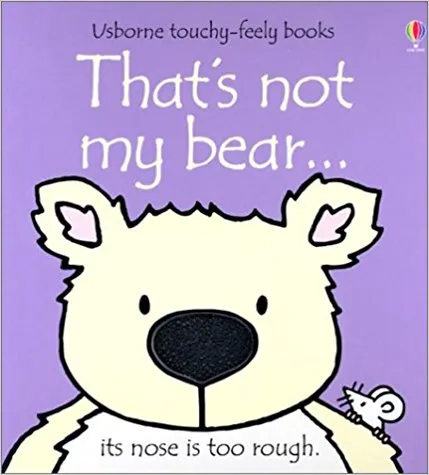 Buy on Amazon: That's Not My Bear
5. LIFT THE FLAP FIRST 100 WORDS
Let the learning begin with any one of these 'first 100' books by author Roger Priddy. First 100 Words, First 100 Animals or Numbers Colours Shapes — are all wonderful options that will get your little one learning some essential first words and pictures in these bright and colorful board books.
Each book has 100 color photographs for your child to look at and talk about, and 100 simple words for them to learn and read along with. The pages are made from tough board, making them durable for plenty of read-alongs. We have the First 100 Words Lift-the-Flap book which my son has loved from the first day we shared it with him — but it might be best to keep this book out of the reach of very tiny hands, or at the very least lift the flap with them — because little ones love to rip the flaps right off!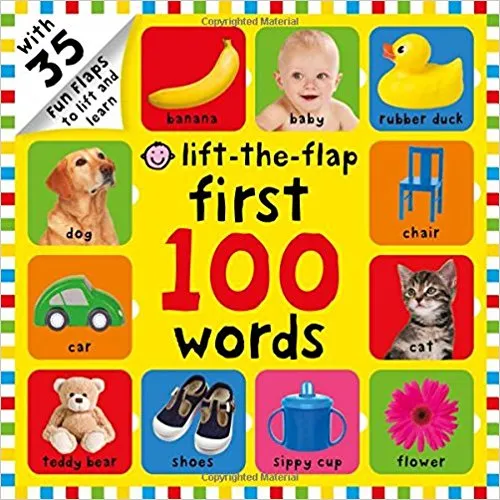 Buy on Amazon: Lift the Flap First 100 Words
4. WHY I LOVE MY MOMMY
I must admit that we have at least 5 of these books in our collection. These books are absolutely adorable and would make a great gift for any little boy or girl. These books feature children's own words on why they love their mommy — and really, who better to tell the world these things than children themselves!
The illustrations are also quite beautiful and I am certain your little one will be captivated by the story as well as the illustrations. Some other favorites are: Why I Love My Daddy, Why I love School, and my sons favorite is Why I Love Hockey! But honestly, you must check out the entire collection. You will probably end up with a small collection like I did — they are that cute!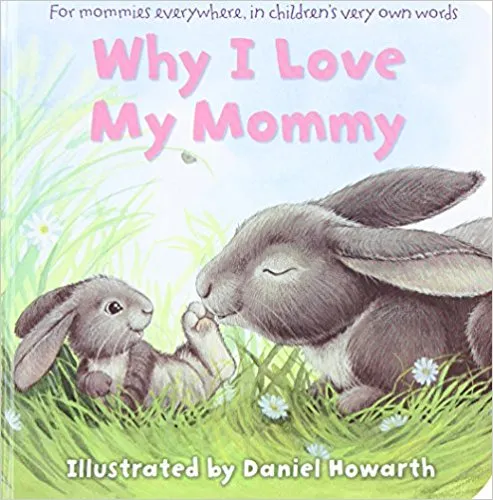 Buy on Amazon: Why I Love My Mommy
3. GIRAFFES CAN'T DANCE
This is another book that I fell in love with that my niece owned and I immediately picked up a copy for my son. This book is about Gerald the giraffe who wants to dance — but with is long thin legs and crooked knees he is a bit clumsy. He finally finds his groove when he gets some encouragement from a friend.
The adorable rhyming tale, its colorful illustrations, and its inspiring message will surely become a fast favorite of both you and your little boy or girl! This book is definitely worthy of a top-three spot on any must-have book list for children!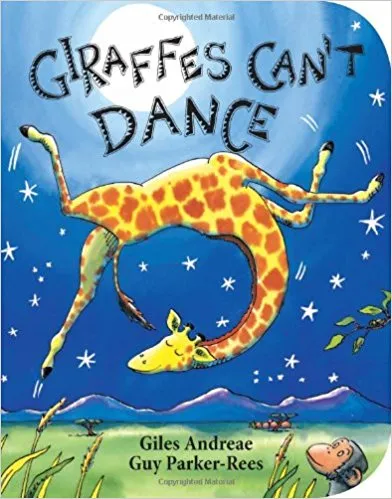 Buy on Amazon: Giraffes Can't Dance
2. THE VERY CRANKY BEAR
This is another book that I stumbled upon and then had to go out and pick up a copy for my son's collection! Both you and your little one will love this book by Nick Bland about Moose, Lion, Zebra and Sheep who are trying to take shelter from the rain and come across a very angry bear in his cave. They then try to come up with ways to cheer him up so they can play in his cave.
This is another book telling its story through rhyme. Its illustrations are also quite nice, and will capture your child's interest with ease. There is a whole series of equally adorable books available: The Very Noisy Bear, The Very Brave Bear, The Very Hungry — to name just a few. Guaranteed, you will fall in love with these books as much as both my child and I have!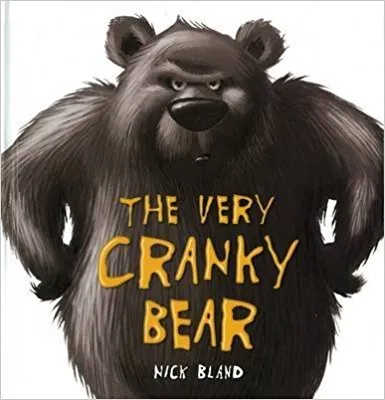 Buy on Amazon: The Very Cranky Bear
1. WHEREVER YOU ARE MY LOVE WILL FIND YOU
Last but certainly not least is this book by Nancy Tillman, that might even bring a tear to your eye when you read it. It has become a fast favorite in our house, and is the perfect bedtime story for your child male or female.
I have a thing for rhyming books it seems, and this is another one. Its soothing rhyme and its beautiful story is sure to get your little one relaxed and ready for some shut-eye. It is a story about love being the greatest gift we have for our child, and that it is something that they can carry with them each and every day – no matter where life takes them. If you don't have this book, GO BUY IT RIGHT NOW! Love, love, love this book! While you are at it, check out the other books by Nancy Tillman, too. Another great pre-bedtime book is On the Night You Were Born. Such beautiful books!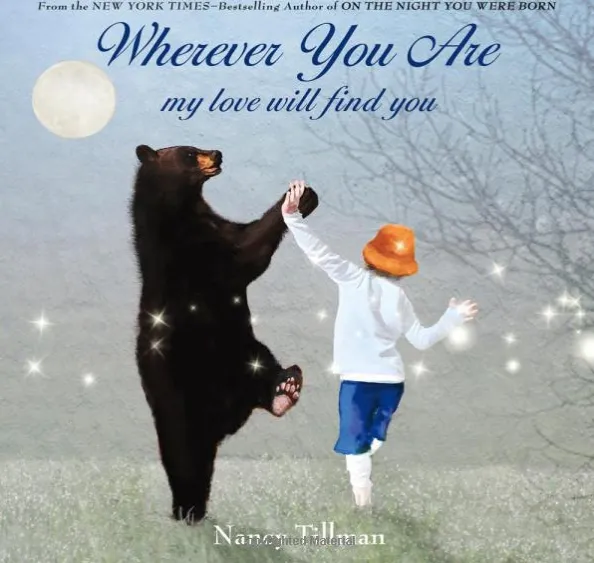 Buy on Amazon: Wherever You Are
Disclaimer: Childhood.com is a participant in the Amazon Services LLC Associates Program, an affiliate advertising program designed to provide a means for sites to earn advertising fees by advertising and linking to Amazon.com.