Since day one as a parent I wanted to have nothing but the best for my little one, but at the same time I didn't want to spend an arm and a leg in the process. I researched everything feverishly. I looked at all the 'best of', 'must have', 'essentials' lists for all things baby — including toys and games. Having lived in a really small house, quality over quantity was key! I wanted to find the best toys, that we not only fun and entertaining to play with, but educational in some way shape or form for my child. Children are little sponges. Even when they are just little blobs who seemingly do nothing but eat, sleep and poop — play with them! Teach them! I hope that this list will save you from having to research as much as I did, and that you will agree these are the best must-have toys for infants 0-12 months development.
20. Activity Mats
Babies are learning new skills everyday, and they very quickly become motivated to interact with people and their environment. Some of the very best toys for infants help them learn to develop attention, hand-eye coordination, and motor skills for rolling and crawling. One of my favourite toys for this is an activity mat! My favourite is this Fisher Price Discover 'n Grow Kick & Play Piano Gym.
Let the learning begin with this cute little musical playmat. As you baby is developing their depth perception and hand-eye coordination, reaching, batting or grasping the dangling toys is perfect practice. The arch can be moved down for playing with during tummy time play. Tummy time is a critical skill for babies to master. By placing a baby on his or her stomach, it can help your baby develop strong neck and shoulder muscles and promote motor skills. This strength is needed for sitting, crawling and other development skills. This playmat also features a light-up piano, that they can lay down and kick (working on their core strength), play with in a seated position, or detach and play with separately.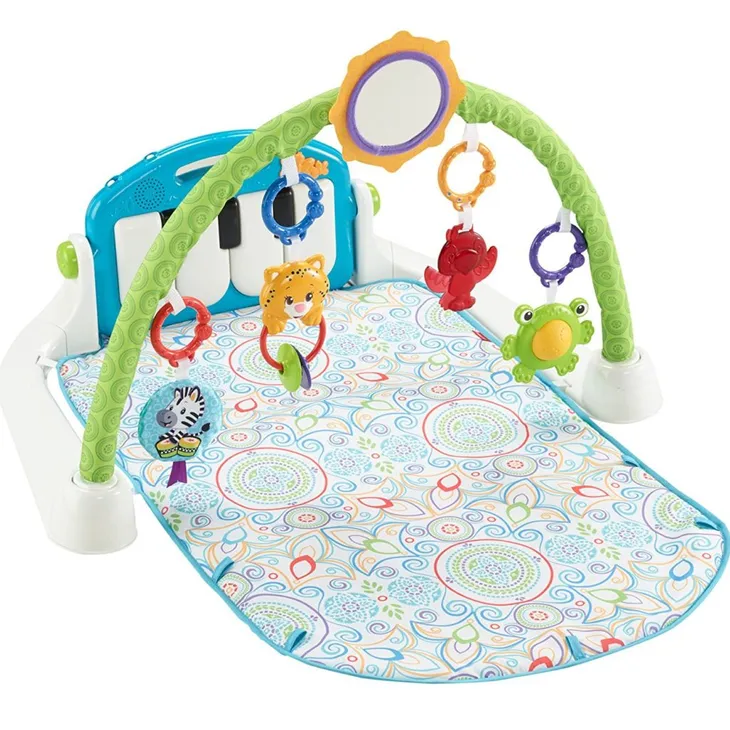 Buy on Amazon: Fisher Price First Steps Kick and Play Piano Gym Activity Mat
19. Blocks
Babies can stack, squeeze or teethe on these 8 cute and colorful textured blocks. They are soft and squishy, making them perfect objects for little baby hands. Babies will be able to practice holding a block in one hand, two hands, or transferring a block from one hand to the other. As a child develops their motor skills for sitting and playing, parents will start to see their baby attempting to hold a block in each hand, bang them together, and eventually demonstrate enough control and hand-eye coordination to stack the blocks on top of another, and build a small tower.
Each of these colorful blocks features different engaging scenes, including animals and numbers 1 through 8. You can also start to teach color recognition — these rainbow colored blocks are perfect! Babies who are engaging in tummy time may be motivated to lift their head to watch a parent or sibling who is stacking blocks and try to reach out to grab or knock them over! These blocks come with a reusable grab-and-go tote bag, perfect for travel or clean up!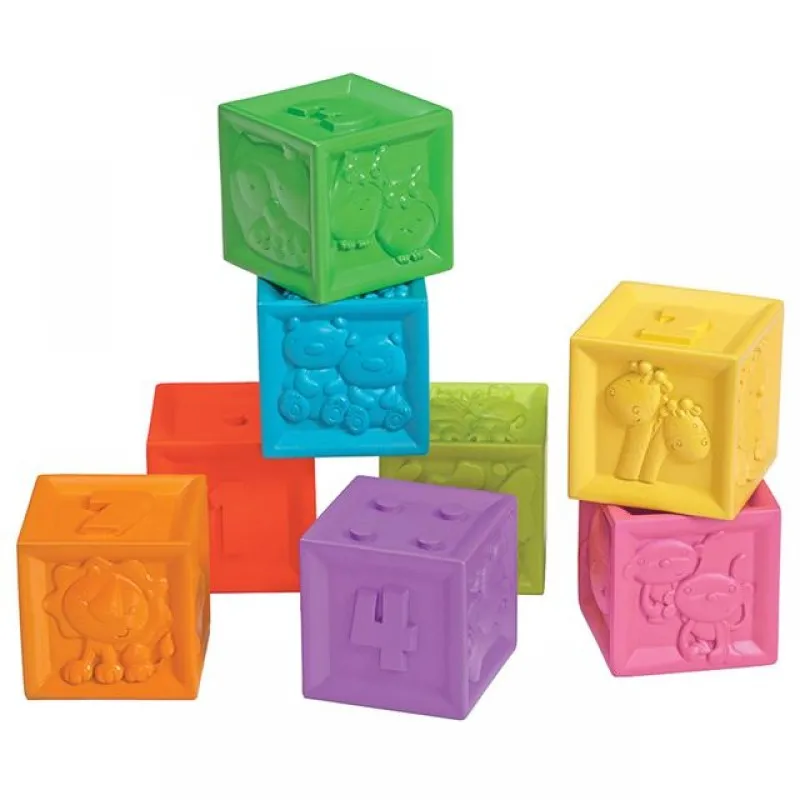 Buy on Amazon: Infantino Squeeze and Stack Block Set
18. Stacking Cups
Picking up items and putting them in place helps little ones learn important skills like intentional grasp and release, as well as how to control and position their little fingers. In their infancy, little ones don't have the dexterity or fine motor control yet to do this, but it is never to early to introduce this toy and let the learning through play begin! By the time they are a toddler, they will be ready to build on their skills! Pun intended!
Stacking and nesting toys like these cups are also great for working on depth perception and hand-eye coordination. Babies can watch a parent or sibling stack them up or stack them in, in proper sizing order and learn about size differences. I like the My First Stacking Cups by Playgo. This set has 10 colorful cups which stacks up to 25 inches tall! These cups are also great for working on color recognition or counting up or down from 10 as you add or remove cups from the tower.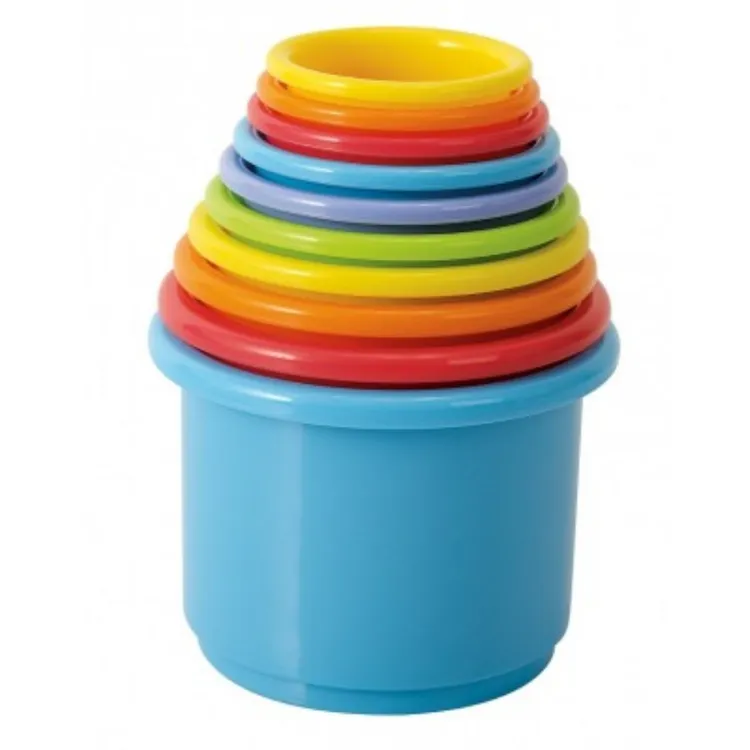 Buy on Amazon: My First Stacking Cups Set
17. Stacking Rings
The Fisher Price Brilliant Basics Rock-a-Stack offers lots of fun ways for your baby to play and explore, from grasping and shaking in their earlier infancy, to sorting and stacking as they get a bit older. This set has five colorful rings to grasp, shake, and stack. The top ring has colourful beads that make fun rattle sounds. Try placing the rings in front of your little explorer, holding them up high or off to the side to encourage reaching in all different directions.
As your little one grows, they will learn to stack the rings on the base from biggest to smallest, and start to understand the concept of relative size. They can sit up for sort-and-stack play exercises that will help to develop their balance and coordination skills. Little ones can sort and stack all five rings, then bat at the wobbly base to see what happens, helping enhance their curiosity and sense of discovery. A classic toy, that you might be skeptical about how much fun this simple stack of rings can be for a 0-12 month old – but it encourages tummy play, midline play, transferring between hands, banging together, reaching, grasping, hand-eye coordination, depth perception, cause and effect as well as a beginning understanding of size! Simple toy, but packed with so many great developmental learning opportunities!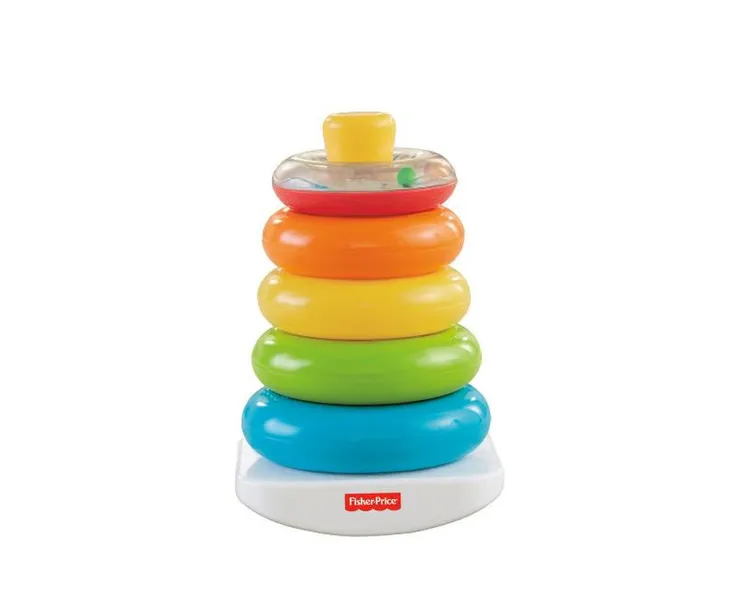 Buy on Amazon: Fisher Price Rock-A-Stack Ring Set
16. Bath Toys
Ready for an intense giggle fest? You better be if you're busting out this toy at the next bath time! Your little one will develop such and affection for this Little Tikes Bathketball toy. As parents, we must not forget about all of the learning that can happen during bathtime. Make a splash in your baby's bath with these three colorful squirting basketballs. Tots can practice their hand-eye coordination and fine motor skills while they shoot hoops, practice color recognition, as well as counting to three.
When the lesson is over, fill 'em up for a playful water fight! Your little ones will have the time of their lives squeezing the water-filled toys and watching the water exit the body of the ball. Kids will also learn about controlling pressure as they experiment with releasing the water slowly, or quickly. Remember to rinse the toys with clean water multiple times then empty completely, and allow to air-dry after each use to prevent mold.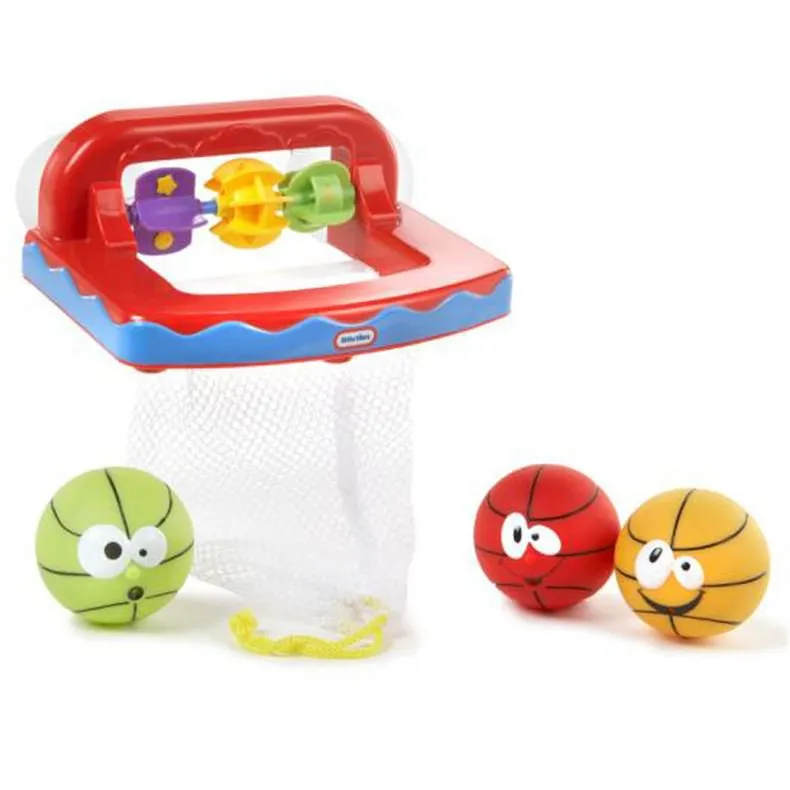 Buy on Amazon: Little Tykes Bathketball Set
15. Munchkin Bath Time Foam Letters & Numbers
For some more fun bath time play and learning, I highly recommend these fun foam letters and numbers! They are not only affordable, but they are a great way to combine fun and learning. Have fun working on the ABC's, counting, and spelling simple words. Each set will contain 26 letters (A-Z) and 10 numbers (0-9), however I recommend buying two sets which will allow you to count higher, spell more words, or even create some short sentences as your little one gets older!
These foam letters are colorful and fun to float in the water or stick on the sides of the bathtub or tile wall when wet. The foam is soft, yet durable and is also non-toxic — incase your little one does decide to chew on them. It's never too early to start learning the ABC's! Babies are little sponges, so why not start some learning in the bathtub!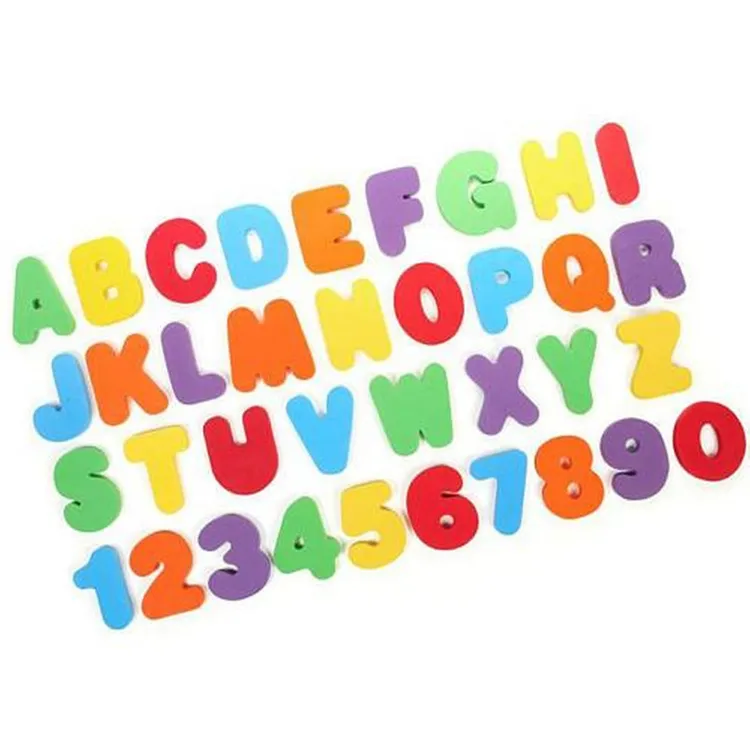 Buy on Amazon: Munchkin Bath Time Foam Letters & Numbers
14. Rattles and Teethers – Oball Clickity Twist
Having a variety of teething rattles on hand is never a bad idea. They are small and lightweight enough to throw a few in the diaper bag — or your purse — or have some in the car in case your little one gets a bit fussy. I have selected a few favourites for this list, I hope your little one will enjoy them as much as mine! This Oball Clickity Twist Toy is sure to entertain!
It's colorful flexible arms are easy to grasp and hold and super soft for teething. The centre ball twists and turns making fun clicking sounds, that are sure to grab you little ones attention when a distraction is needed. The bright colors and multiple surface textures provide both visual and tactile stimulation. It is a perfect size for bringing along wherever you and baby go.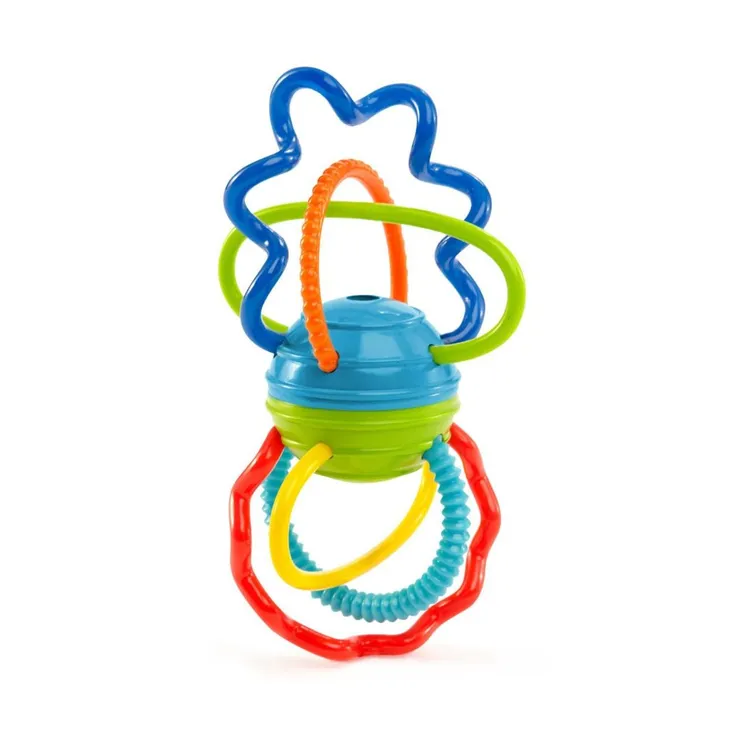 Buy on Amazon: Oball Clickity Twist
13. Nuby IceBite Keys
The first way that a baby plays, is through exploration. They use their senses to learn, which means they like using their hands, mouths, and feet to explore. Rattles and teethers have many textures and materials that appeal to a baby's different senses. One of my favourites is this Nuby IceBite Keys teether, which combines exercise for young hands, gums and teeth as well as providing visual stimulation for your little one.
This colorful toy is a dual surfaced teether. The tops of the keys are constructed of a soft textured material with offset surfaces, that assist in the eruption of teeth through infants delicate gums. It soothes, cleans and massages gums, and when chilled it can help cool down sore and inflamed gums as their teeth are trying to cut through. The combination of the hard and soft surfaces, makes this a great teether to aid in the cutting and strengthening of new teeth.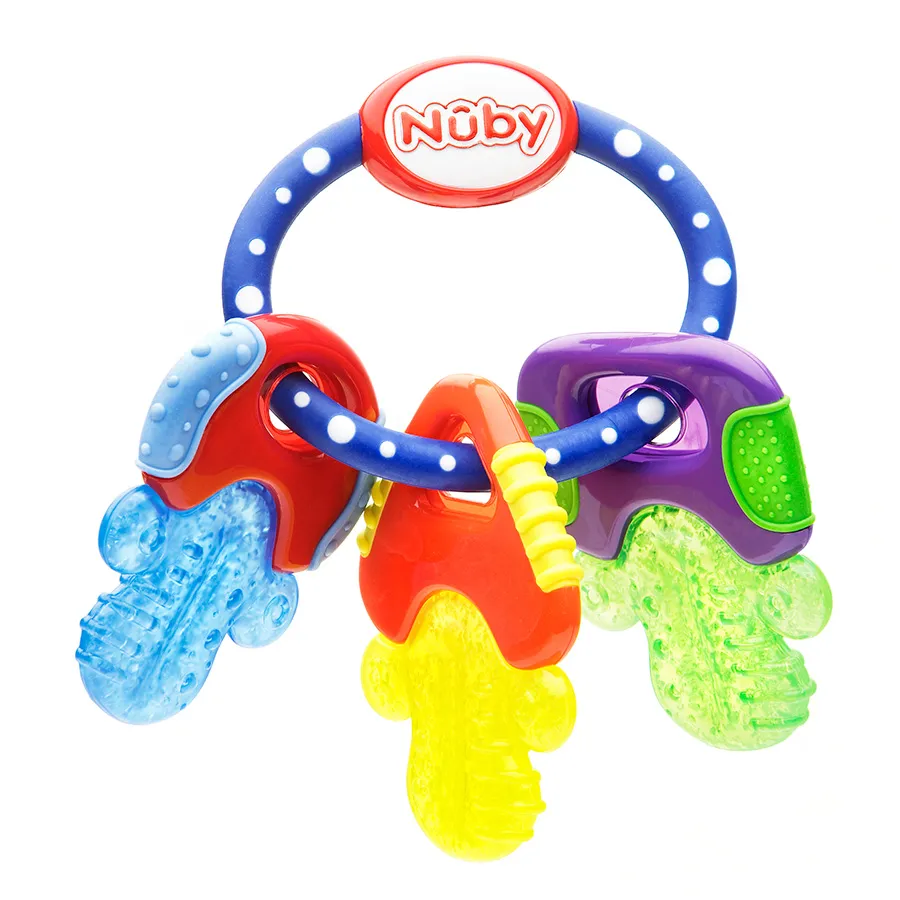 Buy on Amazon: Nuby IceBite Keys
12. Manhattan Toy Winkel Rattle and Sensory Teething Toy
This colorful teether and rattle toy, is made with pliable plastic loops that are the perfect size for little hands to grab and hold, and has a gentle texture for little ones to gnaw on. The centre cube features a quiet rattle so that your baby can explore sound as well as cause and effect. It can even be refrigerated to a cool temperature to soothe sensitive teething gums. Gotta love multi purpose toys!
Although this is a seamingly simple toy, many parents find their babies absolutely mesmerized by the rattle and the colorful loop design. It is very lightweight and easy to play with from an early age. This infant toy promotes clutching and two handed play, and is suitable for ages 0-24 months. I hope that your little one enjoys playing with this as much as mine has.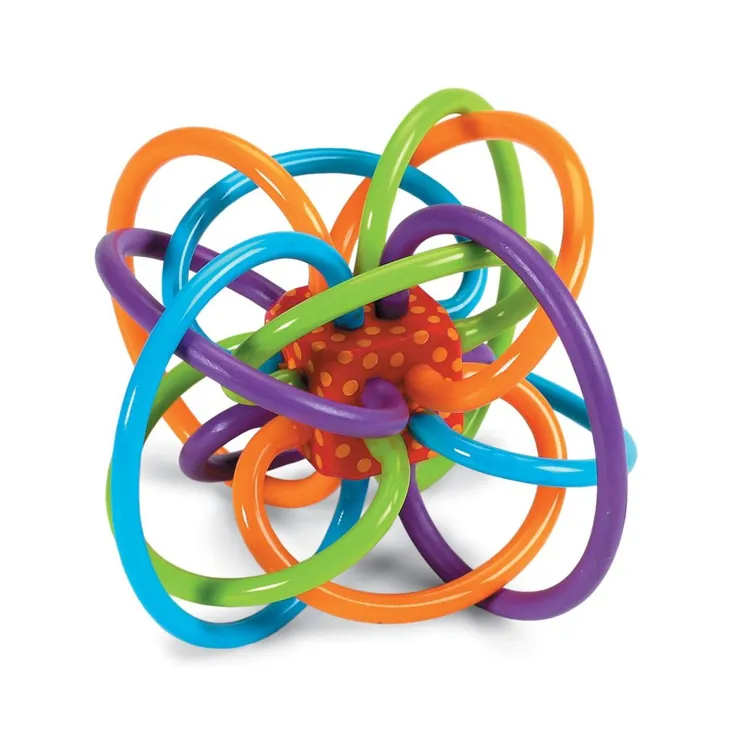 Buy on Amazon: Manhattan Toy Winkel Rattle and Sensory Teething Toy
11. Bright Starts Lots of Links
This is an inexpensive toy that will provide hours of entertainment for your little ones. These colorful links can be used as basic teething rings or they can be stringed together to make all sorts of fun chains — your child will get lots of use out of these little toy links. They are wonderful for hooking onto car seats, strollers, and activity gyms so that you won't have to keep picking their toys up over and over!
This set by Bright Starts comes with 24 links in all different textures and bright fun colors. They also come in a reusable plastic bag so you can easily throw them in a diaper bag for fun on the go anytime. These links are a very simple, inexpensive, portable and versatile toy, that will encourage developmental skills like reaching, grasping, hand-eye coordination, oral exploration, oral discrimination, and tactile exploration. You honestly can't go wrong with them!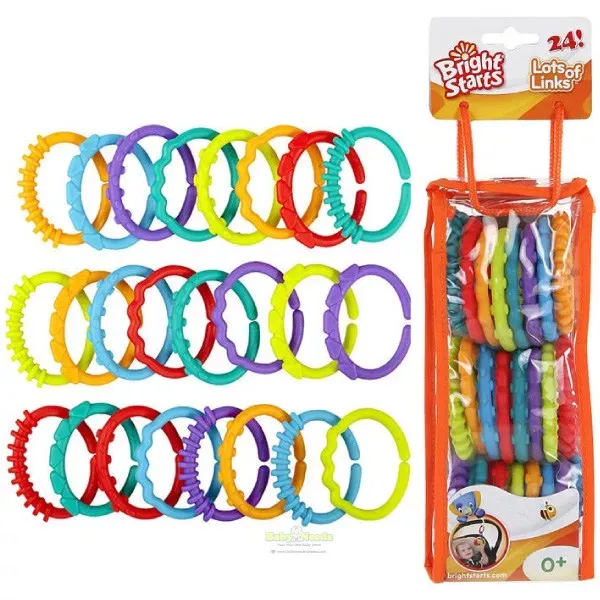 Buy on Amazon: Bright Starts Lots of Links
10. Infantino Textured Multi (Sensory) Ball Set
Young ones will love exploring their senses with these little textures balls by Infantino. Babies will have a great time touching and feeling these six uniquely textured balls in different shapes and sizes, while developing their tactile sensory abilities. Teething babies will love to chew on the nubby textured balls as their little teeth try to start cutting through their gums.
As your little one approaches the one-year mark, they can learn how to roll the balls or try to engage in a game of catch — though they might be better at the throwing than the catching! Recommended for children ages 6 months and up, these textured balls are another 'simple' toy, but your children will certainly get years of playtime out of them!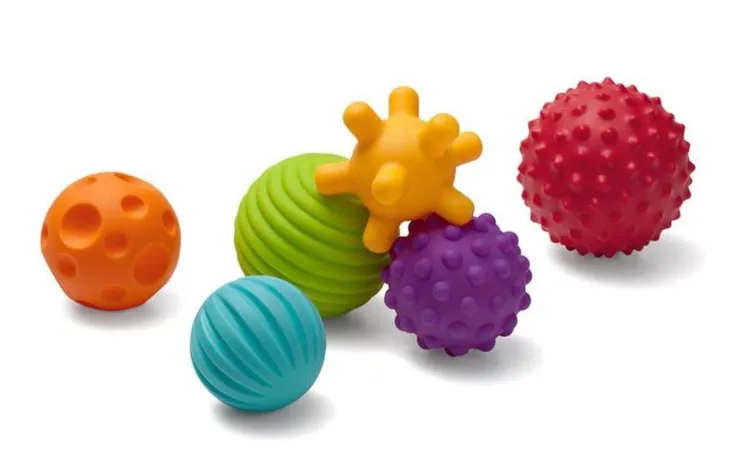 Buy on Amazon: Infantino Textured Multi (Sensory) Ball Set
9. Musical Toys
There is nothing cuter than a little baby wriggling and bouncing to the sound of music. Not only do they enjoy dancing to music, but they also like to make their own musical sounds, too. This Little Tikes Jungle Jamboree 2-in-1 Piano Xylophone is a great toy for your little one to begin to experiment with music making. Children can play with the attached mallets, or they can play the piano keyboard to engage their curious little fingers.
This toy is recommended for 18 months and up, but my little one definitely loved playing with this within his first year. As your child reaches toddler age, they can try using the music sheets with familiar nursery rhymes that are included. This is a great toy to teach your child music and allow them to work on their motor skills.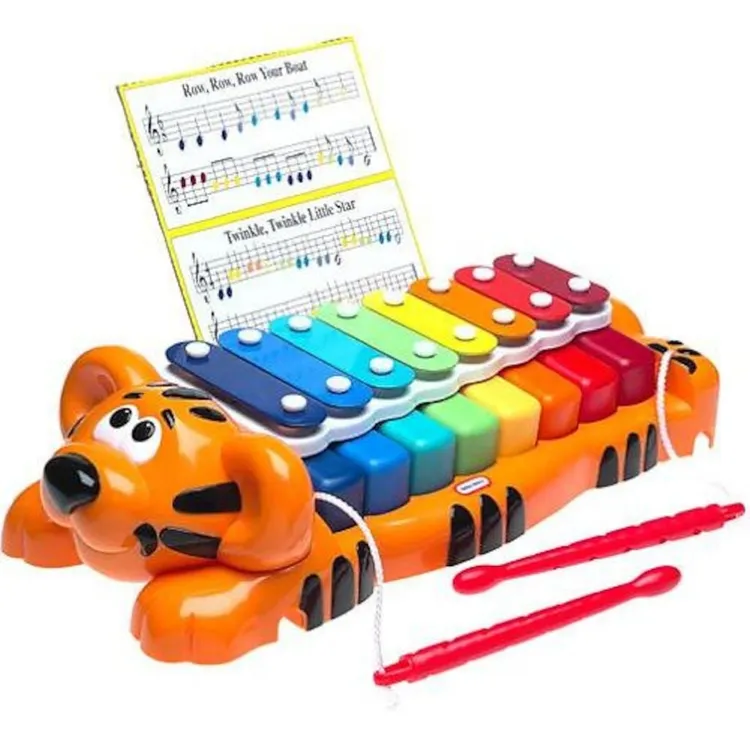 Buy on Amazon: Little Tykes Jungle Jamboree Piano/Xylophone
8. Books
Babies can learn to develop speech from hearing their parents, grandparents, caregivers, and siblings sing songs and read to them. Reading to your newborn is a must! Your baby won't understand your words, but hearing your voice stimulates an interest in sounds and will help them develop their listening skills. Reading aloud to your baby is a wonderful shared activity and is a great opportunity for some cuddling and bonding, that you can continue to enjoy together for years to come.
It is an important form of stimulation, and teaches baby about communication, and introduces concepts of numbers, letters, colours, and shapes in a fun way. It also builds listening, memory and vocabulary skills. Many people start reading to their little ones in utero and continue with this once baby arrives. It is never too early to start! As your baby grows and has more of an active part in the story time, cloth books and board books are great to have as they make it easy for your little one to help turn the pages. The lift the flap books are also fun and very visually stimulating for babies. This one is still one of my little ones favourites!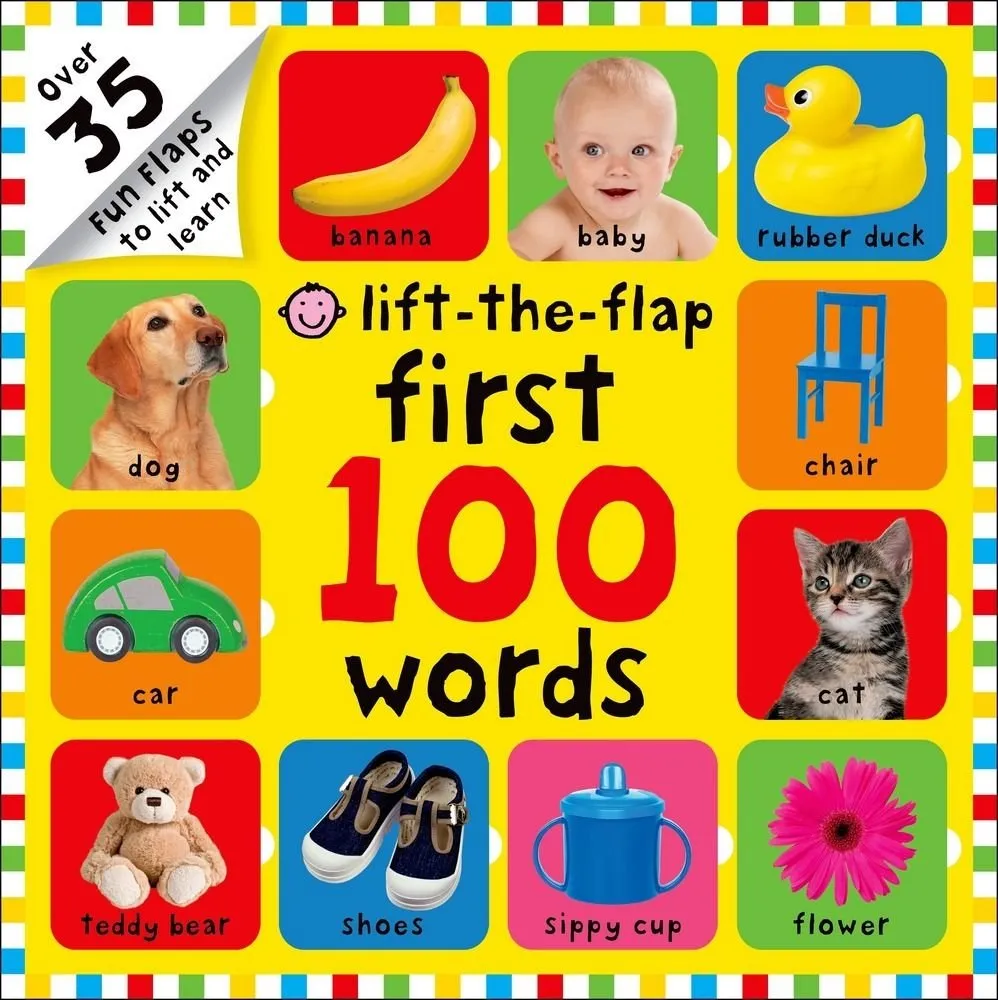 Buy on Amazon: First 100 Words Lift-the-Flap Book
7. VTech Move and Crawl Baby Ball
Your little one will have an absolute ball with this Move and Crawl Ball from VTech! It is much more than just a traditional ball, this one can roll freely on its own and has electronic sources of fun and learning. The ball wobbles, wiggles and rolls itself around after receiving a slight push to get it started. This encourages little ones to get moving and crawl or toddle after it.
This toy features more than 40 singalong songs, phrases, sound effects as well as adorable little animal buttons that them teach animal names and sounds. It is a great way to encourage tummy time, crawling and active learning too! It is designed for children 6 months to 3 years of age.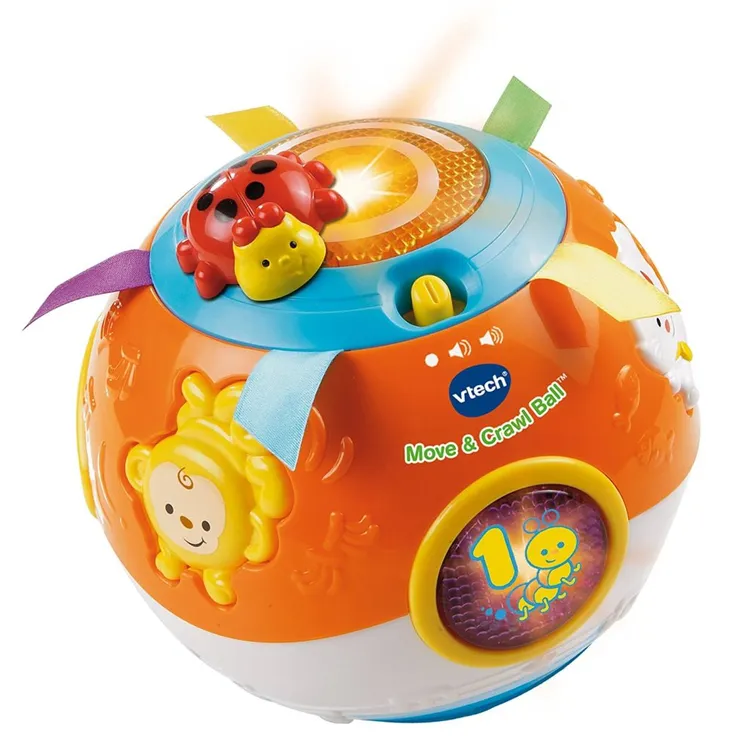 Buy on Amazon: VTech Move and Crawl Baby Ball
6. OBall
A less expensive but also very enjoyable ball toy is this Classic Oball. Oball offers a wide range of developmental toys, but this Classic Oball is my favourite. It is a flexible ball with 32 finger holes, making it easy for little ones to grasp, catch and throw. It's flexible material makes it easy for a teething baby to chew on without hurting her gums or existing teeth (as opposed to some harder balls of similar design). This ball is bendable, easy to clean, and virtually indestructible.
In addition to grasping, this toy encourages developments skills like: midline play, transferring between hands, hand-eye coordination, oral exploration, give-and-take interaction, pointing when rolls away, and crawling. It is easy to roll and bounce, and can be used for well beyond baby's first year.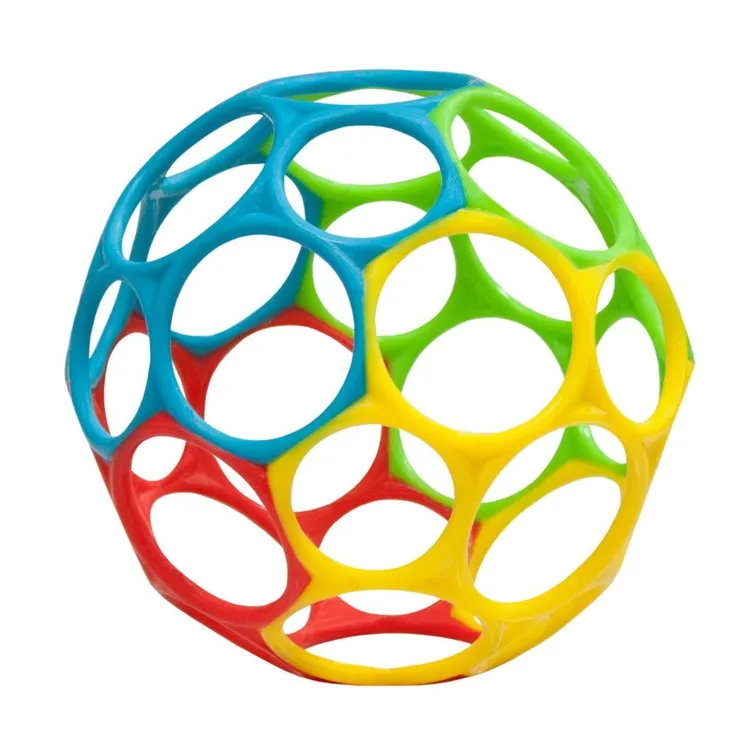 Buy on Amazon: OBall
5. Exersaucers and Jumperoos
Exersaucers and jumpers encourage babies to take weight through their feet in a standing position while they play, and within a contained place. However, be mindful of how much time your baby spends in their exersaucer or jumperoo. It is important to always balance their playtime with floor time too, so they can learn other important developmental skills. The Fisher Price 4-in-1 Step 'n Play Piano is built for entertaining your little one with physical, musical, and all-around fun! Every press of the super-sized piano keys (hand keyboard and foot keyboard) allows your little one to develop their coordination and gross motor skills. It has over 20 musical activities for babies to engage with, and is sure to get your little one active, learning and tuckered out and ready for nap time!
This activity centre is great because it will grow with your baby. There are four ways to play with this toy — It starts out as a soft removable playmat for tummy time or lay-and-play fun. Next, it transitions into an entertaining playset with a spinning seat for 360 degree playing opportunities. Next, it is a stationary walker that encourages first steps, and finally you can remove the seat entirely to create an activity table for toddler musical jam sessions! It works on creativity, exploration, reinforces fine and gross motor skills, helps strengthens baby muscles and works on cause and effect.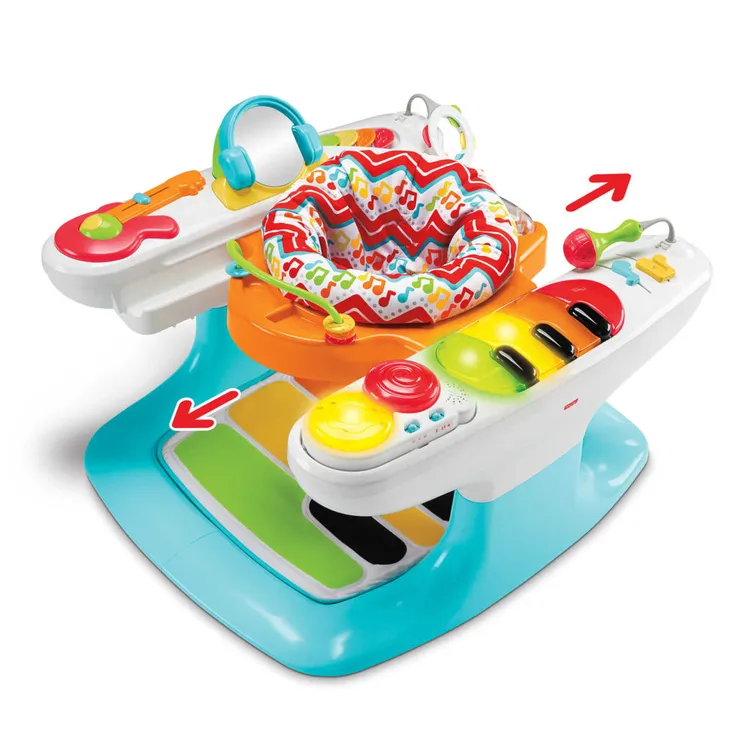 Buy on Amazon: Fisher Price 4-in-1 Step 'n Play Piano
4. VTech Sit-to-Stand Activity Learning Walker
VTech's Sit-to-Stand Learning Walker offers lots of tactile play activities. The toy starts off as an activity panel for floor play, and later can be use as a walker for on the go motion activated play when your child is ready to start practicing taking their first steps! What I like most about this little walker, is that there is a speed control switch on the two back wheels of the walker. Position one is for kids just learning how to take their first steps, and when your child's walking skills develop, it can be switched to position 2 so that the walker moves more freely.
While in learning mode, the activity panel has so much to keep little ones engaged, while introducing them to shapes, colors, animals, and number as they play. This is an interactive toy that grows with your child helping them with both fine and gross motor skills. It is recommended for children aged 9 months to 36 months and is one of the best-reviewed walkers by customers online.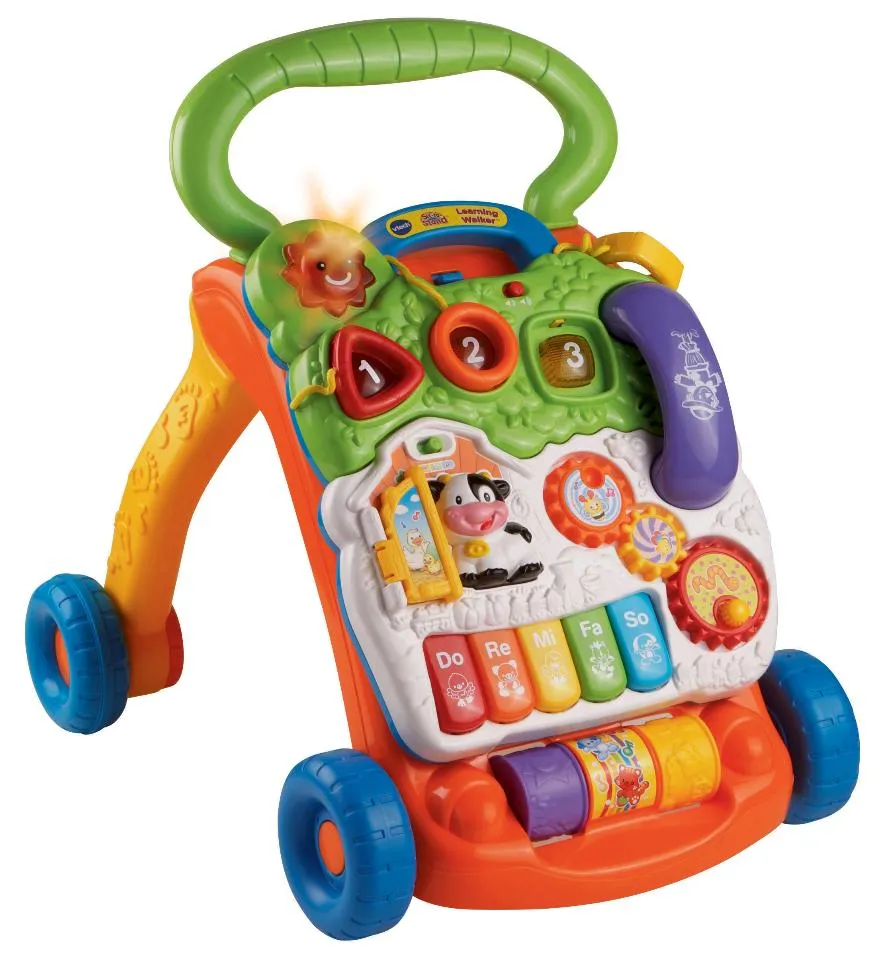 Buy on Amazon: VTech Sit-to-Stand Activity Learning Walker
3. Activity Tables
For more mobile babies who can crawl and pull to a standing position, usually around 10 months of age, they will love standing at an activity table –pushing all the buttons and levers and hearing different songs and sounds. A company that has really mastered the creation of fun and educational children's toys is VTech. Recommended for kids 6 months to 36 months, this learning table is great for children who are just at the sitting-up stage, learning to stand, or completely sturdy standing on two feet! The tables legs come off easily to make a floor toy, and as your child gets older, the legs can be added back on for table play. This is a bilingual learning table with 6 different play areas.
It features over 65 tunes, sounds and phrases while teaching colors, numbers, rhymes and shapes. This toy encourages creative play and exploration, helps develop motor skills, teaches cause and effect, all with bright colors and flashing lights, songs and playful phrases. Help your kiddo get excited about learning through play, with this family favorite activity table!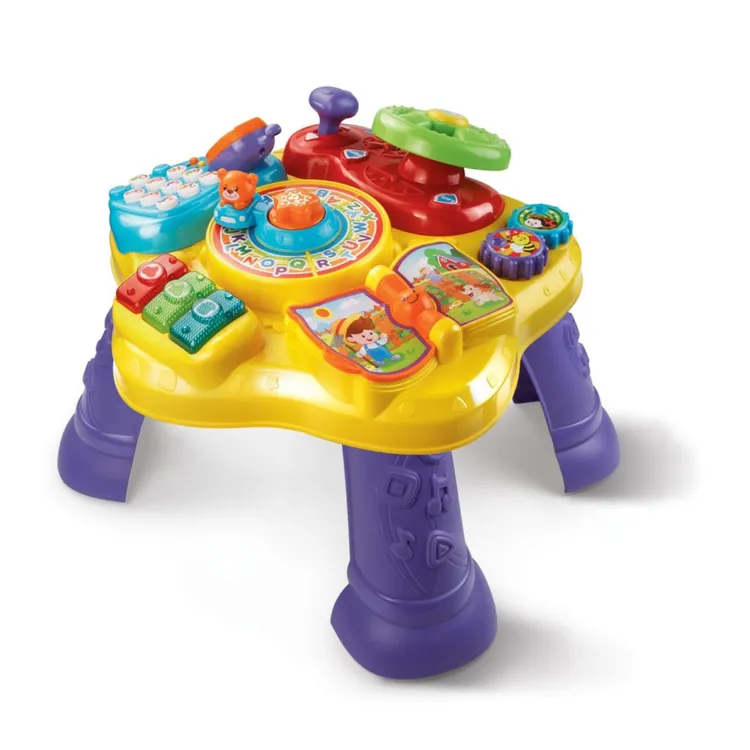 Buy on Amazon (Similar): VTech Sit-to-Stand Learn and Discover Table
2. Jolly Jumper
The Original Jolly Jumper Baby Exerciser provides lots of entertainment for bouncing and giggling babies!! The exerciser conveniently hangs in doorways and allows complete freedom for babies while they develop strength, balance and coordination skills. It has fabric saddle that provides a safe and snug fit for your little one, and is designed to support babies up to 28 lbs.
Once your little one is able to hold up their head with full neck support (approximately 3 months of age) they are ready for the Jolly Jumper! It is a perfect jumper for those with limited space, as it takes up very little room and can easily be stowed away, and taken out as needed. Jolly Jumper also makes a stand version — which is less compact but the stand can still easily be collapsed and stored under a sofa or in a closet if needed. For some added musical fun, you can get Jolly Jumper's Musical Mat, too!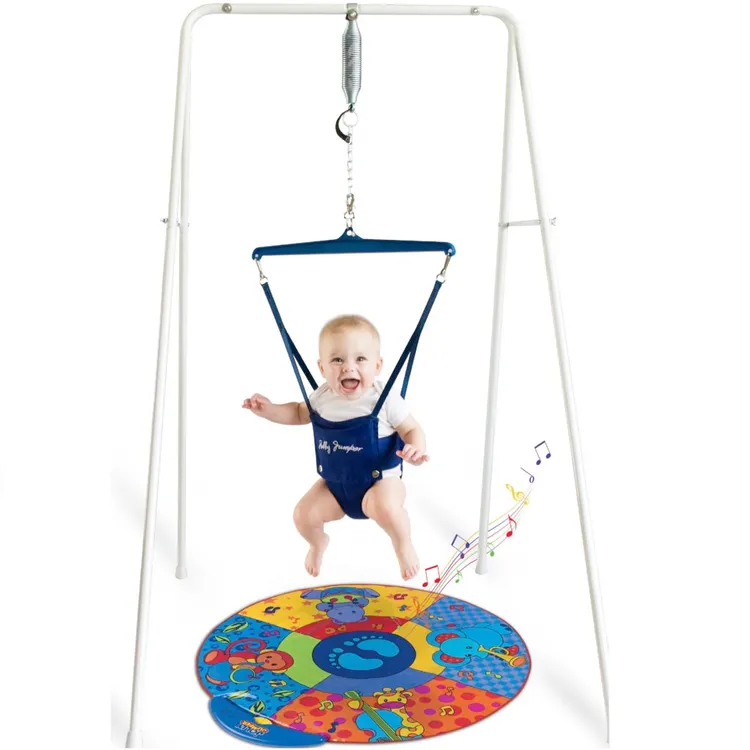 Buy on Amazon: Jolly Jumper
Buy on Amazon: Jolly Jumper Musical Playmat
1. Fisher Price Little People Wheelie World Floor Mat
This fun Little People play mat by Fisher-Price provides a comfortable play area for kids, a soft tummy time surface and teaches creativity and exploration. The foam and plastic mat features Little People graphics, streets, a park, pool and so much more.
This mat is great for babies just starting to practice tummy time. It's soft and durable surface can be easily wiped clean, which is perfect if your baby is a big spitter upper like mine was. It will really save your carpet! It is great for both indoor or outdoor use, and can be enjoyed for well past baby's first year of life. It comes with two vehicles for your little one to cruise through the neighborhood, and at over 3 1/2′ wide, it easily accommodates group play.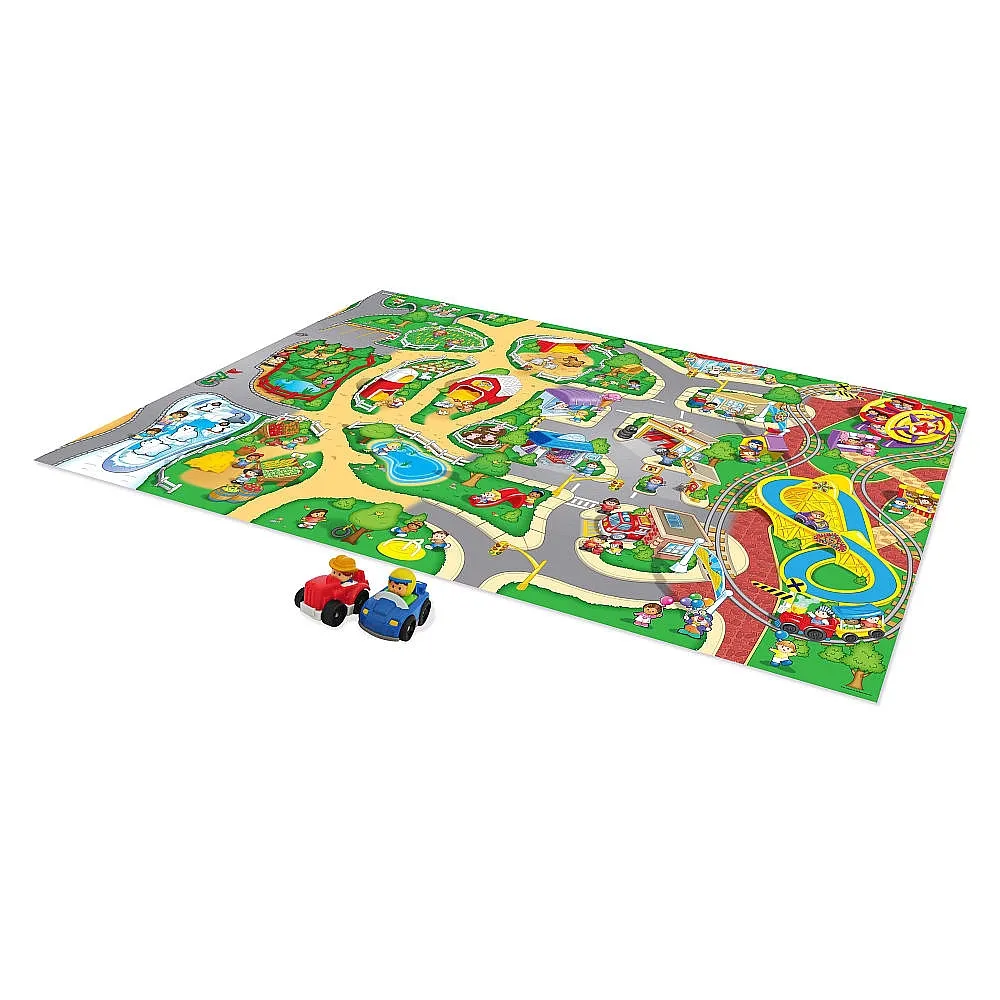 Buy on Amazon (Similar): Highway Pattern Baby Floor Mat
Disclaimer: Childhood.com is a participant in the Amazon Services LLC Associates Program, an affiliate advertising program designed to provide a means for sites to earn advertising fees by advertising and linking to Amazon.com.