As we all know, costs can certainly start to add up once a baby comes into the picture. Where we spend and where we can save becomes very important. There are so many baby related products on the market to choose from – and it's easy to feel overwhelmed, but here is a list of 36 must have baby items that are worth investing in! The best place to organize what you need is within a baby registry. As you research and decide what items you actually want/require, you can easily and quickly add them to your registry. You can start creating your registry on Amazon right now and add any of the items below as you decide which ones you want.
36. STROLLER
I spent a great deal of time researching all of the big-ticket baby items. One of the important questions to ask yourself is if you plan to have more than one child. This will certainly impact your purchasing decision. If you know you want to have two or more children, when it comes to making a stroller purchase, I would recommend selecting something that will grow with your family. After some thorough researching I had two stand-out options, however one was a great deal less expensive. That product was the Contours Options Elite Tandem Double Stroller.
This stroller is a great option for families expecting twins or hoping to have more than one child. It comes with two seats included (where most double strollers require you to purchase the second seat separately. It seats are adjustable making it completely customizable — you can configure it in over 16 ways! You can set the seats up to be either forward facing, rear facing or even allow your children to face each other. You can set it up with one seat or two, and when you purchase the car seat adapters, you can attach your child's car seat (or even two car seats) — perfect for twins as I mentioned! This stroller weighs 34 lbs (which isn't bad considering it is a double stroller capable of holding two 40 lb children for a total of 80 lbs). It is a very versatile stroller option, at a very affordable price for all that it provides!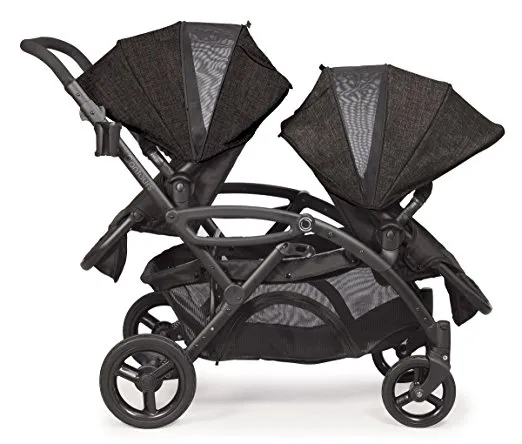 Buy on Amazon: Contours Options Elite Tandem Double Stroller
35. GLIDER/BOUNCER/BASSINET COMBO
While speaking of 'versatile', this Graco Soothing System is another baby item with many different uses! It has four modes, including a gliding swing, gliding bassinet, portable bouncer and portable bassinet all in one. It's plush and roomy seat with removable infant supports will keep your baby safe and cozy in whichever of it's four modes you use. It vibrates, plays music, and it's gliding motion will keep you baby happy and comfortable.
It's gender neutral design would be great for baby boys and girls alike, and won't compete with your interior design should you chose decided to keep it in your living room. The bouncer's convenient carry-handle makes it easy to move and transition from a swing to a bouncer. Another great feature of this product is that it can either run on batteries or be plugged in, at your convenience. If you don't need the bassinet — the Graco Elite Glider and Bouncer is also available (which I had, and it worked great). This newer model includes the bassinet, which may or may not come in handy — but it is a nice option to have. I love the versatility of this product, and is a good price considering all of its multiple uses.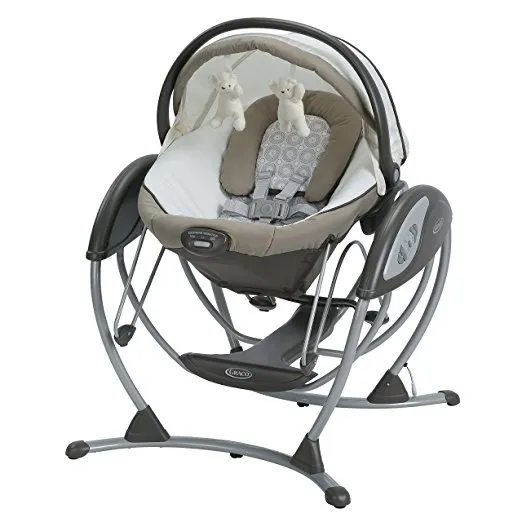 Buy on Amazon: Graco Soothing System Glider Baby Swing
34. PACK N' PLAY
Whether you choose to set it up on your main floor to save you trips up and down the stairs, or if you are travelling with your child in tow, a Pack n' Play is a great investment piece that you will get years of use out of. There are simple versions with just the play yard itself, while some other models come with a bassinet, portable bouncer, change table surfaces, and added storage compartment for your diapering supplies.
This Graco Pack 'n Play Playard Snuggle Suite LX is one of my favorites! It has a built in sound machine that plays music and nature sounds that will aid in your baby's sleep, and it's portable bouncer is easy to detach so you can easily move around the home and keep baby content. The changing station is designed to accommodate children up to 30 lbs. It features wipe-clean fabrics for easy clean up. This product will grow with your little one from newborn, to infant, to toddler! If you want to save on purchasing a bassinet, this is a great alternative to keep at your bedside during your child's first few months of life.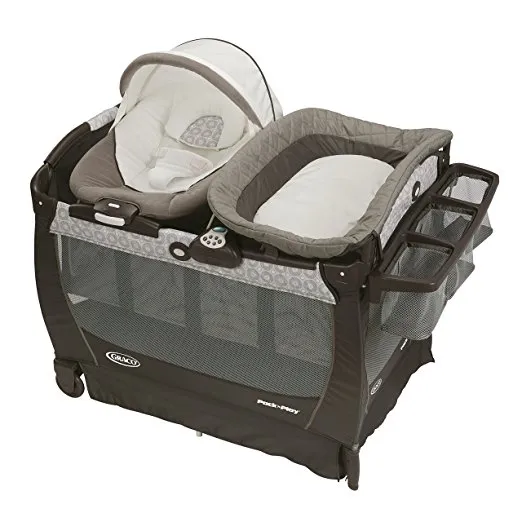 Buy on Amazon: Graco Pack N' Play
33. BABY MONITOR
Some parents are adamant about having a video monitor over audio-only models. I must say that I am a big fan of the video models. Yes, the audio-only models often come with a smaller price tag, but I feel the added expense is worth having the additional features. I like that I can look to see my child rather than going into their room, so I can see if they are simply fussing and can settle themself, or if I actually need to go in, and potential wake them up more, unnecessarily. Video monitors can also be connected to multiple cameras, which is a very valuable tool if you have more than one child in separate rooms.
When it comes to baby monitors there are wireless models and others that require a wifi connection. We opted for the wireless model, since we knew we would be taking it to the cottage where there was no wifi — this is important to consider! We have the Motorola MBP33XL 3.5" Video Baby Monitor. We have loved it! It can also play 5 lullabies, has room temperature display, infrared night vision, 1,000 ft range, and it has crystal-clear 2-way audio so we can talk (or sing) to our child without being in the room. You can also purchase up to 4 additional cameras! (MBP36XLBU). The Levana Aria (7") is another wonderful video monitor options. A friend has this video monitor model, and I was quite impressed by the clarity of the picture, and its features.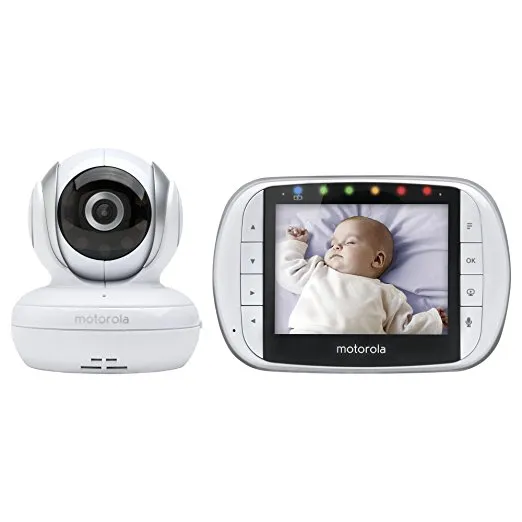 Buy on Amazon: Motorola Video Baby Monitor
Buy on Amazon: Levana (Aria) Video Baby Monitor
32. DIGITAL INFRARED THERMOMETER
If you have ever taken your child's temperature, orally, under their armpit, or in their ear, you would probably agree that it can be very difficult keeping them still long enough for you to get the reading. Digital infrared thermometers can be a great thermometre option worthwhile investing in, as they are simple to use and give fast accurate readings in seconds.
Simply point at your child's forehead for a second or two — you will get a reading; green if they do not have a temperature, yellow if they have a low-grade fever, and red if they have a fever. Many models also have the option to turn off the sound, so that you can monitor your little one's temperature in the night without waking them. You will love this product, and it can certainly make your life a little easier when dealing with a child who is under the weather. Some infrared thermometers can even read surface temperatures so you can measure bottle or bath temperatures!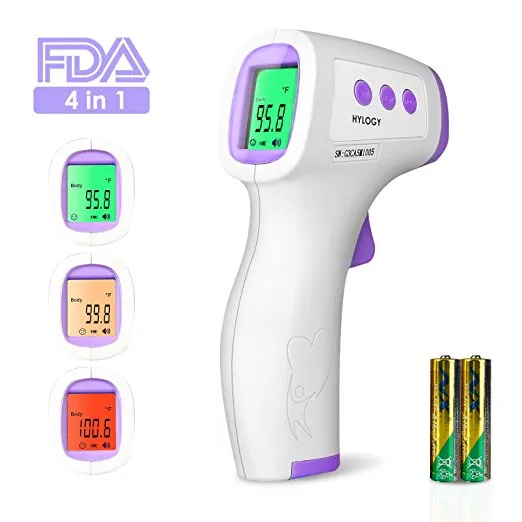 Buy on Amazon: Digital Infrared Baby Thermometer
31. SOUND MACHINE
Gone are the days of whispering and walking around on your tiptoes trying to be quiet while your little one sleeps. Sound machines provide a little background noise that will help drown out other noises while your little one sleeps. When your baby is in utero, they hear lots of sounds — your heart beat, the gurgling in your stomach, or even hearing you talk, and laugh. When they are born, the silence can be very scary for them. These sound machines are perfect for making them feel a bit more at home.
There are already new and improved models on the market today since I have purchased mine. One product that has particularly caught my eye is the Munchkin Nursery Projector and Sound System. It has 10 soothing sounds including 3 mozart lullabies, and doubles as a calming visual aid with its projector and nightlight. It has a timer feature to allow for continuous play or 15, 30 or 60 minute intervals with an additional voice activation mode that can automatically trigger the sound to come back on if your little one wakes up crying in the night. Very cool!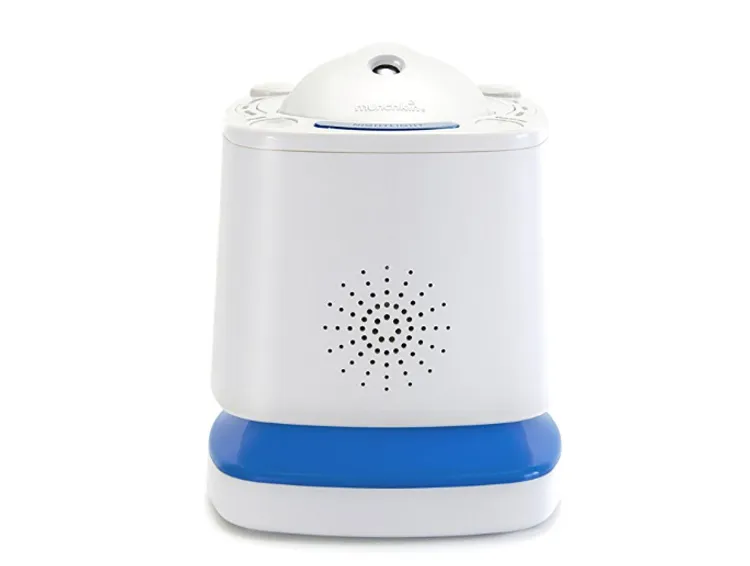 Buy on Amazon: Munchkin Nursery Projector and Sound System
30. COMFY NURSERY GLIDER
You will spend hours nursing, reading and snuggling with your little one, so you might as well be comfy. I remember when I was looking at gliders and being a bit taken back by how much they cost. I opted to go for a mid-priced option, but looking back, I think when you consider how much time you will be spending in this chair, it is worth the extra investment! I purchased a wood-framed glider with an ottoman. It is decently comfortable, and has easy to remove cushions for spot cleaning. But it starts to get a bit uncomfortable during long sitting periods as my son gets older and he likes to sit on my nap for his bedtime stories. We are just running out of room on it, and it is prone to creak now after repeated use.
When looking for a chair, it is worth getting a big comfy one (space permitting). Make sure whoever plans to use the chair goes to the store to try it out. Make sure you can easily get up and out of the chair without disrupting your baby. Also, be sure to take measurements before purchasing to see that it will fit your space. Gender neutral is also a good option. This way you can use it in the nursery of any future little boy or girl, and eventually move it into another room of your house later for continued use.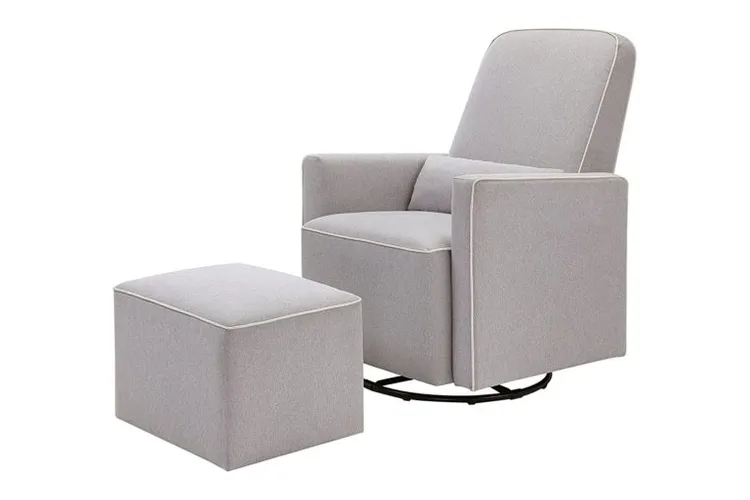 Buy on Amazon: DaVinci Swivel Glider with Ottoman
29. BREAST PUMP
Most of us know that the benefits of breast milk for our babies extend well beyond basic nutrition for them. In addition to containing all the vitamins and nutrients babies needs, breast milk is packed with disease-fighting substances that protect babies from illness. Whether you are a stay at home mom or a working mom, if you are breastfeeding, a breast pump will be a helpful tool and will soon become your best friend!
The Medela Pump In Style Advanced is a top rated option that I can say from personal experience, (and backed up from my own research) is a must-have for all new moms to have. It is a hospital grade quality pump that is lightweight and convenient to use. It comes in a take- along backpack and has a cooler pack to keep your milk stored and chilled. This is a double pump that allows you to pump one or both breasts. I could talk about the topic of breastfeeding for hours, but trust me when I say a breast pump is worthy to be on this must-have list. Whether you need to induce lactation, increase your supply, or to help with engorgement after your milk comes in, you will want to have one handy from the get go!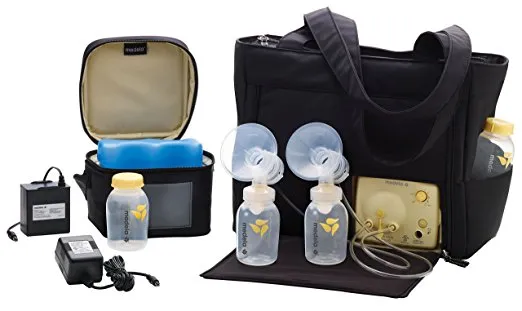 Buy on Amazon: Medela Pump In Style Advanced Breast Pump
28. BABY BOTTLES
While we are on the topic of feeding, another must-have item for this list would be baby bottles! There are so many products available, but the bottle that worked best for my family was the Dr. Brown's Natural Flow wide-neck bottles. It features a patented internal vent which reduces air bubbles and helps prevent fluid in your baby's ears and helps reduce spit-up, burping, and gas.
Our little guy struggled with gas, so these were a must-have, and better than all the other bottles we tried. This bottle stood out among competitors, and is considered to be the 'best bang for your buck'! Whether you're a parent who wants to supplement breastfeeding with an occasional bottle, or one who exclusively pumps or uses formula, baby bottles are an essential to have. I highly encourage getting your partner involved in the feedings and letting your baby get use to both the bottle and breast — and more importantly — getting fed by someone other than you! It is recommended to try this ideally when your little one is 3-4 weeks old. If you normally breastfeed, and you are planning to miss a feeding using either previously pumped milk or formula, remember to still hand express or pump at the same time you would have normally breastfed your baby, so that it doesn't impact (lower) your milk supply. The more you breastfeed or pump, the more milk your body will make!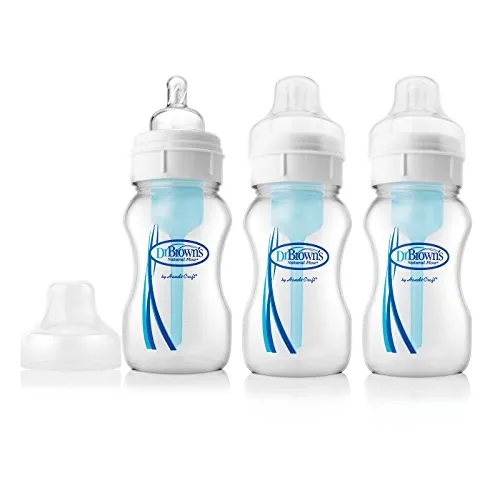 Buy on Amazon: Dr. Brown's Natural Flow Wide Neck Bottles
27. BABY BOTTLE BRUSH (SET)
When it comes to cleaning your baby bottles, the OXO Tot Brush with Nipple Cleaner and Stand, is a great product to have on hand. This brush features two different cleaning heads with different types of bristles for gentle cleaning, or more aggressive scrubbing, while not scratching plastic. It is a great cleaning brush that is compatible with most bottle sizes, and it's flexible neck will allow you to reach even the most stubborn stuck on messes at the bottom of the bottle.
It's silicone nipple cleaner can get into tight spaces, and can also be used to clean sippy cups or parts of a breast pump. It also has a built in soap dispenser, that with the touch of a button, will dispense dish cleanser directly onto the brushes bristles. It has an easy to grip handle, with it's own stand, allowing the brush to dry faster, and even has a removable drip tray. The head is replaceable, which is another added feature, that parents can appreciate. If your baby's bottle has smaller parts, you may consider getting the OXO Tot Bottle & Cup Cleaning Value Set! It comes with the standing brush, the thin (straw) brush, as well as a drying rack!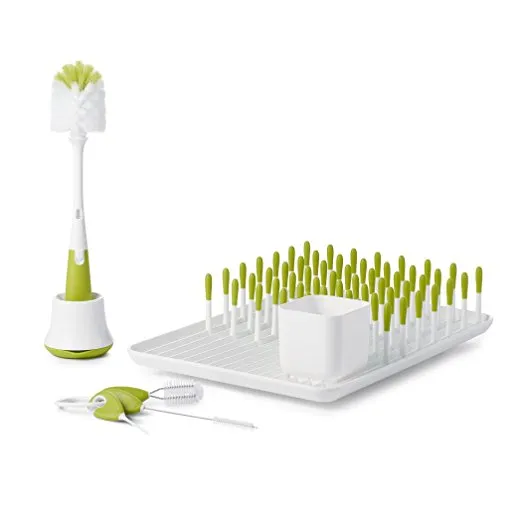 Buy on Amazon: Oxo Tot Brush with Nipple Cleaner and Stand
26. NURSING PILLOW
Still on the topic of feeding, a nursing pillow is yet another handy item to have. Some people argue that using a regular pillow will suffice, however I went back and forth on if this item should be on the must-have list — and here it is! I concluded yes, and this is why. While people can argue either way — that they make nursing more comfortable or less comfortable — I am going to say, if they are used properly and the baby is positioned properly, it will make nursing more comfortable for both baby and mommy. Often the instructions on how to use the pillow are not always clear and accurate.
You want the pillow in a position that allows you to keep your baby turned toward your body and as close to you as possible to ensure they have a good latch. You want to be able to hold and feed them comfortably while maintaining good posture. Nursing is supposed to feel comfortable for both mommy and baby — if it is not, something is wrong. Some parents wrap the nursing pillow around their waist, use it to prop up their back, or use it under their arm. But, did you know that these pillows were originally designed to prop up babies who were not quite ready to sit on their own? They only later became popular when women started to help them when nursing! So, I feel a nursing pillow will certainly get it's use whether for its original intended use or for nursing!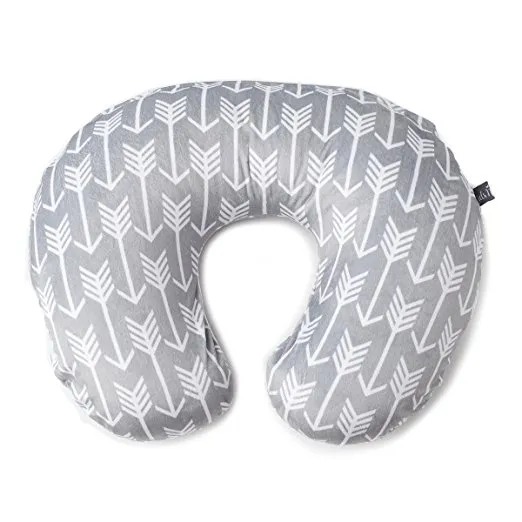 Buy on Amazon: Boppy Nursing Pillow
25. HUMIDIFIER
Having a humidifier in your baby's room is a great way to help your little one be more comfortable when they are fighting a cold. The moisture in the air can help loosen congestion and even help them if they have a dry, sore throat. During cold winter months, when the air in our home is especially drying, a humidifier can be a great way to add moisture back into the air. It would be very a very helpful thing to have at the ready when your baby, or child, (or even you) get sick.
If you have allergy or asthma suffers in the house, humidifiers can be helpful to reduce those unpleasant symptoms as well. You could chose a baby themed, animal shaped humidifier — however, a standard humidifier would be great for the whole families use! We used the Vicks Cool Mist Humidifier. Find a model with an auto shut off when it is empty, and one with no filters for minimal maintenance. We have used a humidifier in our son's room when we thought he was starting to get a bit sick and congested, and I truly feel it even helped nipped things in the bud!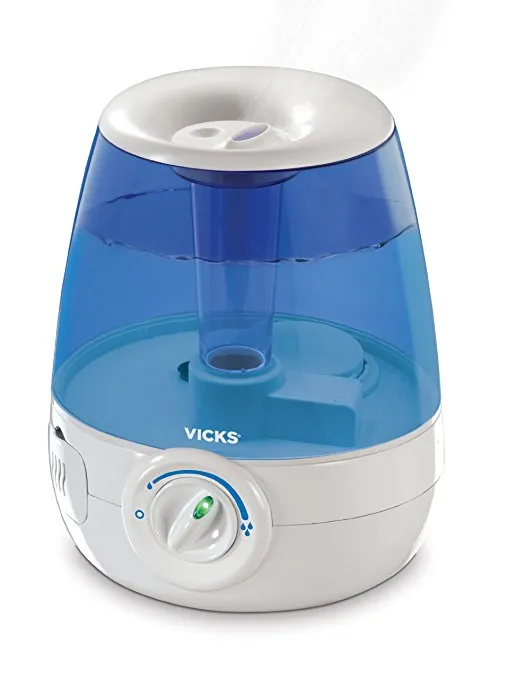 Buy on Amazon: Vicks Filter-free, Ultrasonic, Visible Cool Mist Humidifier for Medium rooms
24.BABY CARRIER
There are three styles of carriers: wraps, slings, and structured carriers. I have personally tried using each type. If you have the opportunity to experiment with a carrier before purchasing, it would be very worthwhile to see what works best for you and your little one. My favourite (and a top pick amongst many mommy and daddy's) is the ERGObaby Four Position 360 carrier.
The ERGObaby Four Position 360 is a versatile carrier, that is comfortable for both wearer and baby. It offers four secure position choices: front-inward facing, front-outward facing, hip or back. It has a supportive bucket seat and it's hip-healthy ergonomic design will keep your little one seated in a natural "M" position, whether they are facing in, out or on your back or hip. It has nicely padded shoulder straps, a wide supportive waistband providing unrivaled lower back support and preventing pain. The fabric is lightweight and breathable, and is machine washable for easy care. It is usable from baby to toddler (12 lbs to 33lbs). ERGObaby also offers a newborn insert, (sold separately) which can be used for baby's 7 lbs to 12 lbs.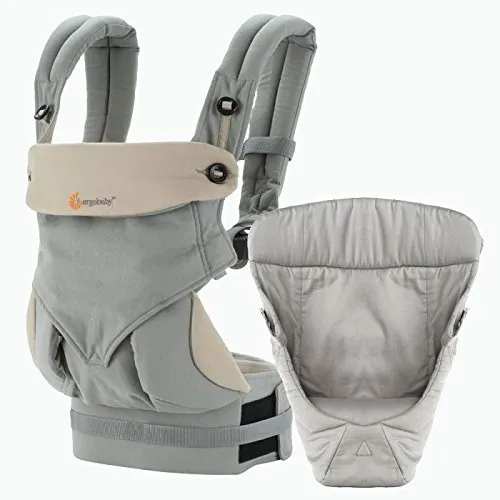 Buy on Amazon: ERGObaby Four Position 360 Baby Carrier
23. DIAPER BAG
Functionality is the top priority. Sometimes the best diaper bags are those that are designed for other purposes, such as tote bags or backpacks. If you don't find something you think will work well for you, don't be afraid to broaden your search. These bags are 'diaper bags' from The Honest Company, but you would never guess it. They are neutral in design, and look like any average leather tote.
When we were looking for a diaper bag, my husband insisted we didn't buy something "babyish". He wanted something that didn't look so much like a diaper bag, and something he wouldn't be embarrassed carrying around. These bags (or something similar) would make a great option, as you can certainly use it as an overnight bag in the future when your little one gets older! For moms, it is likely that your diaper bag will also double as your purse, so make sure it is large enough to carry all of baby's essentials as well as your own.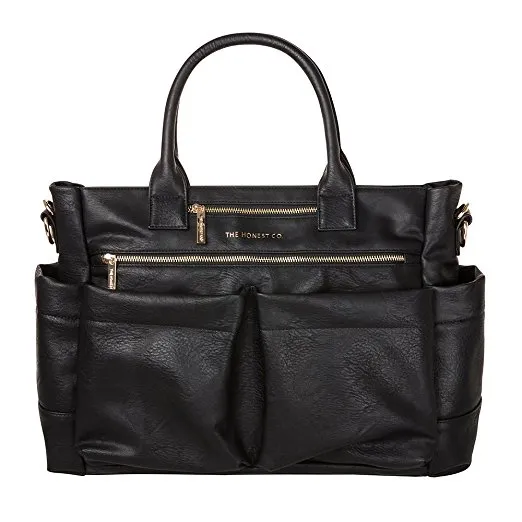 Buy on Amazon: The Honest Company Diaper Bag, Black
22. SLEEP SACKS
When your baby starts to roll and become more mobile during the night, and you are concerned about them getting their limbs stuck between the slats of the crib, you should consider zipping them up in a sleep sack! Infant sleep sacks improve sleep safety of newborns by reducing the risk of SIDS (Sudden Infant Death Syndrome), but parents must ensure that they are using them properly to avoid the other risks, such as overheating or choking on the zipper.
Sleep sacks can help babies sleep better at night and ease the transition away from swaddling. If you are concerned that your little one isn't warm enough at night, a sleep sack will keep them warm, and unlike a blanket, they can't kick it off or become tangled in them. Loose bedding can increase the risk of suffocation (and SIDS when they are infants). To ensure your little one doesn't overheat while in their sleep sack, dress them lightly underneath depending on the temperature of the room. If it is warm inside, dress them in light pajamas and choose a lightweight (muslin) sleep sack. If it is cooler, you may choose a warmer (fleece) sleep sack. When selecting a sleep sack, look for designs that are free of embellishments and have velcro coverings over the zipper or another type of enclosure. A good tip is to find one that zips from the bottom up, making nighttime diaper changes quicker and easier, too!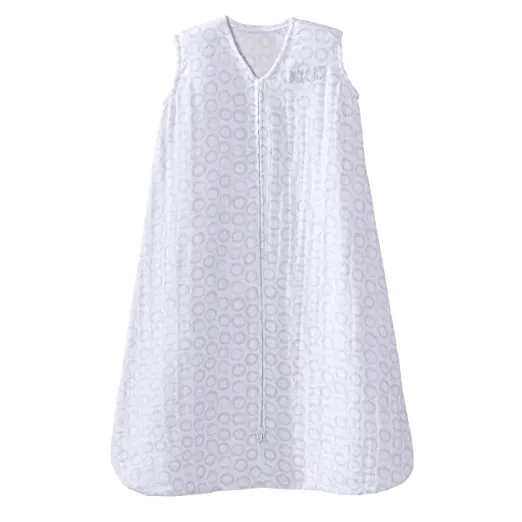 Buy on Amazon: Halo SleepSack Micro-Fleece Wearable Blanket, Grey
21. RECEIVING BLANKETS
Parents, look no further than these breathable multi-use muslin swaddle blankets! They come in an extremely wide selection of colors and designs — perfect for the modern parent with an eye for design! In addition to being absolutely adorable, they are also incredibly useful to boot!
These blankets make for a great tummy time blanket, stroller cover, burp cloth, nursing cover, or great for swaddling, too (to name just a few). They will certainly serve you and your baby well. It's breathable 100% cotton fabric will help reduce the risk of overheating, and best of all, it gets softer the more you wash it! These are a definite must-have item for new parents! I would suggest have 8-12, depending on how frequently you plan to do laundry and how you plan to use them.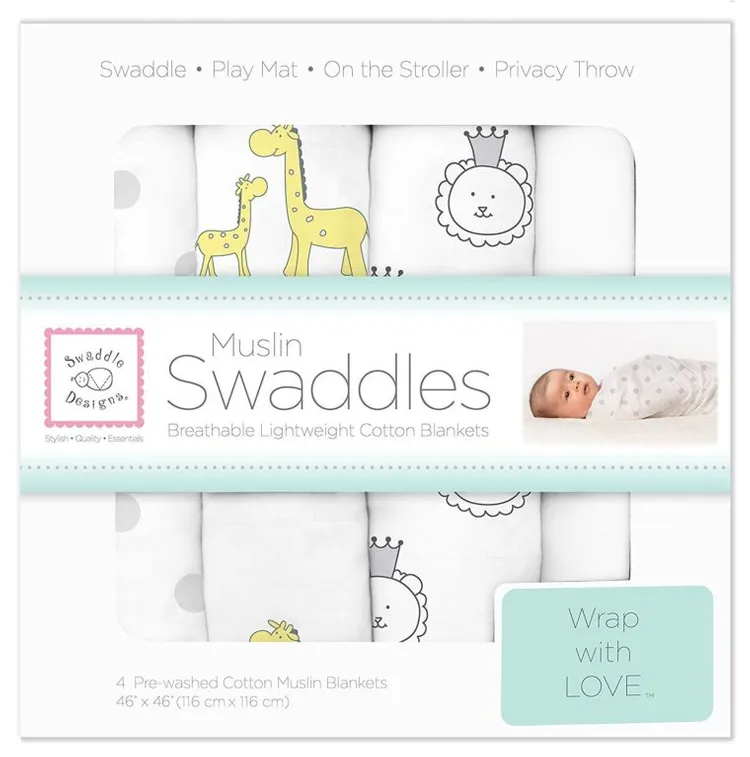 Buy on Amazon: SwaddleDesigns Cotton Muslin Swaddle Blankets, Set of 4
20. LONG (FULL COVERAGE) BIBS
Do these come in adult sizes? They really should! Waterproof, lightweight, with a catch all pocket — these bibs with sleeves are a definite must-have item! These bibs with sleeves are great to protect your little one's clothes from big messes at mealtime, AND they can also be used as an art smock for your little artist! The fabric is easy to care for and instantly re-usable as is can be simply rinsed or wiped clean.
While these bibs are great for when your little one gets a bit older and starts eating solid foods, having a long (full coverage) cloth bibs during their infancy is also important too. Babies spit-up — a lot! There are bound to be messes, so having bibs that fully cover their midsection is key. Don't buy those tiny little bibs or bandanas that barely cover their chest. If you really want to protect their clothes from the inevitable messes, opt for long bibs! They are must-haves. I would recommend 7-10 long cloth bibs during your child's infancy (depending on how frequently you plan to do laundry), and 1 or two of these sleeved bibs for when you child starts eating solids.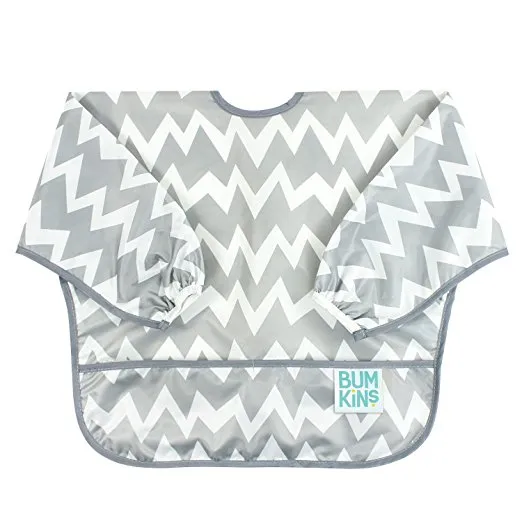 Buy on Amazon: Bumpkins Waterproof Sleeved Bib, Grey Chevron
19. TEETHING TOYS
Another must-have would be a small selection of teething toys. Teething typically starts around 4-6 months of age. There is no mistaking it — you will know because your little one will start drooling up a storm and sticking their fingers (or anything in arms reach) into their mouth trying to find relief. Teether toys are a great way to help with the pain and keep their little mouths busy, but not all toys are safe to use as teethers. Here are some important features to look for when you are shopping for baby teethers:
Firstly, look for something that is multi-purpose (something that will soothe their teething gums while being fun and entertaining to play with too). Look for toys that have an attachment component (something that can attach to their car seat, stroller or activity chair and keep it from falling or being thrown to the ground). Look for something that is easy to clean (avoid teethers with a lot of nooks and crannies that are more difficult to wipe down and sanitize). Look for teethers that are BPA-free (you want to ensure you are not exposing them to harmful plastics or chemicals). Look for something that is durable (since they will be chomping on it, you don't want something that will lose its firmness or will deteriorate causing potential safety hazards). Lastly, you want to look for something that is priced fairly. You don't need to spend over $10-$15 to have a good quality teething toy. You have probably heard parents talk about the Sophie Giraffes — neither my son nor I cared for it. As a consumer, I think they are greatly overpriced, and there have been instances of mold growth on the inside (from when water or slobber) got into the toy. There are much more affordable options that will keep your little one happy and entertained!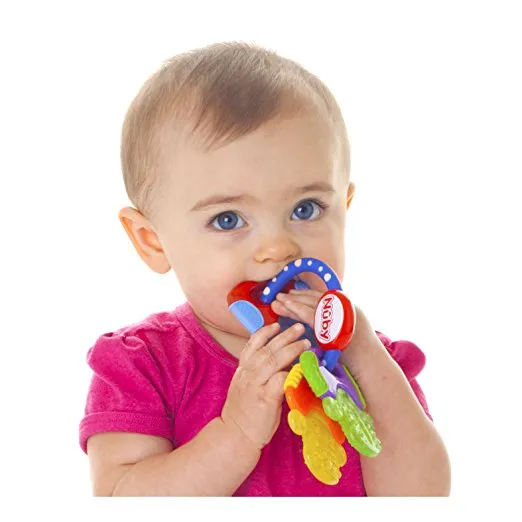 Buy on Amazon: Nuby Ice Gel Teether Keys
Buy on Amazon: Manhattan Toy Winkle Rattle and Sensory Teether Toy
Buy on Amazon: Baby Banana Infant Training Toothbrush and Teether
18. HIGH CHAIR
When selecting a model of chair for your little one, there are some different options to consider. You can buy a freestanding highchair or a portable attachable chair option. Decisions, decisions! Take time to think about what you feel will best suit your family's needs. When selecting a chair here are some things consider:
Style! What will look best in your home? Is it gender neutral and something you can use for a future baby boy or girl? Size! What will work best for your space? If you have a small space, you may want to consider a portable option or a full-sized option that can be folded up and stored easily. Safety! What is the chairs weight capacity? Does it have secure restraint straps and a sturdy base that can lock in place? Adjustability! Is the height adjustable? Can you seat your child comfortably against your dining table or counter? Will it grow with your child? Cleanability! Is it easy to clean? Does it have a dishwasher safe tray? If it has a seat cushion, can it be easily removed and machine washed? Durability! Is it of good quality? Can it withstand the inevitable wear and tear? Budget-friendly! Highchairs can range from $60 to $450 — so whichever model you chose, make sure you select something of good value for the dollar. These are all important things to consider and questions to ask when making your decision.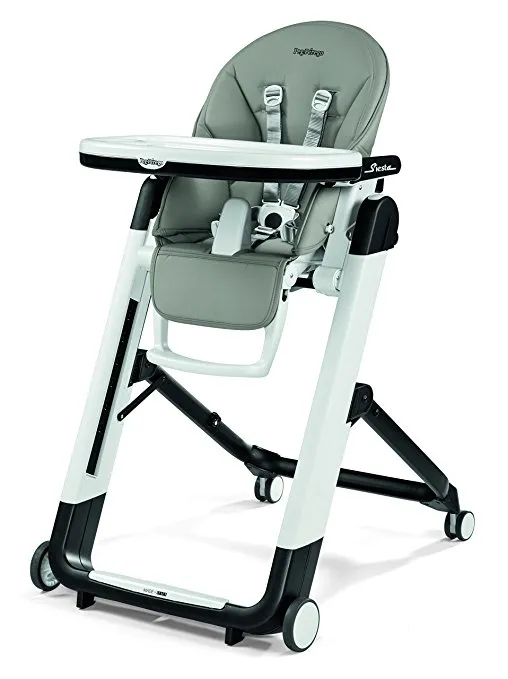 Buy on Amazon: Peg Perego Siesta Highchair
Buy on Amazon: Chico 360 Hook on Chair
17. NURSING WEAR
Most of us want to get back into our regular wardrobe as soon as possible after the birth of our little ones, but most tops, dresses and even bras aren't the most functional things to wear when breastfeeding. In my early post-baby months, I made due wearing normal clothes and after a few months I decided to invest in some nursing wear — and I am so happy I did. It honestly made the process of breastfeeding my son so much easier whether in the comfort and privacy of my own home, or when I was out and about.
There are many types of nursing wear to choose from: tanks, short or long sleeve shirts, dresses, bras and even hoodies! They often look just like a something you would normally wear everyday but they allow you easy access by opening or lifting one layer to expose a bottom layer with cut outs on either side — meaning no more flashing your stomach in the process, and allowing for total discretion while nursing!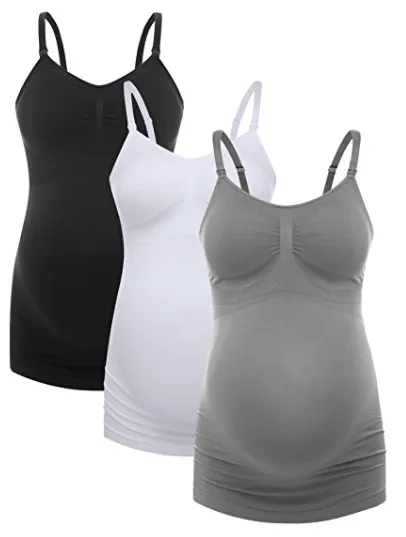 Buy on Amazon: Essential Nursing Tanks, Set of 3
16. DRESSER AND CHANGE PAD
Instead of purchasing a change table, opt for a full sized dresser instead (space permitting, of course). Instead of buying something that is quite obviously a change table, and can only be used in your child's nursery, try to find something that will grow with your child and eventually be used as furniture in their bedroom growing up. Add a change pad on top, and you will be all set!
With regards to the change pad, I would suggest the Summer Infant Contoured Changing Pad. It features no-skid technology on the bottom, so you won't need to worry about the pad slipping during a messy diaper changing session. I would also recommend buying at least two fitted cover sheets for it. You never know when an accident might happen, so it is a good idea to have a second on hand should you require it.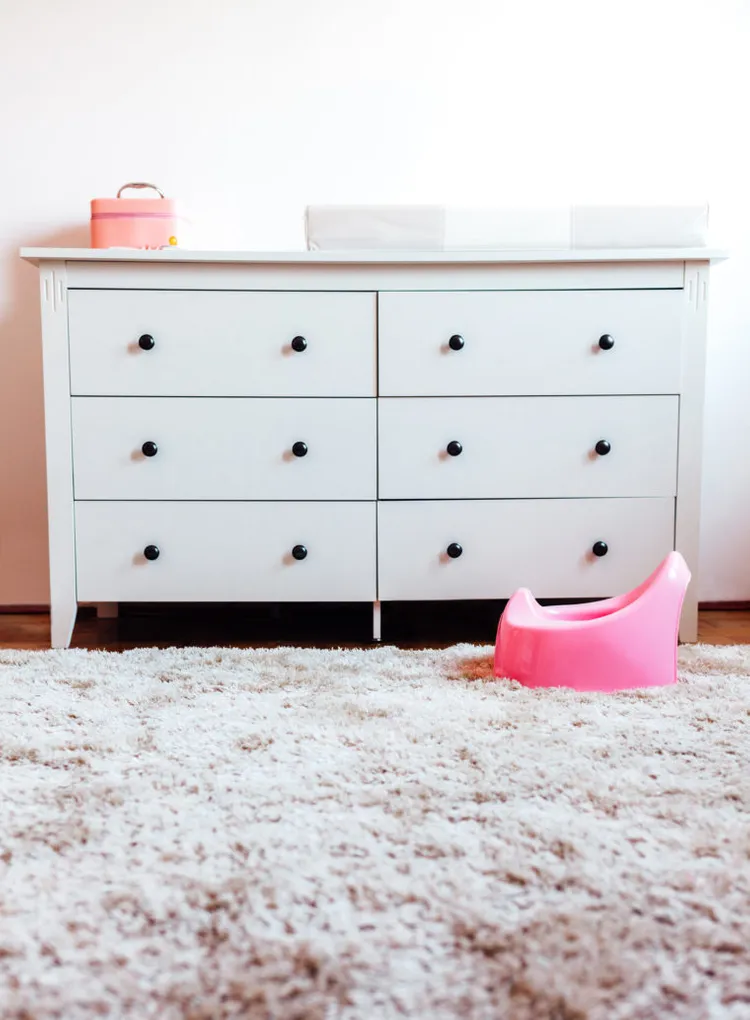 Buy on Amazon: Angel Line Lauren 6 Drawer Dresser, White
Buy on Amazon: Summer Infant Contoured Changing Pad
15. PACIFIERS
When it comes to finding the best pacifier, the answer might simply be whichever one your baby will take! Buying a few different types of pacifiers certainly won't break the bank, and it is sure to pay off when you are able to see which pacifier your child likes the most. When selecting pacifiers it is important to read the labels. Pacifiers that are designed for babies are not meant for little ones with bigger mouths, and vice versa.
There are different suggestions for new babies, breastfeeding babies, teething babies, and for older babies and toddlers. Be sure to read the labels to find out which is best for your little one. Some top pics and favorites of many parents are the Avent Orthodontic Translucent Silicone Pacifier and the Philips Avent Soothie Pacifier. Pediatric dentists may recommend using a pacifier that is ventilated. The ventilation will allow air to pass through the pacifier as your baby is sucking to decrease the pressure that is inflicted on the palate and developing teeth.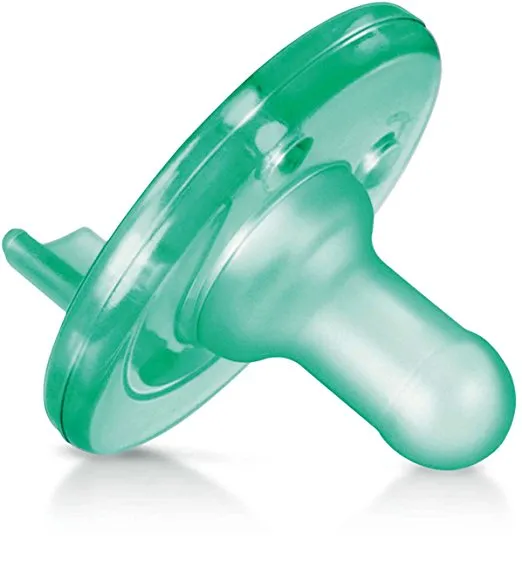 Buy on Amazon: Philips AVENT BPA Free Translucent Orthodontic Infant Pacifier
14. ACTIVITY MAT
Soon after your little one is born, you can start giving your baby tummy time. Tummy time is a baby's first workout. It is important for your child to do this because it will allow them to use neck and upper back muscles and stabilize their head when they sit upright. For tummy time we used our activity mat.
One of my favorites is the Fisher-Price Kick and Play Piano Gym. It has five toys that can dangle overhead when your little one is on their back, or you can attach them to the mat to make tummy time more entertaining for them. You baby can lay down on their back or tummy and be challenged to used their legs to kick the keys to create music. When your baby can sit up, the keyboard can be turned upright allowing them to pound away on the piano keys. It is a quite versatile playmat and the music feature is a great additional stimulation for them as well.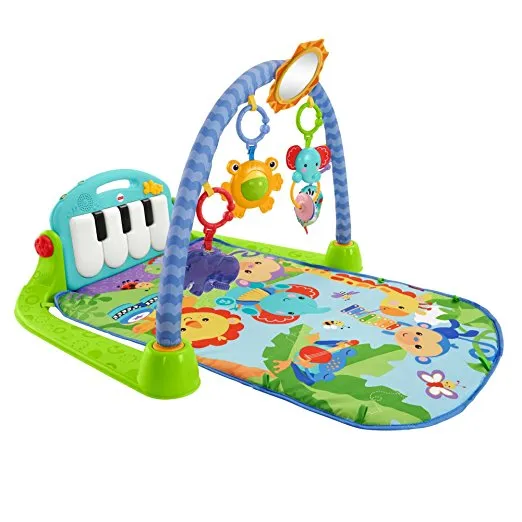 Buy on Amazon: Fisher-Price Kick & Play Piano Gym, Blue/Green
13. ACTIVITY JUMPER
There is nothing more adorable than the sound of a baby laughing as they bounce up and down in their activity jumper. A common rule of thumb to know when your baby is ready for this type of jumper, is when they can support their head without help. Of course, read the manufacturer's minimum age, height, and weight limits for the baby jumper you choose. A baby jumper is a great way for your baby to use and develop their leg muscles, and is a great way to let your baby expend excess energy and help them sleep!
There are different types of jumpers for you to consider. Stationary jumpers consist of a seat, an elastic cord and a frame. They provide no additional entertainment other than bouncing. Doorway jumpers are similar to stationary jumpers, but on the other side of the elastic cord their is a clamp to attach it to a door frame. As their name implies, it can only be used in doorways. Lastly, stationary activity jumpers consist of a seat, an elastic cord and a frame as well as a tray filled with a variety of toys for added stimulation and play. When your little one gets tired of jumping they can simply sit and enjoy playing with the trays toys. My favorite is the Baby Einstein Neptune's Ocean Discovery Jumper. It's seat rotates 360 degrees allowing baby to reach all of the toy stations. It has four height positions and its new technology makes changing the height very easy as your child grows. It's colorful lights and sounds make for stimulating play, while introducing your little one to numbers and colors in English, Spanish or French!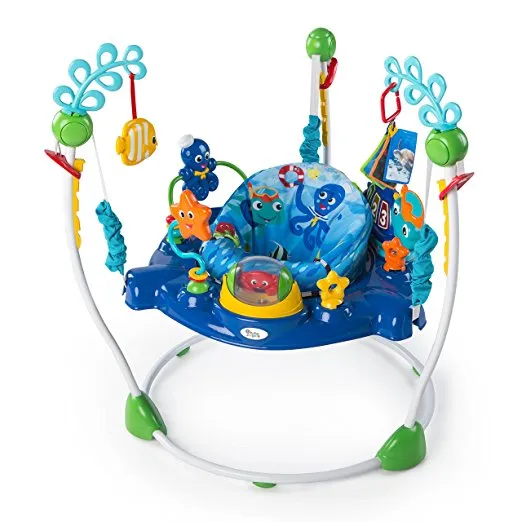 Buy on Amazon: Baby Einstein Neptune's Ocean Discovery Jumper
12. CRIB SHEETS
Many parents often ask: how many crib sheets do I need for my baby? I would recommend you select a number of sheets that seems appropriate for your particular situation. If you are a parent who doesn't mind doing laundry on a daily basis, then you are fine with having just two sheets. However, if you aren't, some parents recommend having 4 to even 7 crib sheets on hand.
We all know that babies tend to drool, spit up, sweat and of course poop and pee while they sleep. If your child tends to move around alot while they sleep, they can soon become covered with all of the unsanitary elements. As soon as your child soils their sheet, it requires changing. Whether they are patterned or plain, 100% cotton sheets are a great option! I like this Flannel Crib Sheet Set. They are made of 100% cotton flannel, and they are very soft, durable and are wrinkle and fade resistant! No matter how many sheets you have, just make sure that you wash them regularly.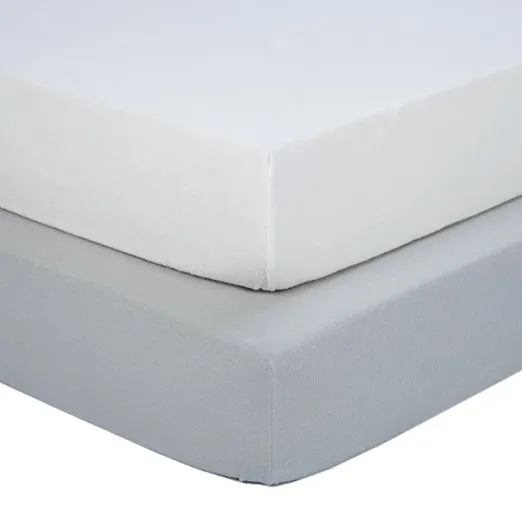 Buy on Amazon: Flannel Crib Sheet Set
11. A QUALITY CRIB MATTRESS
It is easy to become daunted and find it remarkably complex to select a product as seamingly simple as a crib mattress. It can be especially hard when you are trying to find one that will work best for you and your family's needs. The average baby sleeps anywhere from 13-15 hours total for the day. They spend a great deal of time sleeping, so you want to find something that is safe, durable and of course comfortable for them. Ideally, you want to find a mattress that meets the below criteria.
Find a firm mattress — one that will provide maximum comfort as well as the firm support your little one needs. Find a mattress that promotes good airflow — for optimal breathing and air circulation to help reduce the risk of suffocation and overheating while sleeping. Find a mattress that is ideally hypoallergenic, washable and/or waterproof — one that is optimal for your little ones health and well-being. Lastly, you want a mattress that is durable — something that will stand up to frequent and repeated use of your little one and any possible siblings to follow! After reading many reviews and top-choice lists, the Newton Wovenaire Crib Mattress is a popular choice that checks all of the above boxes, and would make a great investment piece for your child's nursery!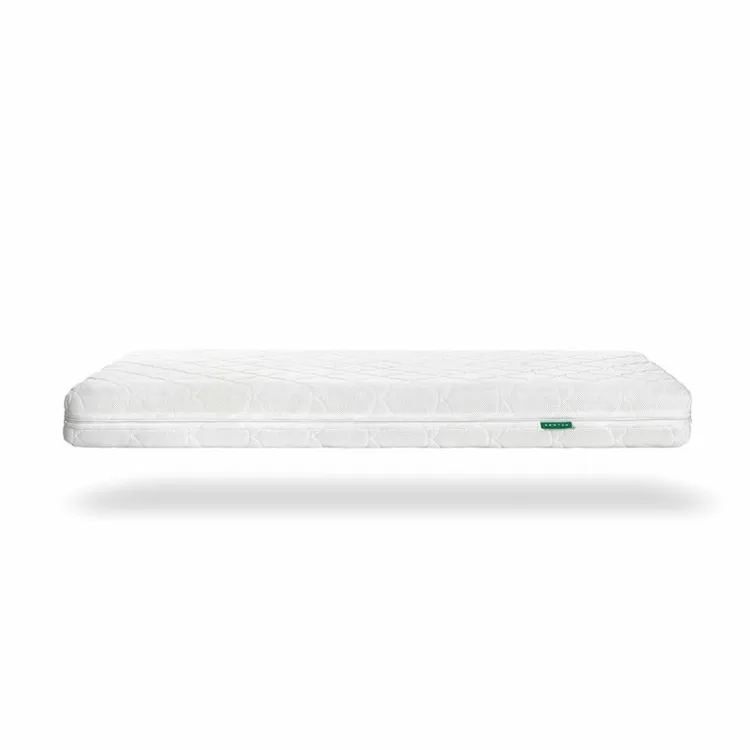 Buy on Amazon: Newton Wovenaire Crib Mattress
10. MATTRESS PROTECTOR
While staying on the topic of mattresses, if the mattress you chose isn't waterproof — or even if it is and you just want a little extra protection to be safe — waterproof crib mattress protectors are a definite must-have item. I own three and sometimes I wish I had more. If you're little one seems to soak through even overnight diapers, having a hand full of waterproof mattress protectors would not be a bad thing.
The American Baby Company Waterproof Fitted Crib and Toddler Protective Mattress Pad is a great, and affordable option. They not only help protect the mattress from leaks, but they also offer added comfort with it's soft quilted cushion top layer. The middle layer is comprised of a waterproof vinyl, as opposed to being the top layer and making for a noisy 'crackling' sound that some other mattress covers have that may disrupt your little ones sleep. These mattress pads are machine washable and dryer safe, and can stand up to frequent washing.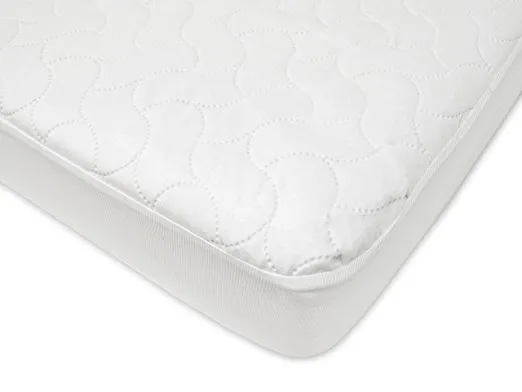 Buy on Amazon: American Baby Company Waterproof Fitted Crib and Toddler Protective Mattress Pad Cover
9. BABY GATE
I will never forget the day I put my son down on his activity mat in the middle of our living room floor for some floor play and stepped into the the kitchen to grab his bottle and came back to see he had rolled himself 4 feet from where I placed him. I hope that doesn't sound like I am a terrible parent, but that first time your little one starts to be mobile, you realize it is time to start baby proofing! You may find yourself needing a baby gate to keep your little explorer in a safe, contained space.
Depending on your homes layout, you will need to find a gate (or gates) that will work best for your space. I bought a selection of Regalo baby gates for a few different areas of my house. Prefect for hallways, doorways, open spaces or at the bottom of the stairs — the Regalo baby gates are easy to open with one hand, and it's largest size can fit openings up to 192" wide and folds for easy storage. I really liked that these gates were tension gates as opposed to having to mount them to the wall more permanently. Here were some of my favorite Regalo gates: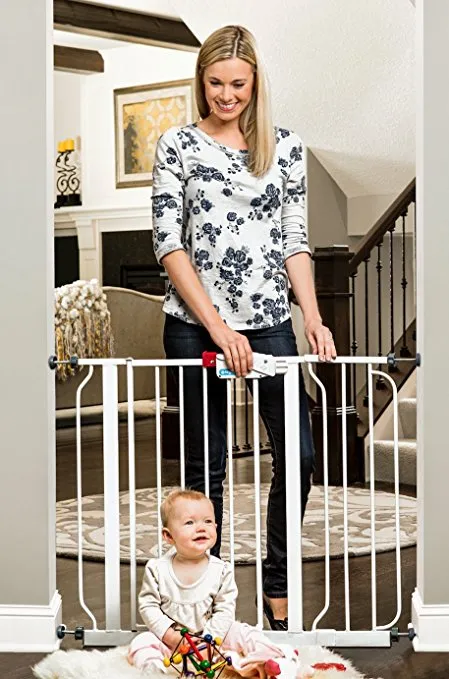 Buy on Amazon: Regalo Baby Gate (Fits opening 29" to 39" wide)
8. HOUSEHOLD BABY PROOFING SAFETY GEAR
While on the topic of baby proofing, I would highly recommend picking up Safety 1st Safety Essentials Kit to help get you started on baby proofing the rest of your home. This kit includes: 4 grip 'n twist door knob covers, 12 cabinet and drawer latches, and 30 electrical outlet plug protectors. This starter kit is not only made of high quality materials making it durable and safe to use, but they are also quite affordable.
Protect your curious little one from household cleaners and other chemicals by storing those items in locked cabinets or installing safety latches. Do the same for any low cupboards that may contain dangerous items like small appliances, etc. For added safety, store hazardous items up high and as far away from small fingers as possible. Although this specific kit will not help you with this; it is also important to take the time to secure your tvs and other furniture pieces like dressers, bookshelves and other heavy items, to prevent them from falling on your little one. This is something that many parents forget to consider, so it is important to think beyond what may be obvious.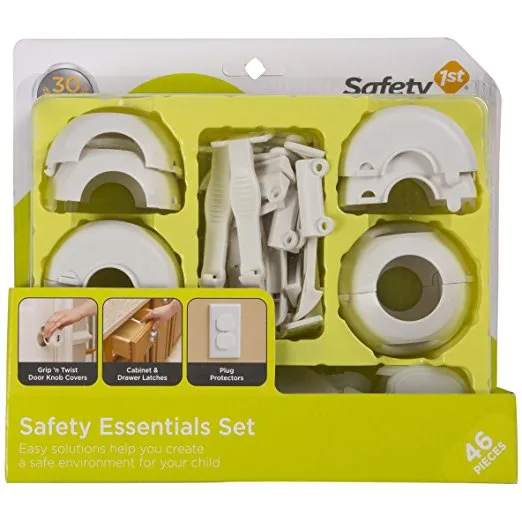 Buy on Amazon: Safety 1st Safety Essentials Kit
7. SIPPY CUPS
Attention all parents! When your little one is ready to graduate from bottle to sippy cup, look no further than these Munchkin Miracle 360 Sippy Cups! Their spoutless design supports natural oral development and is the sippy cup most recommended by dentists. It's 360 degree drinking edge eliminates spills when correctly fastened by an adult, which is an amazing feature that all parents will be able to appreciate!
For cleaning, these cups come apart into 4 pieces all together (a mouthpiece, screw on lid, clear silicone washer and the cup itself). It is important that you take all 4 pieces off and clean thoroughly as there is a potential for mold growth under the mouthpiece or the clear silicone washer (located on the underside of the white screw on lid). These cups are recommended for little ones 12 months and older, and are a definite must-have item for this list!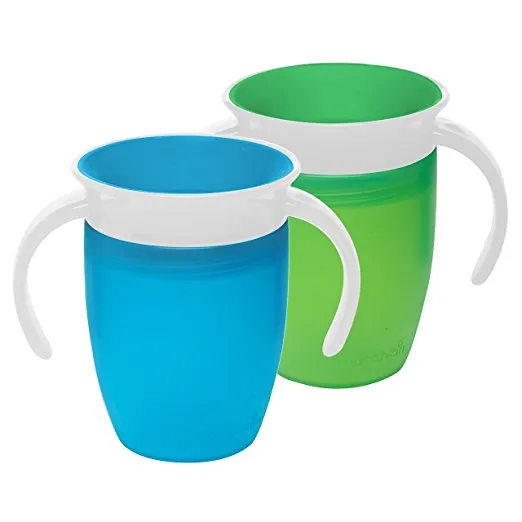 Buy on Amazon: Munchkin Miracle 360 Trainer Cup , Green/Blue, 7 Ounce, 2 Count (with handles)
6. SELECTION OF BOOKS
Parents are the most important educator in their child's life, and it is never to early to start reading with your child. Even before a child is born, they are able to recognize their parents' voices. Reading to your baby from birth, even just a few minutes a day, provides them with the comfort of hearing your voice while increasing their exposure to language. Through hearing stories read to them, they are exposed to a wide range of words, helping them build their own vocabulary and improving their understanding when they listen. Even though they may not understand every word, they will hear new sounds, words and phrases which they will then try to copy. Having a wide selection of books will not only entertain your little one, but you as a parent can appreciate the variety!
A good book is not necessarily the most lavish, expensive book on the shelf. It is a book that is well written with attractive illustrations that will capture your little ones interest. Take a few minutes to look at the books and read them before you buy. Think of every book as an investment in your little ones mind and spirit, so make sure you pick a book that will visually and mentally stimulate them. When your little one starts to want to turn the pages, board books and cloth books are great for their little fingers! FOR A LIST OF MY FAVORITE CHILDREN'S BOOKS READ: TOP 20 BOOKS FOR BABIES & TODDLERS.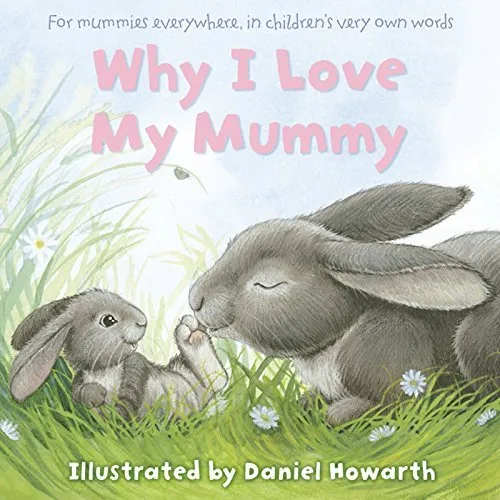 Buy on Amazon: Why I Love My Mommy Book
5. STROLLER COVERS
You never know when mother nature is going to turn on you, so it doesn't hurt to be prepared for whatever she has in store. I always keep a weather shield and bug net in the bottom storage area of my stroller, should the need for it arise. There are universal covers available, however many stroller manufactures sell weather shields or bug nets designed for their specific stroller model. Be sure to consider this when you are researching which stroller to buy.
Whether your in a bug-filled area, or its raining, snowing, windy or even a bright sunny day, these shields are definite must-have item s to protect your baby! Many of the bug nets and weather shields also offer UV-protection, so be sure to find one that has this added feature. Even on cloudy days your child can still be exposed to very harmful UV rays!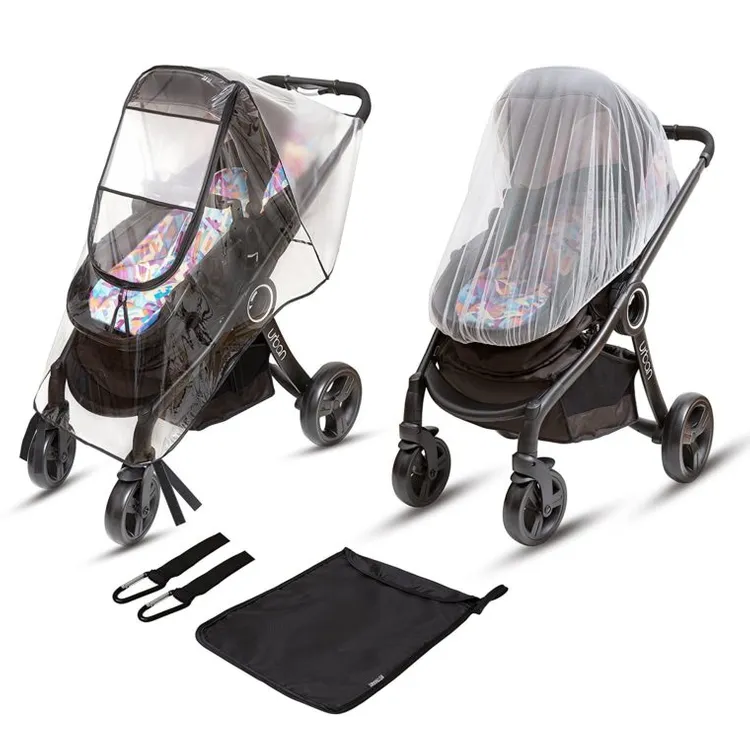 Buy on Amazon: Ritemart Stroller Rain Cover Universal + Baby Mosquito Net
4. BABY SUNSCREEN
Speaking of harmful UV rays, baby sunscreen is another must-have item! It is best to keep babies out of direct sunlight during their first year and keep them as shaded as possible, but if avoiding direct sun exposure is absolutely not possible, pediatric doctors recommend applying sunscreen to the small areas of your baby that cannot be fully protected by clothing and shade.
The first step to sun protection for your little one (at any age) is to dress them appropriately in long, loose clothing, a wide-brimmed hat and sunglasses, and keeping them shaded under the canopy of their stroller or a sun umbrella as much as possible. Always test any new sunscreen on a small area before applying it all over your child's skin. If your child doesn't have a negative reaction to it, apply the sunscreen liberally, and reapply at least every couple of hours. If your child has played in the water, even waterproof sunscreen should be reapplied!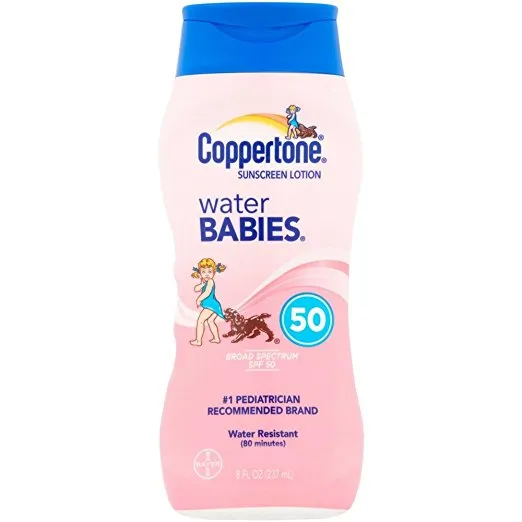 Buy on Amazon: Coppertone Water Babies Sunscreen Lotion SPF 50, 8oz (Pack of 2)
3. CAR SEAT(S) (if you have multiple vehicles)
If you have more than one vehicle it can certainly make life a lot easier (and be money well spent) to have an additional car seat base for the other vehicle. If something comes up or there is an emergency, and the parent normally on pick-up or drop-off duty isn't able to transport your little one as planned, it is good to have a backup, should circumstance demand it. Yes, there is an added expense, which you may not consider absolutely necessary, but it is certainly something to consider when you are looking for a car seat for your child.
Alternatively, you may want to purchase a convertible car seat for the other vehicle, as opposed to another car seat base. We purchased the Graco 4Ever 4-in-1 Convertible Car Seat, and it has been great! It can be set up as a rear-facing seat from 4 to 40 lbs, then into a forward-facing toddler seat for 20 to 65 lbs, then lastly into a booster seat mode from 30 to 100 lbs or 40 to 120 lbs (depending on the belt position). Convertible car seat options may be more expensive, but you will be able to get 10 year use out of this specific car seat model! Again, just some ideas to consider when making picking out car seats to satisfy your family's needs!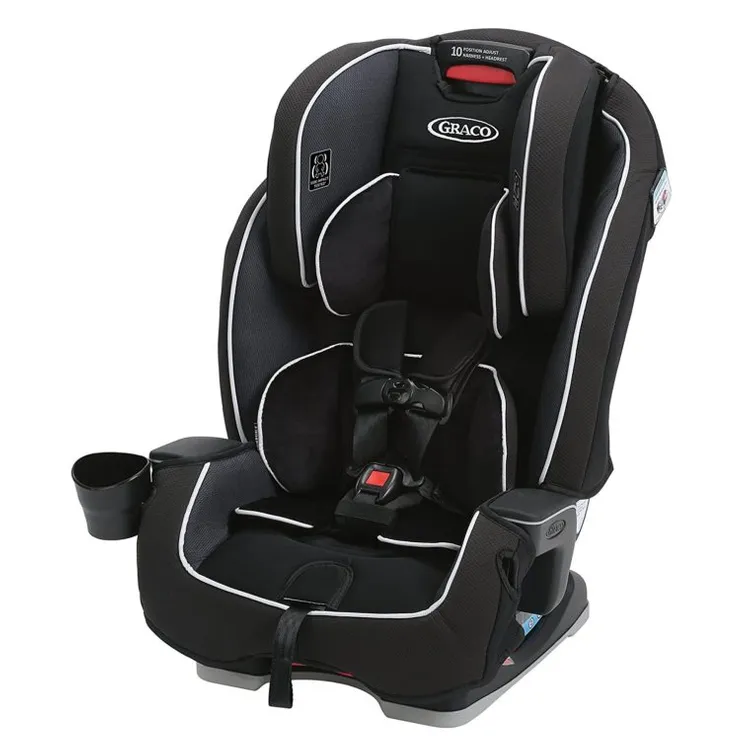 Buy on Amazon: Graco 4Ever 4-in-1 Convertible Car Seat, Gotham
2. CAR SEAT BUILT-IN BLANKET
For those of us who don't live in a sunny warm climate all year around, you can keep your baby cozy and warm in their car seat with one of these car seat built in blankets! Perfect for chilly winter temperatures, or even cold spring and fall days, you can get lots of use out of it!
They are easy to install, and it's thick fleece lined, water repellent fabric will certainly keep your baby warm and dry and protected from the elements. There are two zippers that allow you to easily access your little one when you are putting them in or taking them out of their car seat. This one by Jolly Jumper is machine washable and dryer safe for easy cleaning!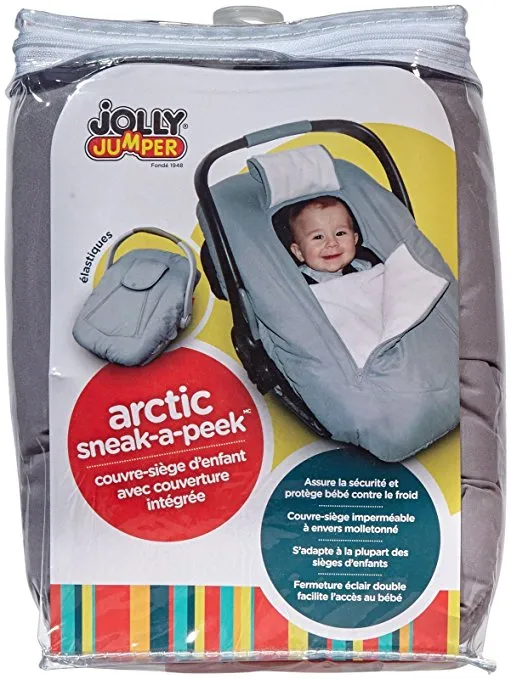 Buy on Amazon: Jolly Jumper Arctic Sneak-A-Peek Car Seat Cover
1. MEASURING STICK (DETACHABLE)
It seems we blink and our child goes from a newborn snuggling in our arms to an active little person running around faster than we can chase them! Kids grow up quickly, so having a keepsake growth chart to track their height tops my must-have list! It would make a wonderful addition to your home (or in each of your children's nursery for them to keep and maybe one day use it with their family)!
You can find ready-made height rulers online, or if you are crafty, this would certainly make a great DIY project! I really like the fact that it is portable, and should you ever move homes, you don't have to be sad to part with the growth chart you kept on a wall or in a doorway at your families first home. I hope you have enjoyed reading this list of must-have items, and I hope you will find it helpful when you are making your baby item purchases. Certainly, you can buy any of these items new, or you can to look for gently-used second hand items for added savings. Happy shopping parents!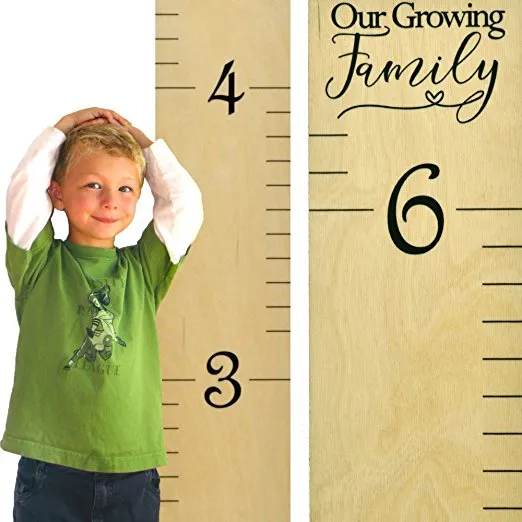 Buy on Amazon: Growth Chart Art Wooden Ruler Height Chart for Kids
Disclaimer: Childhood.com is a participant in the Amazon Services LLC Associates Program, an affiliate advertising program designed to provide a means for sites to earn advertising fees by advertising and linking to Amazon.com.