Even thought they may be too young to run house to house collecting candy, and too young to eat the candy either, but it is still fun (maybe more for mom and dad) to dress our little babe up for Halloween. There are no shortages for cute costume ideas to choose from, so how should you decide what they should dress up as?
Boy or girl — if this is your little ones first Halloween, here are some cute and comfortable costume ideas (that your baby will actually wear)!
20. Dragon
How cute is this tiny dragon costume? This would make a great option for either a little boy or girl and it's super comfy, which is perfect if your baby is fussy when it comes to new clothes.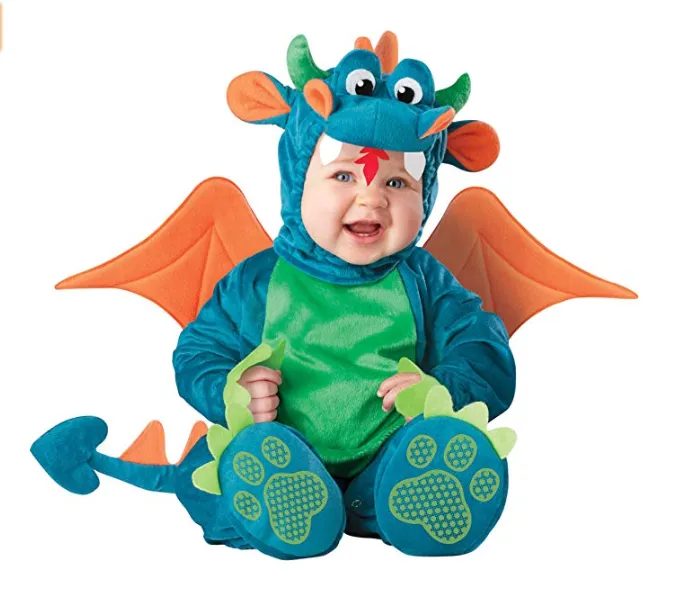 Buy on Amazon: Baby Dragon Costume
19. Lobster
Get out your biggest pot for the cutest lobster bake photo opt ever! Another sweet idea for a little boy or girl.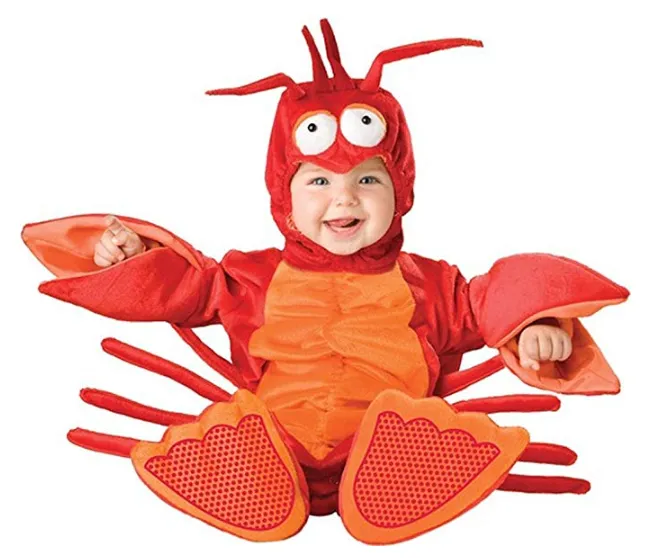 Buy on Amazon: Baby Lobster Costume
18. Monkey
You may already affectionately refer to your little one as a little monkey — so what better costume than this adorable plush monkey. Maybe you can trick-or-treat at your friends and family's houses for bananas instead of candy!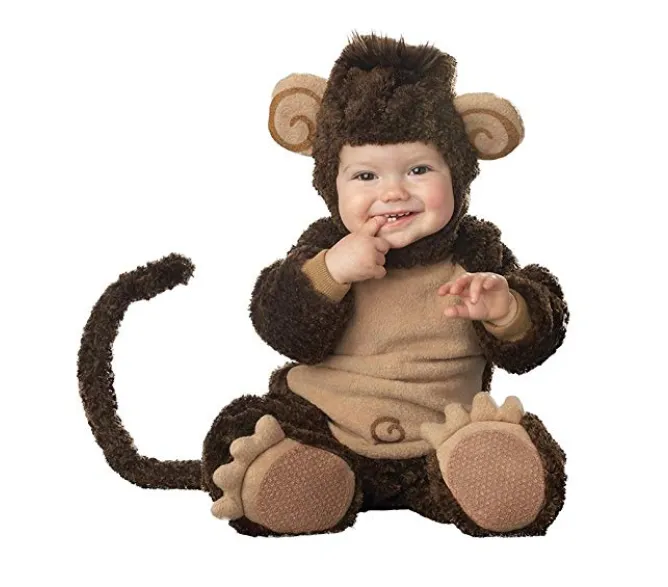 Buy on Amazon: Baby Monkey Costume
17. Lion
Roar! No matter how hard they try, they are too cute to be scary in this adorable lion costume. Again, perfect for your little lion or lioness and very comfortable – especially if it's a little colder outside!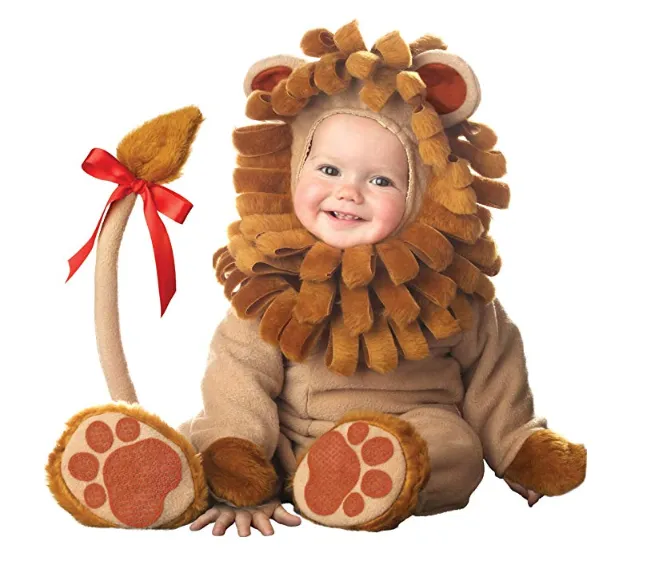 Buy on Amazon: Baby Lion Costume
16. Astronaut
They may not be walking quiet yet or are just starting to take those first wobbly steps, but it is never to early to dream about walking on the moon! This NASA astronaut costume is the absolute cutest!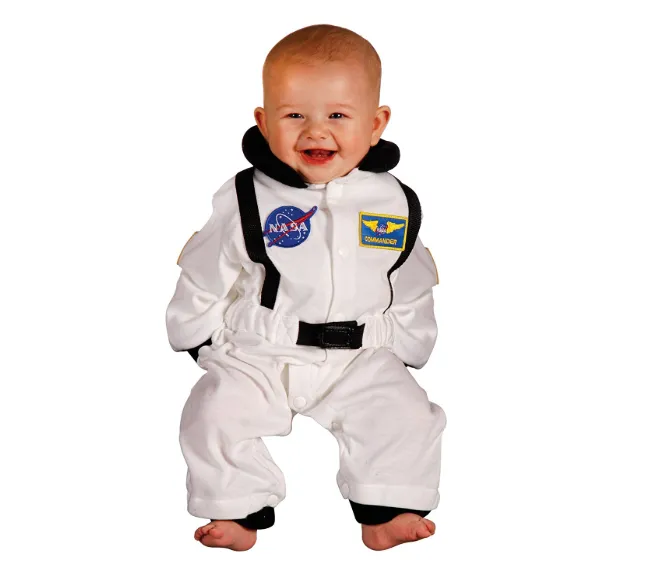 Buy on Amazon: Baby Astronaut Costume
15. Unicorn
This darling unicorn costume would make the cutest costume for your little girl! Pair it with some cute tights and your little one is all set in this comfy costume this Halloween!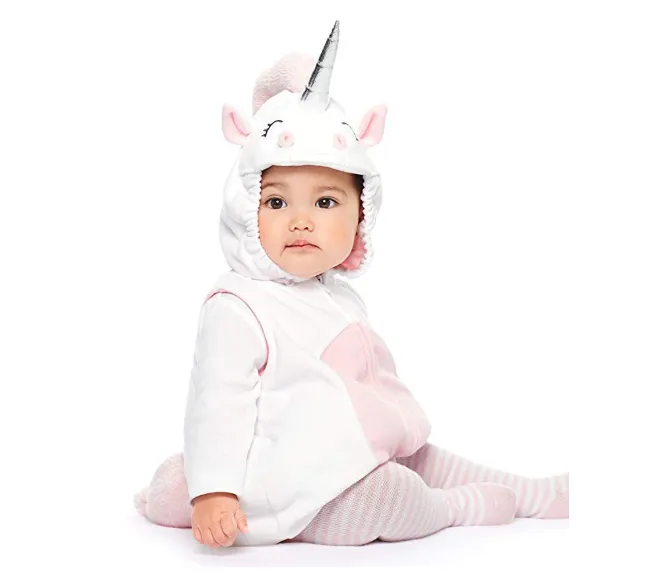 Buy on Amazon: Baby Unicorn Costume
14. Monster
How sweet are these little horned monster costumes? Available in blue or pink, this is another great option for little boys or little girls.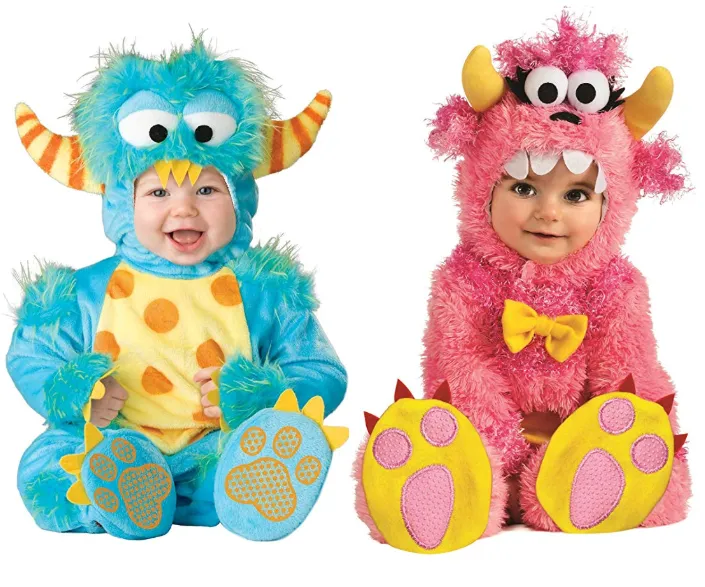 Buy on Amazon: Baby Monster Costume (Blue and Yellow)
Buy on Amazon: Baby Monster Costume (Pink)
13. Panda
I actually bought this one. This adorable panda costume will not disappoint. I can speak for its good quality, and would be a wonderful costume for boys or girls.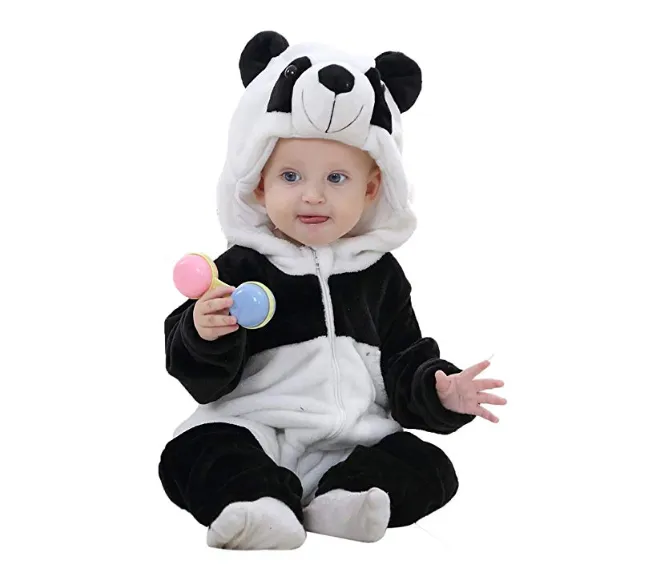 Buy on Amazon: Baby Panda Costume
12. Convict
Put them in baby jail (aka their crib) for the cutest photo opt ever! This little convict costume is yet another great unisex costume option and, as long as you can get them to wear the hat, it's incredibly comfortable too!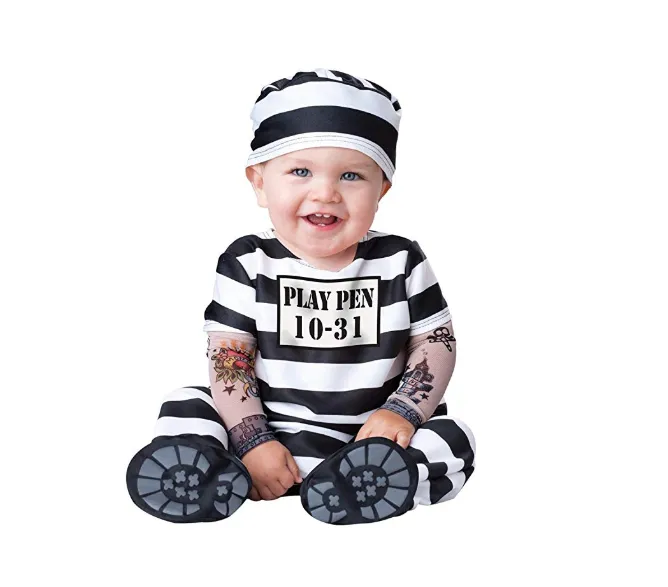 Buy on Amazon: Baby Convict Costume
11. Gladiator
Let your little man dress up as a Gladiator this Halloween. He will look so adorable in the little headband and cuffs around his wrists. Buy a little pair of strappy sandals to complete the look (but be sure to bundle up if it's cold outside)!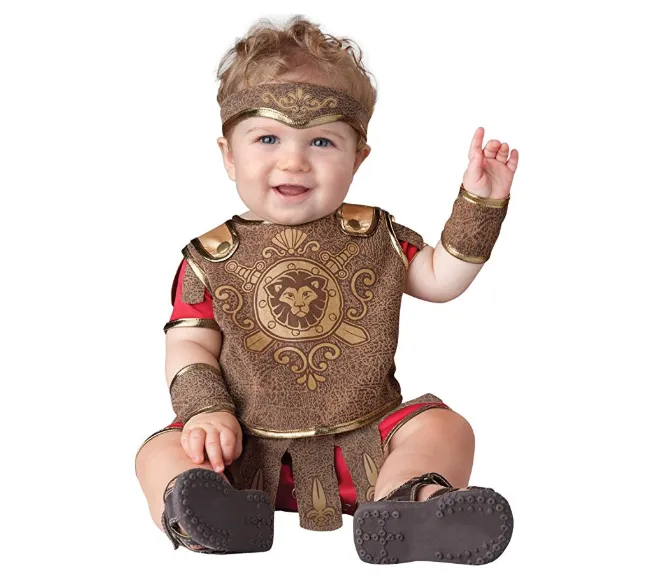 Buy on Amazon: Baby Gladiator Costume
10. Disney Princess
There isn't anything much sweeter than dressing your little lady up as a Disney Princess. Cinderella or Snow White are just two popular options — both super cute options! You can't go wrong.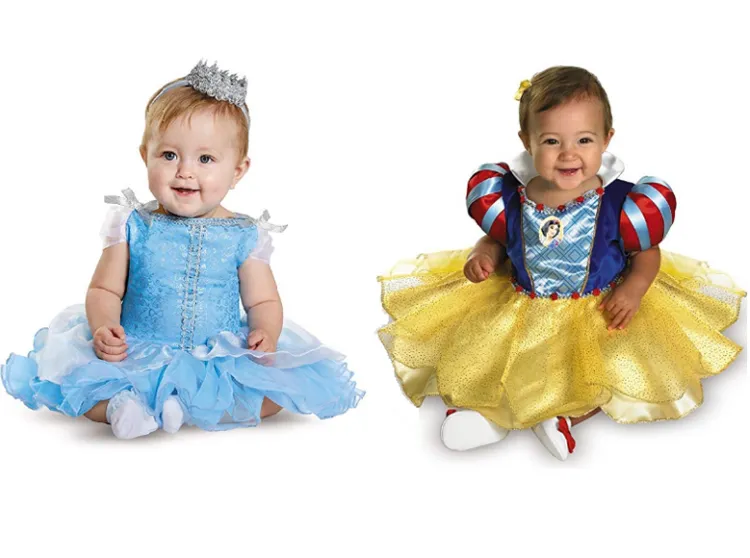 Buy on Amazon: Baby Cinderella Costume
Buy on Amazon: Baby Snow White Costume
9. Shark
If you buy this one, your sweet little boy or girl will be the cutest, least scary shark there ever was! I love how their head pops through surrounded by the little shark teeth, and the finned feet are so cute too!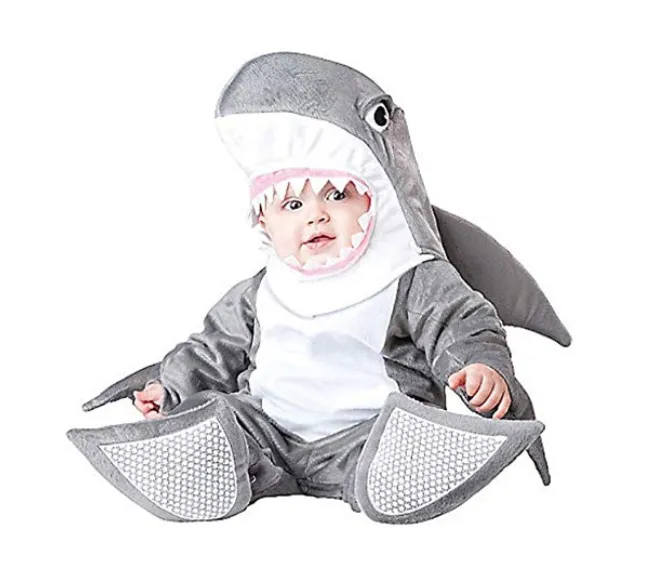 Buy on Amazon: Baby Shark Costume
8. Ghostbusters Classic Stay Puft
They probably haven't seen the Ghostbusters movie, but again — this Halloween costume is more for mom and dad that the little one at this age. This Stay Puft marshmallow man costume is so retro, cute and comfy!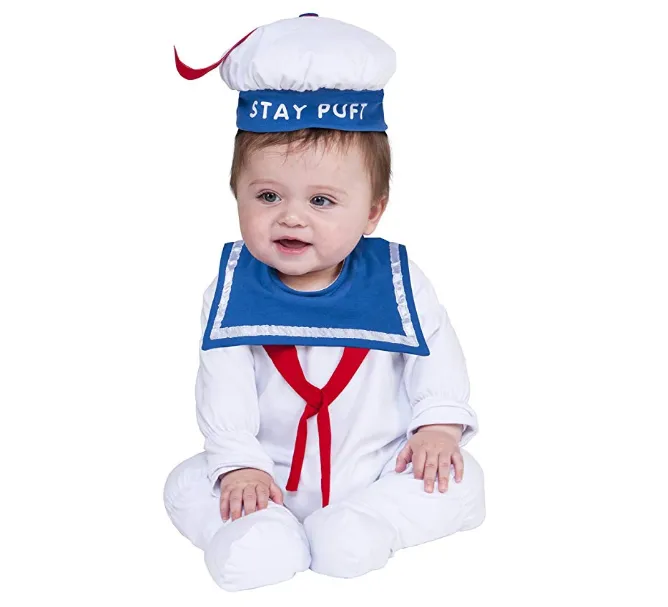 Buy on Amazon: Baby Ghostbusters Costume
7. Puppy
Dress up your little one this Halloween as man's best friend — a puppy dog! Another sweet costume idea for a little boy or little girl.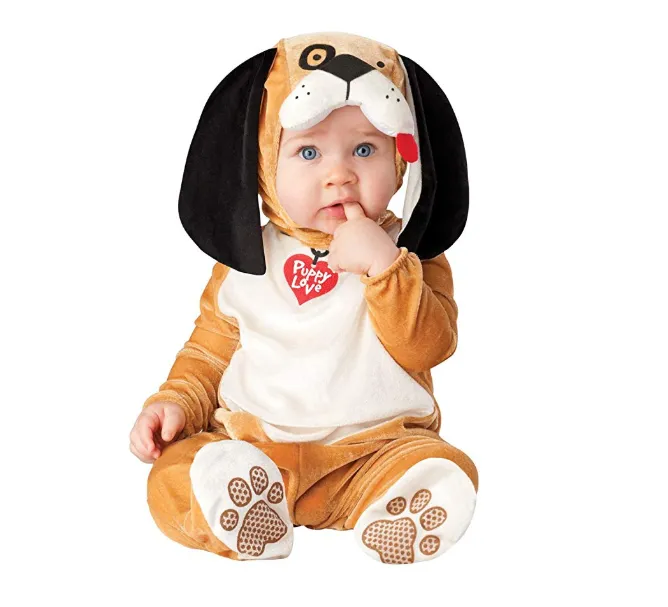 Buy on Amazon: Baby Puppy Costume
6. Garden Gnome
I thought this costume idea was so cute. Maybe a bit more well suited to a little boy, but it could still be a cute (and funny) option for a little girl too!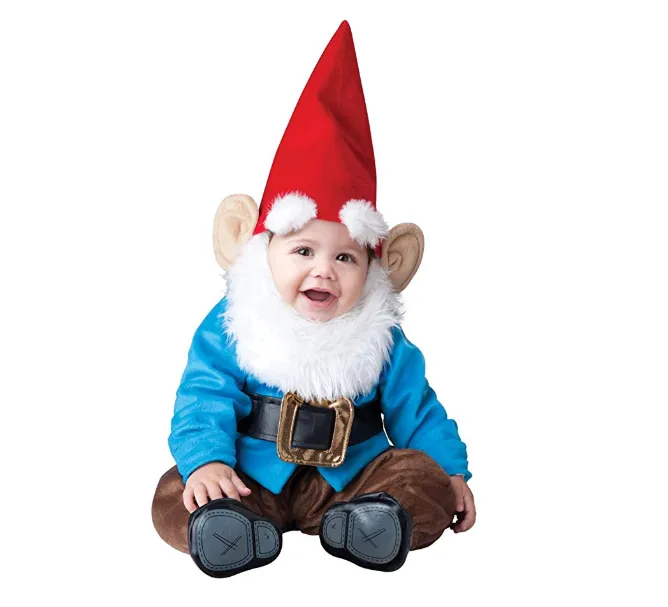 Buy on Amazon: Baby Garden Gnome Costume
5. Pirate
Just try and have them walk the plank for another cute Halloween photo opt! These little boy and girl pirate costumes are such adorable options for your little ones this Halloween!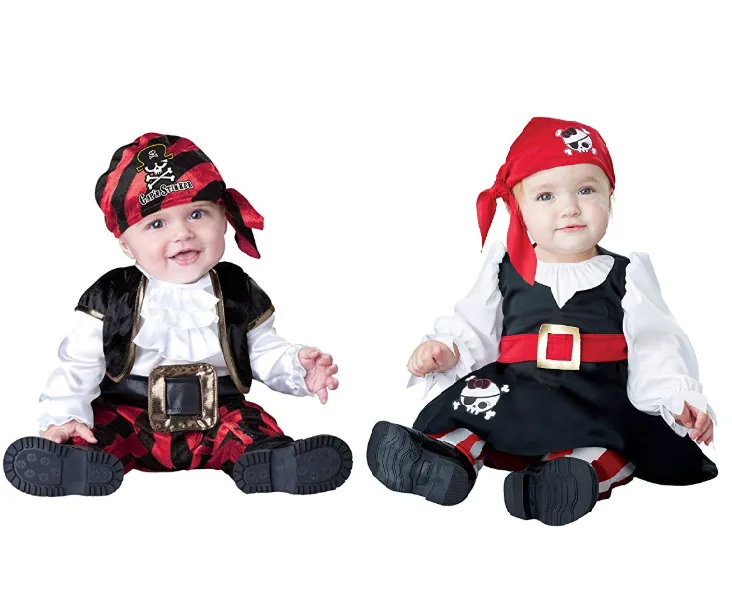 Buy on Amazon: Baby Pirate Costume
4. Lil' Viking
I couldn't resist putting this costume on the list! How adorable would your little guy be in this sweet little viking costume? So cute!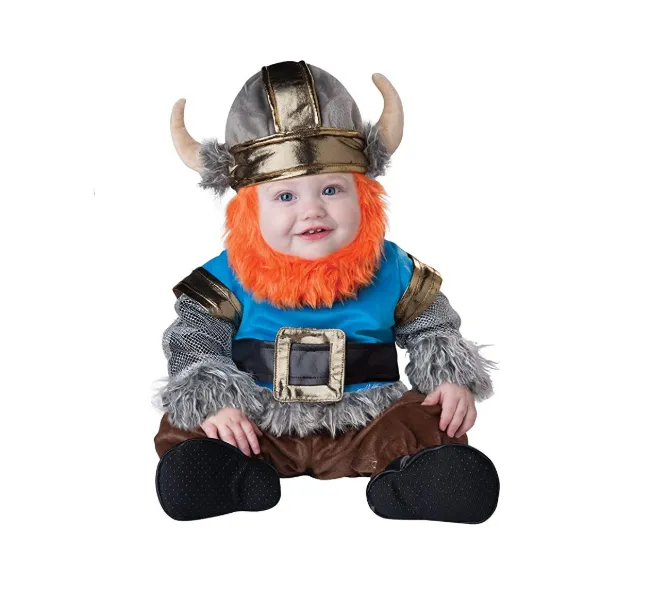 Buy on Amazon: Baby Viking Costume
3. Buzzy Bee
Another wonderful unisex Halloween costume option is this little bee outfit. The little wings and antennas are just too much to handle! So sweet – and comfortable – a win/win!
Buy on Amazon: Baby Bee Costume
2. Elephant
It really doesn't get much cuter than this little elephant Halloween costume. The ears are bigger than their head, and the little trunk and tusks too are so adorable. Another great option for a little girl or boy.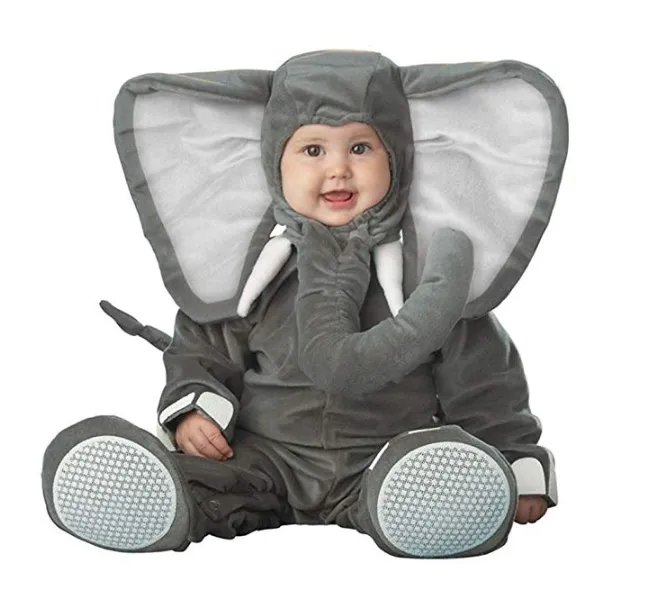 Buy on Amazon: Baby Elephant Costume
1. Pumpkin
Last, but certainly not least, you may want to dress your little pumpkin up as a pumpkin this Halloween. A very cute option for a boy or girl. The little hat is just so cute and comfy. Happy Halloween to you and your family!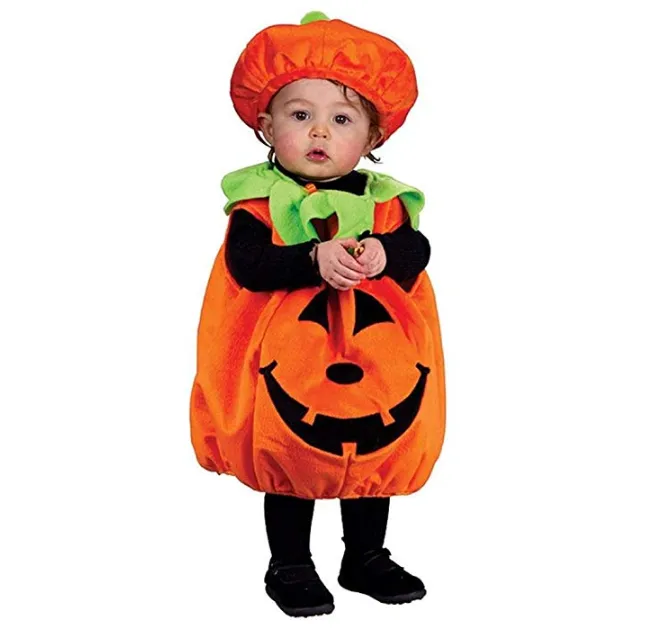 Buy on Amazon: Baby Pumpkin Costume