Whether you've been breastfeeding or bottle feeding your baby, there comes a point when it's time for them to start drinking other beverages. Choosing the right cup for your baby, especially if they are super picky, can sometimes be a challenge. You don't want a cup that's too difficult for a baby to drink out of when they are first starting. You also don't want a toddler struggling to drink out of a baby cup with a flow too slow for them. The transition from breast/bottle to cup can be a hard one to figure out, so in order to help you avoid spending a ton of money on cups that just don't work well, here are some that have received the best reviews for each age and won't break the bank!
4-9 Months
12. Munchkin Miracle 360 Training Cup
This cup is marked as Amazon's best seller and is full of positive reviews. Rated for ages 6 months plus, the handles make it easy to grip and their 360-degree drinking edge makes it nearly impossible to spill. With no extra spouts or valves, it makes it easy to clean and can even be washed in the dishwasher on the top rack.
The lip activated edge means that your baby can drink from anywhere on the rim which helps prepare them better for a regular cup. It also helps with supporting muscle development in their mouths.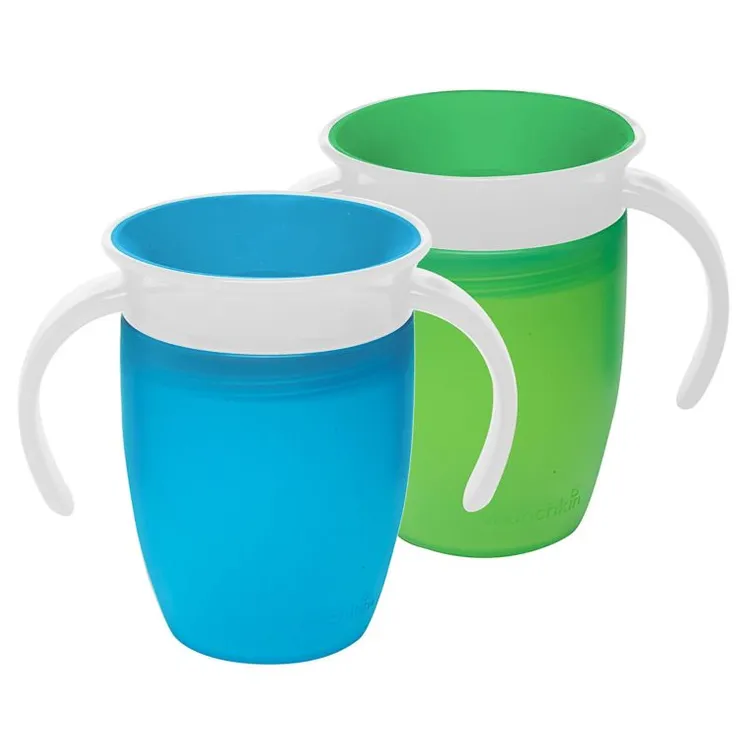 Buy on Amazon: Munchkin Miracle 360 Training Cup
11. Playtex Sipster – Stage 1
Playtex creates sippy cups designed for each stage of development so you will see a few on this list. The Stage 1 Sipster comes with handles making it easy for a baby to hold. The soft and chewy spout will be comfortable on gums and will have a similar feel to bottles helping with the transition from bottle/breast to cup.
The cups are spill proof, break proof and leak proof. The handles can also be removed if that makes it easier for your baby and the lids are interchangeable so you can switch around colors if so desired. These cups are made for ages 4 months and up.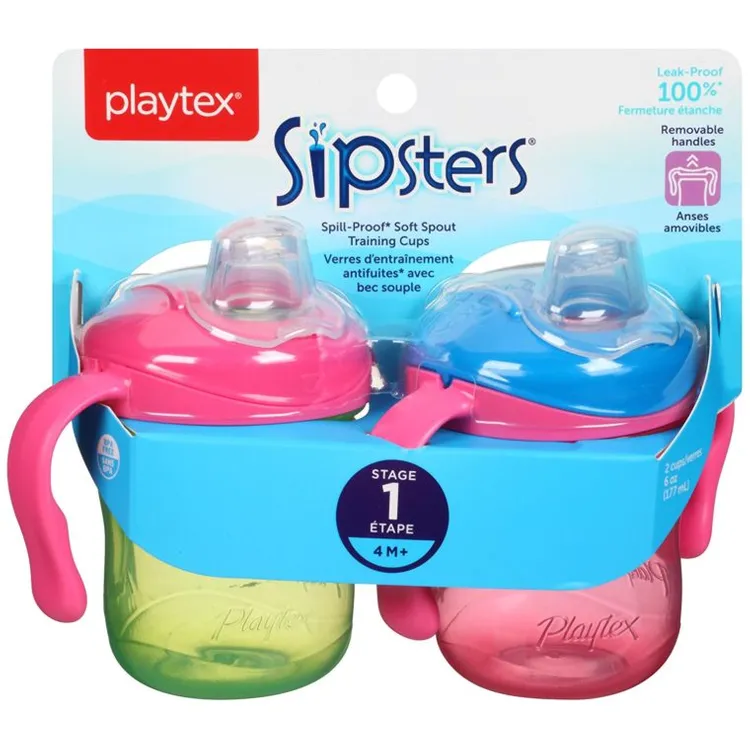 Buy on Amazon: Playtex Sipster – Stage 1 Sippy Cup
10. Nuk Learner Cup
Again, any cup with handles when starting a baby on a sippy cup will help with the transition. These little cups are small enough for little hands and the soft spout helps transition and is gentle on gums. They come in fun prints for a boy or girl and the price is not going to break the bank!
This cup also have an air vent in order to prevent swallowing air and the spout allows for an easy flow when sipped. This one comes with a lid too which is great for bringing it around in the diaper bag. A perfect starter cup for ages 6 months and older.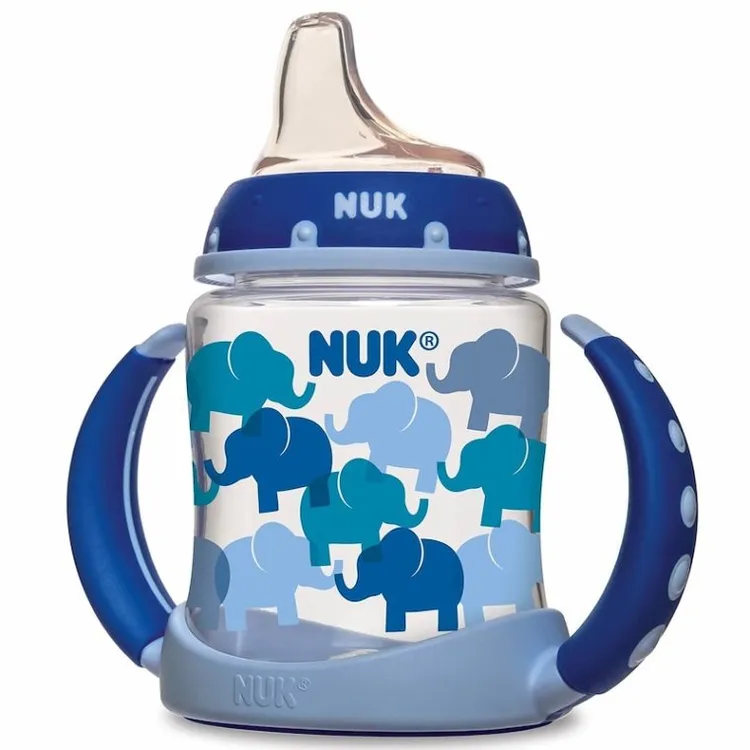 Buy on Amazon: Nuk Learner Cup
9. Phillips Avent My Natural Trainer Cup
If transitioning from a bottle to a cup this one is super handy as it comes with a bottle nipple and a sippy spout. Easy to hold handles help the baby to learn to hold the cup even if you use it as a bottle to start. And the cup can be used without the handles.
You can also swap any Philips Avent bottle and cup parts making it a great option to grow with your baby. This is a great transition cup for 4 months and older and comes with different design choices.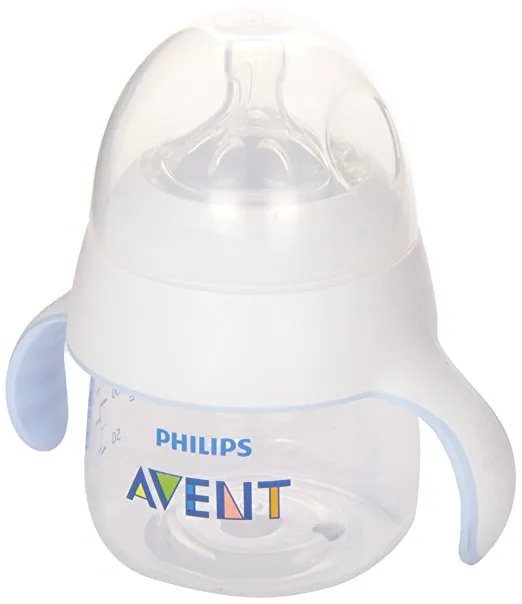 Buy on Amazon: Phillips Avent My Natural Trainer Cup
9-12 Months
8. Playtex Sipster – Stage 2
With a straw or spout option, you can move baby on to the Playtex stage 2 design around 9 months. The cups are a bit larger and don't have a handle anymore but are still contoured so little hands can get a good grip on them. They are a great intermediate step as babies gain more skills and independence.
Stage 2 continues to be leak, spill and break proof and contains interchangeable parts so you can swap around spouts as well as mixing up colors and designs.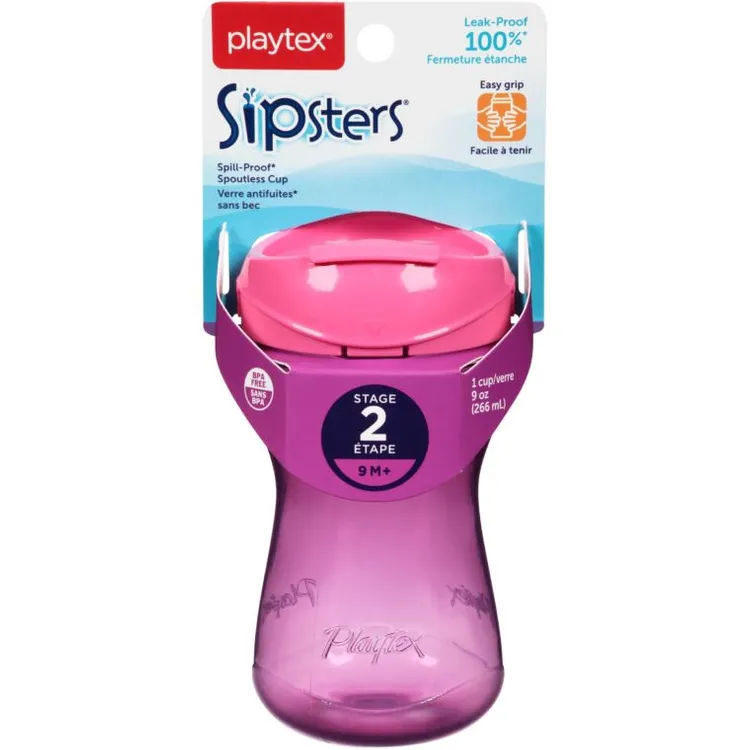 Buy on Amazon: Playtex Sipster – Stage 2 Sippy Cup
7. Phillips Avent My Easy Sippy Cup – Stage 2
Designed for 9 months and older this cup is the next step when ready to move on from the natural trainer cup. The rippled shape makes it easy for the baby to grip as they transition from using a handle to a cup with no handles. It is easy to clean and still has the soft silicone spout that is easy on baby's gums and teeth.
It remains compatible with other Phillips Avent bottles and cups allowing you to transition your baby if needed. So, you can give this cup to them as a bottle in the beginning and switch it to a cup as they grow.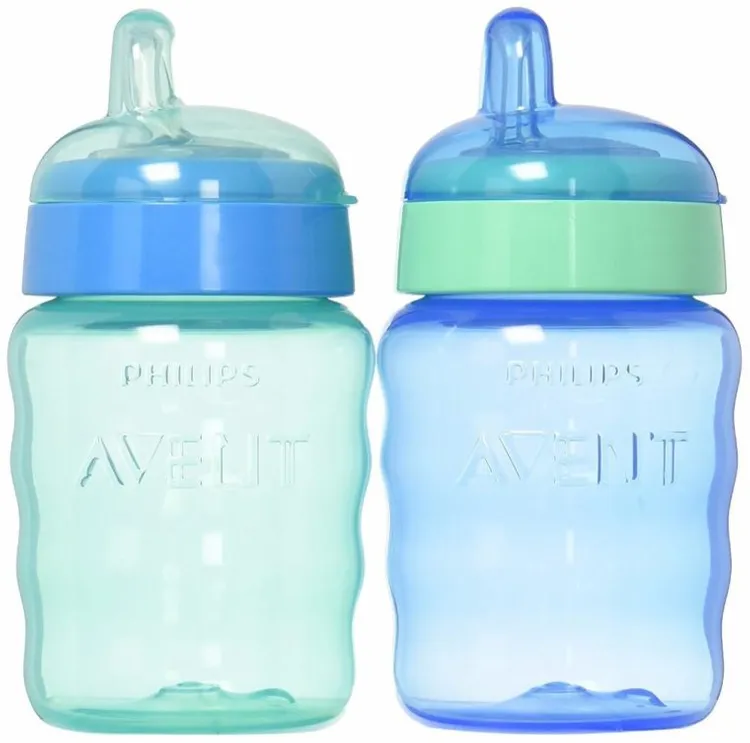 Buy on Amazon: Phillips Avent My Easy Sippy Cup – Stage 2
12+ Months
6. Playtex Sipsters – Stage 3
As your baby transitions to the toddler stage you can move on to the Stage 3 cup and then eventually on to stage 4 (usually around age 2) with the Playtex Sipsters. Stage 3 continues to offer both a spout or straw option and remains leak, spill and break proof.
They can hold more liquid in them and offer double wall insulation allowing the drink to stay cool twice as long. Stages 3 and 4 also offer more design options for your toddler making them more fun and enjoyable to use. Stage 3 cups are made specifically for toddlers 12 months and older as they become more active and independent.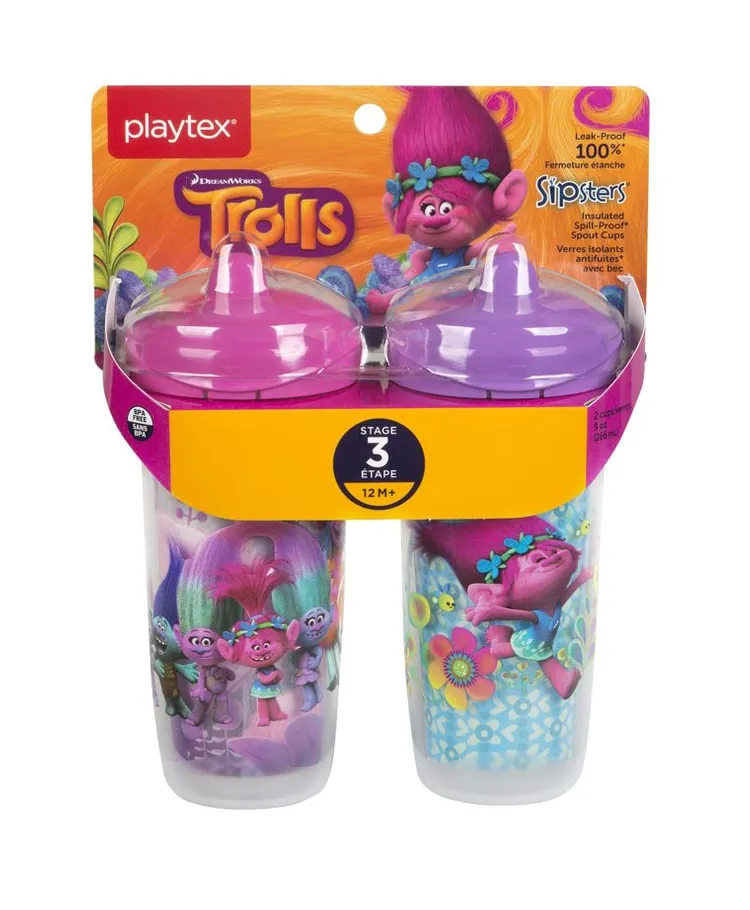 Buy on Amazon: Playtex Sipsters – Stage 3 Sippy Cup
5. Gerber Graduates Fun Grips
A simple sippy cup with easy to grip, rippled sides, these are an affordable and colorful option for toddlers. They have a bite resistant spout which helps toddlers to drink more independently. They are 100% guaranteed to be leak-proof, spill proof, and break-proof.
They are an hourglass shape which is designed to help prevent the cup from tipping. These ones are also cool because they created a personalization area right on the cup so you don't have to worry about getting the cup mixed up with someone else.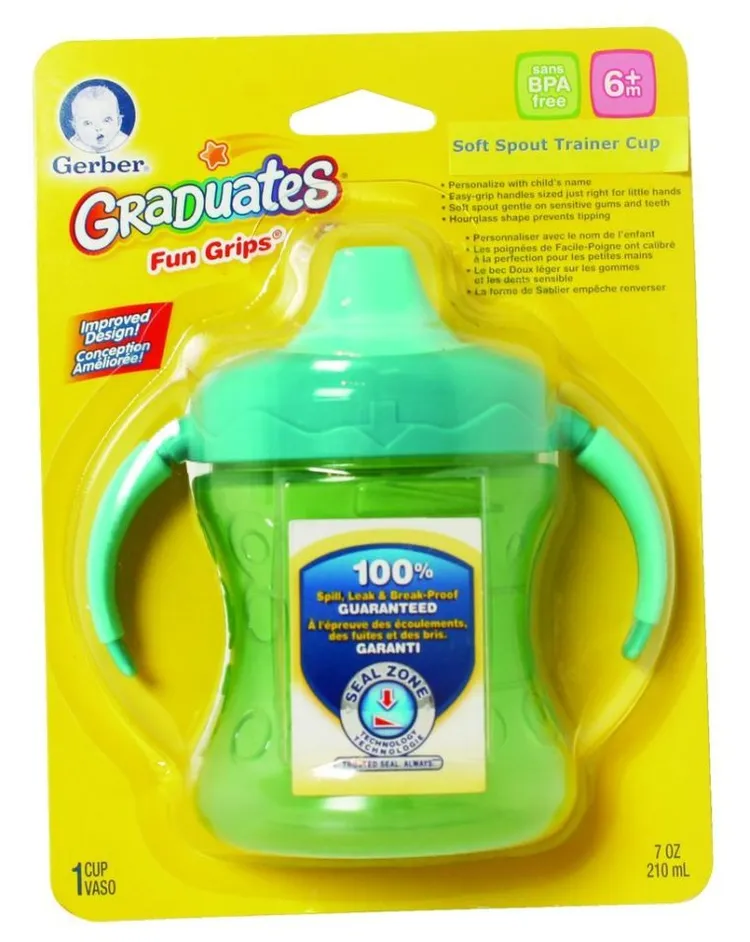 Buy on Amazon: Gerber Graduates Fun Grips Sippy Cup
4. Klean Kanteen Kid Kanteen
A bit more pricy than other sippy cups, but a great option if you prefer stainless steel. They are durable, chip resistant and high quality. The sippy cup attachment makes it easy for little ones to drink out of and comes with a spill proof cap. And the bonus part is that you can buy the sippy cup attachment separately, so if you already have a klean kanteen bottle you can just purchase the spout.
Once they outgrow the spout you can use the bottle as normal. My favorite thing about this is if mom or dad ever need some water while out and about they can take a drink with the spout off and won't look like they are drinking from a child's cup! These are also backed by the Klean Kanteen Lifetime Strong as Steel. So if you are really wanting something to grow with your child this is the one for you as it will last forever.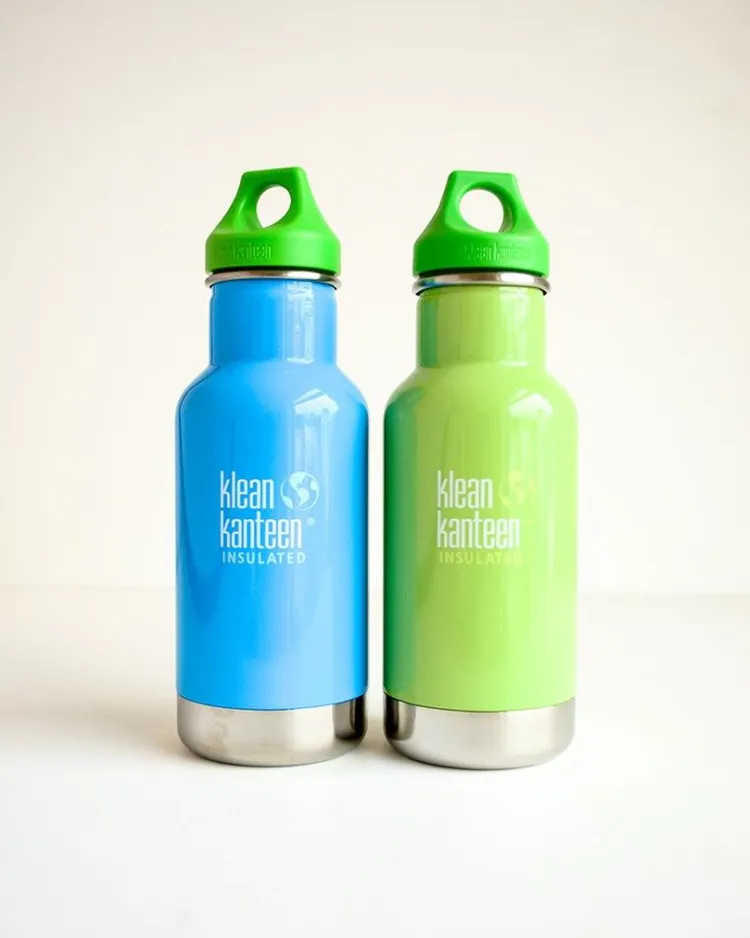 Buy on Amazon: Klean Kanteen Kid Kanteen
3. Munchkin Miracle 360 10 ounce
An option designed for 12 months and up this cup is a bigger version of the 360 training cup and no longer has handles. Another #1 best seller on Amazon, it continues to receive very positive reviews. It remains easy to clean and completely leak and spill proof.
The spoutless design is dentist-recommended and the 360-degree drinking edge eliminates spills as it seals when child stops drinking. This is a great second stage option for your toddler as they become more independent.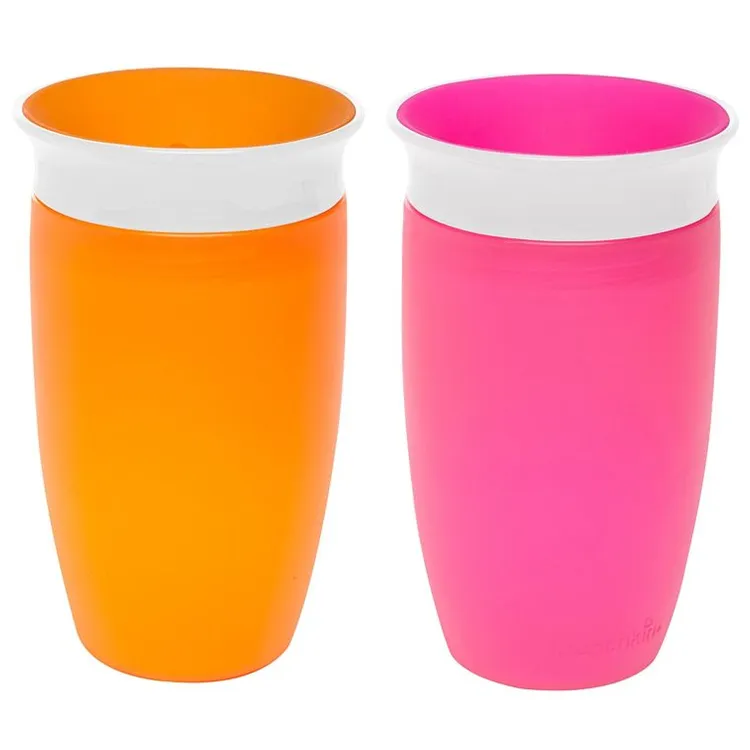 Buy on Amazon: Munchkin Miracle 360 10 ounce Sippy Cup
2. The First Years Take and Toss Sippy Cups
These cups are a must have. They are cheap and come with many cups in a package, making them durable enough to keep using, but affordable enough that if they get lost or need to be tossed it's not a big deal. Lids are valve free so they are easy to clean and are also spill proof.
They are great for anyone with a home daycare and are nice to have on hand for playdates when multiple kids will be at your house needing drinks. Lids are also interchangeable and they come with a straw option and as a larger size.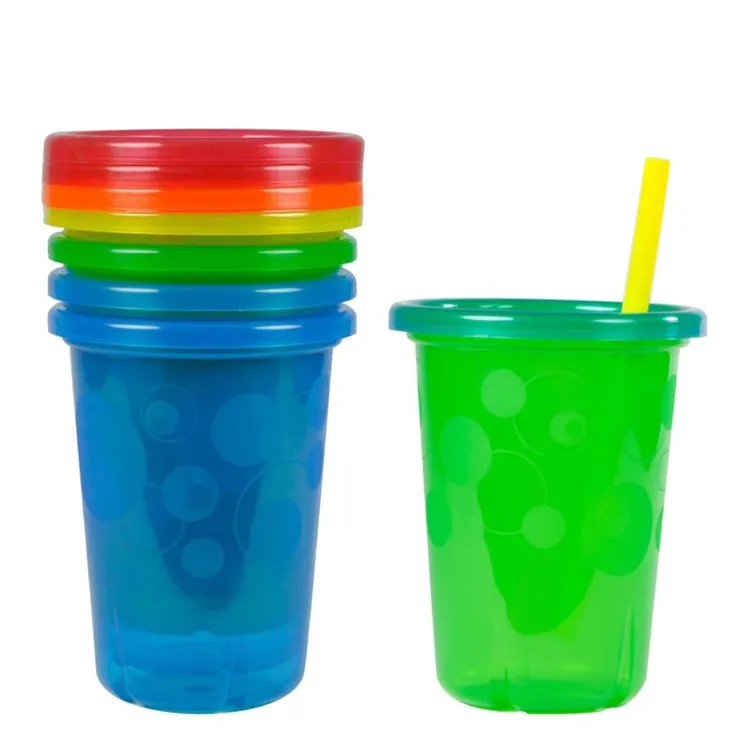 Buy on Amazon: The First Years Take and Toss Sippy Cups
1. Munchkin Five Multi Cups (Skipping the Sippy Cup Altogether)
The final option is moving your child right to a regular cup like these. Some parents prefer to skip the sippy cup stage all together and transition right from bottle or breast to an open cup. While it may be messy in the start, the handy part of this is they will eventually be able to drink from anything when you go out somewhere.
Finding small and break-proof cups are the best way for them to have some independence when drinking on their own. When going out it may be best to have a water bottle for them so a drink can be easily packed in the diaper bag. Drinking from a standard water bottle would be similar to using a cup and would still allow parents to avoid the sippy spout.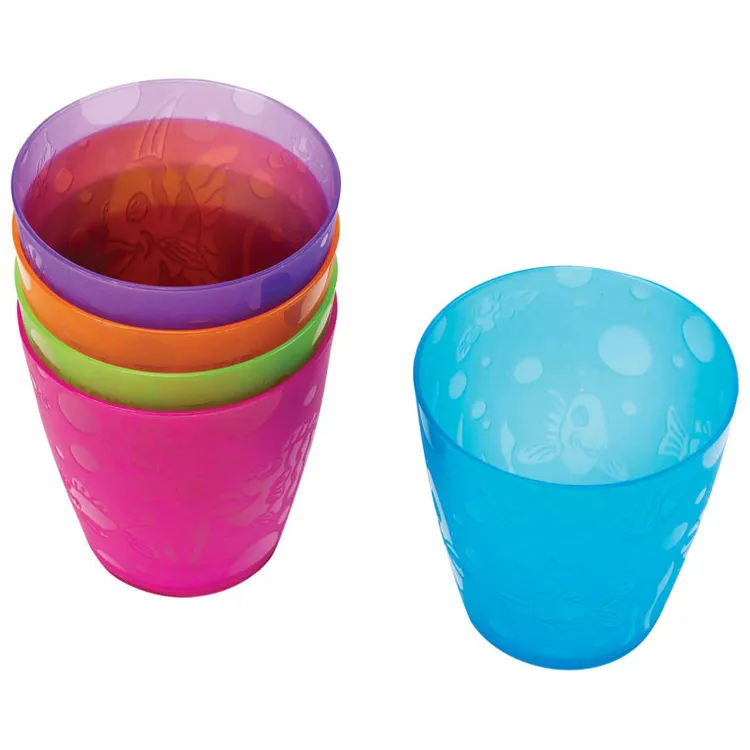 Buy on Amazon: Munchkin Five Multi Cups
Note: Childhood is a participant in the Amazon Services LLC Associates Program, an affiliate advertising program designed to provide a means for sites to earn advertising fees by advertising and linking to Amazon.com