Preparing for the arrival of twins can be stressful but making sure you have everything in order early on will go a long way in reducing the anxiety you may feel as your due date approaches. I had my baby shower at 26 weeks – much earlier than your average mom-to-be but planning and purchasing what products we would need for the arrival of our two little ones immediately gave me a sense of calm.
A baby registry for twins will most definitely differ from that of a singleton. When it comes to baby products, knowing where to invest in two instead of one will help save you a significant amount of money (money that you'll need for double the diapers, double the wipes etc). Below you will find a list of things (in my opinion, based on my experience of having twins) you will definitely benefit from having two of and things you can get by with just one of. All of the items listed below are items we purchased and have loved (you can see many of them in action on my Instagram page) but definitely do your research before choosing which products are the best for you and your family.
One thing I strongly recommend is making a Baby Registry. Not only does it help you keep track of what you need/want but it will help you determine the cost of each product and will help with budgeting. Amazon has an amazing Baby Registry Platform (yes, we are partnered with Amazon but only because they're amazing). If you want to start your baby registry, simply go to Amazon's Baby Registry Page.
14. You WILL Need 2 Bouncy Chairs (At Least)
Bouncy chairs saved our lives for the first 3 months after the arrival of our little ones. Babies don't move around a lot but they do like to look around and be elevated. Bouncy chairs are also ideal for keeping your babies propped up after feeding (when you don't want to lay your baby flat on his/her back right after feeding but you need to give the other baby attention right away). Do yourself a favor and invest in at least two bouncy chairs. I liked the idea of having two very different ones – both for variety purposes and in case one of the babies (or both of the babies) didn't take to one of the designs or features.
The 4moms Mamaroo is an obvious choice for new parents. It's received rave reviews from new moms and dads and is one of the top-selling baby chairs on the market. For that reason, it is a little more expensive and, as we all know, dropping a couple hundred dollars on a bouncy chair when you have countless other things to pay for isn't ideal. You can always put it on your baby registry and hope for the best. A less expensive alternative (only $100) – and one that both of our babies adored – is the Fisher Price 4-in-1 Rock 'n Glide Soother (pictured below). This chair really elevates the baby, is super comfy and has cute attachments to keep them entertained and happy.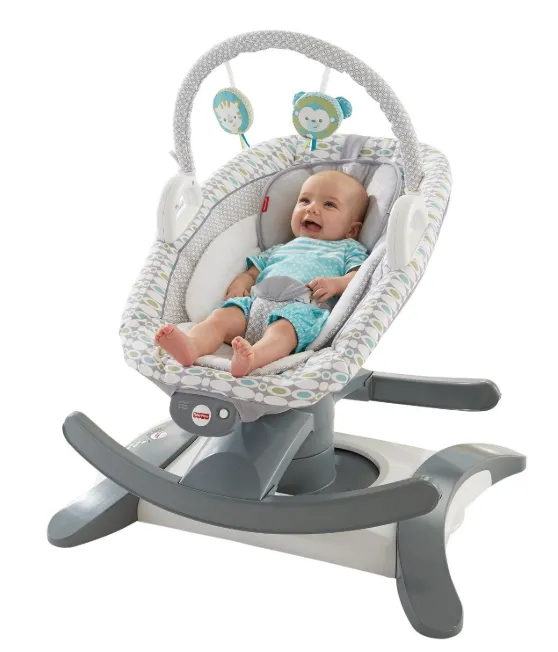 13. You WILL NOT Need 2 Activity Mats
While having 2 activity mats – one for each baby – may be great if you have the money to spend, if you're on a budget this is one product you really only need one of. Activity mats are great for exploring and learning but they can be quite pricy and you can get the same benefits from a blanket and a few toys. Likewise, these play mats take up a lot of floor space and, with all of the other toys and supplies you have, a blanket that you can easily fold up will work just as well.
If you're looking for an affordable activity mat with good reviews, check out the Infantino Twist and Fold Activity Gym. This mat is only $40 and is features many cool attachments to keep your babies entertained and happy. With a 4.5 star rating on Amazon and over 1,600 reviews, you can be sure this play mat is a good purchase for your little ones.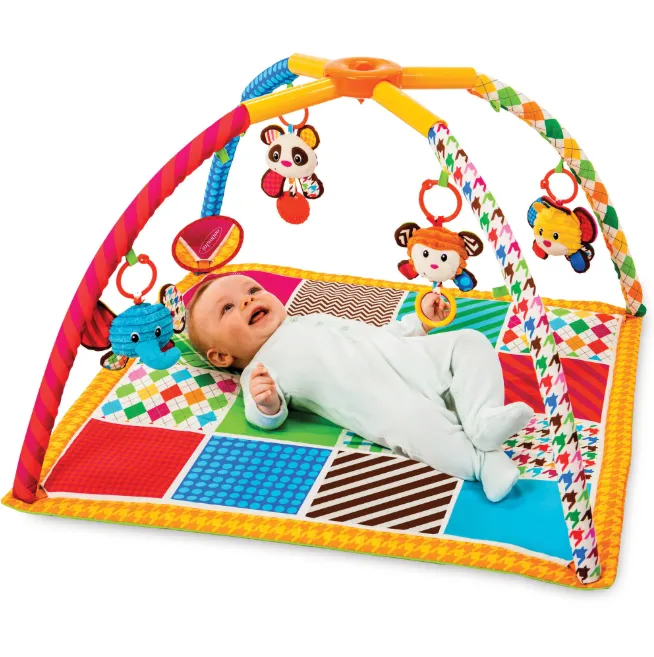 12. You WILL Need 2 Change Tables
As a twin parent you are going to change a lot – and I mean A LOT – of diapers. It's not ideal but, one thing that saved us was having a changing station in our living room. Unlike singleton parents, you don't have the luxury of taking your baby to the other room to change them – after all, your other baby still needs your attention and supervision.
Change stations don't need to be expensive. You can use an old dresser or table (as long as you make sure the change pad is secure to the table and your baby is buckled in). One thing to consider is having a higher table or dresser. This will save your back. We tried doing it on the floor for a while but the constant bending and leaning over really took a toll on both mine and my husband's backs. When you're making your twin baby registry, go ahead and put 2 change pads and at least 6 change pad covers on it. You won't regret it.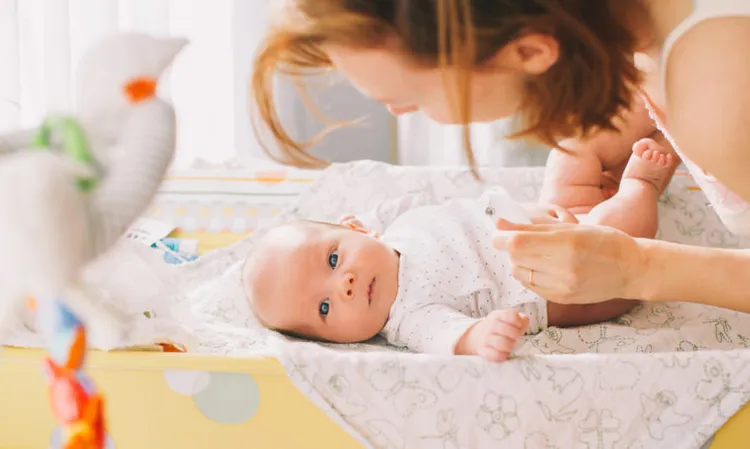 11. You WILL Need 2 Diaper Genies
If I'm suggesting two changing stations, you can bet I'm suggesting two diaper genies as well. There's no way you're leaving your two babies alone to go transport a dirty diaper into another room. Again, it's not ideal, but having a diaper genie in both the babies' nursery and in the living room or playroom (wherever you're changing diapers) will help you tremendously in the first few years.
The best diaper genie on the market right now is the Diaper Genie Elite. It holds up to 270 diapers (compared to the Diaper Genie Expressions which only holds up to 50 diapers) and effectively reduces odor in the room. Spending the $80 to buy two of these will be one of the best decisions you make as a twin parent.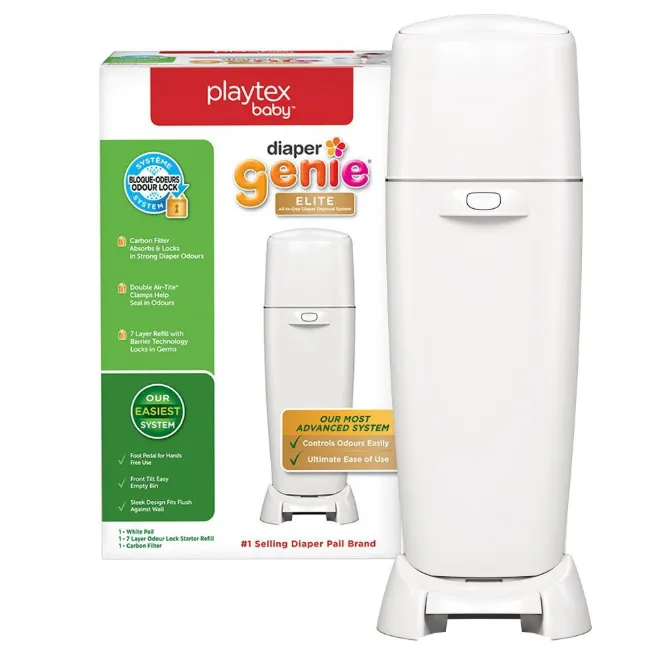 10. You WILL NOT Need 2 Infant Bath Tubs
This may be an obvious one, but it was something that crossed our minds as we were building our twin baby registry. Do you need 2 infant bath tubs so you and your significant other can bathe your babies at the same time? The answer (for us) ended up being no. There's no real benefit to bathing your babies at the same time when they're little. You can easily bathe one, dry them off and dress them and start bathing the other. Once they can confidently sit up on their own (and you feel comfortable) you can start bathing them in a tub.
There are several infant bath tubs on the market. We opted for the First Years Sure Comfort Deluxe Newborn to Toddler Tub and it did the trick. That said, there are many out there that will do the same thing.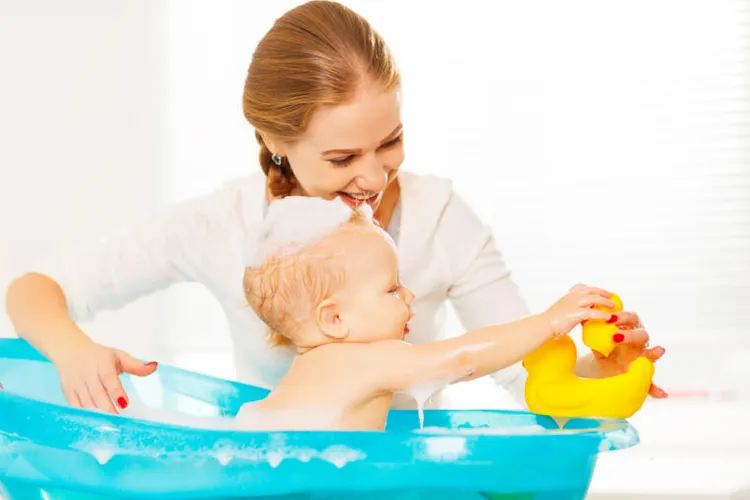 9. You WILL Need 2 Cribs
Many twin parents will try and save money by purchasing only one crib and allowing their babies to sleep together for the first few months. I strongly suggest investing in two cribs. Not only will your babies appreciate their own space but by three months they will be mobile and will be crowding each other in the crib. Separating them from the beginning will help alleviate separation anxiety -something they may experience if you try and split them up after months and months of sleeping together.
As you know, there are many cribs to choose from. One thing to consider with twins is the size of the cribs you're going to purchase. Smaller is definitely better if you're planning to put both cribs in one room but you still want to make sure your baby has enough room to sleep comfortably. We chose the Babyletto 3-In-1 white crib in white (our actual nursery pictured below) due to its simple design and great reviews.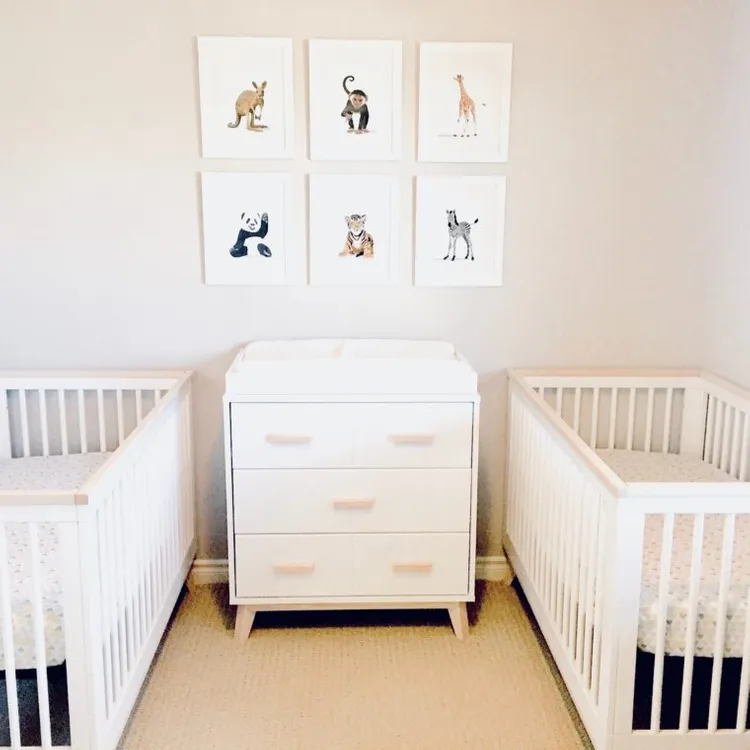 8. You WILL NEED 2 Baby Walkers (At Least)
Once your babies are ready to start walking, they won't want to stop. They will be so focused on mastering this skill that having a variety of toys to help them in their quest is beneficial. If both of your babies are hitting milestones at the same time (which isn't always the case with twins) they will both want to be using a walker for countless hours of the day.
The absolute best walker on the market (IMO but you can read the reviews if you need proof) is the VTech Sit-to-Stand Learning Walker (pictured below). Even before they start walking, your babies will enjoy sitting and playing with the interactive features of this product. Our kids are 20 months and still use this product every single day. For a list of other well-reviewed baby walkers, check out our article "The 20 Absolute Best Walkers To Get Your Baby Up And Moving."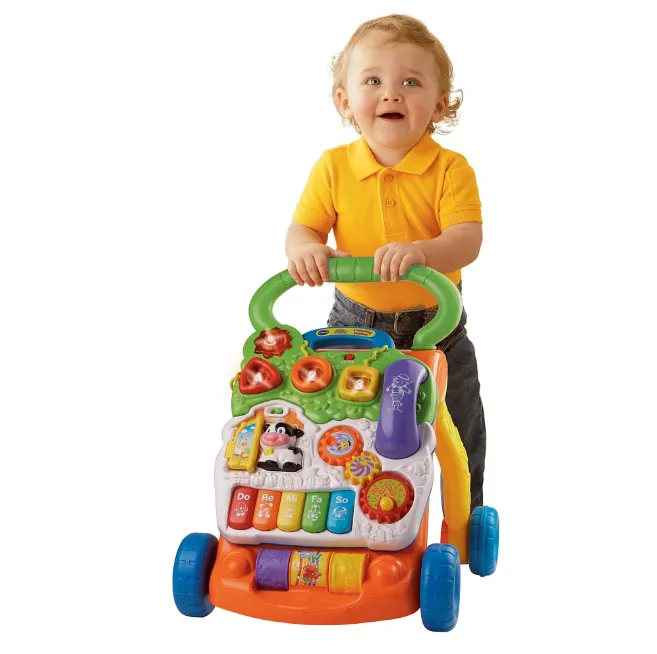 7. You WILL NOT Need 2 Twin Breastfeeding Pillows
If you're planning to breastfeed your twins, you will definitely want to invest in a twin breastfeeding pillow. These pillows are specifically designed to help breastfeeding moms feed two babies at the same time (not an easy feat – trust me!). The question is, do you need two of these pillows (which can be quite expensive)? The answer (in my opinion) is no.
Speaking from personal experience, breastfeeding twins is incredibly difficult. If you end up being successful and breastfeed for a long period of time (props to you, BTW) there may be a time when you want to spring for an extra twin breastfeeding pillow. In the beginning, however, you don't know how much you're actually going to use it (or if you'll enjoy tandem feeding even if you do breastfeed both babies) so you can easily save $75 and start your breastfeeding journey with just one of these pillows.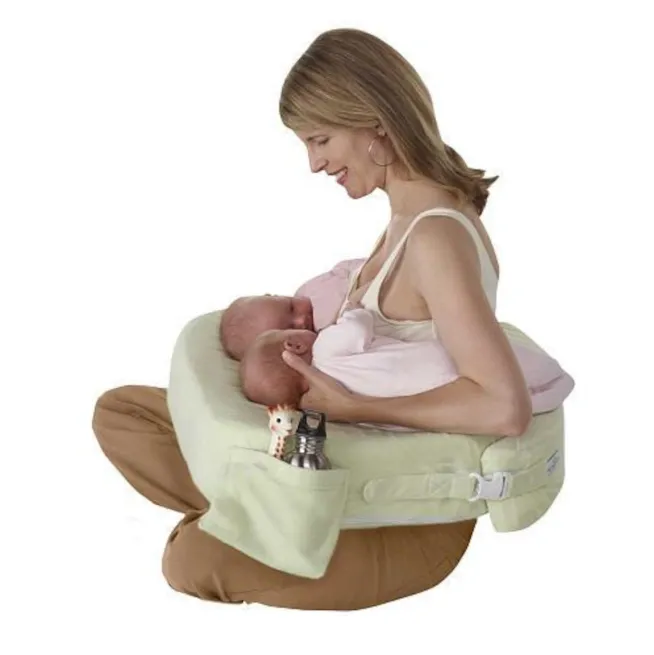 6. You WILL Need 2 SETS of Car Seats (Eventually)
This is a tricky one. You will need one set of car seats when your babies are small and (generally speaking) you only use one car. When you go back to work, you may decide (like we did) that it makes sense to have two sets of car seats. This is quite a significant investment but it does make scheduling a lot easier. One tip: wait until your babies are in convertible car seats before purchasing two sets of seats (if you can). They'll use the convertible ones for many years (unlike the bucket seats) and the investment of 4 seats (which can total anywhere from $1K to $2K depending on the make and model) will be a little easier to swallow knowing you will only need to make these purchases once.
The bucket seats we started with were the Chicco Keyfit. We purchased these because they were compatible with our stroller (the Mountain Buggy Duet) and they were smaller and lighter (you will be carrying both of these at once if you're by yourself, so choosing a lightweight option is key). Both the car seats and the stroller ended up being great purchases for us and I would highly recommend both to any twin family. When the kids were big enough for the convertible seats, we chose the Diono Rainier model and they've been great so far as well.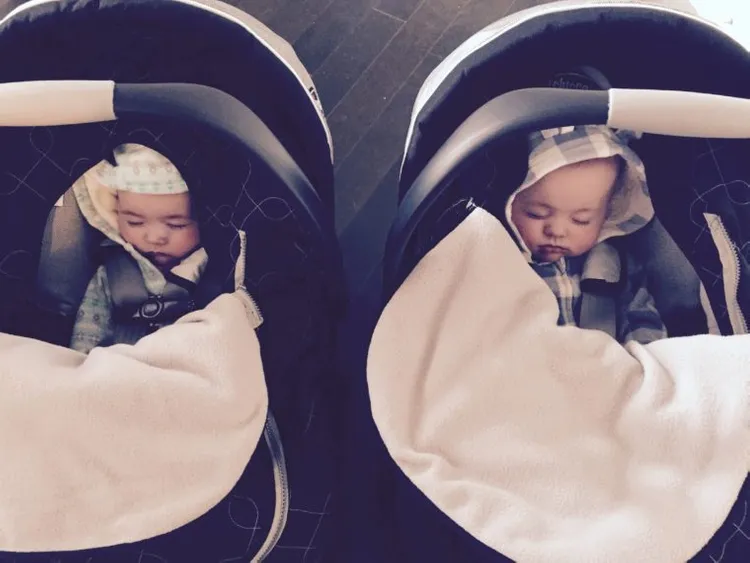 5. You WILL NOT Need 2 Exersaucers
While 2 exersaucers would make playtime more fun for both babies, it's not a necessity. These baby products can be quite expensive and you never really know how much you're going to use them until your babies are old enough to try. We purchased one – the Disney Baby Finding Nemo Sea of Activities Jumper – and both of our babies loved it. We switched the babies back and forth between the exersaucer and the jolly jumper so each one could be active and entertained but in different ways.
Much like activity mats, exersaucers take up a ton of floor space and aren't easily portable from one room to another. Save yourself money and space and only purchase one for your babies to share.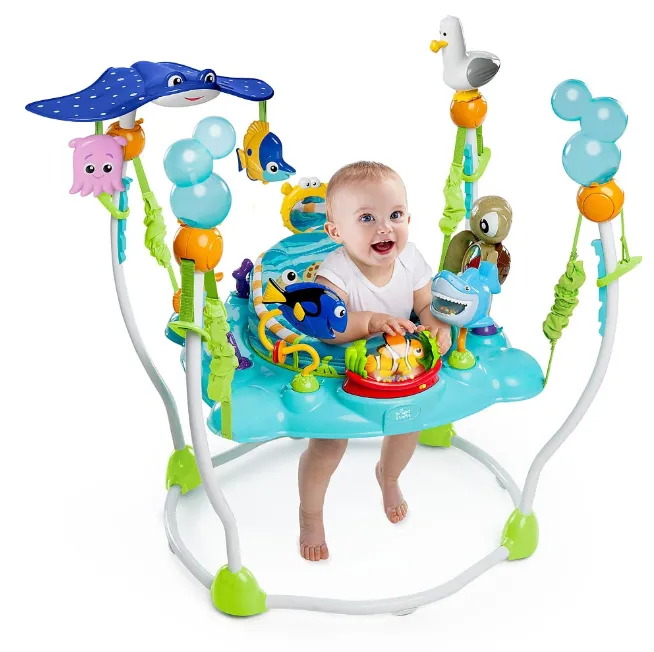 4. You WILL Need 2 Pack 'N Plays
For the first few weeks after bringing our babies home from the hospital they each slept in their own Pack 'N Play. Having two of these was essential from the time they were born and they have been great for traveling as well. We've only spent a few nights away with our children (they are almost 2 now) but when we did we used both Pack 'N Plays. They're great for sleeping and for keeping your babies confined during play time (although they'll grow out of these quite quickly when it comes to playing).
What you don't need when it comes to Pack 'N Plays is the specific twin model. We used to regular models and they worked just fine. Graco Pack 'N Plays tend to be the most popular and have been well-reviewed by customers for many years. We purchased these and were very happy with our decision.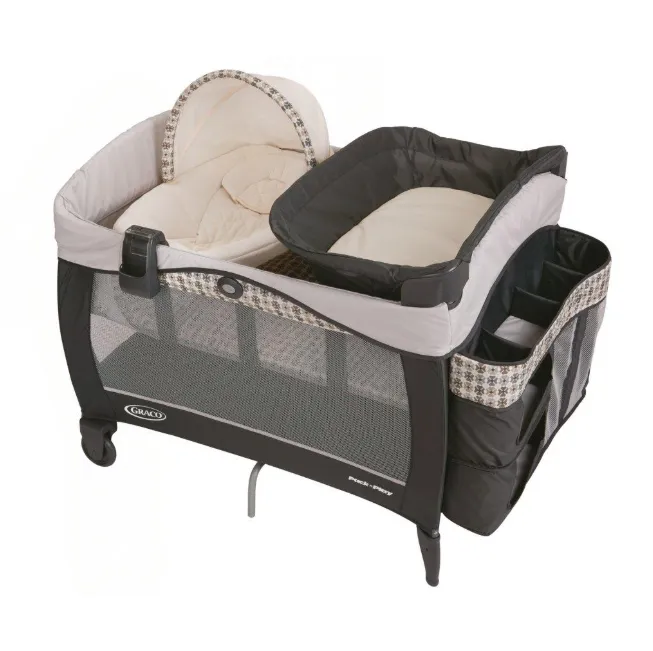 3. You WILL Need 2 High Chairs
This one kind of goes without saying. You will need two high chairs (or two bumbos or 2 booster seats or whatever you plan to use for your children at mealtime). Your babies will want to eat at the same time and watching them learn together is truly amazing. Having two high chairs set side by side will make baby/toddler mealtime more fun for them and less stressful for you.
We purchased 2 of the 4moms high chairs (in green) and we love them. They don't take up a ton of space and are easy to clean. That said, there are a ton of high chairs on the market, so do your research to find out which is the best for you and your home.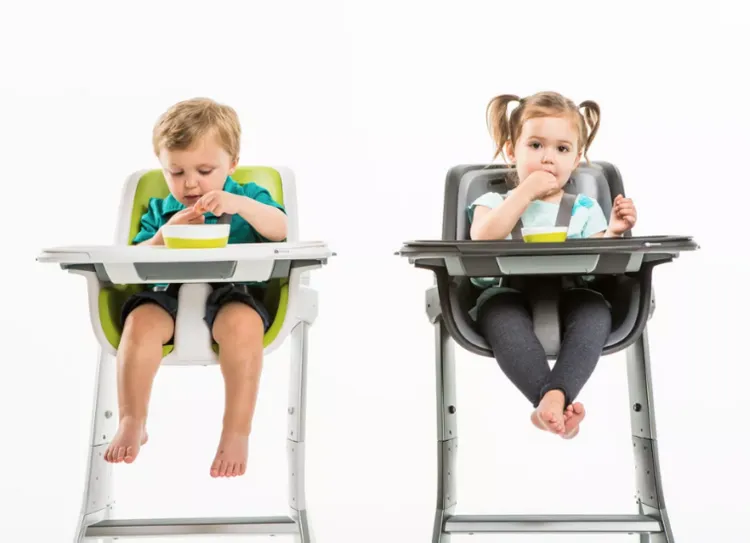 2. You WILL NOT Need 2 Jolly Jumpers
I think everyone can agree – the idea of having two adorable babies bouncing face-to-face is adorable. It's not, however, cost efficient. Most babies use jumparoos for a few months, maximum, before starting to crawl or turning to walkers. Splurging on two of these baby products will not only cost you money but will cost you space in your home as well. The structures aren't exactly small and putting two in one room with all of the other toys and products you need on a daily basis is not ideal.
That said, one Jolly Jumper will go a long way in keeping your baby occupied and active. While one baby jumps, the other can be exploring the exersaucer or activity mat. Variety is the spice of life, after all.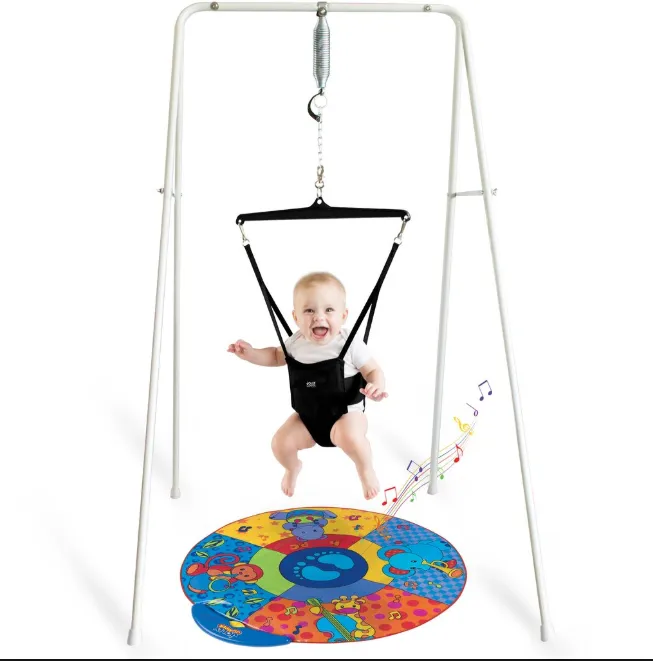 1. You WILL Need 2 Strollers
This one is more of a preference based need than an actual need but I'll tell you why I included it on the list (at number 1, nonetheless). Purchasing two strollers is a big deal. They can be very expensive (especially double strollers), they take up a lot of space and it takes a while to get used to how they function. I would not encourage any twin family to go out and buy 2 double strollers. What I would suggest is buying one really good, double stroller (we purchased the Mountain Buggy Duet and we love it) and one cheaper, umbrella-type stroller that is quick and easy to fold up and is lightweight.
In our babies' first year they each had many doctors appointments (some at the same time but many at different times). Generally speaking, either myself or my husband (or a family member) would stay at home with one baby while the other would go to the appointment. The last thing you want to do when you're already tight for time is unpack a double stroller and cart it around the doctors office, hospital or anywhere else for that matter. Having a small, inexpensive umbrella stroller you can easily pop in and out of your car is perfect when you're taking just one baby out for a short appointment, activity or to run an errand. Trust me, it's worth the extra $75.
Want to keep track of all of these items? Create an Amazon Baby Registry Now!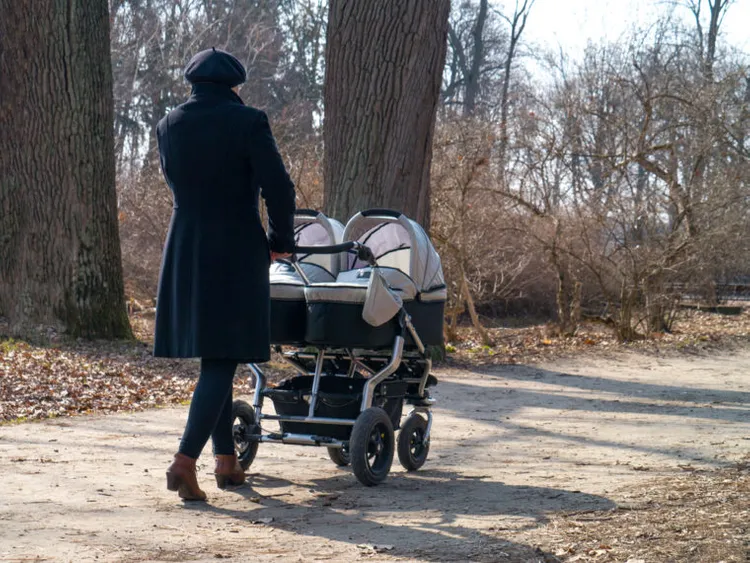 Disclaimer: Childhood.com is a participant in the Amazon Services LLC Associates Program, an affiliate advertising program designed to provide a means for sites to earn advertising fees by advertising and linking to Amazon.com.