So, you are going on a road trip! But, not any ordinary care-free, fly-by-the-seat-of-your-pants road trip — this time you have more precious cargo on board — your kids! That means some actual planning is in order. Ever year we go on a 10-hour road trip (which is more like 12 hours when you account for all the stops). Before we go, we each have our roles to play. I am the packer — organizer extraordinaire! I make the lists and gather all the things we will need for our trip for the entire family. After my part is done, my husband does the heavy lifting, and is the one who physically loads up the vehicle with everything I packed. It is a skill to pack the car — it is like a real-life game of Tetris to him. He loves doing it, and to be honest, he does a good job of it too! I chime in on what needs to go where – so that the things we will need to access frequently are within arms reach — this is very important! Of course, the quantity and contents you will pack for your family's road trip will vary on how many kids you have and what age they are, but big or small, they sure do require a lot of stuff! Whatever the age of your children, here are 25 family friendly must-have items (and where to buy them) for your next family road trip!
25. Car Backseat Organizer
Let's kick off this list with these backseat organizers! On our first road trip with our son, I ordered one of these back-of-the-seat car organizers and we found it very useful. It is great for keeping messes off of the ground, while keeping things easily accessible and within arms reach. This two pack option is great and is quite affordable to boot! I would highly recommend getting one for in front of each of your children's seats.
This specific model is great because it can hold an iPad or tablet that is up to 10" in size, and it has a large pouch, as opposed to multiple smaller pouches, like some other car seat organizers have. These big pouches I find to be more useful, and are great for holding a small blanket or neck pillow, or even a few books or coloring books.
Buy on Amazon: Backseat Car Organizer
24. Car Seat Organizer
For easy access to even more road trip necessities and entertainment, these car seat tote organizers are an excellent thing to have on hand as well. No more messy back seats covered with toys, sippy cups and all other items haphazardly around. This lightweight, foldable, car organizer will help you family keep things tidy, contained and off the floors and back seats of your vehicle!
This is perfect for road trips, but can certainly be used on a daily basis during transporting your kids too and from their school, daycare or other activities and engagements. I has 8 different sized storage compartments including 2 large main areas, 1 zippered pocket and 4 built in cup (or snack) holders. Its ergonomic design has two handles on either side for easy carrying and portability. You can even place run a seat belt through them for more security, so it doesn't slide around or tip over.
Buy on Amazon: Car Seat Organizer
23. Trunk Organizer
I do love to keep organized, if you haven't noticed already. Here is another vehicle organizer that is larger in size — perfect to keep in the trunk for easy access to items that you and your family will need during your trek. This FORTEM Car Trunk Organizer is a durable, collapsible cargo storage tote, complete with a thin waterproof foldable nylon cover. It has strong and sturdy walls and features non slip velcro strips on the bottom to prevent the tote from sliding around during the trip.
It has handy storage pockets on the side for easy access and sturdy dividers that will not collapse during use like some cheaper alternatives. I love that this folds up into a tiny package for easy storage when it is not in use, but like the other vehicle organizers on this must-have list, they are not only useful during road trips — they are great for everyday use as well.
Buy on Amazon: FORTEM Trunk Organizer
22. Car Seat Protector
For easy cleanup of crumbs and spills, a car seat protector is another great item to have in your family's vehicle. Super great for families with pets too, these seat protectors will keep messes contained, and any messes are easy to shake off, wipe with a damp cloth, or machine wash as needed.
There are various options available, but I quite like this option for large bench seating since it has the option to zipper down the middle panel if you wish to put down the arm rest. It is a nice added feature, however there are lesser expensive full sized zipperless covers available, if this is not something that would be useful in your specific vehicle. Single seat protectors are also available — perfect for captain chairs or if you don't have a full bench seat that needs covering.
Buy on Amazon: Parachute Car Seat Protector
21. Thermoelectric Cooler
Packing a selection of foods and beverages for the entire family is an absolute must during long family road trips. Not only will it save you money by not having to buy foods at rest stop convenience stores and fast-food restaurants, but it will allow you to keep on the road, and stop less frequently if you have your own stuff on hand. Keep your family's food cool and safe in this 40 quart plug-in cooler! The Coleman Quart PowerChill Thermoelectric Cooler is definitely worthy for this must-have list. This ice-less cooler can chill contents to 40 degrees below the surrounding temperature. It's quiet and long-lasting motor is powered by a 12V vehicle outlet (which is included with purchase).
It can be used like a traditional chest cooler or upright like a small refrigerator, and can open from either side. It's large capacity is more than adequate to keep your entire family's food and beverages cool for your road trip. You can bring it inside and plug it into a wall outlet with a 120V power supply (which is sold separately) — if you plan to stop overnight and still have food you need to keep cold for the remainder of your journey. Instead of having to fill your standard cooler with ice packs to keep food cool, this is a great option to maximize space for all of the food and beverages you will need.
Buy on Amazon: Coleman 40 Quart PowerChill Thermoelectric Cooler
20. Non-Spill Sippy Cups
For children 12 months plus, these BPA free sippy cups are a must-have item, perfect from road trip or everyday use. These Miracle 360 Sippy Cups by Munchkin have a spoutless design, and as the name implies, it has a 360 degree drinking edge that eliminates spills completely. The cup automatically seals when the child stops drinking. Provided the cup is secured closed properly, even if they cup falls it shouldn't spill a drop.
These cups come in either blue, green, orange or pink, and come in two different styles — with or without handles. These cups are easy to clean and are dishwasher safe. Pick some up before your next family trip — or for everyday use! Honestly, they are great!
Buy on Amazon: Munchkin Miracle 360 Sippy Cups
19. Non-Spill Snack Containers
If you are looking for a spill-free snack container option, look no further than these Munchkin Snack Catchers! This set includes 4 – 9 ounce containers that come in either blue, green, orange or pink. These containers also do not contain BPA or phthalate and are ideal for home use, day-care use, or while on-the-go. The tops soft flaps make accessing the snacks easy for little ones, all the while being great at preventing spills from happening.
These snack cups are recommended for children 12 plus months. No more worrying about snacks tipping over, or when tensions grow high, and things start flying, you still won't be stuck picking Cheerios up off the floor of your car, and finding them in all the tiny crevasses of your vehicle for months to follow.
Buy on Amazon: Munchkin Snack Catcher, 9 Ounce, 4-Count
18. Stackable Snack Containers
For snack food storage, I love these stackable twist lock containers by Seleware. These are BPA and Phthalate free containers perfect for fruit, snacks, nuts, etc. They have a removable carrying handle to take any number of containers you will need. The lids have a silicone ring to ensure that they are 100% leak proof and air tight, and the twist assembly system is a solid construction designed for long time use!
They come in 4 different colors so you can pick some up for the whole family! They are also dishwasher safe, freezer safe, and microwave safe (for 3 minutes), and can withstand temperatures from -40 degrees Celsius to 109 degrees Celsius. You are sure to get good use out of these food storage containers whether you are on a road trip or for everyday use — great for adults and children alike!
Buy on Amazon: Seleware Stackable Snack Containers
17. Car Seat Travel Tray
Keep little ones busy and engaged while traveling with one of these activity trays! They will have their own contained play area, perfect for coloring, playing with their toys, or eating. It is a sturdy tray that is sure to stand the test of time, and be a long-term travelling companion that your children will enjoy for lots of road trips to come.
This tray is also easy to clean, and has handy pockets and slots to hold their crayons, pens, small notebooks and small toys, and even has a large storage pocket on the bottom of the tray perfect for securing paper and coloring books.
Buy on Amazon: Samba Kids Car Seat Travel Tray
16. Crayola Color Wonder Markers & Coloring Books
Let your little artist let their creative side into action with these Crayola Wonder products! Parents can rest assured that their car interiors will not be covered in marker splotches and resembling something of a Jackson Pollock painting by the end of the trip. Color Wonder ink only colors on the special Color Wonder Paper! Absolutely brilliant!
Kids can color anytime, anywhere, and completely mess-free! There are various activity books available for purchase. I like this 30 page set of blank pages which are great for your little one to create their own original pieces of art. So fun!
Buy on Amazon: Crayola Color Wonder Coloring Kit
15. A Selection of Books
When your child is in need for some quiet time, packing some books is a great way to keep your them entertained. Pack a selection of your little ones favorite books — or maybe even some new books they haven't seen before, to keep them even more engaged.
When your child is a bit older, audio books might be something that the whole family could enjoy. The Harry Potter book series (and movies) are a favorite of my husband and I. Our son is still a bit too young to appreciate it, but we are looking forward to trying these audio stories on one of our future road trips when he is a bit older!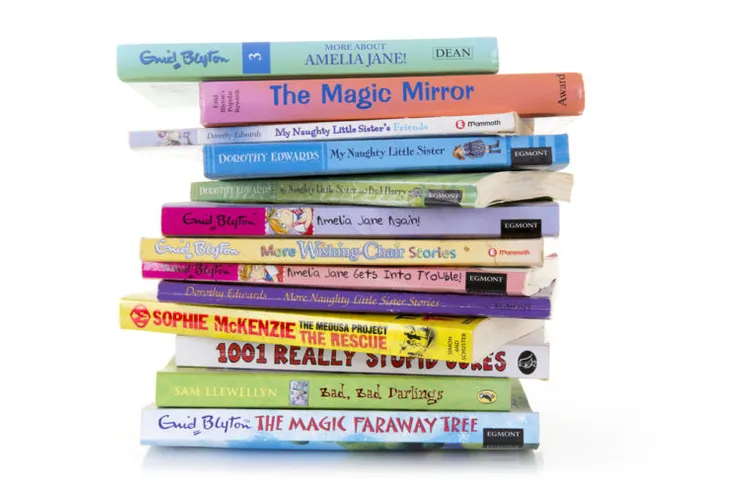 14. VTech Write and Learn Creative Center
Another great mess-free option for your next family road trip would be this VTech Write & Learn Creative Centre. We picked one of these up on our first road trip with our toddler, and he absolutely loved it! A great tip for road trips is to bring new toys or toys that your child hasn't seen or played with in a while. They will be much more likely to stay interested and engaged than they would if they were playing with the same everyday toys they play with on a regular basis.
We picked up one of these toys and kept it hidden until we were on the road. Our son was very interested in it, and it kept him quite content and entertained for a good stretch of the trip. I also really like that this toy is educational. This little drawing board provides kids with a fun way to get a head start on learning how to write and follow along to learn proper stroke order for both uppercase and lowercase letters. It does require 2 AA batteries, so be sure to pop some in and bring a couple back up (just in case).
Buy on Amazon: VTech Write and Learn Creative Center
13. iPad or Tablet
On a long trip, when tension starts to grow and your little ones are becoming more impatient and agitated with every passing minute, having electronic devices on hand for entertainment could be just what you need to get through this tough time, and keep trekking on until your next scheduled stop. Even if you aren't a fan of screen time for your child, having an iPad or electronic device on hand during your family road trip might be just what you need to get through the toughest of moments when nothing else seems to be working.
Before you set off on your journey, I highly recommend you load up your iPad(s), tablet(s), or cellphone(s) with a selection of age-appropriate educational games and family friendly movies or tv show. For children 3 and older, I really like the LeapFrog LeapPad Ultimate as an affordable tablet for entertaining your little one. Little ones can access a library of content including award-winning apps and cartridges, as well as access pre-selected and approved websites from this tablet as well, which is a great feature.
Buy on Amazon: LeapPad Ultimate
12. Bluetooth Wireless Headphones for Children
For moms and dads looking for some peace and quiet — these are an absolute must-have for family road trips! These Puro Sound Labs BT2200 Premium Kids Headphones are a great option for your little ones. These are Bluetooth enabled, studio quality audio headphones, that feature a noise limiting function that is essential for protecting young ears.
They are a lightweight aluminum construction with 18 hours battery life, perfect for long trips! They come in various fun colours so your little ones will never confuse which pair belongs to them. Each child can watch their own show, listen to their own music, and not disrupt the rest of the family. Win win if you ask me!
Buy on Amazon: Puro Sound Labs Premium Over-Ear Bluetooth Kids Headphones
11. Travel Games
If electronic games aren't your thing, help pass the time with some car games that are fun for all! Get the whole family involved with some pre-planned games that require no materials at all, or at the very least, a paper and pen! 🙂 I'm Going on a Picnic, 20 Questions and I Spy are some of our favorites!
There are also some great road trip game options you can purchase. Loaded Questions On The Go card game, Travel Scavenger Hunt card game, and Travel Bingo — to name a few. Alternatively, if time permits, you create your own versions and make printables before your go. Having a selection of activities to go to can really help pass the time, and keep everyone engaged, having fun and creating some very fond family memories.
Buy on Amazon: Travel Scavenger Hunt Game
Buy on Amazon: Loaded Questions Family/Friends Version
10. DIY Road Trip Games (Rewarding Good Behavior)
Now this is a fun idea for your next family road trip! I have read how some families provide their children with a road trip scavenger hunt! As you reach certain geographical destination landmarks along the way, they will get a present (prize). It is a cute idea to actually gift wrap them like a present and make it more fun surprise for kids.
It could be a tasty treat or small toy, stuffy, game, or book — anything that can be used to help keep them engaged and entertained along the way. Add an interesting rule to the game and that good behavior is required in order to get the prize at the next destination. It is definitely worth trying to encourage and reward good behavior. A little motivation can't hurt!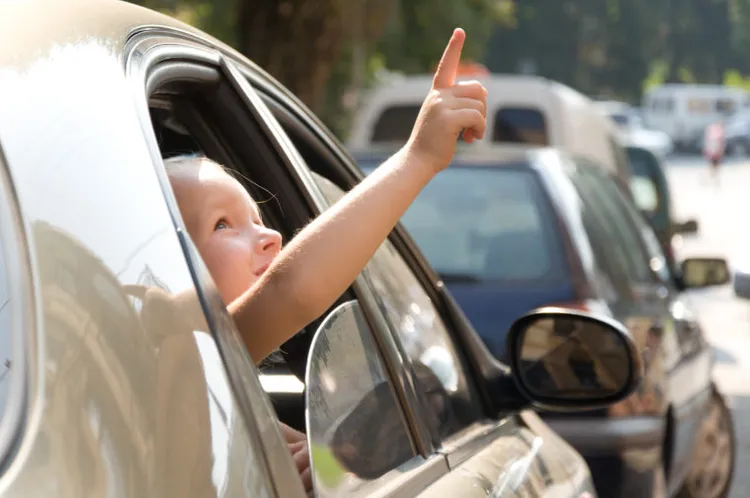 9. Soft N' Cuddly Travel Pillow
I always feel terrible looking into the back seat and seeing my little one keeled over in the most uncomfortable looking position fast asleep. These cute little travel pillows would make those car sleeps much more comfortable. There is a wide selections of animal options to choose from. Let your little one select their favorite cuddly companion and make it a bit more fun for them, and give them something to look forward to getting!
These little travel pillows are super soft and supportive, and are made of 100% polyester. No need to worry if they drool all over it — they are machine washable! You should definitely pick up some of these cute, fun and very functional travel pillows for your family for your next road trip adventure.
Buy on Amazon: Cloudz Plush Animal Travel Pillows
8. Blanket(s)
Still on the topic of comfort — pack some small blankets and keep them close by for when they feel a bit cool, or for tossing over them when they fall asleep. Whether you are driving through the night or your child is having a nice afternoon nap, blankets will provide added comfort while they sleep.
Lightweight muslin blankets are great for the summer, or a fleece blanket would be ideal for cooler months or cool evenings. Pack one for each of your children, and store under their seat or in one of the back-of-the seat organizers as previously mentioned.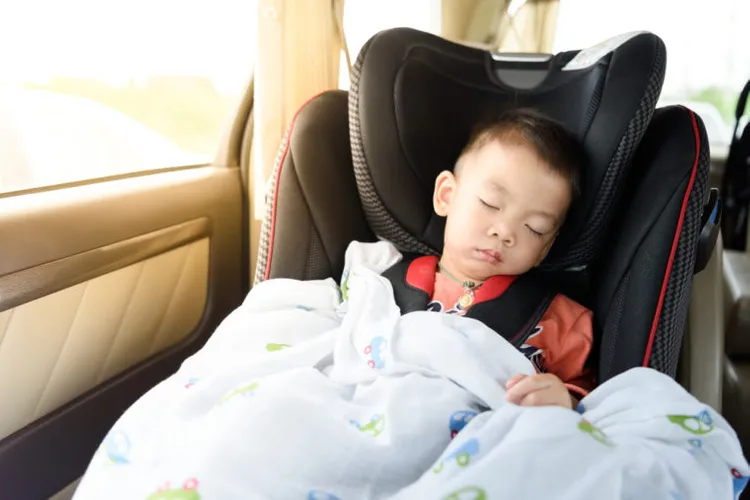 7. Window Shade
Keep you kiddos cool, comfortable and protected from harmful UV rays with this window sun shade. These mesh fabric designs provide protection from sun glare and heat, and blocks over 97% of harmful UV Rays. They are made of a strong static material that can stick forever without leaving a residue behind on your vehicle's windows.
These are quick, easy and very simple to use. They have a Twist 2 Fold design, that pop-open instantly when you need them, otherwise they can be stored compactly in the PVC bag they come in. They are lightweight yet durable and strong, and would be great to have on hand for your family's next road trip – or use during your family's everyday travels. It can get quite hot when the sun beats down through the windows — so keep them comfortable and this could help keep them less fussy in general. These are also great for when your child is sleeping and you don't want the sun or bright lights street lights (or gas station lights) to potentially wake them up.
Buy on Amazon: CarBoss Sunshade
6. Paper Towels & Wipes
Even when you take as many precautions as possible to keep things as neat and tidy as possible during your family's road trip, there are bound to be some messy hands, spills and messes to clean up. So parents, be at the ready with a roll (or two) of paper towels. Keeps some within arms reach, for quick clean up as required.
For more sticky messes, I like to keep some of Johnson's Hand & Face Portable Wipes on hand. They are alcohol free and come in a 4-pack with 25 wipes in each. Perfect for tidying up little sticky hands and messy faces!
Buy on Amazon: Johnson's Hand and Face Wipes
5. Portable Toilet
I honestly wish that I saw this product before purchasing the training potty I did for my son. I love multi-purpose items — and this Primo 4-in-1 Soft Seat Toilet Trainer is the complete package in my opinion. It can be a stand alone potty, a soft toilet seat reducer, as well as a step stool! This could be perfect for travel! The seat reducer is compact enough to fit in a diaper bag to bring into rest stop washrooms, or it can be used as a stand alone potty should you need to make an unscheduled emergency bathroom break stop.
A great tip is to bring some small bags (grocery or garbage bin bags) to line the toilet for easy clean up. Place an open, unused diaper inside the bag line toilet to catch/absorb the waste — then tie up the bag for quick and easy (and mess free) disposal. Another good tip, is to have this completely set up and ready to use when you start your trip and immediately after each use. This way, when nature calls, you can answer as quickly and easily as possible, and get back on the road, and you won't be fumbling around when your child urgently has to go!
Buy on Amazon: Primo 4-in-1 Soft Seat Toilet Trainer and Step Stool
4. Change of Clothes
It never hurts to err on the side of caution and have a small bag packed with an emergency change of clothes for members of the entire family. Spills and accidents may occur, and rather than rooting through your luggage and unburying suitcase that may be packed tightly into the rear of your vehicle, keep a small luggage or tote on top for easy access.
If you plan to stop overnight or drive through the night, it may make sense to pack some pajamas as well, or comfortable clothing that can be used as pajamas. This will make for a smooth transition into bed if needed.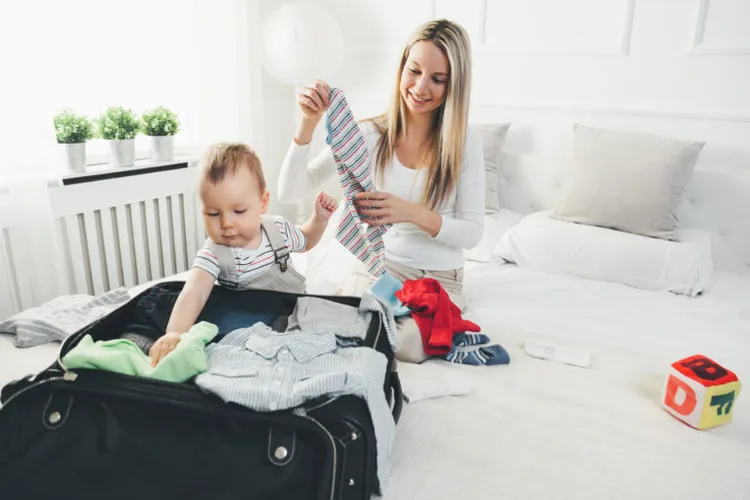 3. Traveling Portable Car Trash Can
Road trip or not — I should pick one of these up for my husband who thinks the passenger seat side floor is his own personal dumping ground for garbage. Keep messes off the floors and seats of your car with one (or even a couple) of these portable garbage bins.
For quick clean up, line it with a plastic bag and dispose of all your garbage quickly and as mess-free as possible. I like that this product has a lid that closes, helping to keep smells out. It can also collapse into a small disc shape when it is not needing to be in use.
Buy on Amazon: Liler Universal Traveling Portable Car Seat Trash Can
2. Tackle Box for Storage for Small Must-Haves!
These colorful tackle boxes are great for so many different things. Multi-compartment storage containers are perfect for containing small items your child may require, such as crayons, small toys, or you may have seen these on Pinterest being used as a snack container! However, my favorite use for these little boxes are for containing first aid supplies and other important convenience items.
Items that would be perfect for this container include: a nail file, tweezers, nail clippers, Bandaids, hand sanitizer, alcohol wipes, medical tape, gauze, Polysporin, Eye Drops, Travel-size medicine containers, lip balm, hand lotion, mini hair brush (or comb), hair ties, bobby pins, safety pins, sewing kit, feminine hygiene products, and a stain remover pen! This storage container is double sided and come with a lockable design with clear lids for easy viewing access to its 13 compartments so you can quickly find what you need. They come in a bright and cheerful blue or yellow, and will fit perfectly into your vehicles glove compartment.
Buy on Amazon: WCIC Tackle Box
1. Pack Your Patience!
Last, but certainly not least, pack your patience! It can been a bit of a handful to say the least when travelling long distances cooped up in a car with kids, but just try to relax and enjoy the drive as much as you can. You never know what will happen…how many stops you will need to make for bathroom breaks or just to stretch your legs, so just try to go with the flow!
Expect the unexpected, and come to terms with that. Don't forget to pack something for yourself to enjoy during the quiet moments — a crossword puzzle, a magazine, or perhaps a podcast or audio book — you will be at your destination before you know it! Happy Travels!