If you're thinking of taking the family to Denver, you're in luck! The beautiful city of Denver is overflowing with family-friendly sights and activities.
To help you narrow down your options and choose things that both you and your kids can enjoy, below are 15 things to do in Denver that are perfect for people with kids!
1. Downtown Aquarium
Amaze your kids with close encounters with some of the sea's finest creatures, including sharks, stingrays, otters, sea turtles, and rainbow fish at the Denver's Downtown Aquarium.
Holding more than a million gallons of water, Downtown Aquarium's many exhibits, including a life-size replica of a galleon shipwreck filled with aquatic life, are sure to keep your kids busy for hours.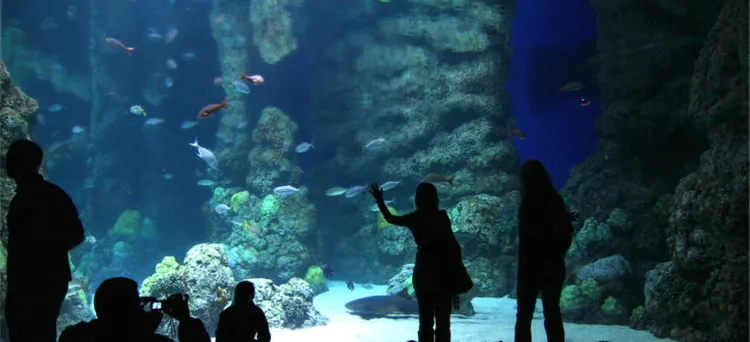 2. Children's Museum of Denver at Marsico Campus
Let your kids learn and have fun at the same time by taking them to the Children's Museum of Denver at Marsico Campus.
Kids (and grown-ups) can step inside a 6-foot bubble, race to the top of a 3½-story climber, try their hand at clay sculpting, or even zip line in Adventure Forest. After your little ones get tired from these activities, have them check out the more than a dozen "playscapes" that make up the museum.
The best part? Kids under one and members get in for free!
3. Urban Adventure Parks
If your kids are a little older, urban adventure parks might be more up their alley.
What exactly is an "urban adventure park"? It's a way to enjoy activities such as skateboarding, BMX, mountain biking, and even skiing/snowboarding right inside the town of Denver.
Some great parks to check out are the Curbside and Downtown Denver Skate Parks, as well as the Progresh inside training centre.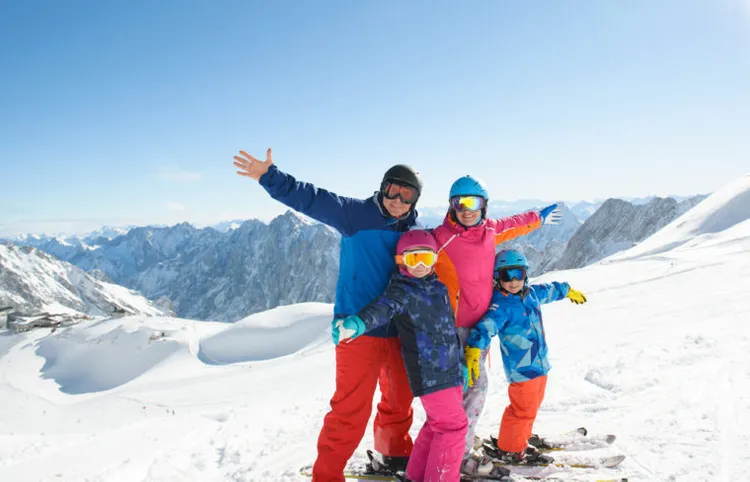 4. Denver Zoo
You can't go wrong with the Denver Zoo. It's been open to the public for over a century, is a leader in animal treatment and conservation, and features exhibits catering to nearly any animal you and your kiddos can think of.
If your kids are interested, the zoo even offers an app to download where you can listen to short, education presentations on all of the different exhibits as you walk around.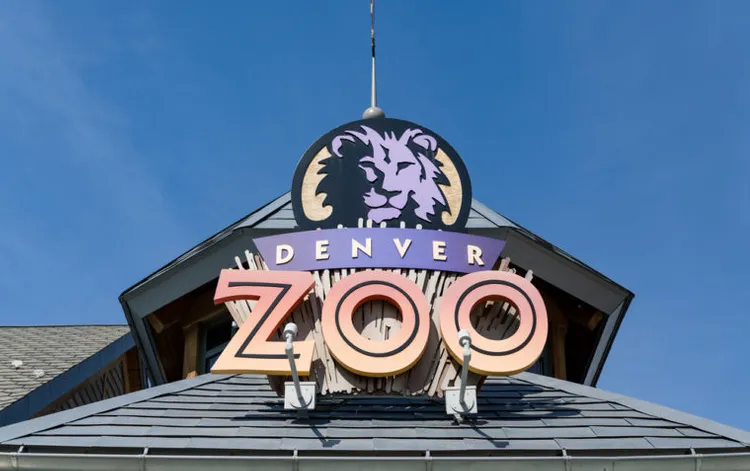 5. Denver Museum of Nature and Science
Keeping the museum train rolling, next up is the Denver Museum of Nature and Science.
Catering to kids of all ages, this museum features exciting exhibitions, a planetarium, and an IMAX theatre for when everyone has had enough of walking around.
Your kids are bound to find something that excites them, with exhibits (many of them interactive) on everything from Wildlife, Mummies, Space Exploration, and Prehistoric creatures.
6. Red Rocks Park and Amphitheater
Even if you and your family don't go to see a performance (although it's even better if you do), the Red Rocks Park and Amphitheater are worth checking out simply for their presence.
Red Rocks is a one-of-a-kind, geologically formed, open-air Amphitheatre that does not exist anywhere else on the planet. John Denver, Fleetwood Mac, and Depeche Mode are just some of the names that have performed and recorded between Red Rocks' iconic towering, sandstone walls.
Nearby is the Red Rocks Park featuring all sorts of trails to tire out the young ones and beautiful sights to end off the day.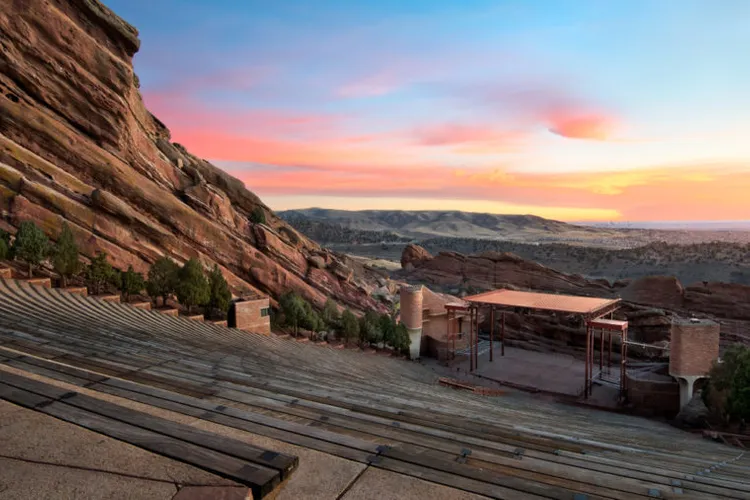 7. Hammand's Candy Factory
If you can handle the sugar rush that's almost guaranteed to ensue, Hammand's Candy Factory is a great treat for your kids.
Apart from indulging in the candy itself, the factory also offers daily free tours every half hour (except on Sundays) where your kids can see how candy canes, ribbon candies, and lollipops are made by the factory's passionate artisans.
8. Dinosaur Ridge
Close to Red Rocks is Dinosaur Ridge, where your kids can step back in time and look at real fossils and prehistoric tracks from millions of years ago.
If they get bored with that (only a kid could find real Stegosaurus bones boring), you can take them on one of the many nearby hikes or check out the displays at the visitor's centre.
9. Rocky Mountain National Park
For the more adventurous spirit, another option is a visit to the Rocky Mountain National Park. While it's a little far from Denver (about an hour and a half drive), the park's elevation makes for some breathtaking hiking trails and scenic views.
With a picnic in hand (and plenty of sunscreen), the Rocky Mountain National Park can make for a perfect family day trip.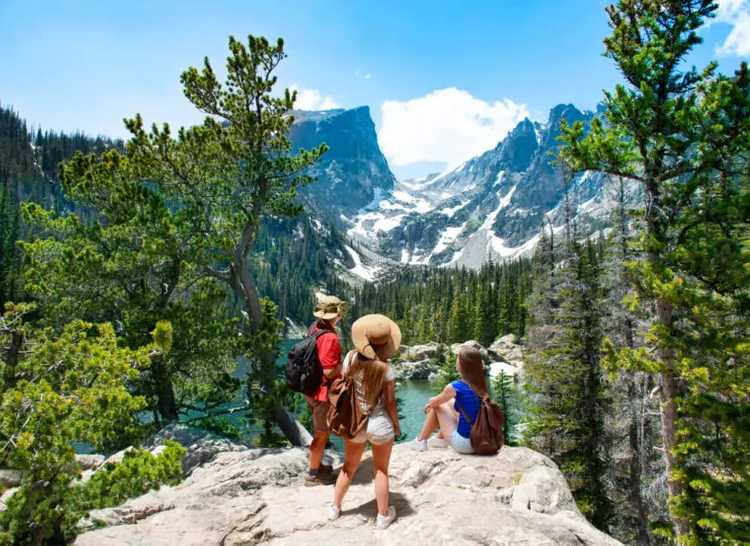 10. Butterfly Pavilion
Denver's Butterfly Pavilion is the perfect sensory overload experience for your kids.
With minimal barriers and plenty of interactive displays, there's no room for boredom at the Butterfly Pavilion. From the second your kids walk in, they can get up close and personal with live bugs and fluttering butterflies.
Brave kiddos can even hold the museum's pet tarantula, Rosie!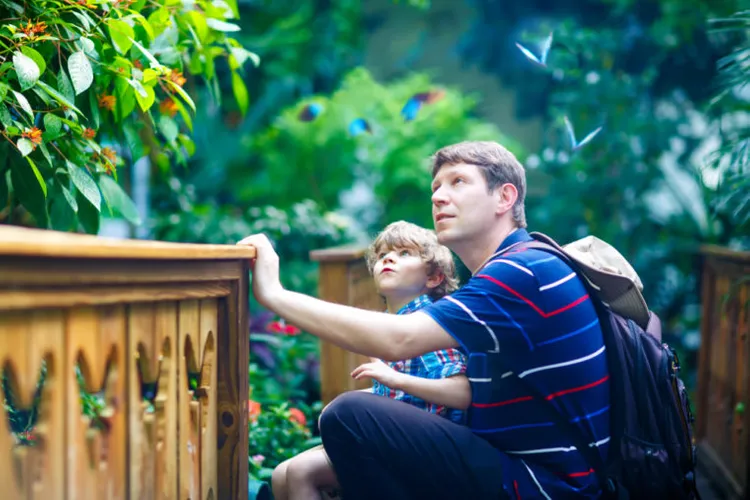 11. Tiny Town & Railroad
If only there was a miniature town that was completely open for your little ones to explore and play in… Well, Tiny Town and Railroad offers just that!
Just 20 minutes outside of Denver, this literally Tiny Town and Railroad offers an open, interactive place for your kids to play in, as well as a train ride to take them around and look at the beautiful surrounding mountains.
12. Casa Bonita
Treat your kids to some authentic Mexican tacos at Casa Bonita. Besides delicious grub, Casa Bonita also offers puppet shows, an arcade, and even cliff divers to keep the young ones interested.
The things we do to keep our kids happy….
13. Coors Field
Suit up in your team's jersey, grab a hot dog, and head to Denver's Coors Field for a fun day of baseball!
The nice thing about Coors Field is that if your kids aren't into the game itself or get restless, you can take them to a playground without having to even leave the stadium. After (or before the game), you can also stop by at the National Ballpark Museum for some quick museum fun.
14. Denver Art Museum
The Denver Art Museum is widely considered to be one of the most kid-friendly museums around. Besides an endless number of interactive areas for kids, there's also an entire area where kids can create their own artistic pieces through all sorts of different mediums.
If there's one museum you should take your kids to in Denver it's the Denver Art Museum.
15. Wings Over the Rockies
Wings Over the Rockies is an Astronaut's heaven. Open every day of the week, it features nearly 40 airplanes and space vehicles from all throughout history.
If the gigantic exhibits aren't enough to keep your kids interested, take them to see the museum's X-wing fighter from Star Wars!