Las Vegas might be known for its casinos and nightlife, but believe it or not, with the right guidance, it can also be a great vacation spot to explore with your family.
The key with any travel destination is to find out what's kid-friendly and what's not. To give you and your family a good starting point, below are 15 things to do in Las Vegas that are perfect for people with kids!
1. Shark Reef at Mandalay Bay
With over 2,000 animals showcased in 14 exhibits, including 15 species of sharks, piranha, and even crocodiles, the Shark Reef at Mandalay Bay is sure to keep your little ones interested for hours. As your kids walk through the 1.3 million gallons of water that make up the Shark Reef, they can experience a nearly 360-degree view underwater filled with all kinds of sea creatures. There is even a Touch Pool where your brave little ones can touch different types of crab, rays, and even sharks!
2. Mystere Tickets
If you're looking for something to do in the late afternoon or evening, then Mystere is the perfect show for all ages. You can expect all of the incredible acrobatics, breathtaking stunts, and hilarious antics that Cirque du Soleil is known for, but without the mature, non-kid-friendly aspects of some of their more adult shows. The best part is that even the cheap seats provide a great experience.
3. Bellagio Conservatory and Botanical Garden
You might think the last thing your kids want to do is check out the inside of a hotel, but the Bellagio Conservatory & Botanical Gardens is different. Contained inside a huge glass dome, it contains incredible seasonal, photo-friendly scenes constructed by over 120 horticulturists. These scenes, which resemble artistic creations more than they do elements of a garden, consist of flowers, plants, trees, gazebos, bridges, and lighthouses. It's completely free to enter and open 24 hours a day.
4. David Copperfield Las Vegas
If you somehow haven't heard of the name already, David Copperfield is a world-famous magician that has become synonymous with the Las Vegas experience. Another perfect show the whole family can enjoy, you can expect magic, charisma, showmanship, and absolutely mind-blowing illusions. You might have to be careful with this one – your kids will most likely be nagging you to take them to the closest magic shop for days afterward.
5. Adventuredome Theme Park
Imagine a five-acre indoor theme park where kids and parents alike can have a blast playing games and hopping on rides. This sums up Adventuredome Theme Park, one of the top places you should prioritize visiting with your kids in Las Vegas.
You can expect rides, games, miniature golf, arcades, and even a 4-D movie adventure that engages all of your senses. There's no cost to get in, which is awesome, and it's absolutely worth getting the all-day ride pass to be able to check out as much of the park as possible.
6. High Roller Observation Wheel
If your young-ins aren't afraid of heights, take them to the High Roller Observation Wheel – one of the world's tallest observation wheels at 550 feet tall. Over the course of the leisurely ride, which lasts 30 minutes, you can enjoy a 360-degree view of the entire city from inside your comfortable, glass cabin.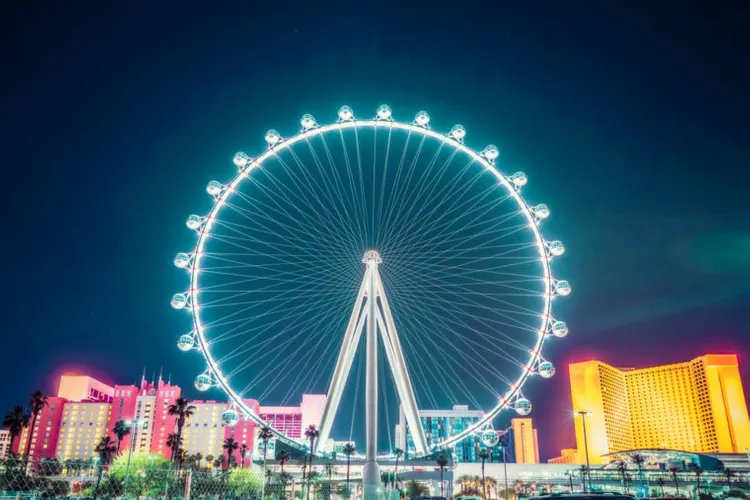 7. Discovery Children's Museum
Just north of the Las Vegas Strip is the Discovery Children's Museum. Whether you're traveling with toddlers or pre-teens, the museum offers something for everyone. Suited up with complimentary waterproof smocks and hand dryers to help them dry off afterward, kids interested in nature can check out recreations of the Hoover Dam, Lake Mead, and the Bypass Bridge. Or, if fantasy is more their thing, they can hop over Fantasy Festival, a life-sized ship, castle, and stage for some creative play. For the young ones, Toddler Town offers a play space for kids under five, and for the very young ones, there is even Crawl Zone for babies to crawl around in.
8. The LINQ Promenade
If you don't mind crowds, check out the LINQ Promenade. It's a huge outdoor shopping district with plenty of places to eat and specialty shops to peruse. To keep your kids happy, treat them to one of the many sweet shops that decorate the Promenade. After you've had your fill of walking, eating, and shopping, you can then easily make your way to the nearby High Roller Observation Wheel to end your day with a beautiful view of the entire city.
9. Fremont Street Experience
While not everything on Fremont Street is going to be kid-friendly, it is still a very historic part of Las Vegas worth checking out and dates back over a century. There's certainly plenty of entertainment on Fremont Street, with a lot of it taking the form of performers in costumes (which can range from superheroes to burlesque dancers), as well as plenty of restaurants, kiosks, and tourist shops.
If you stick around long enough, you can catch one of the "Viva Vision" light shows, which are displayed on a 1,500-foot-long and 90-foot-wide video screen and set to music. To time it so you can be on Fremont Street for one of these shows, they run every hour beginning at dusk until midnight (1 a.m. in the summer) and last six minutes.
10. Las Vegas Indoor Skydiving
It's hard to picture a more fun time with your kids than flying through the air with them. At Las Vegas Indoor Skydiving, after being suited up with harness, goggles, and helmet, as well going through a brief training session, you and your kids can fly through a wind tunnel for 15 minutes at a time. Plus, if you immediately book another session after finishing your 15 minutes (which you probably will), you can get a discount.
11. Tournament of Kings
Almost like a Cirque du Soleil of medieval times, the Tournament of Kings is an incredibly choreographed show consisting of knights on horseback, medieval weapon battles, and jousting. As the knights battle out, you and your kids enjoy a 3-course meal with your bare hands! Adding to the show's realism is its setting, taking place in the Excalibur – a resort designed after King Arthur's Camelot. There are plenty of shows on different days of the week and kids under 3 get in for free!
12. Marvel Avengers S.T.A.T.I.O.N.
Superheroes are everything to kids. That's why bringing them to the Marvel Avengers S.T.A.T.I.O.N. is an absolute must. As you walk through the museum, your kids can see the costumes of their favorite superheroes, many of which were actually used in the movies. Your kids can even become superheroes themselves as all new visitors to the museum are welcomed as new agents in training with their own mobile phone and badge!
At the end of the museum, you can grab souvenirs from the world's largest Marvel retail store, take photos in front of a Marvel-themed green screen, and check out the Iron Man virtual reality experience. As a nice bonus, if you're staying at the Treasure Island resort, the Marvel Avengers S.T.A.T.I.O.N. is completely free to check out.
13. Red Rock Canyon National Conservation Area
Had enough of the city? Treat your kids to the Red Rock Canyon National Conservation Area. Only 17 miles from The Strip, with plenty of easy trails to explore, many of them containing beautiful views and even fossils along the way, Red Rock is the perfect day getaway from the lights and loudness of Las Vegas's city life.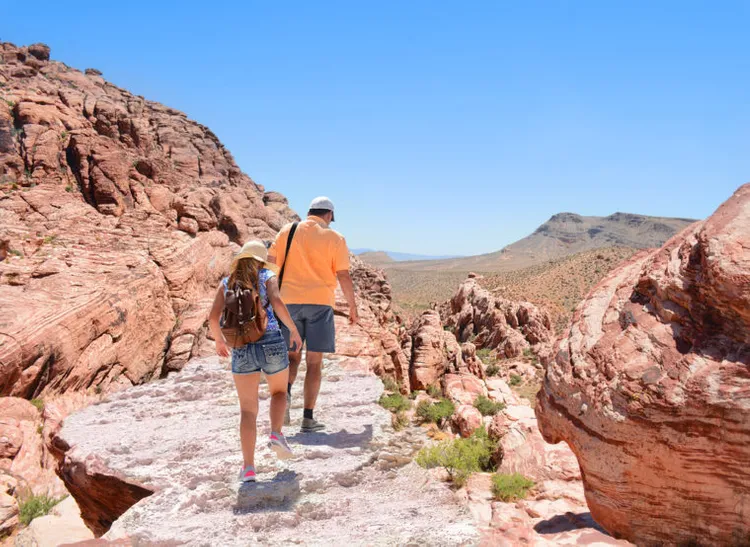 14. Lion Habitat Ranch
Lions may not be the first thing that pops into your when thinking of what do with your kids Las Vegas, but located just 20 minutes from The Strip, the Lion Habitat Ranch is a total must-see for you and your family. With the help of their professional crew, you can see lions, one of nature's most beautiful creatures, up close and personal. You can even help feed them!
15. Downtown Container Park
Something very unique to Las Vegas is the Downtown Container Park. As the name implies, it's literally a park constructed of shipping containers. Right in the downtown of Las Vegas, the park offers restaurants, an outdoor concert space, and a huge playground consisting of a treehouse, slides, a splash pad, and humongous, soft building blocks. Be sure to snap a photo of the giant, steampunk praying mantis with flame-throwing antennae before you leave!