The recent surge in tablet and smartphone technology is both a good and a bad thing for parents. On one hand, it can be unhealthy to let your kids have too much screen time. And there are plenty of questionable YouTube videos floating around the web if you're not paying attention to what your kids are watching.
On the other hand, there are now plenty of useful and educational apps available that will help your kids obtain stronger skills when it comes to reading, writing, and arithmetic. In this article, we're going to focus on the numbers and tell you about 20 different apps you can use to help your little ones improve their math skills.
One additional suggestion: make a deal with your kids that states they are required to play with their favorite learning app for 30 minutes before they are allowed to get lost in the next level of Angry Birds or fall down the Netflix rabbit hole for the night.
Disclaimer: These apps range from complete free to paid to subscription based, and not all of them are available on every platform.
20. Math Racer 3.0
Math Builder is a simple, no-nonsense math game that challenges kids to answer simple math problems as fast as they can. It includes a leaderboard so you can compare times against family and friends, as you battle to be the fastest number cruncher in your group. You can also set it to only show you one type of math problem (addition, subtraction, multiplication, or division) if you want to work on a certain skill. Or you can mix them all up for a bigger challenge.
Why we like it: Arcade style high score screens keep track of your best times.
Download: iTunes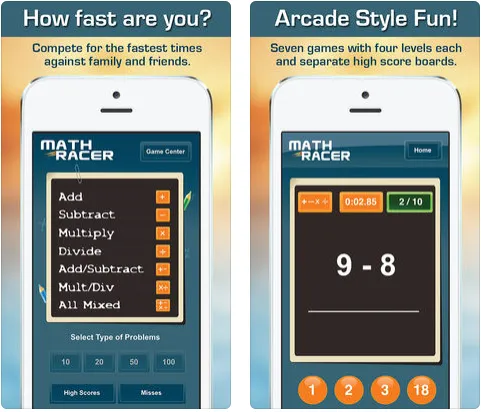 19. Prodigy Math Game
Prodigy is a great tool for any pre-high school math student, as its lessons range from Grade 1 all the way up to Grade 8. Not only that, but all the lessons are presented in a child-friendly game format that is basically an RPG featuring wizards and spells and turn-based magical duels. Your child will have to answer grade appropriate questions to cast spells and level up their character as they explore the map.
Why we like it: Cute character sprites give us a solid dose of Nostalgia; kids love levelling up their wizards.
Download: iTunes
18. Chalkboard Math
This one is nice and simple. With a classroom-esque chalkboard design, this app is basically a version of the classic Hangman game, except with math problems instead of guessing letters. Can you keep the Chalkman from being erased?
Why we like it: A super simple user interface that is great for early grades.
Download: iTunes
17. Threes
Threes is a mobile gaming classic, and routinely sits near the top of the most downloaded apps. While it's more of a puzzle game than a traditional educational app, Threes can teach young children important concepts about how numbers fit together. The goal, as you probably know, is to mash together similar number cards in order to double their value. The higher numbers you can produce, the higher score you will receive.
Why we like it: Threes not only helps with simple addition and multiplication, but will improve your child's general sense of strategic planning.
Download: iTunes, Google Play
16. Sushi Monster
The sushi monster is hungry and you have to feed him! But the only way to make proper sushi is to solve math problems. This colorful cartoon-like game has a solid progression system that gradually increases in difficulty, while also rewarding players with points, stars, trophies, and unlockable new levels as their skills improve.
Why we like it: It's a sushi monster. What's not to love?
Download: iTunes
15. Moose Math
This one is more geared towards the younger children, focused on those aged 3-to-7. However, Moose Math has five fun and engaging minigames that will help your youngster build their addition, subtraction, sorting, and counting skills. This app comes with some serious expertise behind it, as it was developed in partnership with Jennifer DiBrienza — a Stanford University Educator with a PhD in Early Elementary Education. It's also apart of the award-winning Duck Duck Moose line of education apps, a part of the larger Khan Academy online schooling system.
Why we like it: Along with its serious educational pedigree, Moose Math includes a Report Card section where parents or teachers can monitor the progress of their pupils.
Download: iTunes, Google Play
14. Bridge Builder Simulator
This one isn't a traditional educational app. It doesn't even feature numbers, really. But this is a good abstract introduction to engineering for your little builder, all cleverly disguised as a fun arcade game. As you can probably guess from the name, this app requires the player to strategically place beams and other building supplies in order to build a structurally sound bridge. Through trial and error, your children will begin to understand concepts like the laws of physics, gravity, and the structural integrity of arches and properly built support.
Why we like it: It may not help your child multiply numbers faster or pass their next math test, but Bridge Builder will introduce them to important engineering concepts — they can learn the math behind them when they get older.
Download: iTunes, Google Play
13. Reflex Student
Reflex is an app that is aimed at children from grades 2-to-8, featuring arcade-like minigames that require math answers in order to win. The game claims to "continually adjust" in order to "create the optimal learning experience." That means that your child should never find the game too hard or too easy (at least, not for very long). Note that this App is subscription based, and also available as a regular browser game. It may be more useful for teachers or daycare providers.
Why we like it: Slick graphics and keeping track of each student's area of needs as they go from game to game.
Download: iTunes
12. DragonBox Algebra 5+
Advertised as the game that will "secretly teach your kids algebra," DragonBox starts off as a puzzle game that requires kids to basically balance equations — except they have no idea they are doing it, since the equations are color based to start. As your little one advances, the colors start to be replaced with numbers and variables until your child is doing full blown algebra without even realizing they've been learning it.
Why we love it: It's won multiple educational awards and features 200 different puzzles — plenty of bang for your buck.
Download: iTunes, Google Play
11. Operation Math
For the young James Bond-in-training in your family or classroom, try Operation Math. This educational app is designed around a spy story where the player must defeat the villainous Dr. Odd, using a series of math solutions to crack codes and discover clues. There are more than 100 "missions" that will help your child hone their math skills.
Why we like it: It oozes style, but also supports up to three different player profiles — great for houses with multiple kids with different ages.
Download: iTunes, Google Play
10. Number Rack
This one is pretty simple, but can work as a great introduction to numbers and sorting for younger kids. Number Rack is basically just a digital version of the abacus, the old-school beaded accessory that has long since vanished from classrooms. Since it's a virtual version, Number Rack does include a few notable upgrades: customizable numbers of beads, drawing tools to annotate work, and text tools to write out equations.
Why we like it: It's simple, free, and takes up almost no space on your device. It won't go as far as some of the other apps on this list, but it's a good place to start for your preschool or kindergarten aged child.
Download: iTunes
9. Math Planet
Perfect for any elementary school math student, Math Planet covers all of the potential curriculum with over 100+ space-themed levels. This app was designed by learning scientists at Carnagie Mellon University and won awards from the National STEM Game Competition and the New York City Department of Education. It covers 13 different math concepts, meaning it can help your child is some (or all) of the areas they might be struggling with.
Why we like it: A huge variety of fun minigames that will keep your child entertained for hours, and they will learn as they play!
Download: iTunes, Google Play
8. King of Math
See if your child can become the King (or Queen) of Math! This simple game allows kids to start out as a lowly farmer, working their way up the feudal ranks by answering math questions in an effort to become royalty. While the free version only includes addition and subtraction, and one-time purchase of a few dollars unlocks multiplication, division, geometry, fractions, powers, statistics, and equations, to get the full math experience. Unlike some of the more cartoonish apps on this list, this one is made more for middle schoolers.
Why we like it: With the ability to unlock new characters, music, and even achievements, King of Math feels like a regular mobile game — except educational.
Download: iTunes, Google Play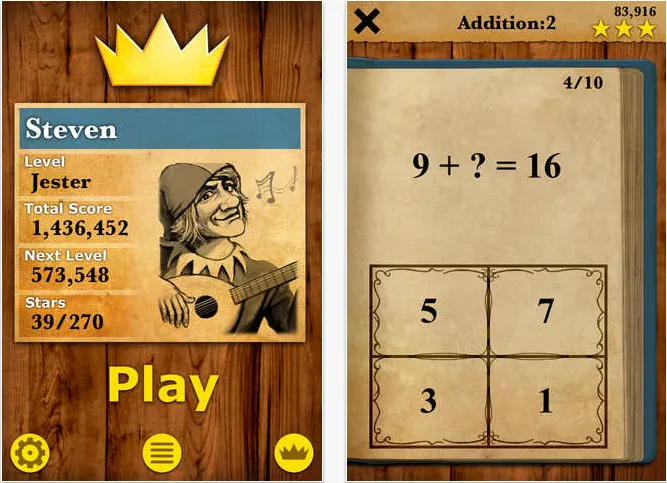 7. Math vs. Zombies
They say imitation is the sincerest form of flattery, so it's no wonder what that the title of this game probably reminds you of the smash hit mobile game Plants vs. Zombies. While you won't find any peashooters in this app, it does feature great zombie artwork as your child solves math problems in order to fight off the undead horde. With over 140 different levels spread over seven different math themed world (with brilliantly punny names like "Divided We Fall"), this one is incredibly addicting.
Why we like it: Duh. Because it has zombies. And also there's a Report Card section where parents can identify areas of strengths and weaknesses.
Download: iTunes, Google Play
6. 2048
Maybe we are cheating a bit by including 2048 on the same list that also includes Threes, but you'll just have to forgive us. 2048 uses similar play style to double numbers by stacking them, but you end up getting 2, 4, 8, 16, 32, 64, etc… instead of Three's 3, 6, 12, 24, 48, etc…
In order to master 2048, you must use careful planning to avoid getting stuck with numbers that don't match. It's probably not as useful as some of the other apps on this list in terms of being truly educational. But if you have a stubborn child, you might be able to trick them into playing this addictive game in order to help train their brains in areas like simple multiplication and overall numerical common sense.
Why we like it: Simple, addictive gameplay.
Download: iTunes, Google Play
5. Math Drills
Math Drills allows your child to make customized profiles that will keep track of their progress as they work through basic math problems. Not only that, but the Smart Drills system will keep track of problems that take your child longer to solve or get wrong more frequently, and make those areas of focus.
Why we like it: Lets you customize exactly what kinds of problems you want to get better at, and tracks everything with high scores, test history, and speed and accuracy graphs.
Download: iTunes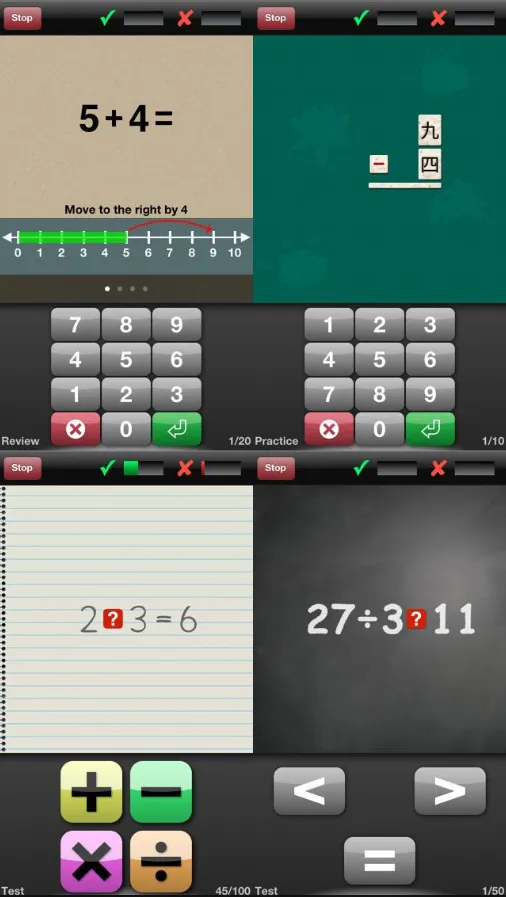 4. Math Kid
Math Kid is a super simple training app for kid aged 4-to-12. Along with training in the four basic math functions, this app also has sections for roman numerals, percentages, fractions, and beginner algebraic equations. Like many others on this list, Math Kid supports multiple users and is age appropriate — it even guides beginners how to do basic addition and subtraction using your fingers. Be warned though: many of the features require in-app purchases, despite the base app being free itself.
Why we like it: iCloud sync allows progress/users to be saved over multiple devices.
Download: iTunes, Google Play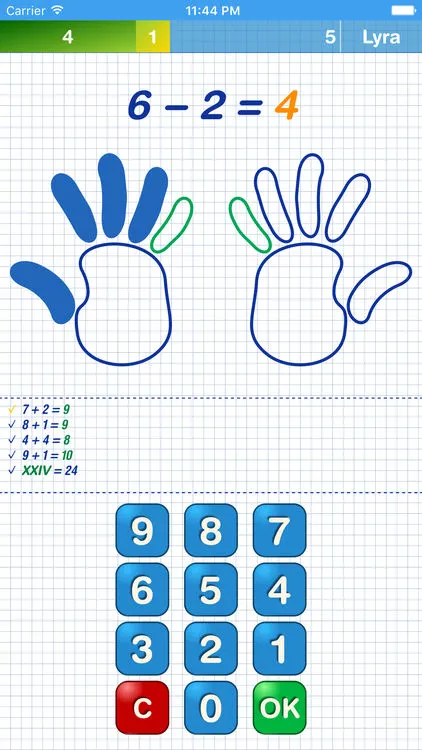 3. Counting Caterpillar
Here's a cute educational app aimed solely at preschool and kindergarten aged children. It will introduce your kids to numbers with beautiful artwork featuring a hungry caterpillar and stunning butterflies. This fun app will guide your little one to learn the early math basics — counting to 100, and counting by 2s, 5s, or 10s. There are over 45 levels, and completing each one will reward your child with a new butterfly for their collection
Why we like it: The butterflies earned are always available to view in a gallery, creating a digital collection that your child will want to keep adding to.
Download: iTunes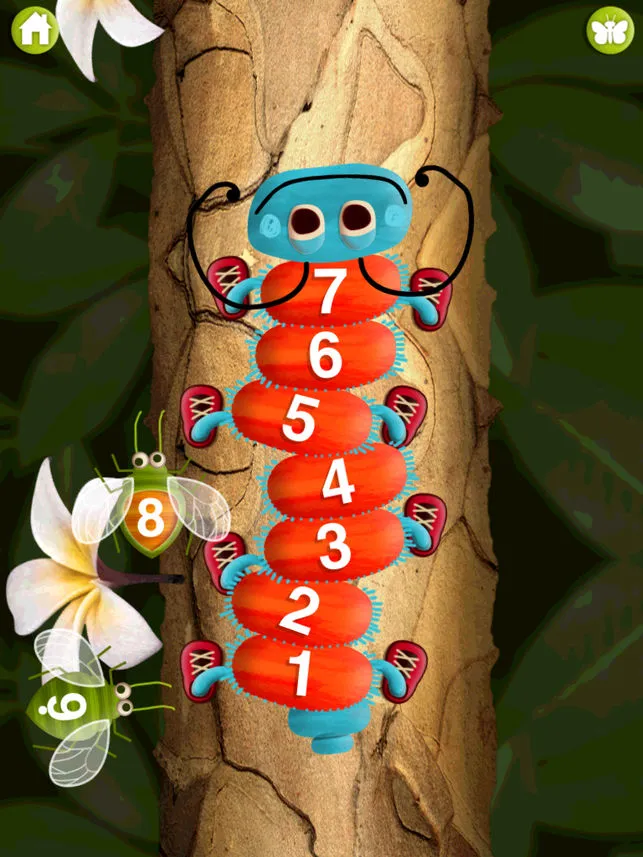 2. Marble Math Junior
This app combines solving math problems with those awesome marble labyrinths games, creating a great mix between learning and fun. Geared towards the early grades (ages 5-to-8), Marble Math Junior lets users earn new marbles and collect high scores as they use their marble to navigate to the right answer. And don't worry if your child struggles with the tilt controls — there's an option to just use your finger instead.
Why we like it: Unlimited user accounts (great for classrooms), plus additional settings for counting currency or telling time, which are both important numerical skills that might not come in other math apps.
Download: iTunes, Google Play
1. Mathmateer
For the budding astronaut in your house, check out Mathmateer! This app challenges your child to solve math problems to earn in-game dollars. The dollars can then be used to buy spaceship parts as they build a rocket to blast into space! This app features all the expected numerical problems, as well as levels that focus on geometry, shapes, telling time, currency, and even square roots for the older math students
Why we like it: Over 90 different rocket parts makes for a lot of unique designs. Plus there are no ads, in-game purchases, or requests to link a social media account once you pay for the game.
Download: iTunes