There is no shortage of fun, kid-friendly activities to do when you are visiting the beautiful Golden State of California. Filled with beaches, theme parks, national parks, and so much more — you and your family will have the trip-of-a-lifetime!
If you are traveling to Los Angeles, there is a wide selection of places to go and things to see right in town, or a very short drive away. Here are some suggestions on what you can do when traveling with you kids to Los Angeles:
30. Disneyland Park (Anaheim)
Just a 40 minute drive from Los Angeles to Anaheim, California is the "happiest place on earth," Disneyland Park! Enter this magical kingdom where you can sail with pirates, explore exotic jungles, meet fairy-tale princesses, dive under the ocean and rocket through the stars, all in one place! Disney Park consists of eight themed "lands" (Main Street, U.S.A., Tomorrowland, Fantasyland, Mickey's Town, Frontierland, Critter County, New Orleans Square and Adventureland) as well as a number of backstage areas. This 85-acre park, you will ride roller coasters, ride boats, play indoor and outdoor games, see live shows, dine in award-winning eateries, and shop til you drop in some of the onsite eclectic shops.
You can give your tired legs a rest and travel through all eight lands on the narrow-gauge railroad that circumnavigates the park. With over 650 million visitor since it opened its doors in 1955, Disneyland Park boasts the largest cumulative attendance of any theme park in the world! There is nothing more Disney than Mickey Mouse! Look for hidden representations of Mickey Mouse inserted subtly into the attractions' design and environmental decor! Spotting the subtle odes to Mickey could be a fun search and find game to play with the family as you roam the park!
29. Disney California Adventure Park (Anaheim)
While in Anaheim, your you can easily spend a full day of thrill-seeking adventure at Disney California Adventure Park. Located adjacent to Disneyland Resort, this 72 acre theme park offers copious amounts of attractions and entertainment dedicated to the history and culture of California.
You will be welcomed into a world where the stories of Disney, Pixar and beyond come to life — where some of your childre's most loved characters from Cars and Superheros like Spider-Man and Captain America call home. Also separated into 8 exciting lands, there is so much to see and do! You and your family can fly high above the California orange groves and Napa Valley in the simulated Soarin' Over California ride, or tear down the rushing rapids of the Grizzly River Run. Visit their website and start planning your trip soon!
28. Universal Studios Hollywood (Universal City)
Just over 1o minutes from Los Angeles in Universal City, you and your family can have the ultimate Hollywood experience by visiting Universal Studios Hollywood. Universal Studios is a film studio, theme park, and a self-contained city all its own located on the east side of the Hollywood Hills. This is one of the oldest Hollywood studios still in use. Originally created to offer tours of real film studios, sets and sound stages, this show business complex considers itself "the entertainment capital of Los Angeles."
It now offers live shows, thrill rides, and behind-the-scenes presentations about the movie-making process. There are tram tours available to offer a highlight of the sound stages and sets designed specifically for some of the studio's biggest blockbusters. You can also choose from indoor and outdoor roller-coaster rides! And for all the Harry Potter fans out there, you must leave plenty of time to visit the park's Wizarding World of Harry Potter! Explore Hogwarts castle, visit the shops of Hogsmeade, experience pulse-pounding rides, and sample fare from some of the wizarding world's best-known establishements! At the end of your visit, the adjacent, neon-lit complex of shops, eateries, and entertainment spaces known as Universal Citywalk lets you stretch out the experience beyond the park. Visit their website to arrange your visit today!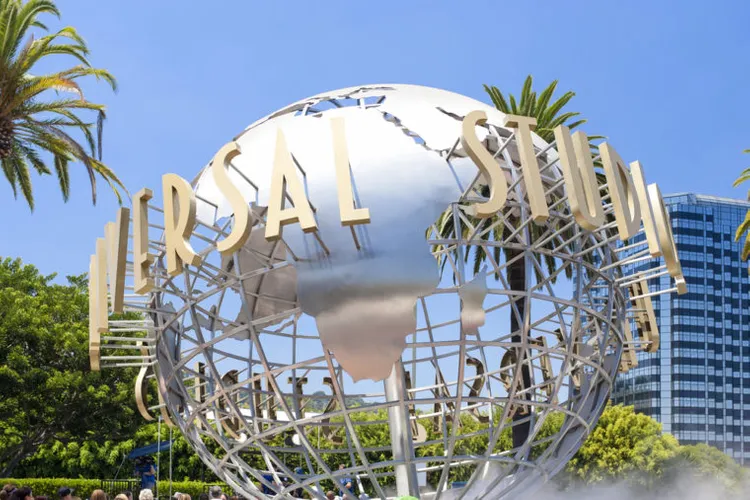 27. Griffith Observatory (Los Angeles)
There is no better way to let your little ones explore the wonders of our solar system and the galaxy than the Griffith Observatory. This wonderful observatory was donated to the city over a century ago, and offers free admission to an array of space and science exhibits, including a nationally recognized planetarium and public telescopes.
Situated high on the south-facing slope of Mount Hollywood, the complex offers views of downtown Los Angeles, Hollywood, and the Pacific Ocean. The Observatory is part of 'Griffith Park' which truly has something for everyone, whether it is hiking to the Hollywood Sign, exploring the Los Angeles Zoo & Botanical Gardens, or searching the sky at the Griffith Observatory — there is so much to see and do. End your visit by taking a ride on the historic merry-go-round locate, or take a ride on one of three different train rides available in the Park!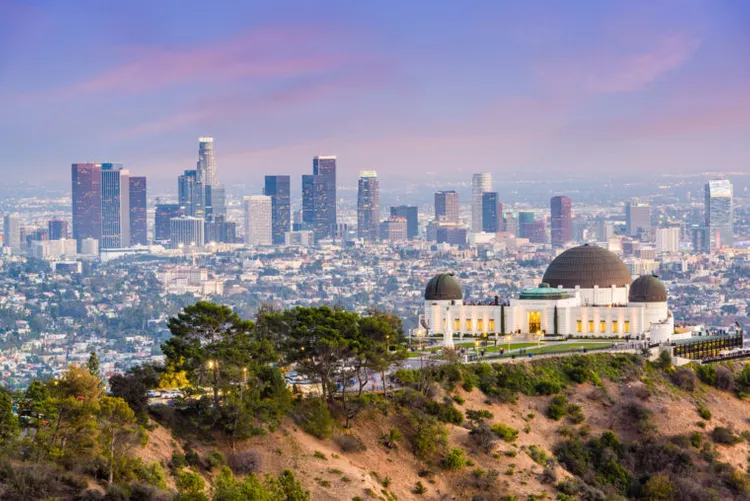 26. The Getty Center (Los Angeles)
Nestled in the hills overlooking Los Angeles is where you will find The Getty Center! You and your family can explore your way through the rooms filled with impressive collections of 19th and 20th-century European art, including: photographs, sculptures and paintings.
It is a six-building complex, notable for its new-age architecture and expanse of landscaped exterior gardens, which are would make a lovely place to have a picnic lunch as you break from exploring the exhibits within. The panoramic views of the city are beautiful — so bring your camera! Admission to the center is free, but you will need to bring some money to pay to park your vehicle. Visit their website to take a peak at the exhibitions featured during your visit!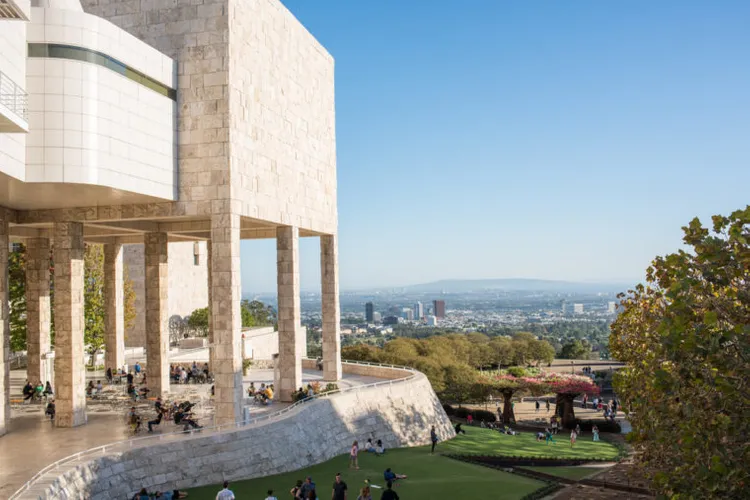 25. Venice Beach and Boardwalk (Los Angeles)
There are varying opinions on whether Venice Beach and Boardwalk is a family friendly place or not. There seems to be an equal amount of opinions for and against this southern Californian community. For decades Venice has been famous for its vibrant subcultures and offbeat way of living, and the Venice Beach and Boardwalk are no exception.
It is one of Los Angeles' most legendary spots, and is filled with people from all walks of life. You will encounter many street performers (some good–some not so) — and experience a number of food stalls and artists selling their wares. With the legalization of marijuana in California, you may smell funny things in the air. You can however watch anglers on the fishing pier, surfers battling the swell, and some of LA's fittest residents working out at Muscle Beach. You can also take a stroll along the sandy beach, but I have even heard mixed reviews about its safety, too (and that you should wear shoes for added safety). I am not going to press this one — I will let you conduct your own research and form your own opinion on this LA destination 'experience'!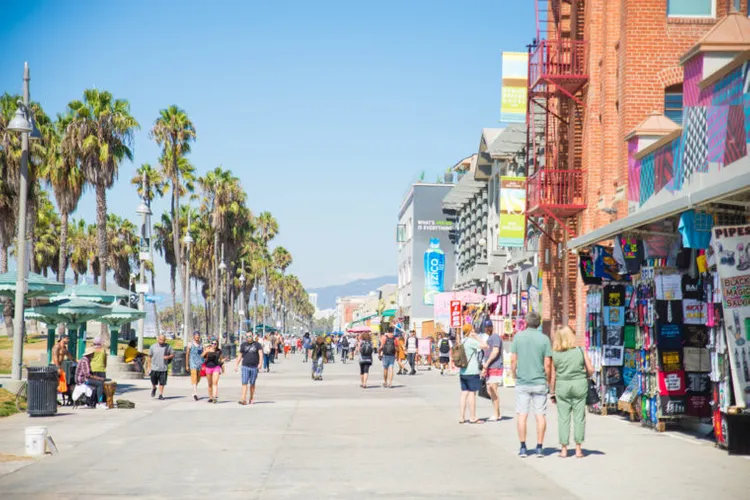 24. Downtown Disney (Anaheim)
If you are a fan of bustling promenades offering shopping, dining, and entertainment — than you should visit Downtown Disney, and outdoor area within the sprawling Disney resort in Anaheim. Often called the resort's "shoppertainment center," the area lies between two theme parks and their hotels.
Downtown Disney opened in 2001 as part of the resort's massive expansion. This entertainment district encourages extended stays in the popular Disney-themed entertainment complex, and provides visitors free parking for up to five hours, so you can take your time to shop and dine (and maybe have a few cocktails) in one of their open-air cafes. Here you will find one of the largest Disney stores in the world, a range of outdoor entertainment options, nightclubs, and movie theaters. Lots of fun to be had here, so be sure to stop and visit Downtown Disney while you are in Anaheim!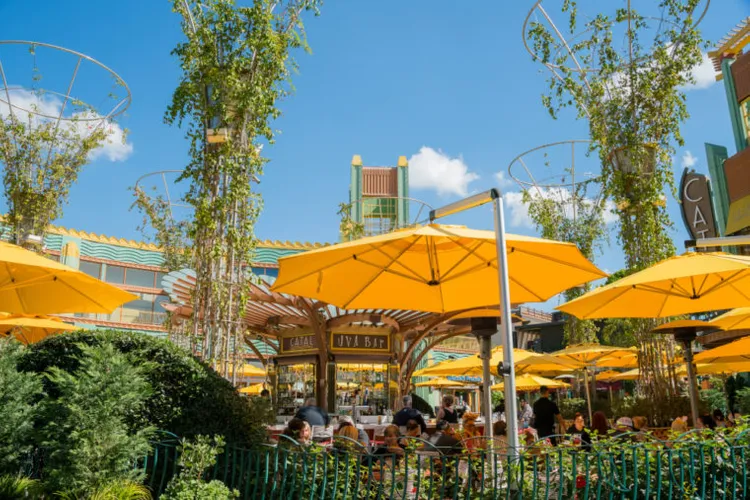 23. Santa Monica Pier (Santa Monica)
You and your family can experience the vibrant, timeless energy of southern California with a simple walk down Santa Monica Pier. This 100-year-old wooden wharf serves as the area's hub of entertainment and culture , and is home to the Pacific Park amusement park, the Santa Monica Pier Aquarium, an array of shops and eateries, as well as plenty of street artists. You can rent bikes pedal along the pier's wide beachside paths and spend some time exploring the carnival-like atmosphere while enjoying the oceanside scenery.
There are more than 200 carnival games and rides, like the Pacific Wheel– California's only over-water Ferris wheel. Kids love visiting the Playland Arcade, which has more than 200 games and attractions. The pier also is home to California's only over-water Ferris wheel. Take a free tour and learn about the pier's Old Hollywood connections, from Charlie Chaplin to Marilyn Monroe, and make sure you leave some time to browse the shops for jewelry and trinkets. Enjoy locals for live music or outdoor movie screenings throughout the year too — so plan your visit accordingly if this interests you!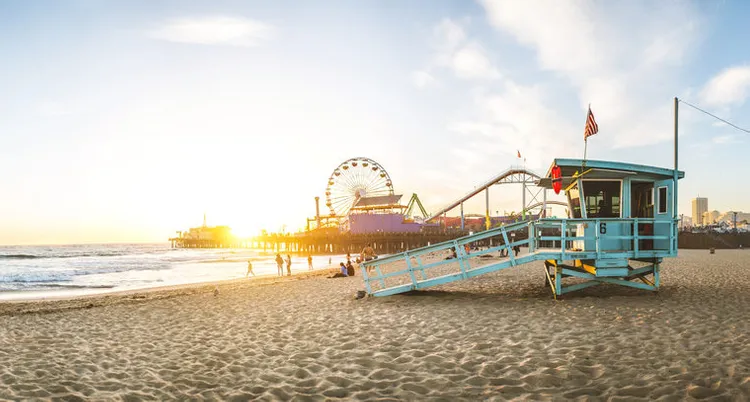 22. California Science Center (Los Angeles)
Any nerds for science in the family? Regardless, the whole family will have so much fun at the West Coast's largest hands-on science center! The California Science Center has over 100 permanent exhibits for you to explore. Whether you are interested in the 400 plant and animal species at the Ecosystems Exhibit, exploring aerospace artifacts, or riding the high wire bicycle, there are many ways to learn through play at the science center.
The California Science Center is also home to the largest IMAX screen in Los Angeles, standing seven stories high. For school aged children, who may not necessarily enjoy science class in school, they will certainly enjoy this out of the class room, interactive experience that this center offers. The center shows that science can be fun and relatable for anyone! A definite must-visit destination for on your family's itinerary!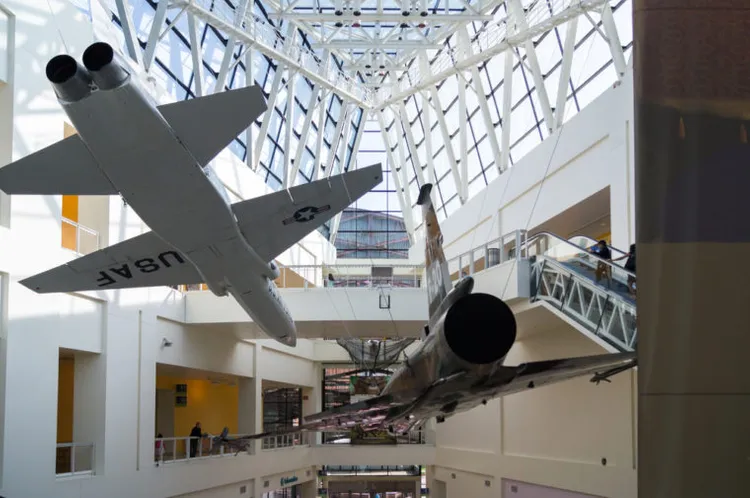 21. LA Insider Tour Or Your L.A. Tours (Los Angeles)
LA Insider Tours and Your L.A. Tours are two tour companies located in Los Angeles. When you really want to make your visit to this big city count, you might want to consider booking one (or maybe even a couple) of these tours. You will be picked up and dropped off at your hotel, the airport, or wherever else you would like to go in LA, Santa Monica, and Beverly Hills and return you at the completion of your tour. Let your tour guides lead the way, so you all can sit back and relax — no maps needed!
You can completely customize your own trip — decide where to go, when to go, and how long to stay. There are also a selection of pre-made tours available too, if you wish to do that instead. Tours will include clips from movies filmed at the locations you are visiting, so you can see the place and why it is famous at the same time. These tours are a great way to make the most of your time in the city. Your guides are experienced, know the city, its streets, and its traffic very well. Visit the LA Insider Tour website or the Your L.A. Tours website to book your family's tour today and hit up many of these must-visit suggestions on this list!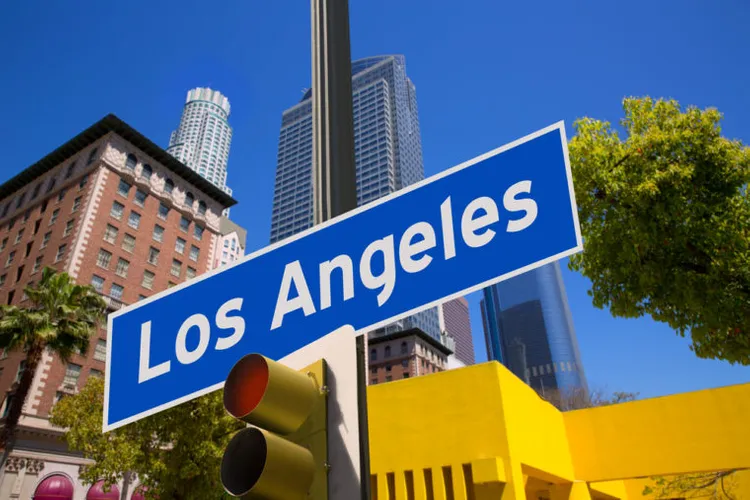 20. Santa Monica State Beach (Santa Monica)
Santa Monica Beach is located along the Pacific Coast Highway and stretches 3.5 miles long. Complete with parks, picnic areas, playgrounds, restrooms, as well as manned lifeguard stations — your family is set for a fun day basking in the warm California sun on the white sandy shores.
There is plenty of outdoor activities to enjoy, including swimming, paddleboarding, surfing, beach volleyball, and biking. Pack a picnic lunch or choose from a number of beachside eateries! Take a walk along the Santa Monica Pier for a full array of eateries, souvenir shops, and street entertainment!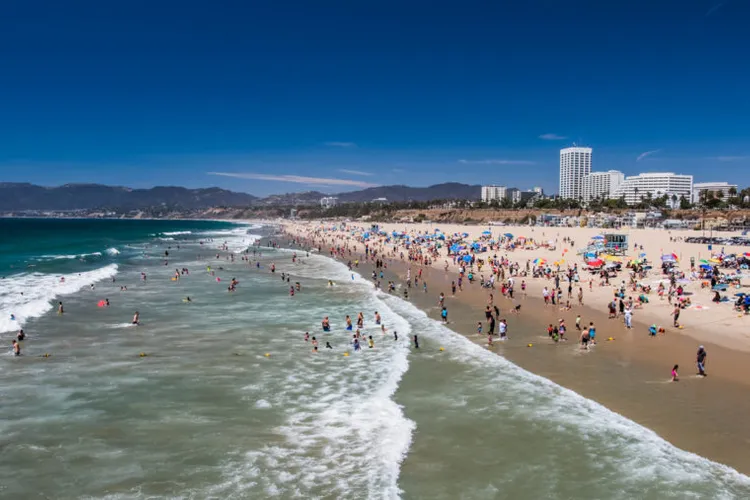 19. Santa Monica Bay (Santa Monica)
Santa Monica Bay is bordered by a crescent-shaped shore between Malibu and Los Angeles. The mainland of the bay is lined with high-end property, as well as many piers and docs that offer plenty of fishing and parking for private vessels. As mentioned above the Santa Monica Pier offers a full array of entertainment, shopping and restaurants. Marina Del Ray is another large pier that offers the same.
Hit up the Santa Monica Bay and go on a fishing or boat tour. You will have a new found appreciation for the beautiful California coastline. There are other adrenaline-pumping water activities available, so be sure to enjoy the Santa Monica Bay when you are in the area!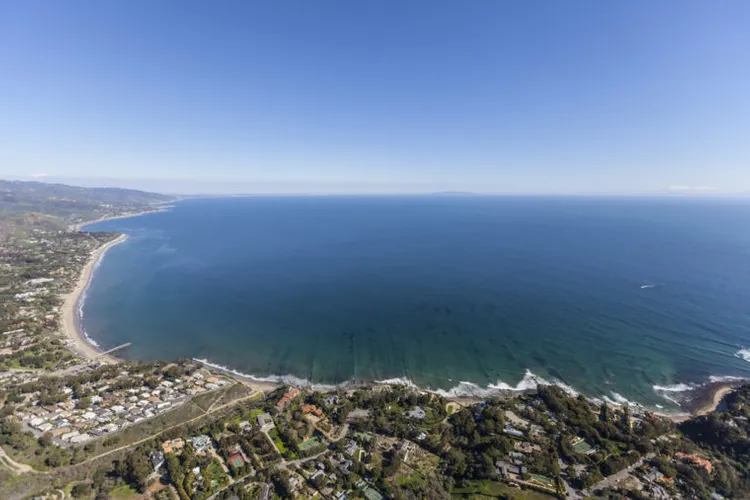 18. La Brea Tar Pits & Museum (Los Angeles)
The La Brea Tar Pits are a group of tar pits around which Hancock Park was formed in urban Los Angeles. Natural asphalt has seeped up from the ground in this area for tens of thousands of years. It is the only active Ice Age excavation site in the world! At the La Brea Tar Pits and Museum, you can see ancient fossils that have been discovered below the museum itself, right in the heart of Los Angeles. Plants and animals, like dire wolves, mammoths, and saber-tooth cats, are on display.
You and your family can take an excavator tour of the tar pits to see what the scientist are digging up. Then they can head to the museum to see paleontologists at work in the Fossil Lab, visit exhibits on the ice age, or catch a 3D films showing how the animals became trapped in the tar!. The museum continues to grow and educate the public on its discoveries and methods. Pack a picnic and have lunch in Hancock Park, right in the middle of all the tar pit action.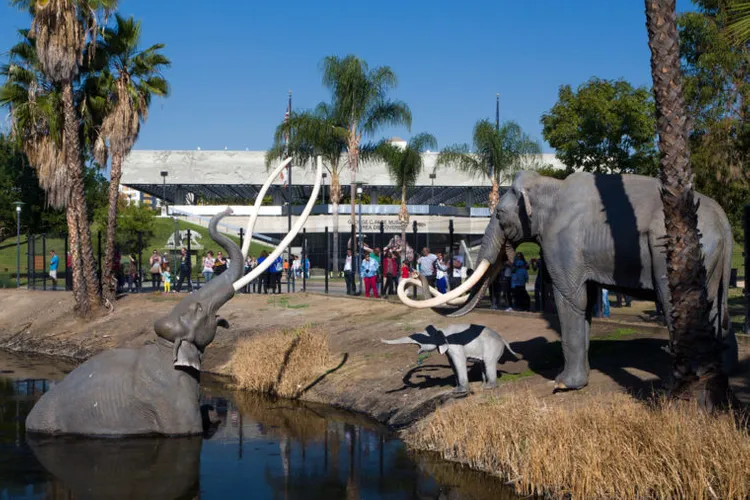 17. Natural History Museum of Los Angeles County (Los Angeles)
The Natural History Museum of Los Angeles County is the largest natural and historical museum in the western United States. Here, your family can trace the history of the natural world and study Earth's biodiversity by learning about the 35 million specimens and artifacts housed within the museum — covering a 4.5 billion year history!
Inside, you will find whale skeletons, realistic animal dioramas, and you can even visit the dinosaur hall with the world's only Tyrannosaurus Rex growth series and watch scientists at work in the Dino Lab. The museum also features a gem and mineral hall with over 2,000 specimens that is considered to be one of the finest exhibits of its kind in the world. Visit the museums website to see what special exhibits will be featured during the time of your visit.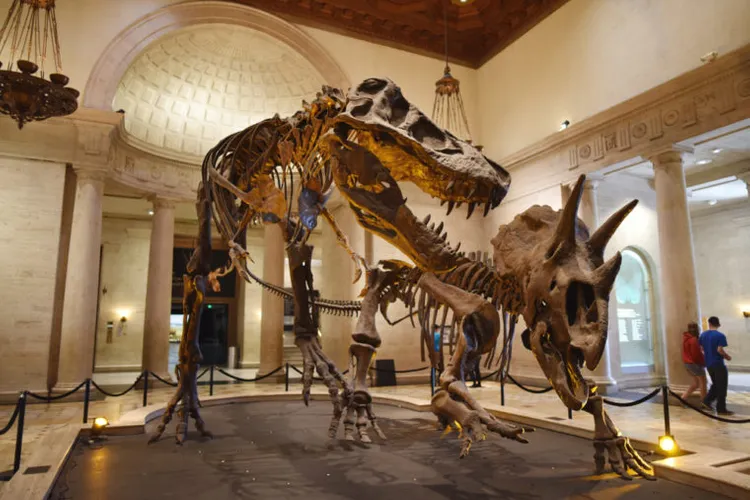 16. San Diego Zoo (San Diego)
The San Diego zoo located in Balboa Park, San Diego, California is home to over 3,700 animals and over 650 species and subspecies! Your little ones will have a day filled with fun, visiting with their favorite animals and even stopping to play in one of the parks 4 play areas (Elephant Play Yard, Discovery Playground, Polar Play Area, and Koala Klimber).
The zoo also offers a number of tours including: Inside Look Tours (offering special behind-the-scenes views and information), Discovery Cart Tour (a 60-minute guided tour of the zoo in their expedition cart), Animals in Action Experience (a fun and interactive experience where animals are brought up to you for a close-up view), Keeper for a Day (see what the zookeepers do daily), Early Morning with Pandas (visit the giant panda area before it officially opens for the day), Crazy About Cats (travel by cart and foot to some of the zoo's most iconic and fascinating cat species on an early morning tour), Sunrise Surprise Stroll (walk the grounds with experienced zoo educators for inside secrets — all before the zoo opens for the day), and the Exclusive VIP Experience (your key to off-exhibit areas, animal interactions, and the very best personalized service)! There is also a tour offer called Wild Night Out — however this one is for 21 years and up! Visit the zoo's website to start planning your family's zoo adventure!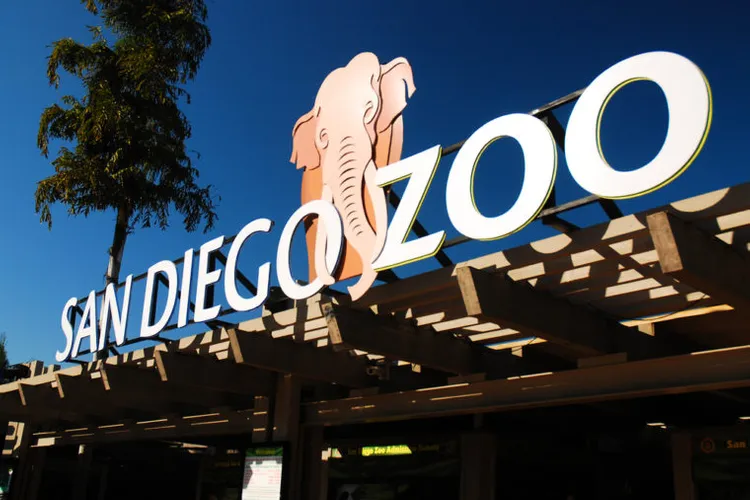 15. San Diego Zoo Safari Park (San Diego)
About 30 minutes northeast of the San Diego Zoo, you'll find this rambling branch of the famed zoo, located in Escondido. The San Diego Zoo Safari Park is a 1,800-acre park with more than 3,500—living in natural expanses, which you can experience over walkways or park trams.
Here you and your family can also have a number of close-up encounters, like at the Animal Ambassador Stage, where trainers are on hand as you interact with gators, or Tiger Talk, where you can visit with the Sumatran tigers. For another exotic feline experience, don't miss the daily Cheetah Run, when a spotted resident sprints up to 70 mph along a 330-foot track. There are a number of behind-the-scenes tours, too. including a fully immersive experience where you can spend the night at one of the park's Roar & Snore Safaris. This includes an after-hours exploration of the park, campfires, meals, and lodging in a tent. You'll sleep within view and ear shot of the animals!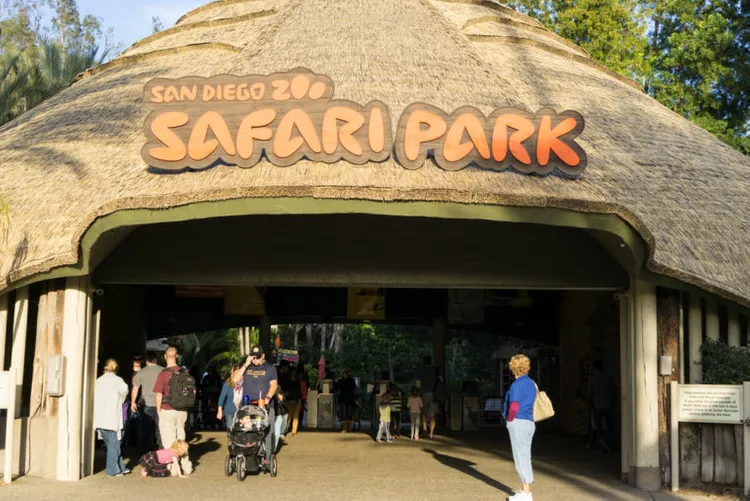 14. Kidspace Children's Museum (Pasadena)
Only 20 minutes outside of Los Angeles in Pasadena you will find the Kidspace Children's Museum! With 3.5 acres of interactive exhibits including an indoor imagination workshop, an ant colony climbing structure, and an interactive greenhouse, the Kidspace Children's Museum is sure to be a big hit with your little ones!
Be sure to visit the outdoor Arroyo Adventure area. Here, children can learn about ecosytems by climbing a giant hawk's nest, building dams, and exploring a mud kitchen. Yes — a mud kitchen! Be sure to bring a change of clothes, a towel, and water shoes (if you have them) — things are going to get messy!
13. Los Angeles County Arboretum and Botanic Gardens (Arcadia)
Hop on the free shuttle from the Gold Line and head to the Los Angeles County Arboretum and Botanic Garden for gorgeous mini-hikes and a variety of hands-on activities, the whole family will enjoy. There are 127 acres of plants, natural landscapes, wildlife and historic buildings on site.
Wander the paths and learn about California history and discover plants and trees from all over the world! Little ones will love seeing the peacocks roaming freely, Bookworms story time, family adventure classes offered monthly, and even the odd outdoor movie screening — complete with live music and food trucks! Visit the website to see what is going on while you are in town visiting!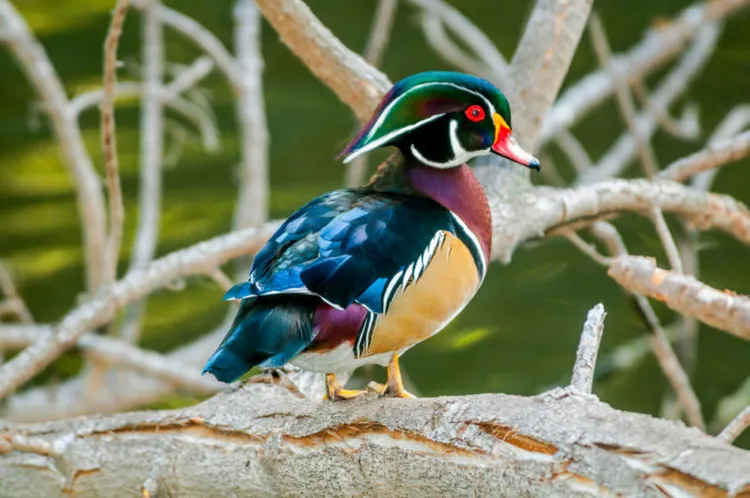 12. El Capitan Theatre (Los Angeles)
El Capitan Theatre is a fully restored movie palace on Hollywood Boulevard. Families love the old El Capitan Theatre! It is a glittering example of cinema that opened in 1926, that was originally a playhouse until it was converted to a movie theatre in 1941.
For parents of toddlers, be sure to go on "Tiny Tot Tuesdays"! This theatre truly adds something extra to any film experience. Expect to see Disney cast members, live singing, and the delighted faces of children as streamers and confetti fall from the ceiling. Visit the website to see what's playing while you are in LA!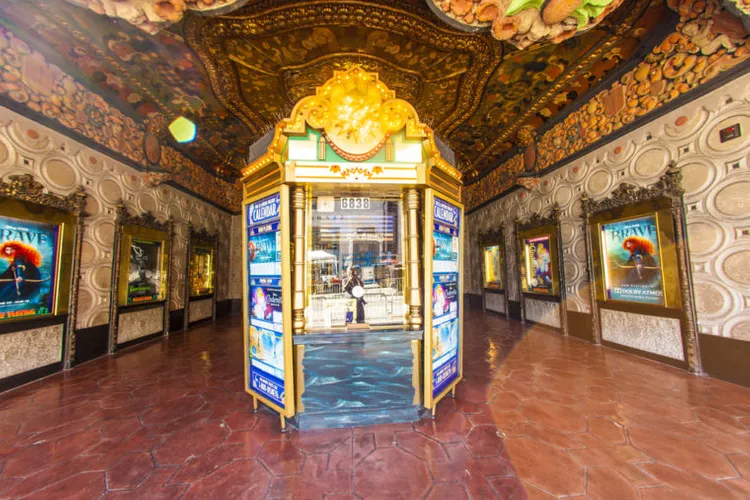 11. Echo Park Lake (Los Angeles)
After a massive makeover, the Echo Park Lake has become a wonderful family-friendly destination! Located in central Los Angeles, this park has a beautiful backdrop of the downtown skyline. It is a favorite destination for for strolling, fishing, and picnicking. But the best part is the pedal boats available for rent. For just $5 per kid and $10 per adult, you can paddle around the lake for up to an hour.
From birds, to fish, to turtles, to ducks to swans, your little one can see a bunch of beautiful wildlife enjoying the space too. If you visit in July, you may be able to check out the annual Lotus Festival. It is held over two days, and has food vendors, face painting and even bouncy castles for the little ones to enjoy!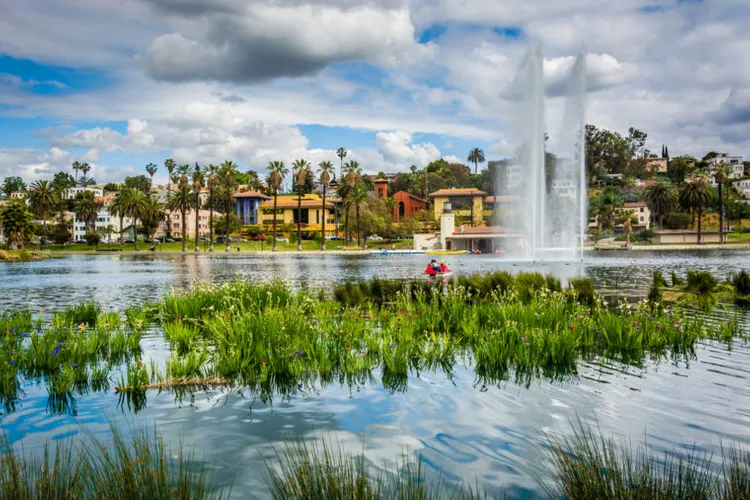 10. Los Angeles State Historic Park (Los Angeles)
The Los Angeles State Historic Park is a state park located in the Chinatown neighborhood of Los Angeles. In 2014 the park closed for 3 years and reopened in 2017 with a whole new look. Families will love the new perks of a $20 million renovation: A stunning pedestrian walkway, picnic areas, wetlands, a public fruit orchard, and an elevated lookout point. the park is 34 acres big, and is bigger, prettier, and grassier than before!
There are two permanent structures, a ranger station and a welcome center that are outfitted with new, very handsome bathrooms — which are always important for families with little ones! Even better, the park's also added a ranger station and a welcome center with the always-important bathrooms. Pack a picnic lunch and come to this beautiful historic park for a relaxing afternoon and maybe even take a paddle boat out for a spin!
9. Los Angeles County Museum of Art (Los Angeles)
The Los Angeles County Museum of Art is located on Wilshire Boulevard in the Miracle Mile vicinity of Los Angeles. The LACMA is on Museum Row, adjacent to the La Brea Tar Pits — so it would be quite easy to hit up both of these attractions in one day. As the best art museum for kids in the Los Angeles area, LACMA delivers on top-notch art in a family-friendly environment.
With over 135,000 objects that cover 6,000 years of art history, this facility attracts over 1.5 million visitors annually. Start your family's visit to the museum in the spacious Modern Art galleries on the second floor of the Ahmanson building. Later, you can let your little ones run around to burn off some of their excess energy in the LACMA sculpture garden and see the illuminating Urban Light sculpture. For some more fun, make sure you visit the Boone Children's Gallery for painting and story time.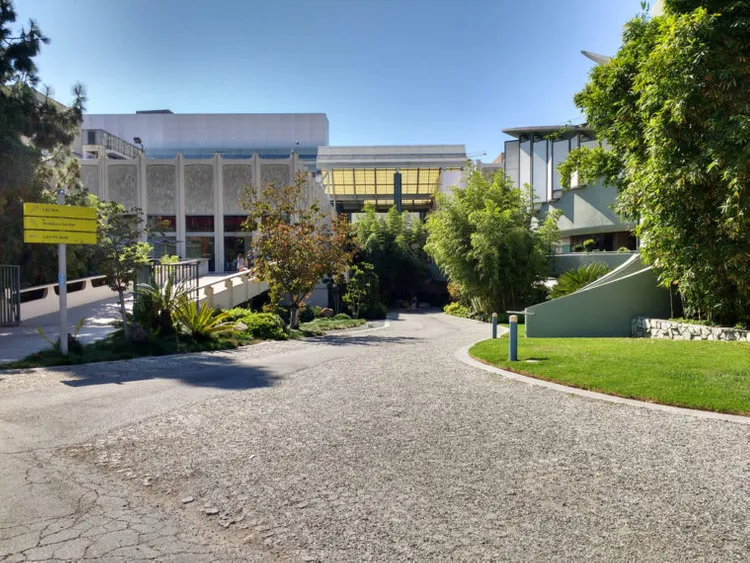 8. Santa Monica Pier Aquarium (Santa Monica)
If you are visiting the Santa Monica Pier, you may like to stop in to the aquarium! The museum is located beneath the Santa Monica Pier, adjacent to the Pacific Ocean, and has been operating here since 2003.
The aquarium houses over 100 local species on exhibit, and feature wonderful hands on activities for little ones, as well as daily educational programs for a little extra learning. This aquarium is quite affordable too! Only $5 per person, and kids under 12 are free! Proceeds from admission go towards their Heal The Bay efforts. While visiting the aquarium, you can learn all about their efforts to protect the animal that call the bay home.
7. Aquarium of the Pacific (Long Beach)
If you are looking to go to a big aquarium — look no further than the Aquarium of the Pacific in Long Beach — just under 40 minutes from Los Angeles. The Aquarium of the Pacific is on a 5-acre site on Rainbow Harbor in Long Beach. There are a number of permanent exhibits like the Shark Lagoon (which features more than 150 sharks — some of which you can touch! This expansive outdoor exhibit is home to large sharks and rays, and has shark touch pools, interactive displays, and even an amphitheater!
This aquarium is home to more than 11,000 ocean animals, representing almost 500 species! It has 3 major galleries highlighting the major regions of the Pacific — Southern Califoronia and Baja, Northern Pacific, and the Tropical Pacific. Check out their website to see what new exhibits are going to be featured in their special exhibits gallery during your time in town, and to purchase your family's tickets!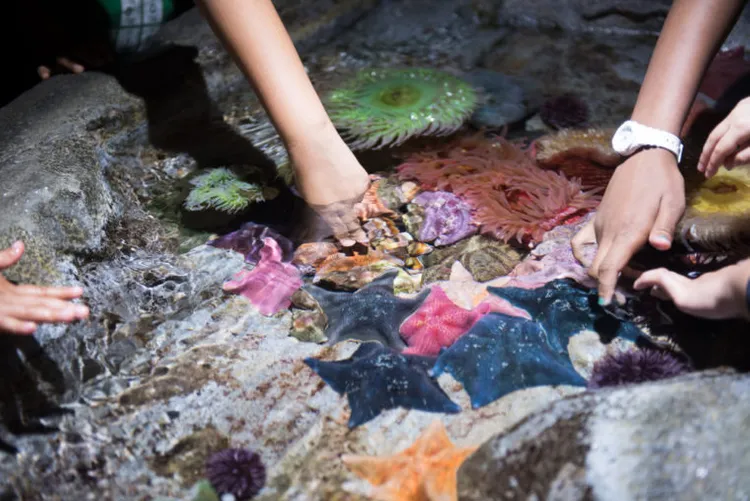 6. Tongva Park (Santa Monica)
Tongva Park is a 6.2 acre park located in Santa Monica. The 6 acres are divided into 4 areas: Discovery Hill, Garden Hill, Gathering Hill and Observation Hill. Discovery Hill is located in the southeast quadrant of the park and features a children's play area, shaded picnic area, and children's splash pad! Garden Hill is located in the northeast quadrant of the park and features seating bays, walking paths, as well as a shaded picnic area.
Gathering Hill is located in the northwest quadrant of the park and features a grassy amphitheater where many free performances produced by the city are held. Lastly, Observation Hill is located in the southwest quadrant of the park and features 18′ overlooks, shaded seating, walking paths, and public restroom. No matter which quadrant you visit, you will be surrounded by beautiful gardens with colorful blooms of native and locally-appropriate (and drought-tolerant) plants that change with the seasons.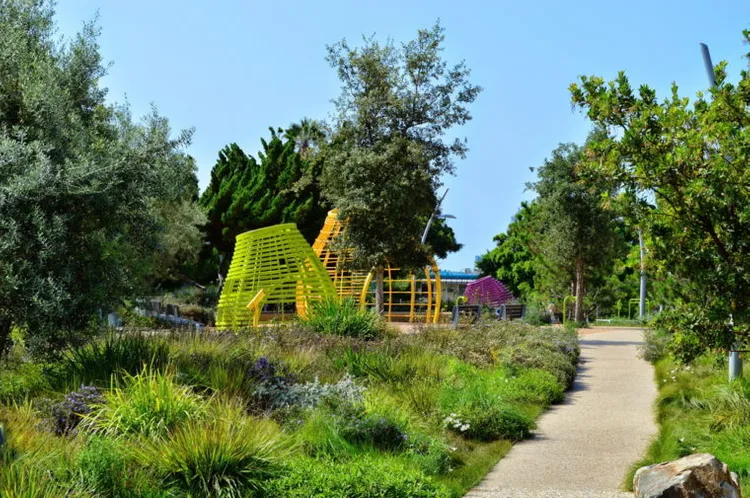 5. Grand Park (Los Angeles)
Grand Park is a beautiful 12-acre park located in the civic center of Downtown Los Angeles, between the Music Center and City Hall. It is truly an urban oasis complete with fountains, tons of green space and drought-tolerant landscaping, and bright pink benches for you to stop and rest your tired legs.
Kids will love the splash pad that features interactive jets, and the whimsical playground that looks like something straight out of a Dr. Seuss book. Be sure to see the restored historic Arthur J. Will Memorial Fountain with a new wade-able membrane pool. This is a popular civic gathering place, perfect for a leisurely stroll!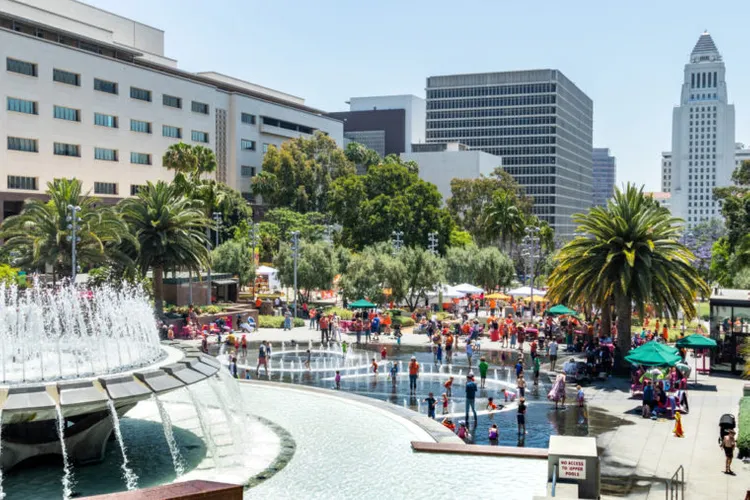 4. Angels Flight Railway (Los Angeles)
If you have kids who love old-time transit, they will adore Angels Flight—a tiny railway that climbs up and down Bunker Hill in Downtown Los Angeles. In 1901, Bunker Hill was one of the most fashionable neighborhoods in LA, and the cars Olivet and Sinai, shuttled riders up and down the steep slope between Hill and Olive Street. In 1969 the beloved landmark was dismantled for urban renewal. In the early 1990's, the railway was refurbished and relocated one block south from its original location, and reopened in 1996.
The two train cars are over a century old, and after laying dormant for years, they are running again! Open 365 days a year, the fare to ride is only $1 each way! As short as the ride is (298 feet), Angles Flight is considered an essential Los Angeles experience!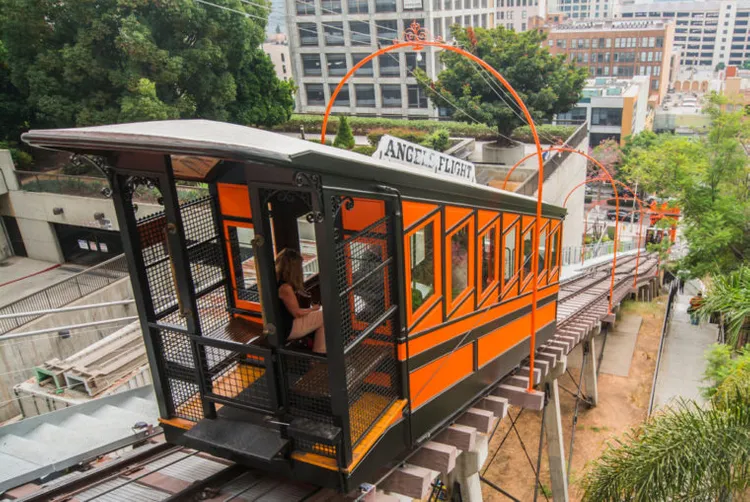 3. The Los Angeles Public Library (Los Angeles)
If you have any book lovers in your family, you might like to stop in at the Los Angeles Public Library! Wander among the stacks of books, enjoy the rich wood shelves, gawk at the colorful California history murals, or sit down and join in on one of the many story times.
Older kids will enjoy the computer zone and the young adult section that contains a well-curated list of recommendations. The system holds more than 6 million volumes, so there is bound to be something everyone will enjoy!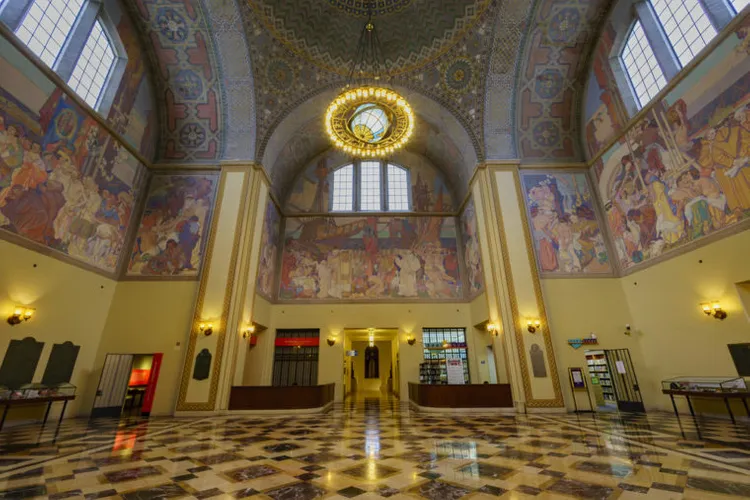 2. The Last Bookstore (Los Angeles)
The Last Bookstore is an independent bookstore located in downtown Los Angeles. As California's largest used and new book and record store, the two-story Last Bookstore is part Harry Potter wonderland, part sci-fi spectacle, and part artist loft.
It's been called everything from LA's best bookstore to one of the most beautiful bookstores in the world. Be sure to visit the kids section located on the first floor, followed by a stroll through the "Labyrinth" on the second floor, a quirky area of used books organized by color that even features a book tunnel.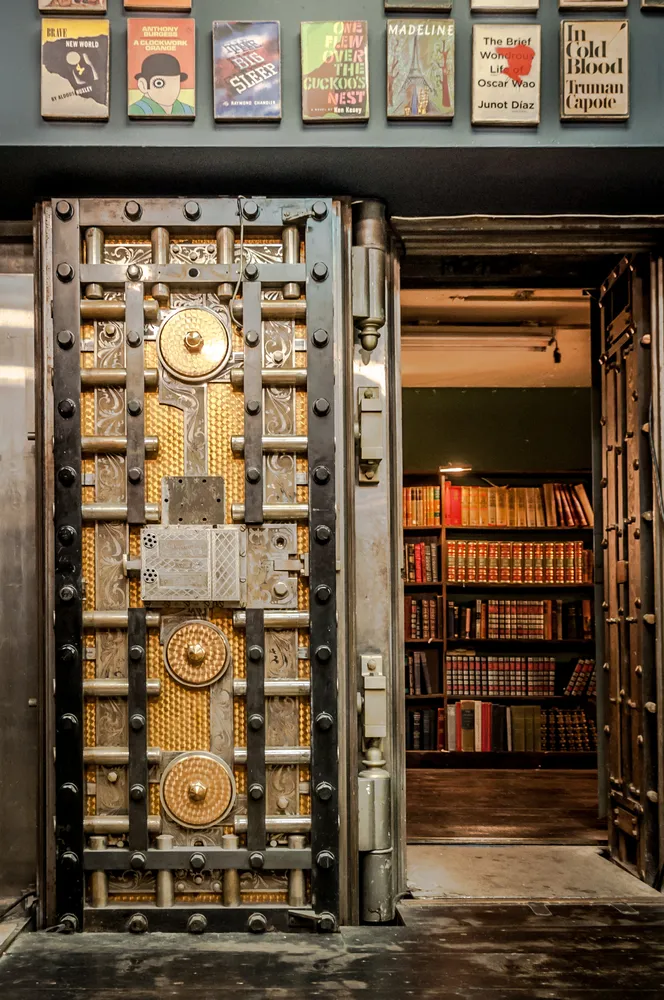 1. Annenberg Community Beach House (Santa Monica)
The Annenberg Community Beach House is a public beach facility on Santa Monica State Beach. For any parent who wants to take the hassle out of a beach day, simply grab a few beach chairs at the Annenberg Beach House.
This 5 acre oceanfront property, was originally a private mansion with 110 rooms and a marble swimming pool. It has since been demolished, and is open to the public (no membership required) to enjoy a splash pad, children's play area, gallery, historic pool, and guest house. Older kids will also love the beach volleyball courts and soccer fields. The pool is only open from May to October, however, the beach house runs Pop Up Pool Days throughout the year and offers beach amenities year round.