Before you know it, you blink and it is time to start thinking about registering your child in preschool! They grow up so fast! Soon they will be running off to school, making new friends, doing homework, studying for tests, and — hold on… I will stop right there. We can't help it as parents to worry juuust a little bit, and wonder if we did everything we could to get them ready for their journey into school-aged life! Before I start getting teary-eyed at the thought of having to wave goodbye as they go to school, here is a list of the top 20 educational toys for preschoolers, that I feel are going to let you be rest assured that your little one is getting well prepped for school-life — learning all the important and necessary skills, but all while having a blast and letting them just be the sweet little naturally curious kiddo they are!
20. LeapFrog LeapStart & Activity Books
I love LeapFrog toys! They are always looking for new ways to engage and educate children. The LeapStart from LeapFrog is an interactive device designed for children ages 2 to 7 to help them build key skills for school and life in a fun, engaging and kid appropriate way. There are over 400 activities across the library of 16 books that are sold separately, and are divided into four levels with 50 key skills per level. Children can progress through the levels: preschool, pre-kindergarten, kindergarten, then to first grade– with the four levels of LeapStart books.
Kids can interact as they touch the stylus to the pages of the dots, triggering engaging audio such as questions, challenges, songs, and more. There are more than 30 replayable activities in every book ranging from games to creative challenges testing your child's problem solving skills. Most of the activities can be played at two different levels, so they can move up to the next level when they are ready. This is another wonderful toy that can grow with your child, and you will get years of use out of!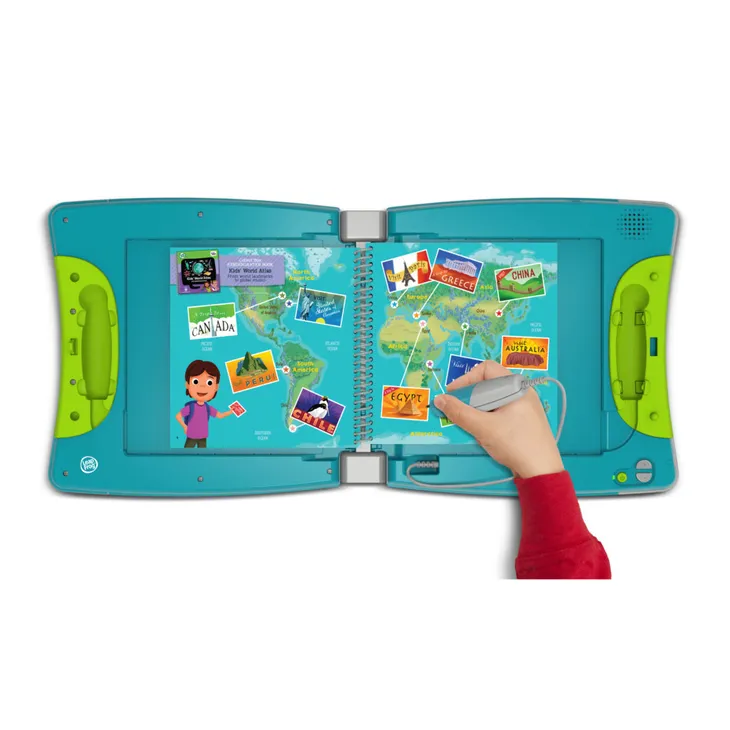 Buy on Amazon: LeapFrog LeapStart & Activity Books
19. Fisher Price Little People I-Jig Interactive Puzzle
The I-Jig Puzzle from Fisher Price is a great interactive electronic puzzle system that features three different interactive modes of play. In mode one, as kids move through the puzzle they get encouraged when they correctly put down the right piece. For modes two and three, the puzzle must be together, to allow kids to play interactive activities like 'Find & Seek; and other games and activities, depending on the puzzle being used.
Little ones need to press down exactly in the right spot, so lower age spectrum children might not be able to do this on their own. It is recommended for children ages 3 and up, but it is better for a parent to help play along at any age. This toy has a lot of great learning components, and will have kids thinking, problem solving, enhancing their hand eye coordination, and recognizing shapes and sounds. It comes with two puzzles, and there are two refill packages available (sold separately) for ongoing fun!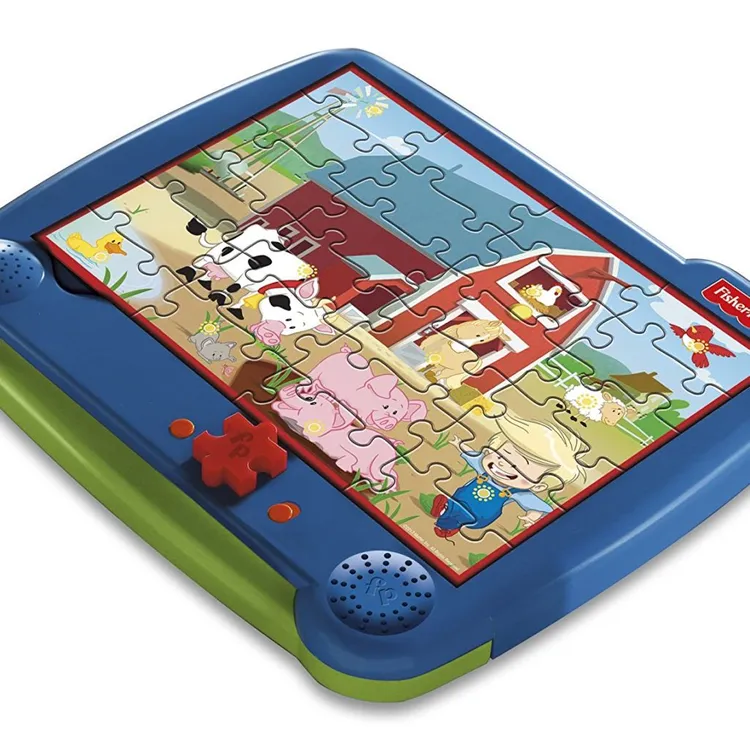 Buy on Amazon: Fisher Price Little People I-Jig Interactive Puzzle
18. VTech DigiArt Creative Easel
This is a wonderful 3-in-1 toy that transforms from a chalkboard, to dry erase board, to a drawing table, and allows kids to get creative and practice their writing and drawing. Using the magic pen, children can follow the blinking lights to write and draw over 150 letters, numbers, objects, and shapes stroke by stroke, or free draw their own lighted picture within the LED display screen.
Kids can also turn off the unit and use the dry erase marker to draw whatever they would like all over the whiteboard surface. It also has a clip at the top so it can be used as an easel with paper, or you can flip it over and use the chalkboard surface instead. The board can easily flip down into a drawing table, which has all the same drawing features as when it is an easel — but in a drawing table form. It has the option to turn off the sounds while kids are writing — which is nice if you want to keep your little one busy, but quiet!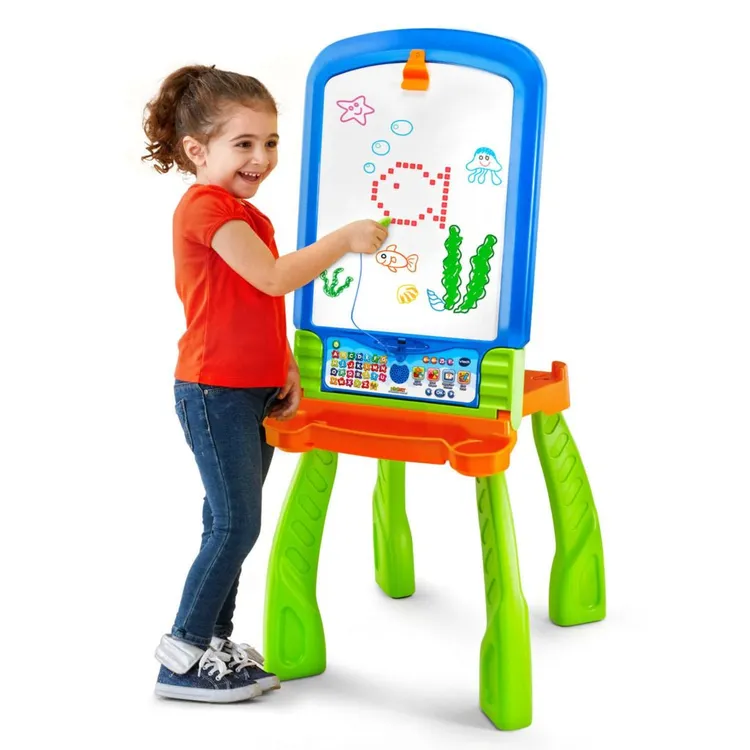 Buy on Amazon: VTech DigiArt Creative Easel
17. LeapFrog Mr. Pencil's Scribble & Write
For when space is limited a great alternative, more compact and portable option to the previous easel toy, is this tablet-esk device aims to help preschoolers with letters and numbers, handwriting and spelling. It has 26 letter buttons, 10 number buttons, 6 activity buttons, a built-in Mr. Pencil Stylus and a touch-sensitive LCD screen. Kids can: free draw whatever they like in free draw mode, follow the dotted lines to trace shapes in shapes mode, or they can work numbers in numbers mode, or on their uppercase letters and lowercase letters in those respective letters modes.
The spelling activity mode has levels of difficulty and will ask kids to match the letter to its sound, fill in the missing letter to spell a simple word, and use the letter buttons to spell out a simple word. At any time kids can press the letter buttons to hear that letters name and sounds, or press the number buttons to hear the number names. This toy makes writing fun and interactive for children ages 3 to 5. Parents will enjoy the step by step instructions that show kids how to draw shapes and write numbers and letters. There are a lot of educational benefits to this toy that parents will appreciate, but the different activities, free draw mode and fun animations is what will keep little ones engaged in play.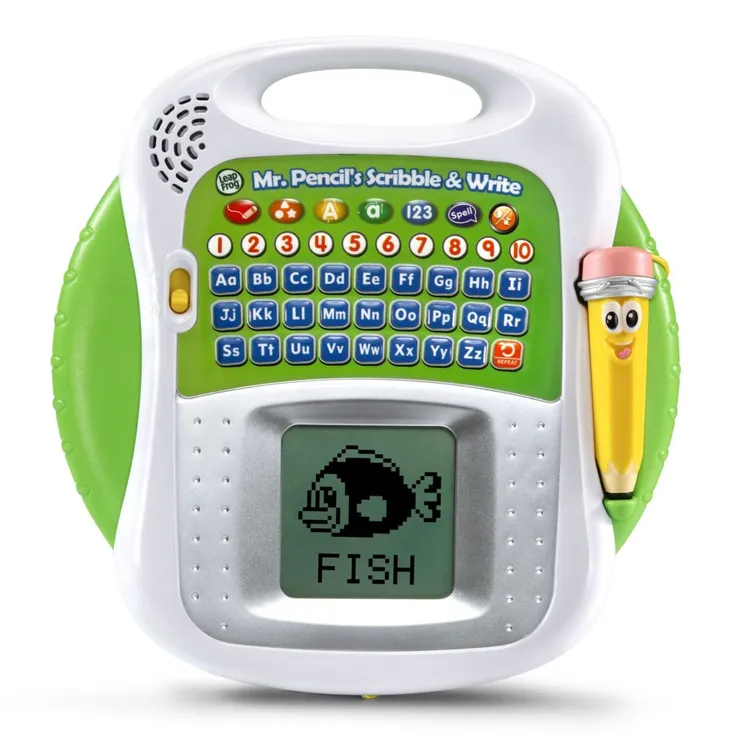 Buy on Amazon: LeapFrog Mr. Pencil's Scribble & Write
16. VTech Touch and Learn Activity Desk Deluxe
This Touch and Learn Activity Desk Deluxe, is one of our family favourites! It's a great toy that give kids three ways to learn and play. It has an interactive desktop that comes with five activity cards that have different touch points for kids to press and explore. These pages introduce your child to number order and counting, basic phonics, identifying parts of the body, colors and other child directed activities. It has a colorful interactive electronic dashboard, including an LED display that illustrates letter and number stroke order and how to to draw basic shapes, and other animations, as your child plays.
It features 100+ vocabulary words, 20+ activities and 20+ songs and melodies. Kids get a left-brain and right-brain workout with a lot of variety and self-directed activity. VTech offers a selection of expansion card packages for various age groups from 2 to 5 year of age, which allows this toy to learn and grow with your child. You can also lift up the desktop and transform the desk into an easel or chalkboard.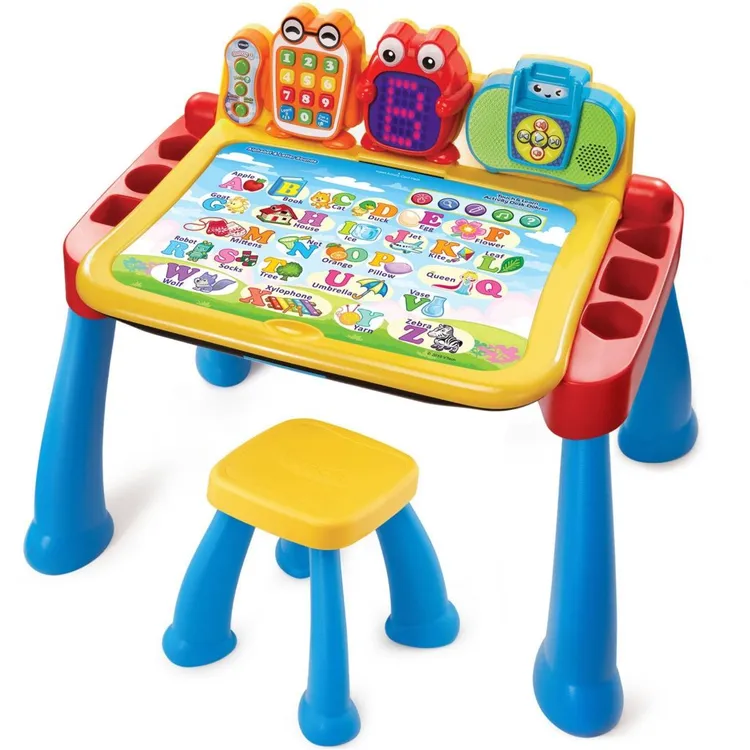 Buy on Amazon: VTech Touch and Learn Activity Desk Deluxe
15. The Learning Journey: Match-It — Spelling
When I came across these puzzles by The Learning Journey I feel in love and bought a selection of them! You should definitely check out their product options — it is no wonder the Match-It series features a wide range of award-winning educational titles. Each product in the series features a set of puzzles that will introduce children to a specific educational topic or skill. The colorful illustrations on the puzzle cards engage children in the learning process in an entertaining way.
For your little preschooler, I highly recommend this colorful spelling set with three-letter and four-letter puzzle cards that will provide your child with an introduction to spelling. They can learn to spell by associating the object with the word and correctly assembling the puzzle pieces. What is great about these puzzles are that they are self-correcting — only cards with the correct sequence will fit together. Match It Spelling is a fun and easy way for kids to learn, develop problem solving skills and expand their vocabulary. This set includes 10 three piece and 10 four piece puzzle sets, and is recommended for ages 4+ years.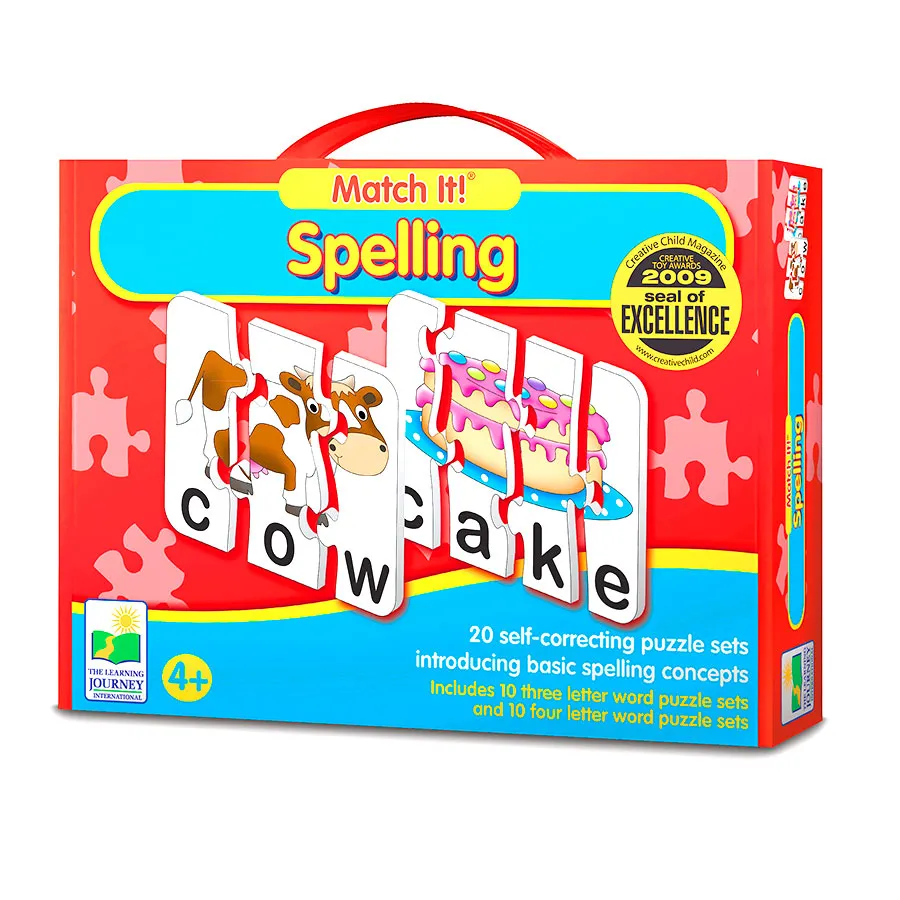 Buy on Amazon: The Learning Journey: Match-It — Spelling
14. Melissa and Doug Wooden Cube Puzzle
Melissa and Doug's beautifully crafted wooden 16-piece cube puzzle is a great toy that encourages hand-eye coordination and problem solving skills. It can be put together in multiple ways to create six different pictures. Little ones will have fun piecing the design together to complete the colorful picture. The boarder design provides a helpful visual hint!
Melissa and Doug offers a vast selections of wooden puzzles you can buy for kids of all ages. These 16-piece puzzles specifically come in variety of themes like: farm animals, family pets, vehicles, and even Disney character to name a few! This puzzle is recommended for children ages 3 to 6 years old, but I feel this toy can be enjoyed by children as young as 2 years old — with a little help from mom or dad!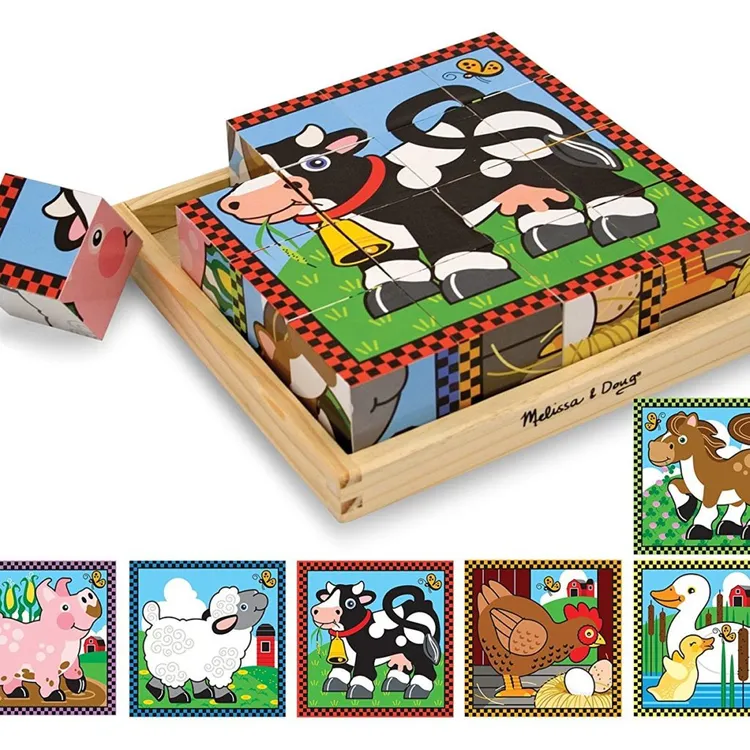 Buy on Amazon: Melissa and Doug Wooden Cube Puzzle
13. Melissa and Doug Pattern Blocks and Boards
Do you remember playing with these in elementary school? This set from Melissa and Doug comes with 120 geometric shaped wooden blocks and 5 double-sided board templates to fill. The pieces are ⅛-inch thick, making them easy for little hands to place,slide, rearrange and pick up the shapes. Little ones can fill in the mosaics with the tiles or use their imagination to create endless designs of their own!
These pattern blocks are designed to make learning fun and beautiful, while helping children with their spatial awareness, hand-eye coordination, matching and sorting skills, color recognition, geometric shapes, counting and beginning math skills. Fitting the pieces onto the wooden pattern boards helps develop fine motor skills, problem-solving skills, concentration, and memory. There are endless ways to play with this set that promotes creativity and independent learning while making beautiful patterned works of art!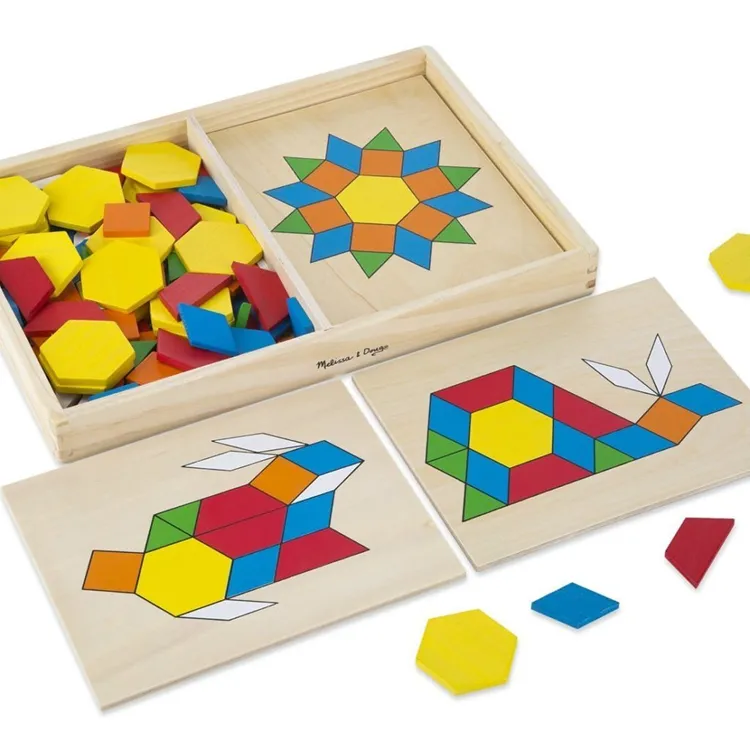 Buy on Amazon: Melissa and Doug Pattern Blocks and Boards
12. Melissa and Doug Shape Sorting Clock
Most kids are introduced to the concept of time in kindergarten, but apparently don't really master the skill of reading a clock until they are around 7 or 8 years old. It never hurts to get a jump start on the learning, especially with this fun clock puzzle, that will make the whole learning process more fun! This preschool-friendly clock features color-coded minute and hour hands that can spin around with a simple push.
Little ones can match the colors, sort the shapes, and solve the puzzle as they manipulate the colored blocks and turn the hands of the clock. This clock has 12 removable shaped number pieces that can fit into the recessed wells. It is great for teaching early-learning concepts, fine motor skills, cognitive skills, numbers, shapes and of course concepts of time.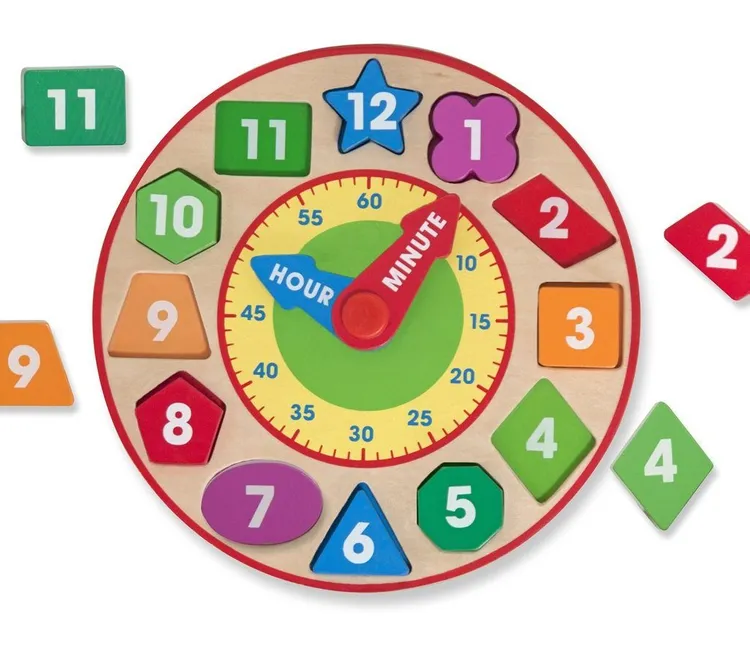 Buy on Amazon: Melissa and Doug Shape Sorting Clock
11. Megaformers
Megaformers are not your average building blocks! Megaformers are magnetic building kits for kids that encourage the development of spatial skills. Little ones will love using these colorful magnetic shapes to build constructions, shapes and patterns using their imagination. They are great for encouraging independent creativity as well as developing fine motor skills and hand-eye coordination.
Megaformers are available in many different sized packs. This 70 piece set is a great starter set for your little ones to start creating with, and then you can always buy add-on sets later, if you like. These are great for children ages 3 or 4, but even older children and adults will get a kick out of playing with these!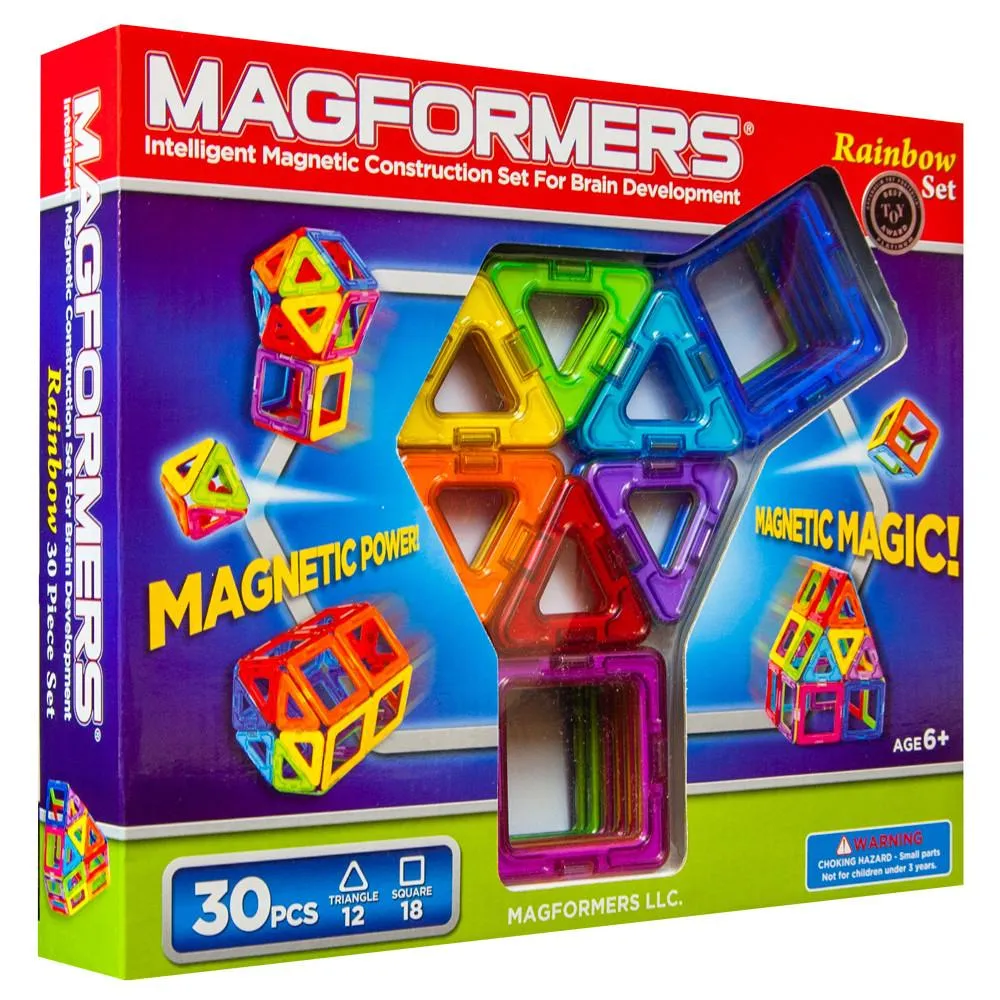 Buy on Amazon: Megaformers
10. Playskool Flash Cards
Flash cards are a great way to work with your little one on their language, number, reading, and recognition skills. This starter set from Playskool is recommended for children ages three to seven, however these can be suitable for children as young as 18 months — it's never too early to start! Each pack contains 36 flashcards featuring pictures, words and numbers.
Playing with flashcards is a great way to promote memorization as kids start to visualize the illustration and associate them with each letter of the alphabet. As your child gets a bit older, or if they are already for a little challenge, check out the addition and subtraction flashcard sets from Playskool.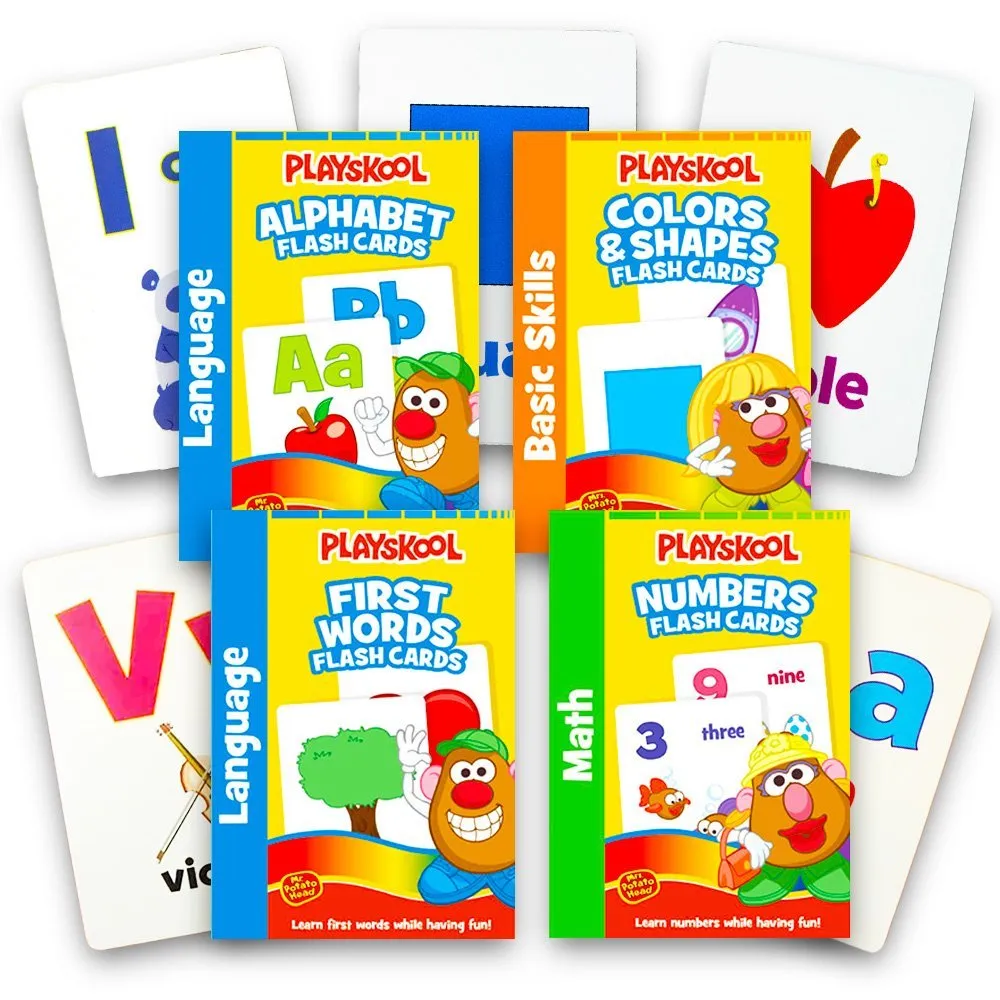 Buy on Amazon: Playskool Flash Cards
9. The Learning Journey: Match-It — Alphabet Memory
If you are looking for a fun toy that helps develop your child's memory, thinking and problem solving skill, you really don't need to look any further than the Match It Memory Series by The Learning Journey. This was another one of our family favourites, that I hope you will enjoy playing too alongside your little one.
The Match It Memory series is a fun series of games that will challenge problem solving and develop memory skills of young children as they try to find the matching pair of cards. The cards have colorful illustrations that will introduce a variety of themes including alphabet, mathematics, counting, first words and spelling. This traditional game of memory includes 26 double-sided matching pairs, and is recommended for children ages 3 + years, but the Match It Memory games are great games for the whole family to enjoy, and will certainly get everyone engaged in discussion as you work to find the matching pairs!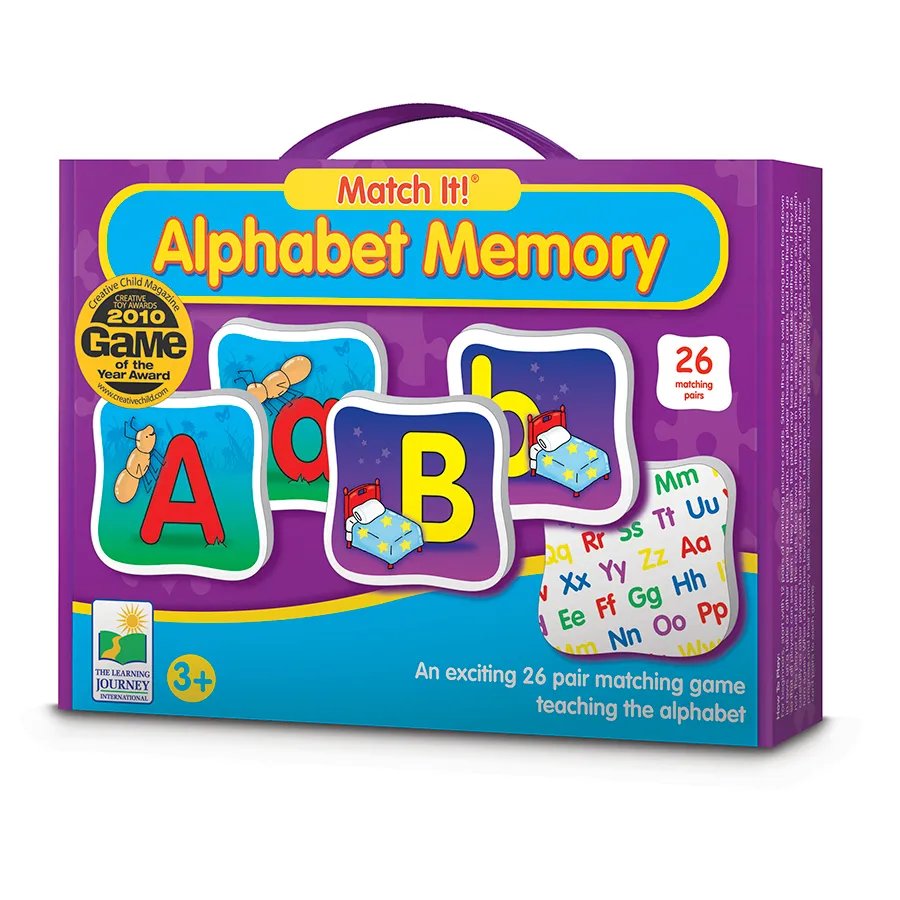 Buy on Amazon: The Learning Journey: Match-It Alphabet Memory
8. Imaginarium 150 Piece Wooden Building Blocks
There is no better way for your child to discover their inner architect than with wooden building blocks! From cubes, cylinders to archways, this building block sets contains 150 blocks in various shapes and sizes for your little one to create wonderful colorful towers and structures. These are good quality blocks yet are still very light, which is great because kids often have more fun knocking down their towers than they do building them!
In addition to being fun, these blocks help in the development of fine motor skills, as well as shape and size recognition. Packaged in a canister, they are not only easy to store, but the lid doubles as a shape sorter allowing kids to practice their shapes and work on their hand eye coordination and fine motor skills. It is a great toy to keep kids (and even playful and creative parents) engaged, and is something they are sure to play with over and over again.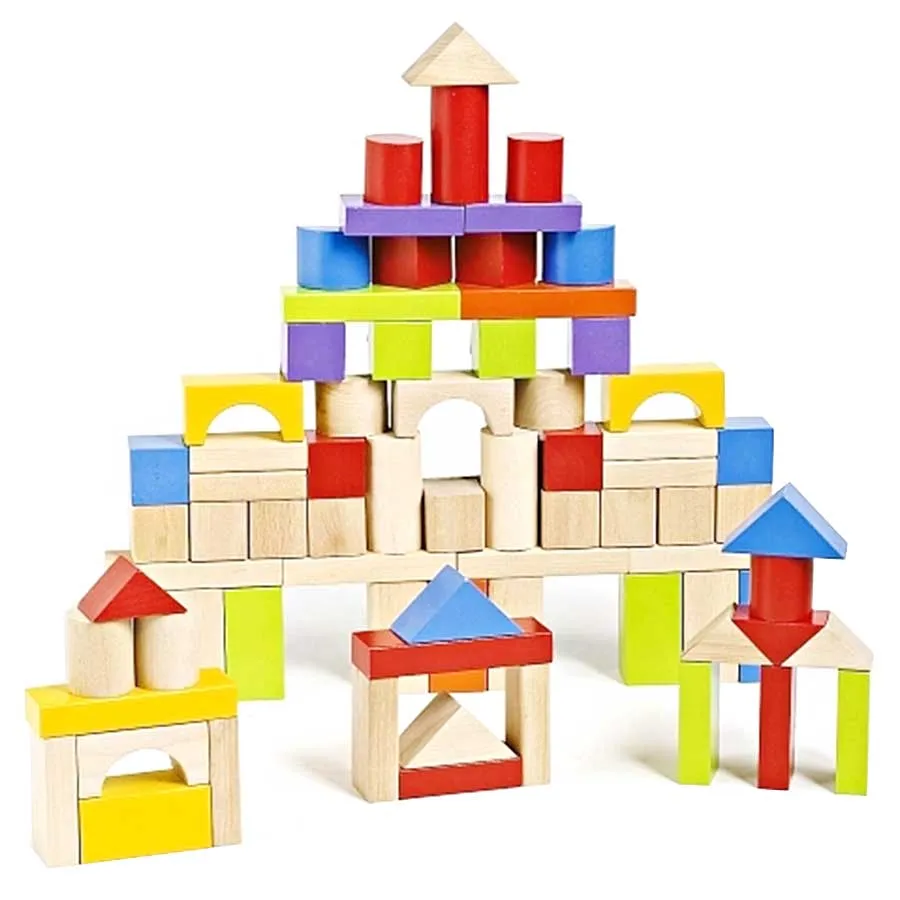 Buy on Amazon: Imaginarium 150 Piece Wooden Building Blocks
7. VTech Record and Learn KidiStudio
This fun hands on musical toy encourages motor skills, cause and effect, musical interaction and creative roleplay. Kids can record their own music and can explore various instruments' sounds with over 40 songs, melodies and sound effects. It has many entertaining an engaging features like its light up keyboard, so that your child can learn to follow along as the song is played.
Other features include audio recording, tempo changing, freeplay, drum sounds, scratch disc, whammy bar, voice changer, instrument effects, and other sound effects. The colorful lights and sounds will definitely keep your little one entertained. It is recommended for children ages 3 to 6 years, and is another great toy made by VTech.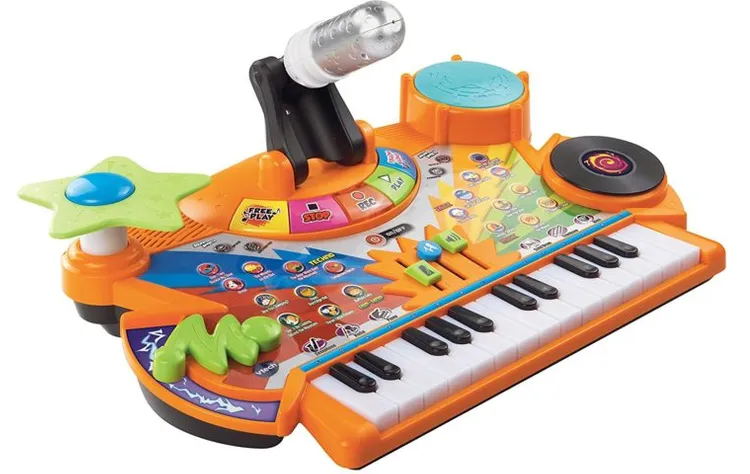 Buy on Amazon: VTech Record and Learn KidiStudio
6. Play Kitchen and Play Food
Children adore playing make believe — and playing in the kitchen always seems to be a favourite. If your little one is always wanting to play with all of your pots and pans and cooking utensils — this play kitchen and play food set is perfect solution for letting them play chef and create countless creative imaginary meals in their very own kitchen specially outfitted for them!
Hands-on cooking play is great for developing fine motor skills and encourages creativity and imagination. Whether they are playing house independently or using their set alongside adults during meal prep time, it will certainly help them develop confidence in the kitchen and spur a lifelong love of the culinary arts. Remember, a good chef needs the right tools and ingredients– so be sure to find some play food and utensil sets, to complete their culinary experience and maybe even give them a crash-course on nutrition and making healthy food choices!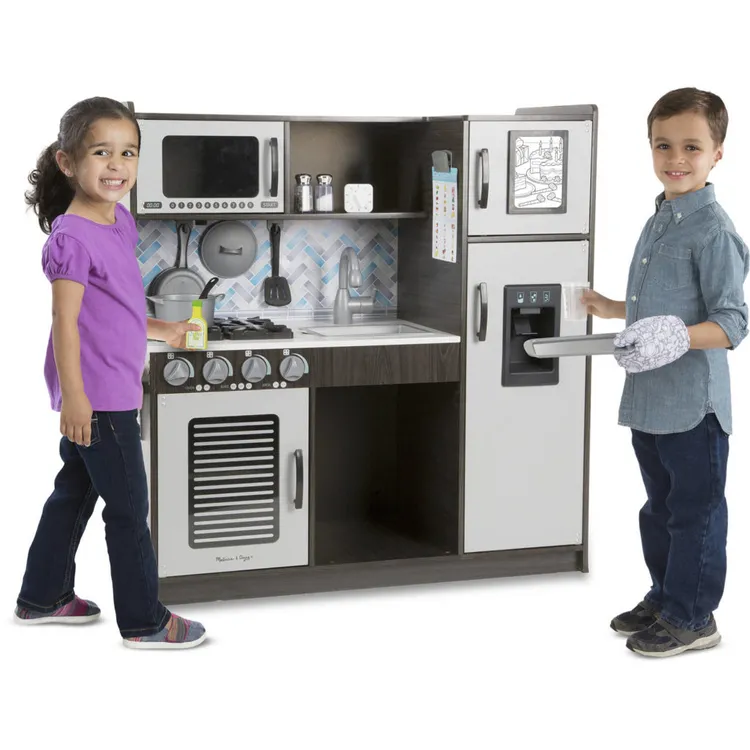 Buy on Amazon: Play Kitchen
Buy on Amazon: Play Food
Buy on Amazon: Play Pots, Pans & Utensils
5. Melissa and Doug Wooden Numbers and Alphabet Puzzles
I couldn't leave these puzzles off this list! Another two Melissa and Doug puzzle sets that are recommended for children 4 and up — but you could certainly try to introduce these a bit earlier to your little Einstein. These puzzle are beautifully crafted, and come in their own little wooden storage box.
Watch your little one have fun matching the wooden puzzle pairs and mastering their letters and numbers! These adorable sets feature every letter of the alphabet and numbers 1-20, each with a matching puzzle piece that illustrates the concept behind the character. These are self-correcting puzzles — so each piece will have only one counterpart piece that will correctly fit it. This will encourage your little one's confidence and independent play.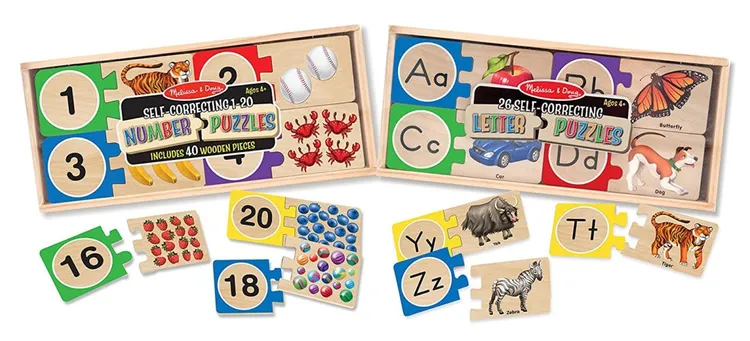 Buy on Amazon: Melissa and Doug Wooden Numbers and Alphabet Puzzles
4. Cooperative Game – Feed the Woozle
Before your little one goes off to school, it is great to introduce games that allow them to practice important skills like: patience, taking turns, sharing, teamwork, and shared decision making. It can be a difficult adjustment for little ones going from a situation where everything belongs to them — and they didn't need to share. This fun cooperative game helps them practice these skills by working together to achieve the tasks to win the game.
Feed the Woozle by Peaceable Kingdom is an award winning game, where the objective is to feed the Wozzle 12 silly snacks from the spoon before all the snacks are gone. The game can be played in three different levels of difficulty so the fun will grow with your child. Your child will develop body awareness and both fine and gross motor skills as they perform the required activities to complete the games tasks. Cooperative games are great at fostering non-stressful play situation, that encourage emotional development, sense of community, positive self esteem, all while having fun!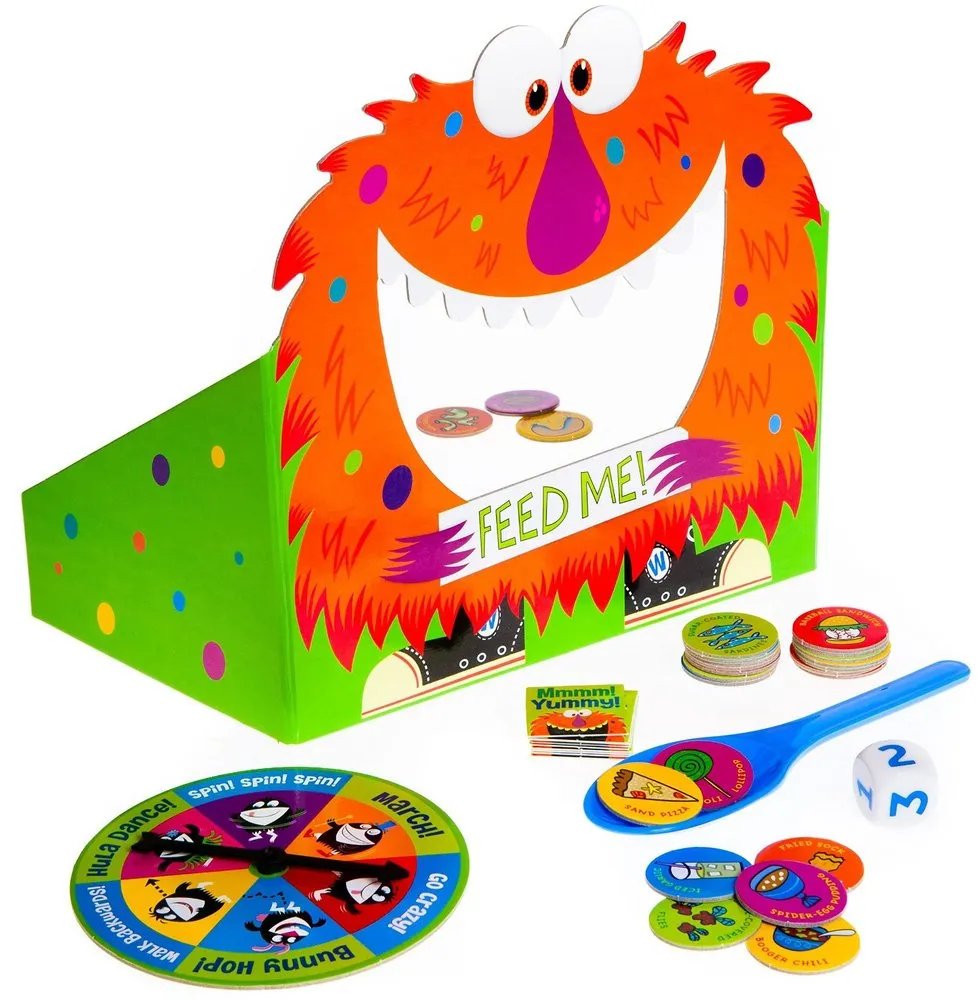 Buy on Amazon: Feed the Woozle
3. Cooperative Game – Stack Up
Another fun cooperative game for preschool aged little ones is Stack Up — also by Peaceable Kingdom. The objective of the game is to stack up 12 blocks before the Stack Smasher gets to the tower and topples it over. Children will spin the spinner, and if they land on a colour, they have to stack a block. If they spin a challenge, they have to perform a trick task (like stacking with their eyes closed). If they spin and land on the Stack Smasher, they are one space closer to the big topple!
There are three different game levels to this game, too — so the fun will grow with your child. This game will help your child practice their balance, color matching, hand-eye coordination, shared decision making, cooperation, and other important developmental skills through cooperative game play. This is yet another great game where little ones can work together, emphasizing play, not competition, in a stress-free and fun environment.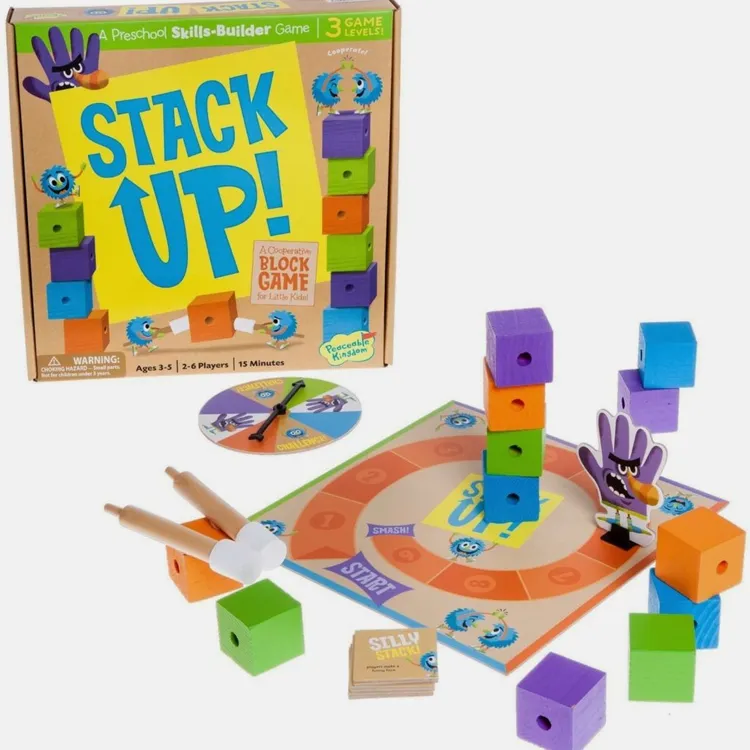 Buy on Amazon: Stack Up
2. The Learning Journey Shop and Learn Cash Register
Kid love to play grown up, and role play that they are doing the groceries! Pretend play is so important for children — especially those who are preschool age. There are so many little play cash registers on the market, but I really liked this one's features the most. It has three modes of play that allow your little one to shop, count, identify food and determine values.
Kids will have a great time scanning food, inserting coins into the register, sliding the credit card, and opening the cash register drawer. I think this toy register will quickly become a favourite toy for your little preschoolers, as they let their imaginations run wild, and become a grown up shopper!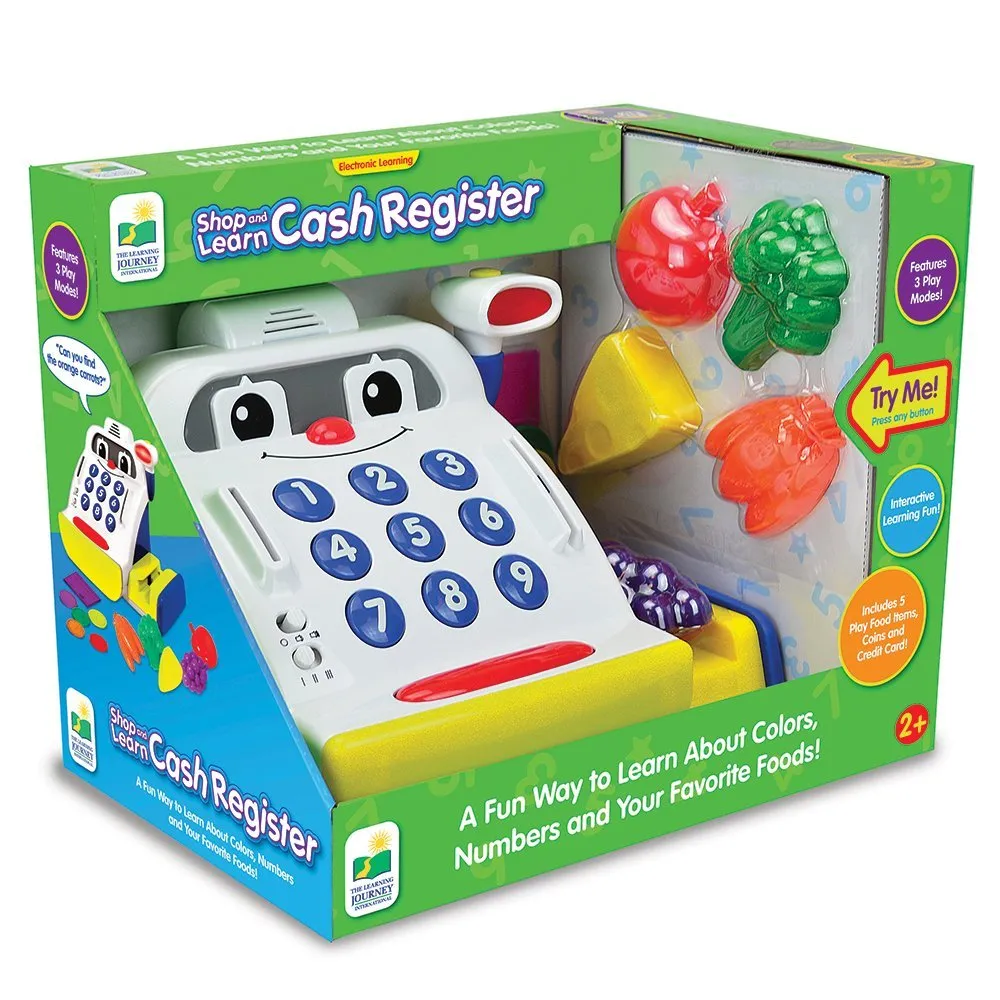 Buy on Amazon: The Learning Journey Shop and Learn Cash Register
1. LeapPad 3
A question many parents struggle with is: How much exposure to technology is too much? I have seen other people's children with their heads down, intently playing on their devices, seemingly completely unaware of the world surrounding them — and it scares me. When we grew up, we did not have cell phones, laptops, and iPads — it was a much simpler time. I don't think avoiding technology is the answer, but rather, finding an appropriate balance — something that has an educational benefit. So, last but certainly not least, I had to put this LeapPad3 on the list! It is a 5-inch wifi enabled tablet that allows kids to explore kid friendly, LeapFrog approved websites such as National Geographic for Kids, Time for Kids, and Discovery Kids. Parents can manage the wireless settings, and all external links on those sites are blocked.
Kids can also use this tablet in offline mode. There are a variety of games to play and digital stories to read. It comes with 10 apps built in, but you can purchase more from LeapFrogs library of 1200+ apps, games, ebooks, videos and cartridges. As kids play, LeapPad3 automatically adjusts the learning to offer more challenging play as the children skills develops. Progress is remembered game to game and book to book. It is recommended for children 3 to 9 years, and packs educational features that parents expect from LeapFrog with fun and engaging activities that make this a satisfying tablet, but age appropriate experience for kids.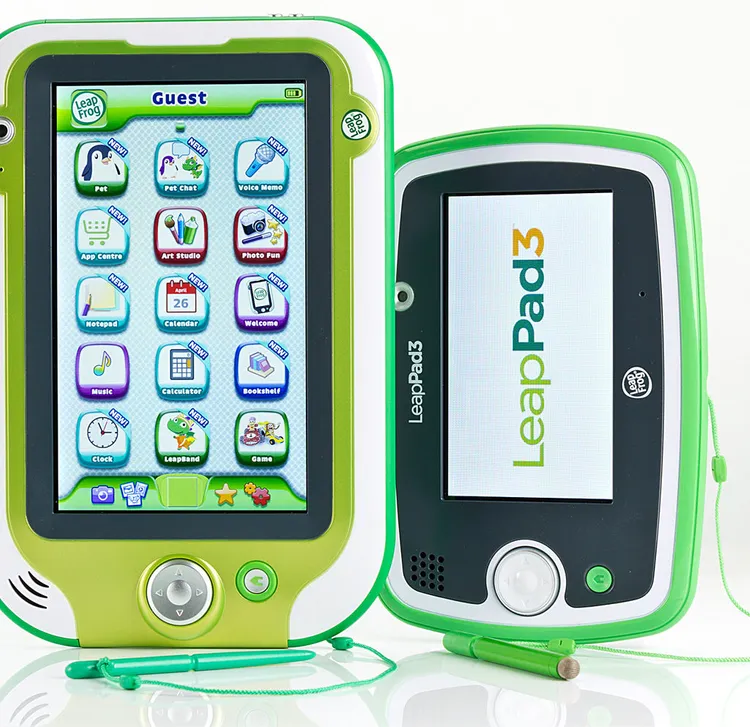 Buy on Amazon: LeapPad 3
Disclaimer: Childhood.com is a participant in the Amazon Services LLC Associates Program, an affiliate advertising program designed to provide a means for sites to earn advertising fees by advertising and linking to Amazon.com.