Quality over Quantity! As gift-giving occasions pass each year, it can get quite overwhelming how quickly toys and games can start to take over your house. Toy chests and cupboards start to overflow, and toys start to find themselves scattered across every. As a parent, it has always been important to me to find toys that were both fun and educational for my little one. I figured, if it was going to take up space in our house, I at the very least wanted it to be something that was educational in some way! I have done my research and have come up with this top 20 list of best toys for toddlers, which I hope you and your little one will enjoy!
20. Infantino Jumbo Shape Sorter
There are so many shape sorters on the market, but the shape sorter that I like most is the Infantino Jumbo Shape Sorter. It's cute and colorful gender neutral design makes it great for little boys or girls. This toy encourage hand eye coordination as you have to spin the elephant tail to make the body spin to find the correct shape hole.
This toy also helps develop logical thinking and analytical skills, as kids need to push on the elephants ears to release the shapes from inside. It is nice that your little one has the capability to release the shapes from inside without help from an adult, like many of the other sorters. It is ideal for a child with a bit more dexterity — so over 1 year old is best. However, you can definitely introduce this toy to your child earlier, but they may need your assistance to steady the body as they put the shapes inside!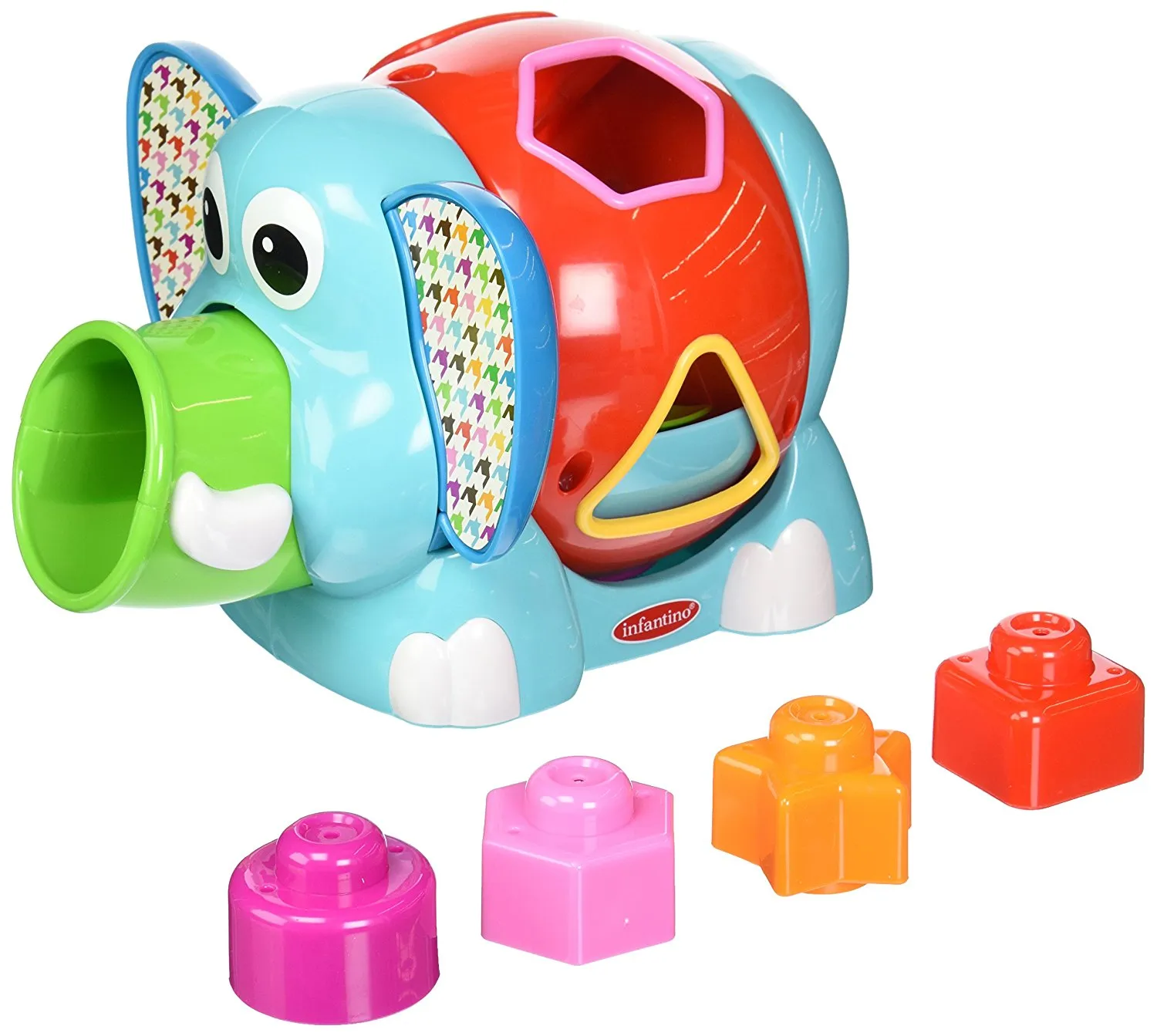 Buy on Amazon: Infantino Jumbo Shape Sorter
19. Bath Time Foam Letters & Numbers
For some fun bath time play, I highly recommend these fun foam letters and numbers! They are not only affordable, but they are a great way to combine fun and learning. Have fun working on the ABC's, counting, and even word recognition. Each set will contain 26 letters (A-Z) and 10 numbers (0-9), however I recommend buying two sets which will allow you to count higher, spell more words, or even create some short sentences!
These foam letters are colorful and fun to float in the water or stick on the sides of the bathtub or tile wall when wet. The foam is soft, yet durable and also non-toxic — incase your little one does decide to chew on them. Kids love to learn everywhere, so why not while playing in the bathtub?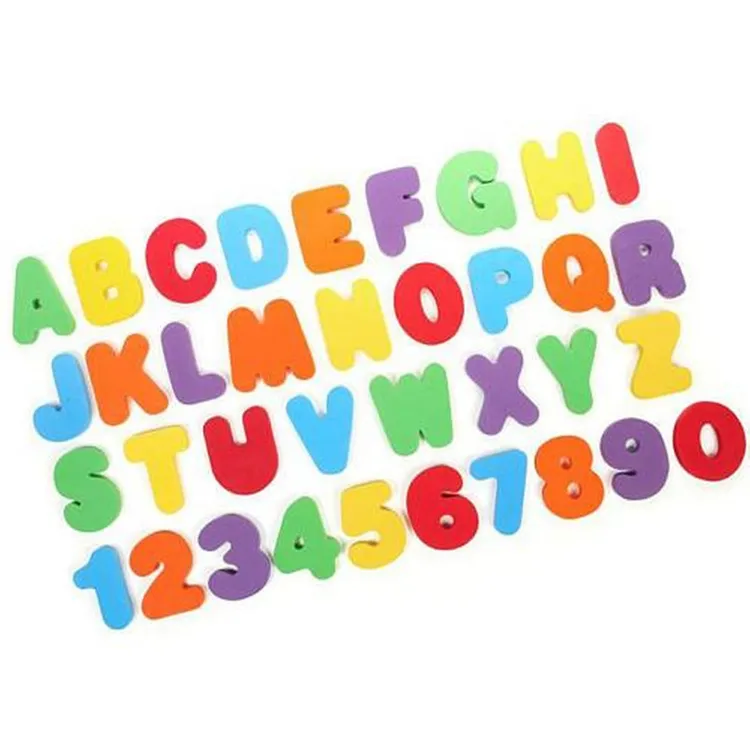 Buy on Amazon: Munchkin Bath Time Foam Letters & Numbers
18. Playgo My First Stacking Cups
For young kiddos, picking up items and putting them in place helps them learning important skills like intentional grasp and release, as well as how to control and position their little fingers. In their infancy, little ones don't have the dexterity or fine motor control yet to do this, but with these little stacking cups, toddlers can work on building their skills!
Stacking and nesting toys like these cups are also a great for work on depth perception and hand-eye coordination. Kids can stack them up or stack them in, in proper sizing order! I like the My First Stacking Cups by Playgo. This set has 10 colorful cups which stacks up to 25 inches tall! Have your little one practice standing on their own while building with these stackable cups, and see how high they can go! The cups are also great for working on color recognition or counting up and down from 10 as you add or remove cups from the tower.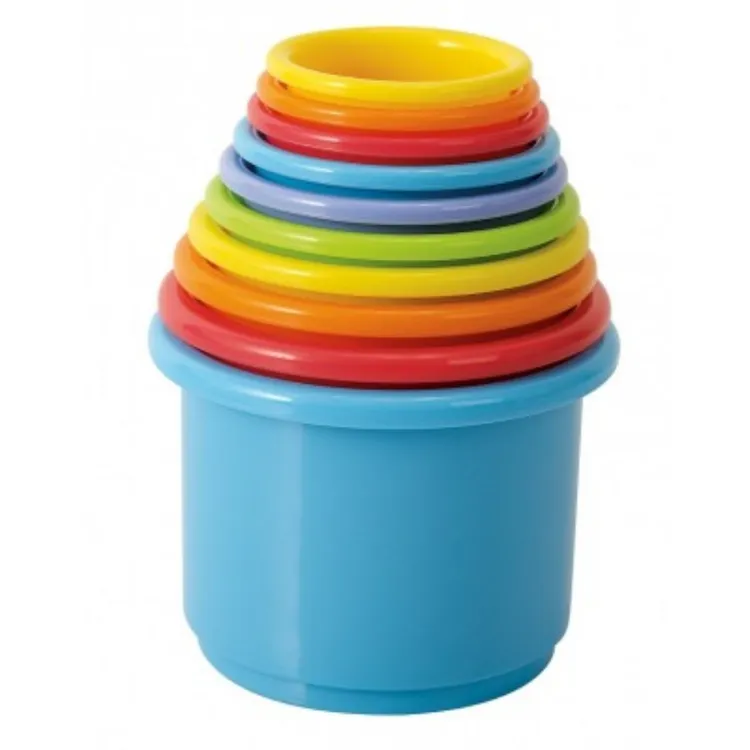 Buy on Amazon: Playgo My First Stacking Cups
17. VTech Magic Star Learning Table
A company that has really mastered the creation of fun and educational children's toys is VTech. You will see a handful of their products on this list! Recommended for kids 6 months to 36 months, this learning table is great for children who are just at the sitting-up stage, learning to stand, or completely sturdy standing on two feet! The tables legs come off easily to make a floor toy, and as your child gets older, the legs can be added back on for table play. This is a bilingual learning table with 6 different play areas.
It features over 65 tunes, sounds and phrases while teaching colors, numbers, rhymes and shapes. This toy encourages creative play and exploration, helps develop motor skills, teaches cause and effect, all with bright colors and flashing lights, songs and playful phrases. Help you kiddo get excited about learning through play, with this family favorite Activity Table!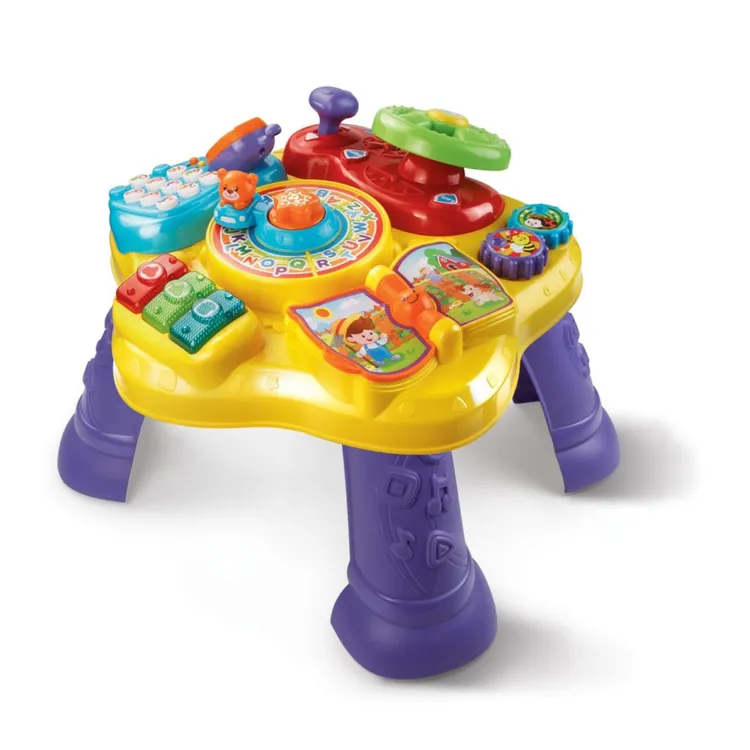 Buy on Amazon: VTech Magic Star Learning Table
16. VTech Sit-to-Stand Learning Walker
The Sit-to-Stand Learning Walker offers lots of tactile play activities. The toy starts off as an activity panel for floor play, and later can be use as a walker for on the go motion activated play when your child is ready to start practicing taking their first steps! What I like most about this little walker, is that there is a speed control switch on the two back wheels of the walker. Position one is for kids just learning how to take their first steps, and when your child's walking skills develop, it can be switched to position 2 so that the walker moves more freely.
While in learning mode, the activity panel has so much to keep little ones engaged, while introducing them to shapes, colors, animals, and number as they play. This is an interactive toy that grows with your child helping them with both fine and gross motor skills. It is recommended for children aged 9 months to 36 months.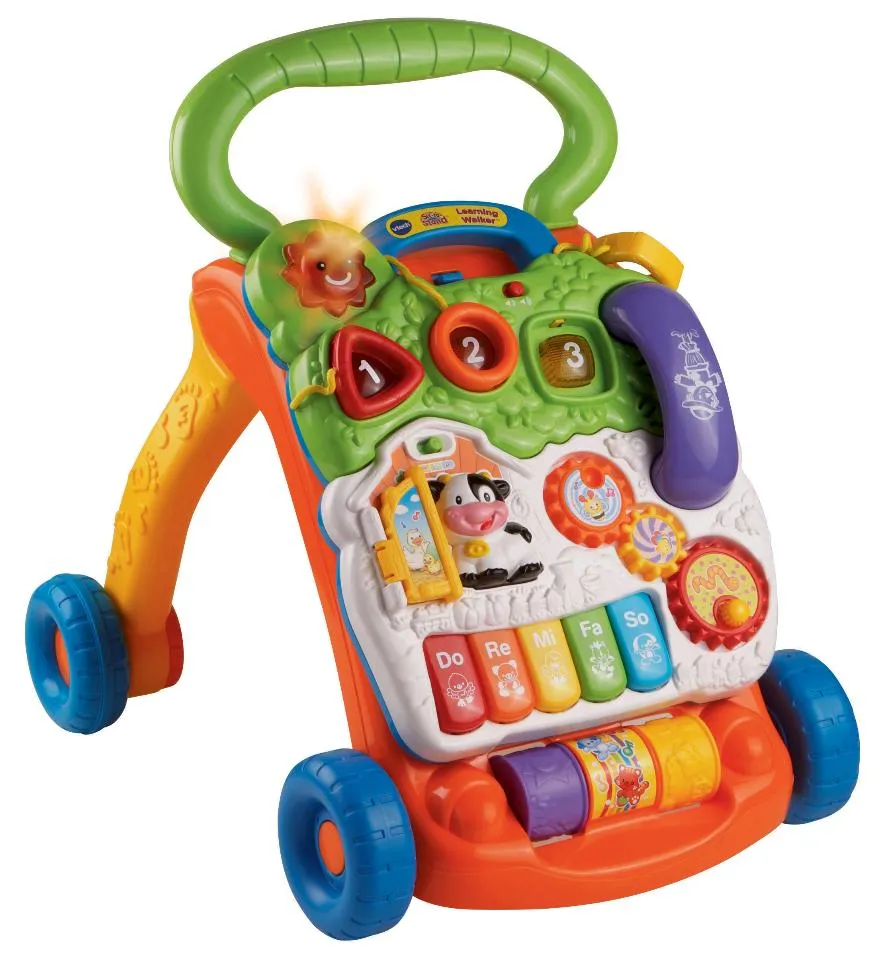 Buy on Amazon: VTech Sit-To-Stand Learning Walker
15. B. Zany Zoo Activity Cube
Activity Cubes are great toys to advance your child's motor skills! Designed for children aged 1 to 3 years, the B. Zany Zoo is a bright and colorful toy that is sure to keep your little one busy as they explore it's hidden surprises. It has five play surfaces, which makes it great for collaborative play.
My favorite feature is the 26 animal illustrations on spinning blocks that help children learn the alphabet. This one downside of this toy is that it is a bit on the expensive side. I found mine on a mommy's buy and sell used toy website. Buying second-hand is a great cost-saving option or you could always add this toy to your child's birthday or Christmas list for a kind family friend or relative to purchase!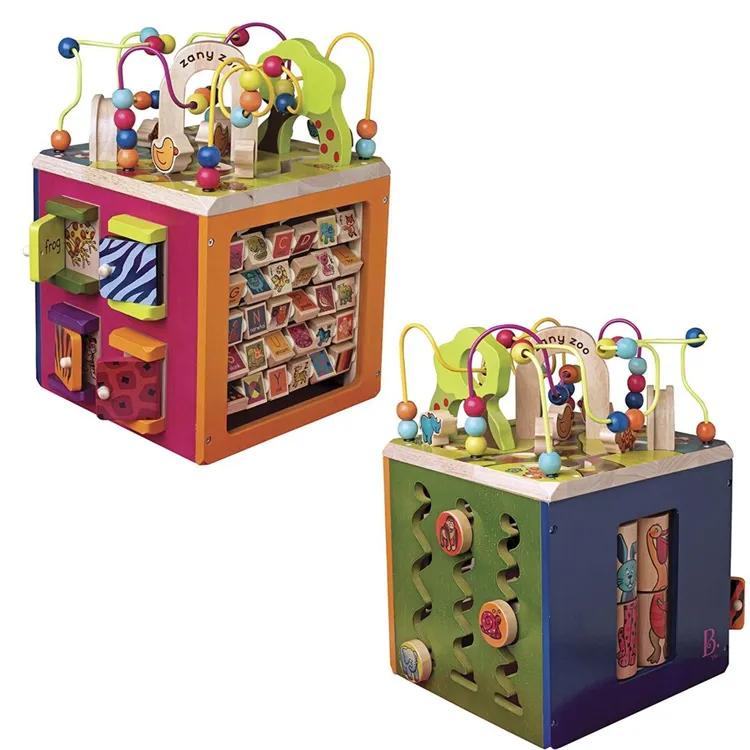 Buy on Amazon: Zany Zoo Activity Cube
14. VTech Touch and Learn Activity Desk Deluxe
This Touch and Learn Activity Desk Deluxe, is one of our family favorites! It's a great toy that give kids three ways to learn and play. It has an interactive desktop that comes with five activity cards that have different touch points for kids to press and explore. These pages introduce your child to letters, number order and counting, basic phonics, identifying parts of the body, colours and other child directed activities. It has a colorful interactive electronic dashboard, including an LED display that illustrates letter and number stroke order and instructions on how to to draw basic shapes, and other animations, as your child plays.
You can also lift up the desktop and transform the desk into an easel or chalkboard. Kids get a left-brain and right-brain workout with a lot of variety and self-directed activity. VTech offers a selection of expansion card packages for various age groups up to 5 year of age, which allows this toy to learn and grow with your child. It features 100+ vocabulary words, 20+ activities and 20+ songs and melodies. It is recommended for ages two and up, however my little one enjoyed playing with when he was 18 months old. I swapped out the stool seat with a little chair from another toy for added comfort and stability.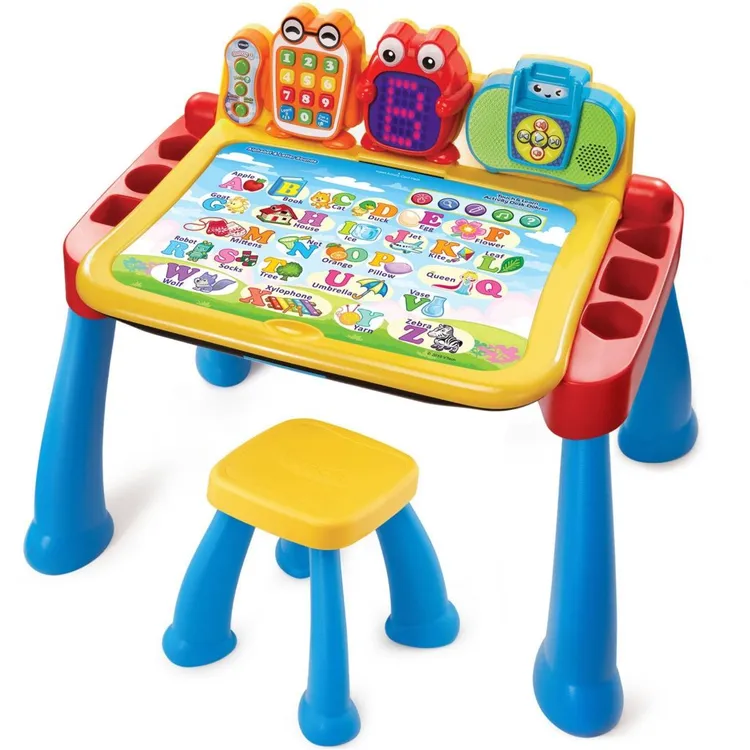 Buy on Amazon: VTech Touch and Learn Activity Desk Deluxe
13. Imaginarium 150 Piece Wooden Building Blocks
There is no better way for your child to discover their inner architect than with wooden building blocks! From cubes, cylinders to archways, this building block sets contains 150 blocks in various shapes and sizes for your little one to create wonderful colorful towers and structures. These are good quality blocks yet are still very light, which is great because kids often have more fun knocking down their towers than they do building them!
In addition to being fun, these blocks help in the development of fine motor skills, as well as shape and size recognition. Packaged in a canister, they are not only easy to store, but the lid doubles as a shape sorter allowing kids ages 2 and up to practice their shapes and work on their hand eye coordination and fine motor skills. It is a great toy to keep kids (and even playful and creative parents) engaged, and is something they are sure to play with over and over again!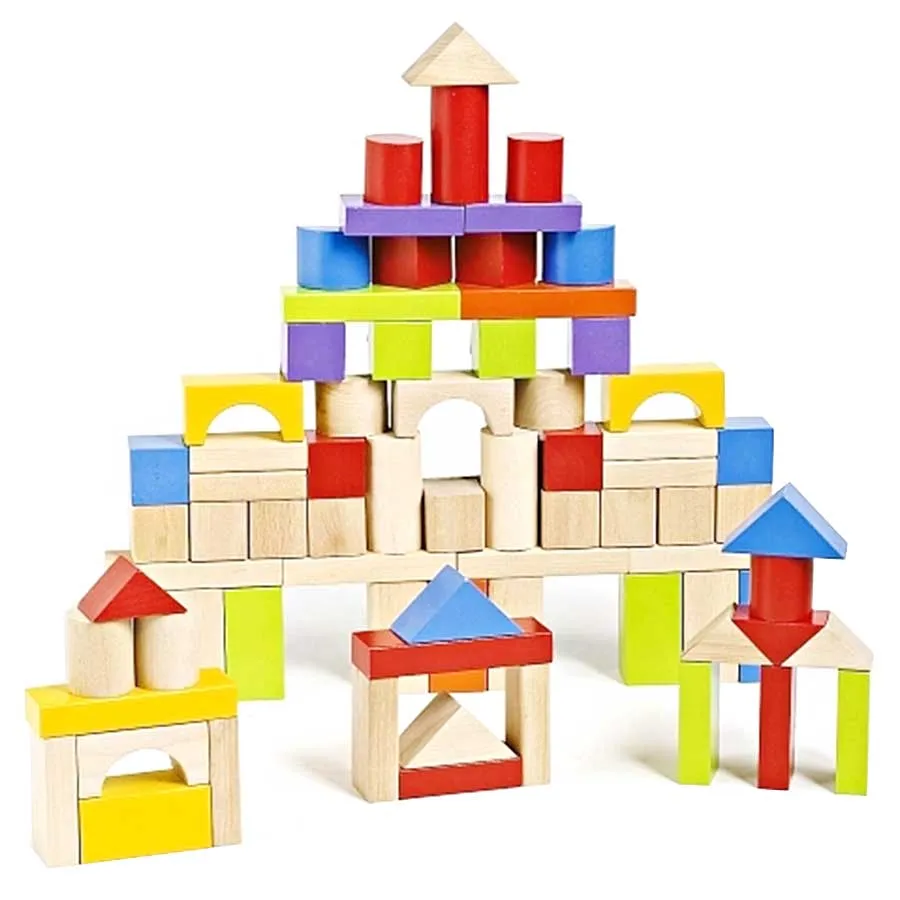 Buy on Amazon: Imaginarium 150 Piece Wooden Building Block Set
12. LeapFrog Scout's Learning Lights Remote
Keep your little one busy with their own television remote, not mom and dads remote! For little ones who always seem to want to play with the television remote, the learning lights remote from Leap Frog is great because it mimics the look of a real remote, but offers lights, phrases and songs that will keep your child well entertained, and not messing around with the real one and messing up all of your television settings.
This toy remote has more than 65 different songs, tunes and learning responses about shapes, numbers and even the weather. It is recommended for little ones ages 6 to 36 months, and is sure to keep your little ones hands off the real remote, and will save you from having to make embarrassing technical assistance calls to your cable provider!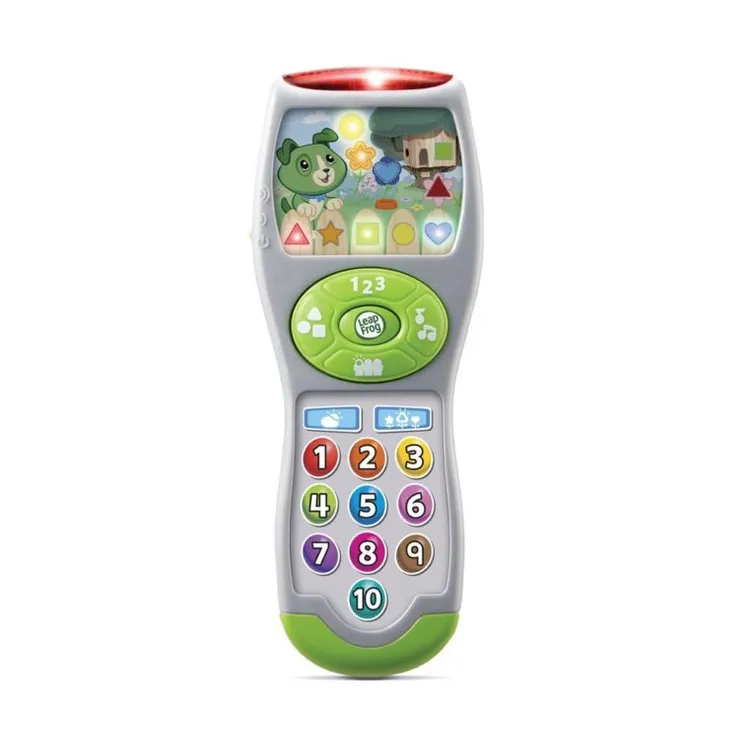 Buy on Amazon: LeapFrog Scout's Learning Lights Remote
11. LeapFrog 2-in-1 LeapTop Touch
Another LeapFrog toy for this list! I honestly am a big fan of this line of fun and educational toys by VTech! One of my kiddos favorite toys is this fun laptop that also doubles as a tablet. Again, it is one of those toys that if you are trying to keep your little one's hands off of your electronics — this is a great way to allow them to have one for their very own!
It transforms from a laptop to a touch screen tablet by simply swivelling the screen. There are 5 different modes: alphabets, numbers, messages, games and music — that can be played with in either the laptop or touch screen setup. There is also a parent mode, where you can enter your child's name to personalize the toy, and teach them how to spell their own name. It is compact and is an ideal on-the-go toy, and packs a lot of fun learning activities. It is recommended for children two and up, and gives them that feeling-big experience but in an age appropriate way.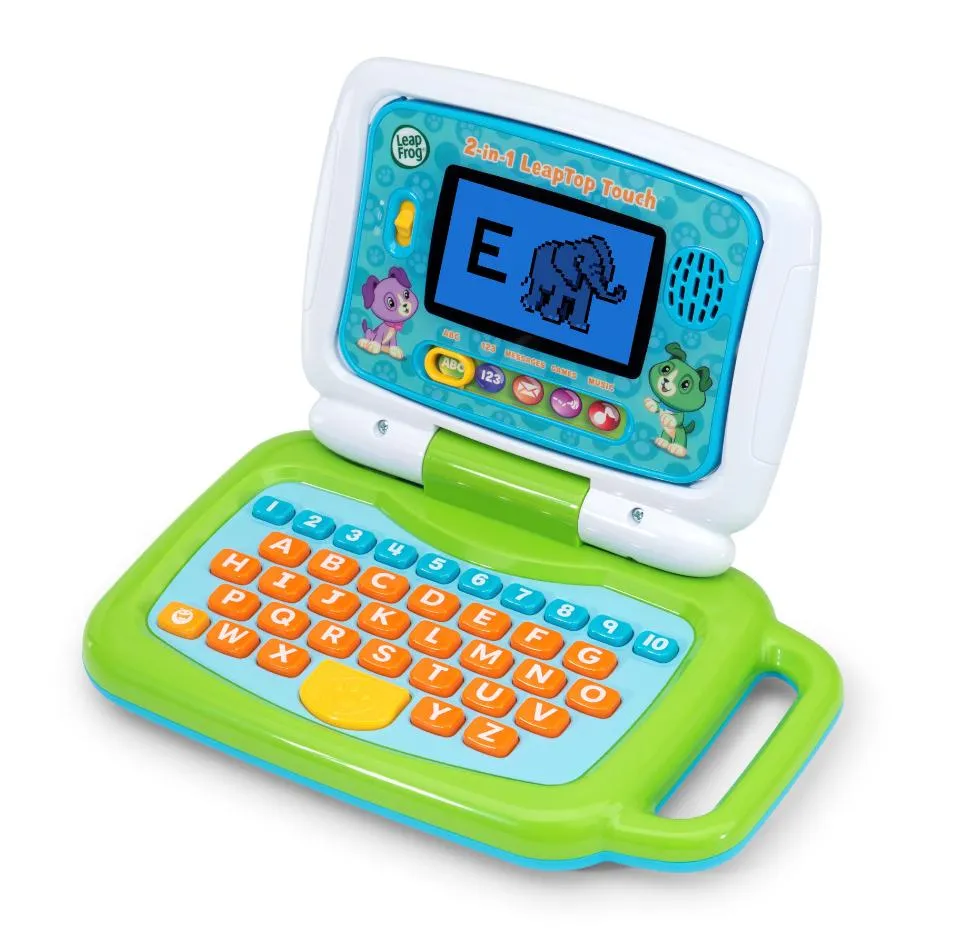 Buy on Amazon: LeapFrog 2-in-1 LeapTop Touch
10. VTech Write and Learn Creative Centre
This was a toy that I bought right before my family went on a long road trip. My little one had a great time playing with it in the car, and it is still a toy that we love to play with. Parents can customize this toy with their child's name to teach them how to write it with step-by-step instructions. It combines timeless oldschool technology with modern interactive play. It features 6 interactive modes of play including: drawing, vocabulary, shapes, music, and upper and lowercase letter writing
The doodle pen is easy for kids to hold, and designed to help encourage proper writing grip. As your child gets older, the toy's animated demonstration allows children to follow along and learn proper stroke order for both uppercase and lowercase letters. A downfall of this product is that it cannot recognize when the child writes the letter or number incorrectly, and it still rewards their effort. So, it is important for you as a parent to participate in their learning, and help advise when a correction is needed or praise them when they are successful! This toy is intended for children 3 to 6 years, but I think it can be enjoyed by children (for more simpler scribbling purposes) as young as 18 months.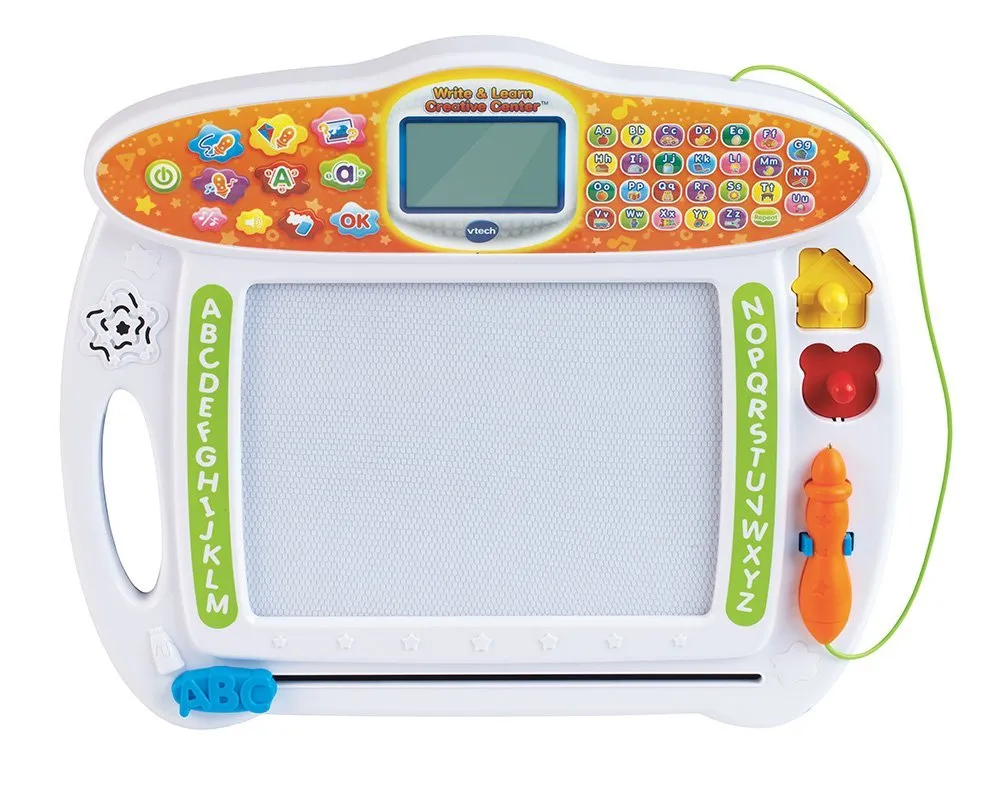 Buy on Amazon: VTech Write and Learn Creative Centre
9. Go Go Smart Wheels
Go Go Smart Wheels is yet another one of our families favorite VTech interactive toys. It is designed to teach children cause and effect, encourage gross motor skills development, and offers tons of imaginative pretend play. Children can press the light up button on the vehicles for different sounds, songs and phrases. They can be used independently, or on the tracks. When the vehicle goes over one of the tracks smart points, the vehicle will flash and play greetings, sounds and songs.
The smart points engage toddlers and encourage them to sing and interact with the playset and the vehicles. You can configure it so many ways, or combine various Go Go Smart Wheels sets together into one giant track, so each time you play will be a new experience. This toy is recommended for children ages 1 to 5, but I think older siblings and parents too, would have lots of fun playing together with this toy!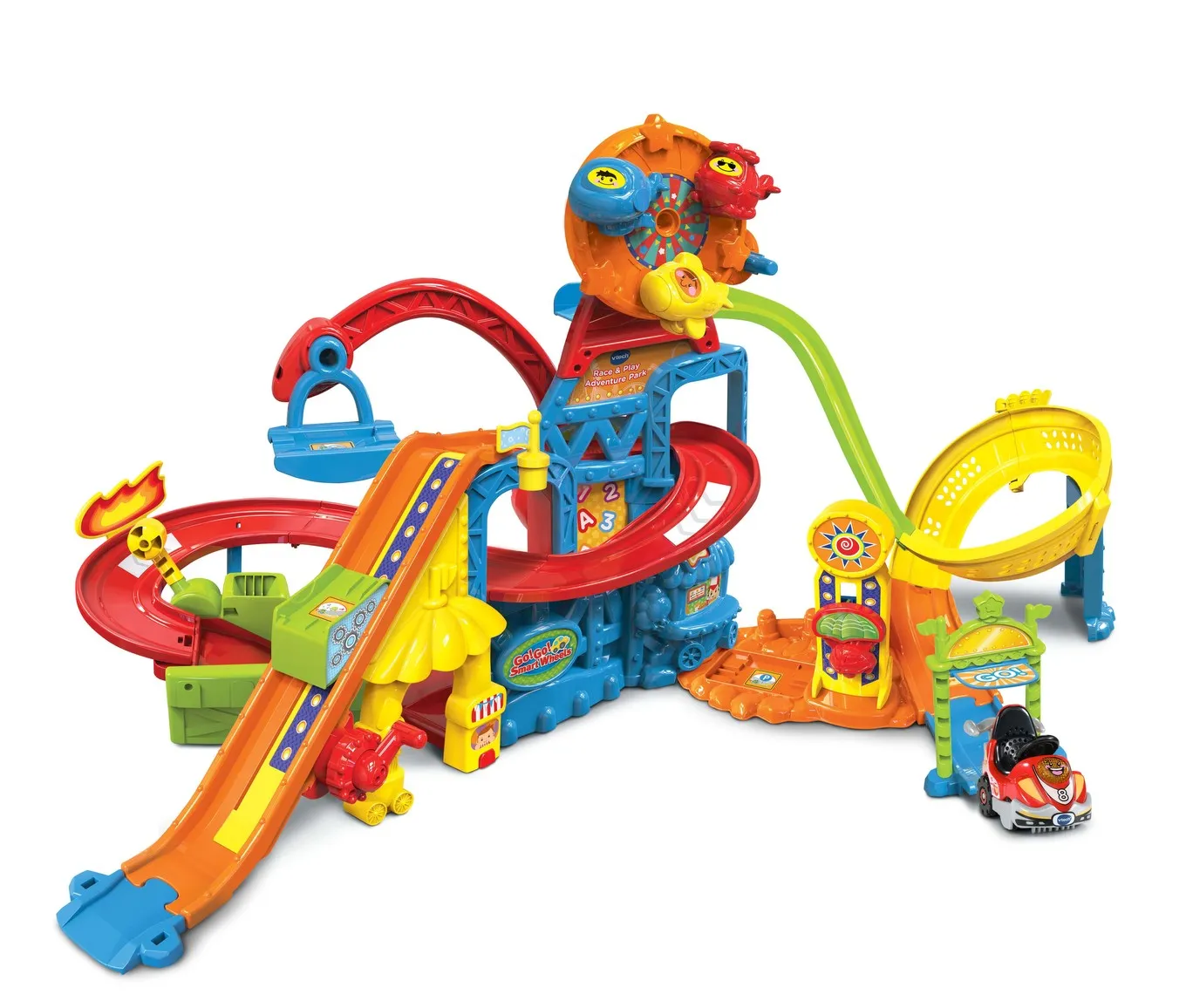 Buy on Amazon: Go Go Smart Wheels
8. LEGO Duplo Large Creative Box
Duplo is a great way to first introduce your child to the world of LEGO! It's chunky building block design is great for little fingers developing fine motor skills, and endless LEGO possibilities for even the youngest of builders. It is specially designed for children 2 to 5 years, and can provide hours of fun play time, allowing children to really put their inner architect to work!
This set contains 193 piece with no specific structures to build. Rather, it is just a large box of LEGO Duplo pieces in various colors and shapes, plus two characters for added fun. Duplo encourages creative play, while reinforcing motor skills and problem solving skills, and is a fun building set for the whole family! There is a wide selection of Duplo sets available for purchase, so your child can continue their creative play and testing their building skills!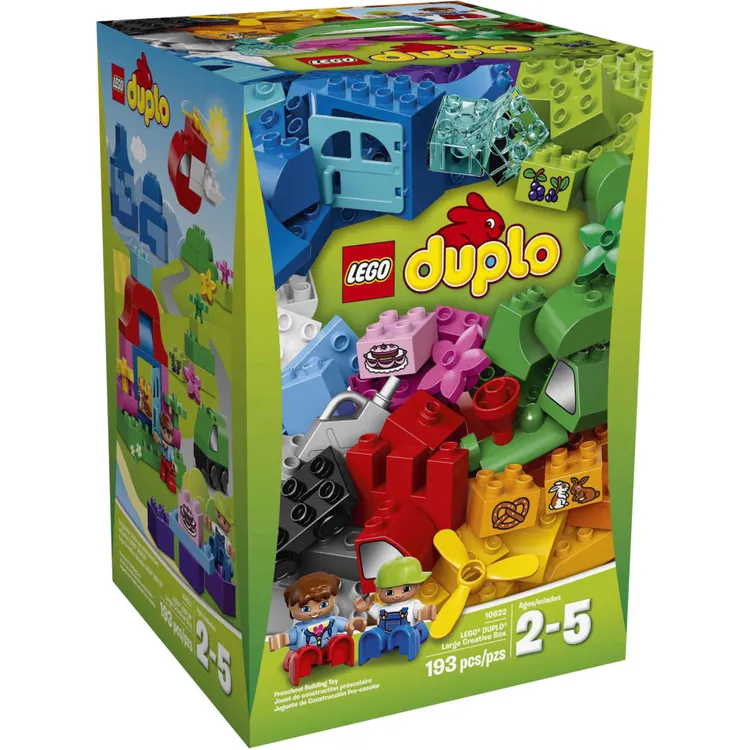 Buy on Amazon: LEGO Duplo Large Creative Box
7. VTech Touch & Teach Word Book
The Touch and Teach Word Book from VTech is a wonderful interactive word book that is designed to teach basic words and letter skills for children ages 18 to 48 months. There are 12 interactive pages that come to life with the touch of a finger, helping youngsters develop word associations skills. This book features 4 fun activities for little ones, teaching them over 100 words to grow their vocabulary on topics like: home, food, clothes, toys, the park and the zoo! There are fifteen melodies and more than 90 fun sounds to stimulate your child's auditory recognition and musical creativity!
The best part of this little interactive book is the open ended exploration and touching with responses. As your kid get a bit older, the red question mark button will help reinforce letter and word recognition through a fun search and discover game. This book is great for child directed play, but to get the most learning potential from this toy, co-play along with your child!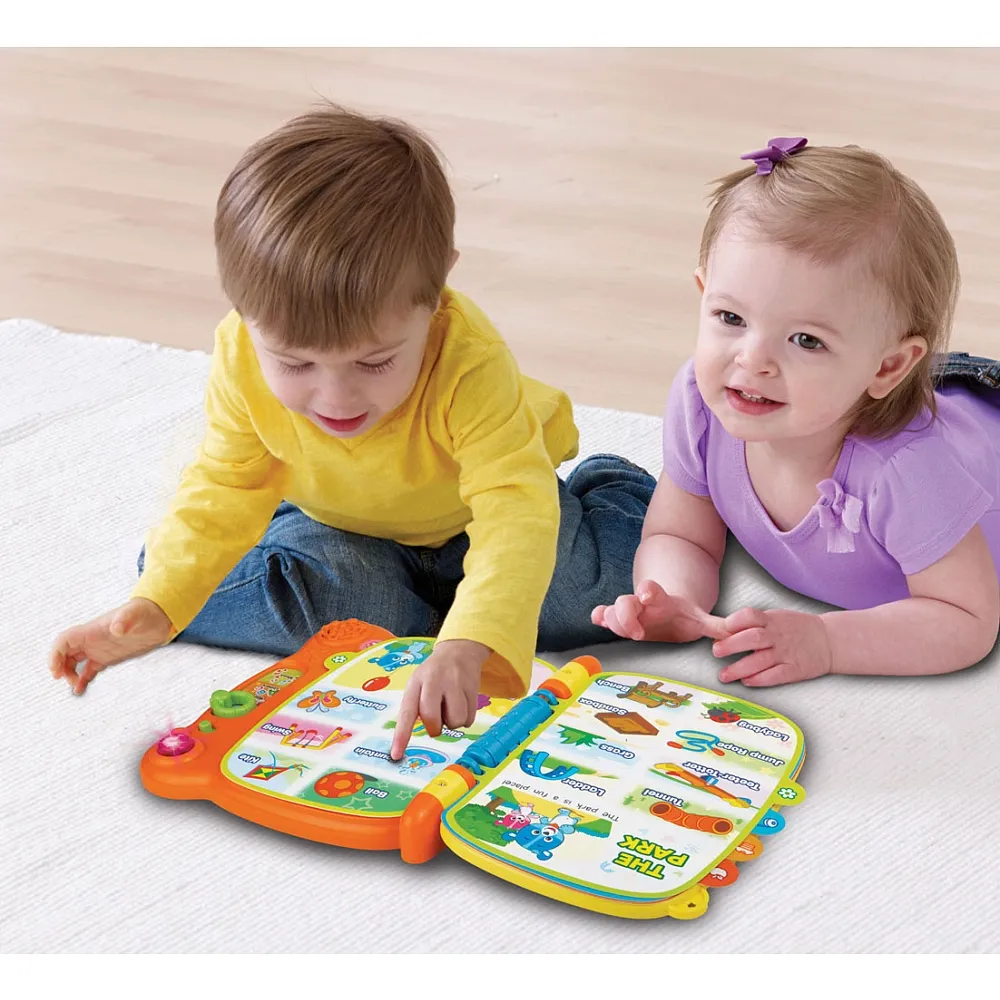 Buy on Amazon: VTech Touch & Teach Word Book
6. VTech Chomp & Count Dino
Reinforce healthy eating while working on color recognition, counting and shapes with this cute Chomp & Count Dino by VTech. This toy comes with 8 brightly colored play pieces great for your little one to work on their hand-eye coordination and fine motor skills while putting the colorful food pieces into the dinosaurs mouth. Kids can play in either food mode or counting mode. The dinosaur will respond with rewarding phrases and sounds while introducing colors, shapes, numbers, and food.
By pressing the red question mark on the dinosaurs head, kids can answer the dinosaurs questions to show how much they have learned. By pressing on any of the 5 colorful buttons on the dinosaurs body, kids can be introduced to basic shapes and numbers. The dinosaur has wheels on the bottom of its legs, so kids can pull or push the dinosaur along to strengthen motor skills and hear fun melodies, or spin the disc on the dinosaurs back to play sing-along songs. This fun little dino would make a great learning toy for little ones ages 12 to 36 months.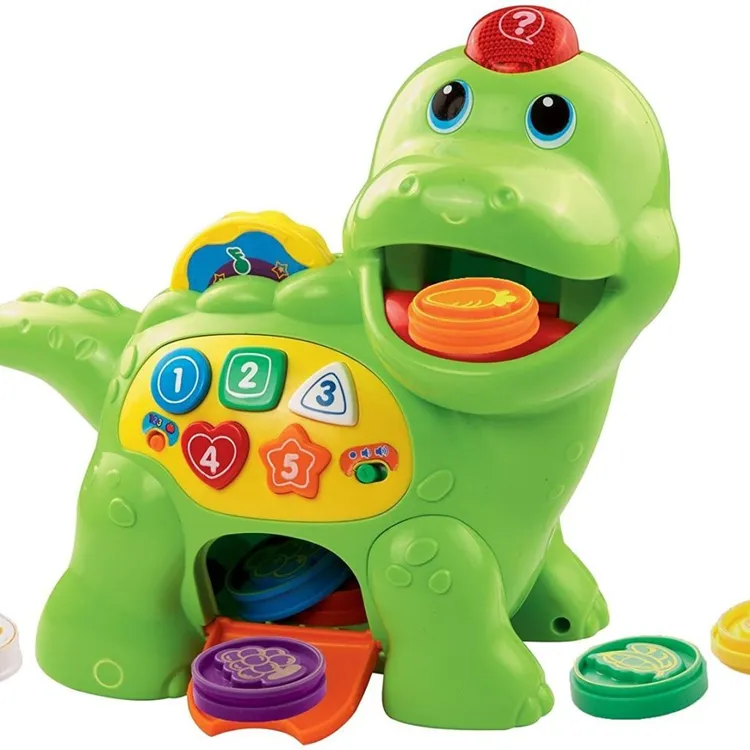 Buy on Amazon: VTech Chomp & Count Dino
5. Crayola Color Wonder Drawing Pad & Color Wonder Markers
This is every parents dream — markers that only color on special paper! The days of cleaning markers off your walls, furniture, and even your kids clothes and skin are over! Let your kiddo get creative with these Color Wonder Drawing Pads and Color Wonder Markers by Crayola.The markers are non toxic, and their special clear ink was developed by Crayola scientists to only appear on the special Color Wonder Paper.
Kids will absolutely love watching the colors magically appear. Each coloring pad comes with 30 pages for colouring fun! With so many different color pads to choose from, you are sure to find something to please your little one, and keep them entertained for hours. The Classic marker pack comes with 10 colors, and can be purchased separately! Now your kiddos can get creating, and you won't have to deal with the clean up aftermath any more!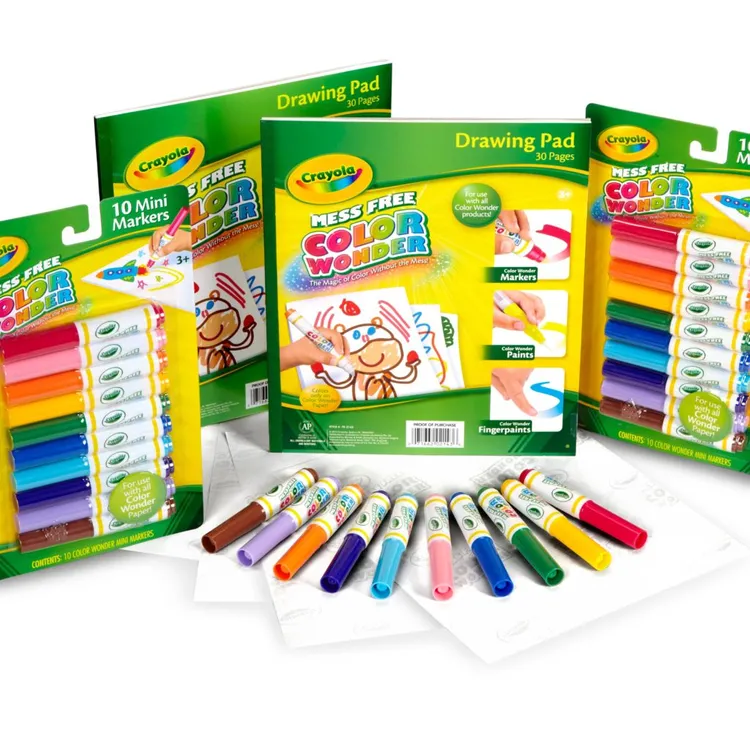 Buy on Amazon: Crayola Color Wonder Pad and Markers
4. VTech Smart Shot Sports Centre
This is such a fun toy by VTech designed to get little ones active and playing with the small soft basketball and soccer ball while learning! It has an animated LED talking scoreboard that encourages kids with fun phrases and sounds. Shapes, numbers, letters, and counting are all part of the 50+ songs and phrases it has. But, what I think parents will like most is the active play this toy allows children — letting them expend some of their seemingly never ending supply of energy!
For little ones who may like to sit and play, there are gears and buttons to push, that all respond with cheerful sounds and melodies. This toy will encourage children to build their fine motor skills, learn cause and effect, and move around and get some exercise, which is always a win!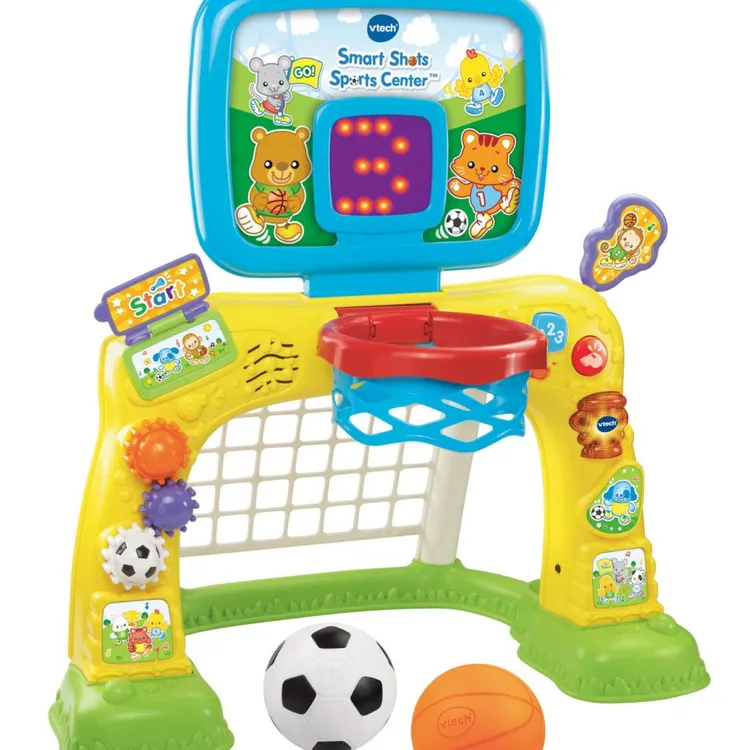 Buy on Amazon: VTech Smart Shot Sports Centre
3. YBike
There are so many ride on toys for toddlers, but the YBike is a uniquely engineered toy that keeps safety in mind, helps encourage gross motor skill development, fosters a keen sense of adventure, and builds physical self-confidence for children ages 2 to 4. The YBike is no ordinary trike. It helps children develop an early sense of balance, control and coordination that they will need to ride a big-kid bike.
YBike has a vast product selection — this specific ride-on toy is part of their Stage 2 product selection. At this stage (age 2-4 years), you child will learn skills such as static and dynamic balance, bilateral coordination, and physical self-confidence. The YBike comes is a selection of different colors, and is a high-quality and durable product that can be use all year round — indoors or outdoors!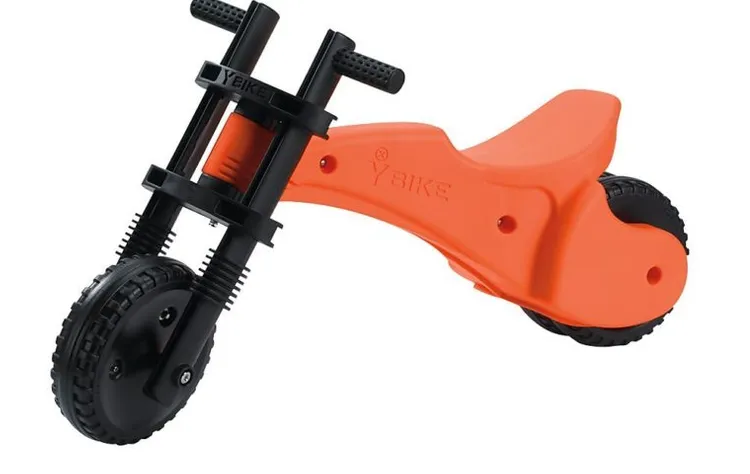 Buy on Amazon: YBike
2. Melissa and Doug Wooden Puzzles
Melissa and Doug's beautifully crafted wooden with Chunky pieces that are easy for little hands to grasp. These puzzles make great toys that encourage hand-eye coordination, fine motor skills and creative expression skills. Little ones will have a blast piecing together these puzzles to complete the colorful picture, or the chunky pieces be played with on their own — they can stand up for imaginative play!
Melissa and Doug offers a vast selections of wooden chunky puzzles or peg puzzles, that you can buy for kids of all ages. They come in a wide variety of themes like: zoo animals, family pets, farm animals, underwater creatures, and vehicles — to name just a few!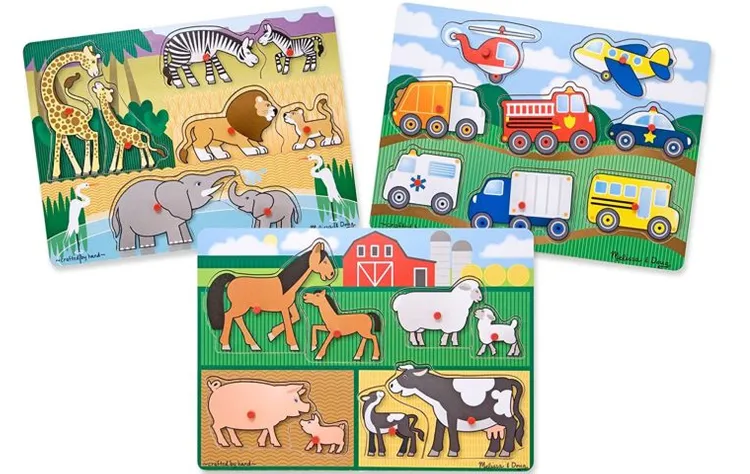 Buy on Amazon: Melissa and Doug Wooden Puzzle Set
1. VTech DigiArt Creative Easel
This is a wonderful 3-in-1 toy that transforms from a chalkboard, to a dry erase board, to a drawing table, and allows kids to get creative and practice their writing and drawing. Using the magic pen, children can follow the blinking lights to write and draw over 150 letters, numbers, objects, and shapes stroke by stroke, or free draw their own lighted picture within the LED display screen.
Kids can also turn off the unit and use the dry erase marker to draw whatever they would like all over the board. It also has a clip at the top so it can be used as an easel with paper, or you can flip it over and use the chalkboard surface instead. The board can easily flip down into a drawing table, which has all the same drawing features as when it is an easel. This toy comes with the option to turn off the sounds while kids are writing — which is nice if you want to keep your little one busy, but quiet! It is intended for children 3 and up, but I feel it is a fun learning toy for children as young as 2 years of age.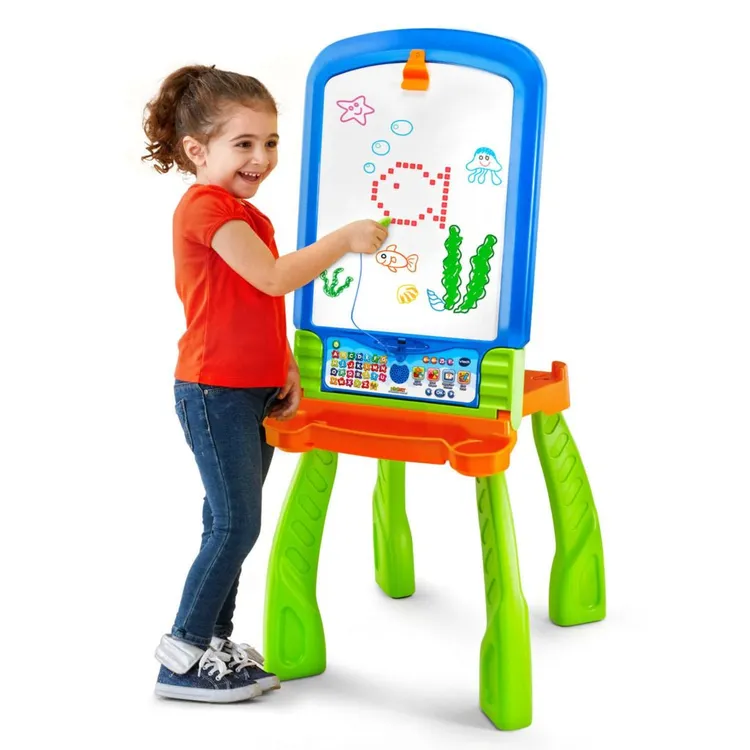 Buy on Amazon: VTech DigiArt Creative Easel
Disclaimer: Childhood.com is a participant in the Amazon Services LLC Associates Program, an affiliate advertising program designed to provide a means for sites to earn advertising fees by advertising and linking to Amazon.com.