It's time to plan your next family vacation! Whether you're looking for a warm or cold weather trip, there are many options all over this beautiful country. While vacationing may be more traditionally associated with leisure, fancy hotels, and indulgence, adventure travel, which The Adventure Travel Trade Association defines as "involving exploration or travel with perceived (and possibly actual) risk, and potentially requiring specialized skills and physical exertion" has been growing in popularity. Super simplified, it's a vacation where you participate in outdoorsy activities over more traditional tourist attractions.
While planning an entire vacation based around extreme outdoor adventure may be too much for your family, incorporating physical activity and outdoor experiences into your trip to create a hybrid-type vacation may be just right.
There are many benefits to this type of trip, including improved physical and mental health, fewer age limits on activities, increased tolerance for uncertainty and risk, time to reflect, growing self-confidence, and (one of my favorites) encouraging wildhood (adventurous, outdoorsy childhood) and wanderlust in your children. Generally speaking, outdoorsy vacations also tend to be more inexpensive (unless you're going the fully guided route with an outfitter), which is a great option for families on a budget. So why not check out (or stay in) the Great White North this year?
Whistler, British Columbia
Best time to visit: June through August and December through March
Whistler is perhaps best known for its incredible ski and snowboard hills at Whistler Blackcomb. Considered some of the best in North America, you don't want to miss out. If you aren't experienced on the hill, why not grab some rentals from the resort and take a lesson as a family? Not for you? Other winter activities include snowshoeing, nordic skiing, snowmobiling, and even a winter zipline! You can take a gondola ride between the peak and if you're feeling adventurous, take a helicopter ride!
While Whistler is most popular in the winter months, there's much to see and do with kids in the warmer summer months as well. There are endless activities including camping, boating, canoe and kayaking, stand up paddleboarding, whitewater rafting, rock climbing, mountain biking and road cycling, horseback adventures, bungee jumping and of course some beautiful hiking. There is no shortage of things to do in Whistler during summer, so if you're not big into skiing why not delay your visit? Plus, when you're all done playing in the outdoors, there are tons of shops, spas, and restaurants to put your feet up at and grab a meal together.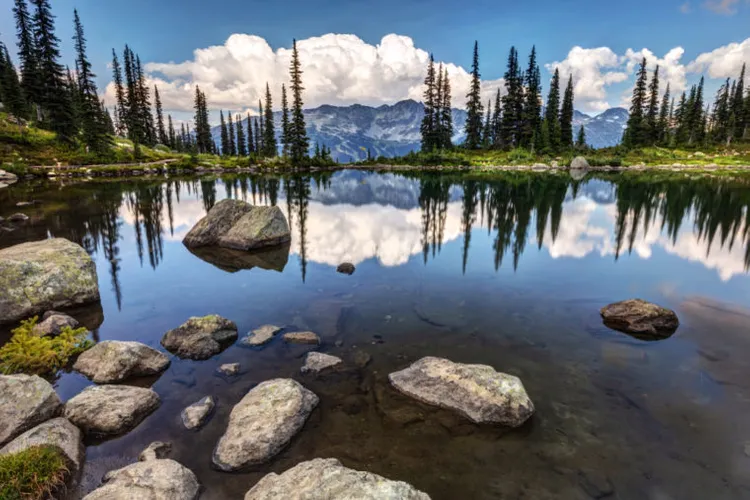 Tofino, British Columbia
Best time to visit: Year-round
Tofino is beautiful year-round (though the best weather is in the summer months), with many outdoorsy activities the whole family will enjoy! If you go in winter (starting around November), storm watching is a noteworthy activity. Tofino winters have temperatures generally not lower than 8 degrees Celcius and are characterized by rain, bursts of sunshine, and swells on the coast, so it's not a traditional Canadian winter. You can learn more about this incredible past time here. Make sure you dress for the weather!
You can't miss the infamous four-seasons Hot Springs Cove – a 27-mile trip northwest of Tofino, which you can make by car, boat, or seaplane, depending on what outfitter you choose. Make sure you allow yourself at least 6 hours to fully enjoy it! The city is also a hotspot for surfing, boasting five massive beaches that are perfect for families. Sea kayaking, whale and other wildlife watching, hiking, fishing, SUPing, ziplining, and surfing. The city is extremely pedal-friendly with affordable rental options and 6 kilometers of easy-to-moderate trails connecting the city center to the beaches – a real money saver if you want to avoid renting a car for the whole vacation! Things to see and do are endless in this coastal city, where "the magic [of Tofino] is best seized outdoors" according to its easy-to-navigate tourism website. Check out all that Tofino has to offer here – you won't be disappointed!
Finally, no visit to Tofino is complete without making the drive to Pacific Rim National Park Reserve. Get an Airbnb in the area or camp in the park in an oTentik or by renting a fully equipped campsite through the MEC and Parks Canada partnership! While you're out, make a stop at Freedom Cove – a colorful, floating, self-built off-the-grid home created by a local couple, who love to welcome visitors to check out their 15-platform wild home. Not sold yet? It has a grass-covered fishing hole by the living room couch and a half acre of gardens all on floating platforms. Sign up for a tour here!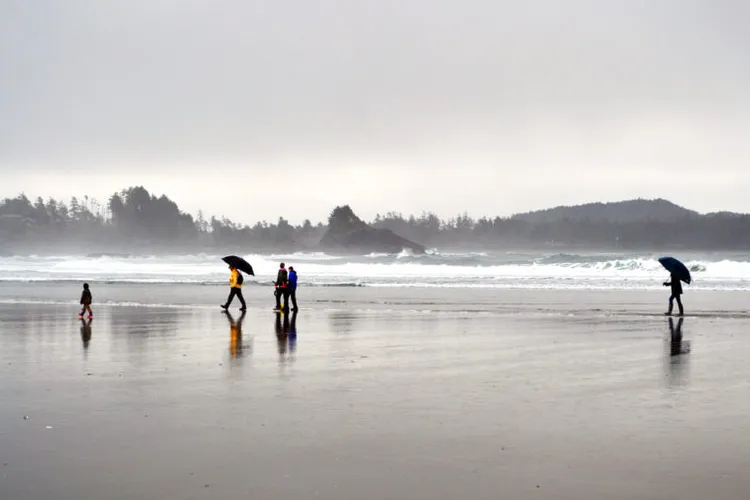 Muskoka, Ontario
Best time to visit: Year-round
Spring, summer, fall, winter – it doesn't matter in Muskoka! The only challenge you'll have while you're up on Ontario's cottage country is not wanting to leave. Stay at a family-friendly resort like Deerhurst, Patterson-Kaye Lodge, Bayview Wildwood Resort, Clevelands House, or Severn Lodge (to name only a few) or grab one of the many Airbnbs in the area. I highly suggest choosing accommodations that are directly on the water to avoid missing out on swimming and water sports, which are hugely popular because of the 1600+ lakes in the area.
The area is prime for canoeing and kayaking, swimming, stand up paddle boarding, wakeboard and waterskiing, sea-doing, hiking, and camping. There are also a couple beautiful Parks for camping and hiking in including Arrowhead Provincial Park, Algonquin Provincial Park, and Georgian Bay Islands National Park! All three of these parks offer great family activities and have campsites if you're bringing your gear. If you're renting an Airbnb you may need to find equipment rentals in the area – don't worry, there are lots of them! – but most lodges have equipment you can use for free, so make sure you factor that into your accommodations decision.
You definitely want to take your kids to Santa's Village, Treetop Trekking Aerial Park, Cleveland House's giant floating waterpark, and the Deerhurst Cable Park. You also can't miss the age-old tradition of catching one the free shows put on by Canadian National Ski Show Team and Team Summer Water Sports that have been happening since the 70s – your kids are sure to love it! Don't underestimate the power of unplugging and adopting a slower pace of life this vacation.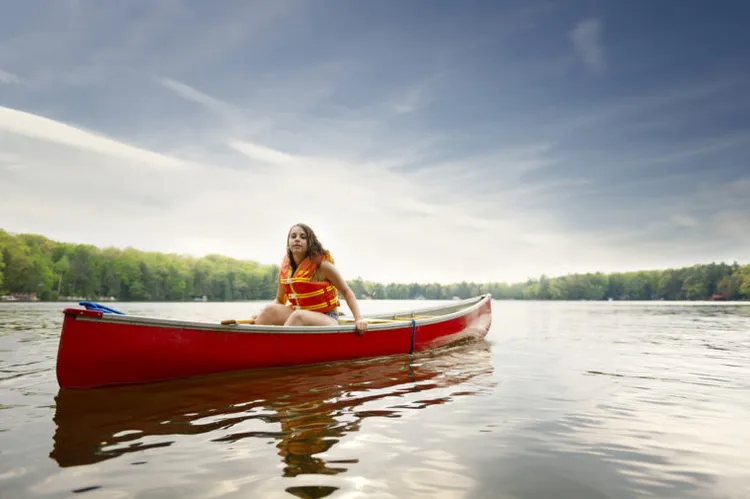 Whitehorse, Yukon
Best time to visit: Year-round
The Yukon is an incredible place to visit, often overlooked by families, couples, and solo travelers alike. Depending on when you visit, the Northern Lights may be visible and are a spectacular sight to see. Try dog sledding, canine hiking, or even bike-joring at an ethical mushing company where you and your kids will be active and play with the pups. Or try snow-shoeing, ice fishing, horseback riding, a wildlife and nature (hello moose!) tour, or whitewater rafting!
There are a few very unique experiences that your family cannot miss. Make sure you visit the Takhini Hot Springs, located just on the outskirts of Whitehorse. Your family will have a good laugh participating in the Hair Freezing Contest! Or how about going for a paddle in the same river that Klondike gold seekers did! If you are willing to make the 50-minute drive out of Whitehorse, go for a walk or sandboard in the one square mile Carcross Desert – a giant's sandbox.
Finally, if you're willing to add a few days to your trip, drive the 2 hours to Kluane National Park or 7.5 hours to Tombstone Territorial Park. Both are beautiful and filled with all the scenery and activities you could ever want! You can (and definitely should) check out all that the Yukon has to offer your family here.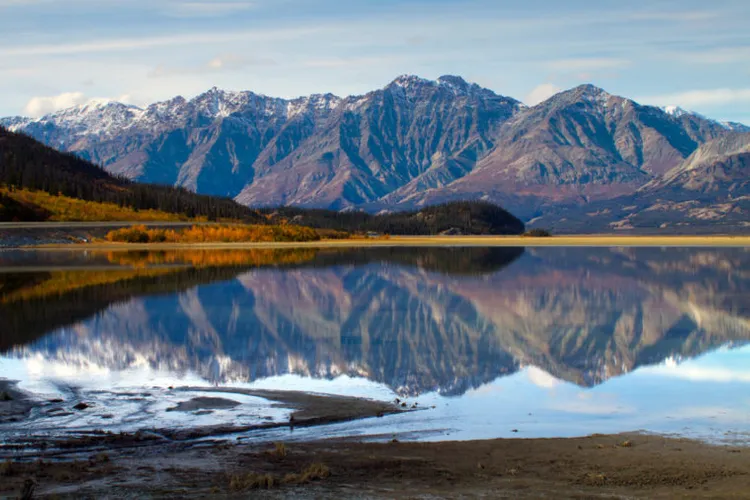 Mont-Tremblant, Québec
Best time to visit: Year-round
Mont-Tremblant is a sure pick if you've got a family that loves skiing or snowboarding. However, there's a lot to do besides hitting the slopes! Go for a dog sled ride or meet the head dogs at Alaskan Adventure Tremblant or cross country ski through the parks. You can complete a five-hour wilderness survival course that is sure to be both practical and fun! Year-round you can also spend a day with a trapper and learn how to fish, track animals, cook over a fire, and other wilderness skills.
In warmer weather, there's a 1.4-kilometer downhill luge track that is suitable for all ages, rafting down the Rouge River and rock climbing, zip-lining, and canoeing/kayaking/SUPing. Camp at or grab a day pass for Mont Tremblant National Park to hike part of the 82 kilometers of trails. No matter what you're thinking of doing, a great place to start planning your activities is The Activity Centre in Mont Tremblant.
There are many gorgeous accommodations in the village, but if you're interested in some unique standout places to stay, check out Tremblant Treehouses, which are actual treehouses available year-round.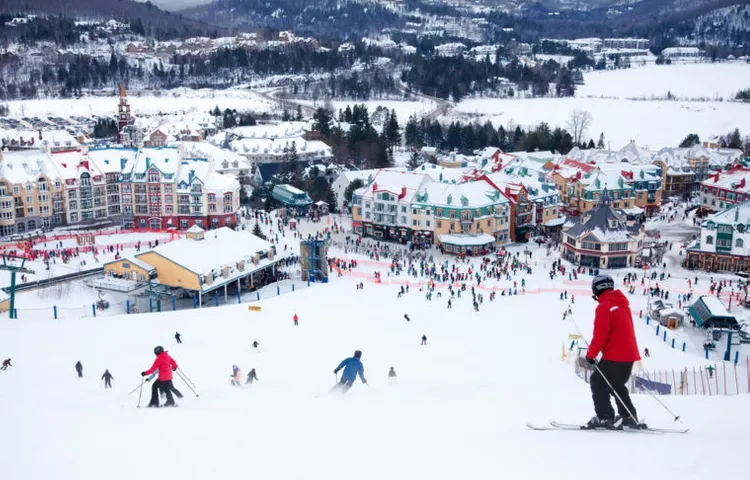 Banff, Alberta
Best time to visit: June through August (summer activities) and December through March (winter activities)
Banff is one of the most popular tourist destinations in Canada and perhaps best known for two things: skiing and the beautiful sight of Lake Louise. If you're headed to Banff in the dead of winter, you'll want to ski at Mount Norquay, Lake Louise Ski Area, and Sunshine Village. Grab an all-inclusive ticket to ski "The Big Three" here! But even if you're not an avid skier (I'd still recommend taking a family lesson and trying a few smaller hills), other winter activities are available including dog sledding, sleigh rides, cross-country skiing, tubing, ice walking on the Johnston Canyon, snowshoeing, caving, ice climbing, and ice fishing.
In warmer months, there just as much to do outside in Banff. In addition to the traditional outdoorsy activities like fishing and canoeing and kayaking, you can climb the Via Ferrata on Mount Norquay and go caving in Grotto Mountain. Go on a float tour to relax on the water or learn more about Alberta's plant and wildlife on one of these incredible wilderness tours. You can also take a horseback tour or enjoy a cowboy cookout, or hit the water for some swimming or whitewater rafting if you're feeling adventurous!
My only word of warning: Banff is an expensive holiday no matter what you want to see and do. There are a few ways to cut costs (like going after the Labour Day weekend), but overall this memorable trip will cost you.
Exploring Banff National Park is another cannot-miss and can be a cheaper way to experience Banff. If you really want to camp there (and I highly recommend it!), but can't bring gear, take advantage of the MEC and Parks Canada partnership through which you can rent a fully equipped campsite in the park. This is truly one of the best ways to experience National Parks around Canada that you don't have the time to road trip to!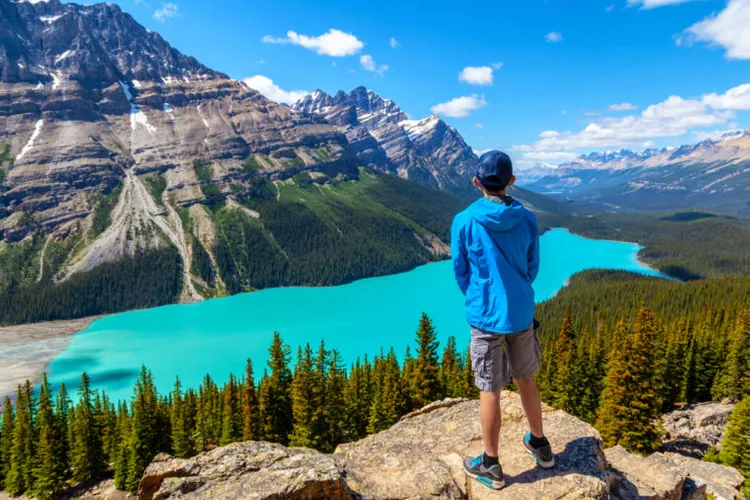 The Cowboy Trail, Alberta
Best time to visit: June through August
The Cowboy Trail, nestled between the Rocky Mountains and the prairies, is the perfect family vacation, especially if you're interested in a western-themed trip. The trail connects a number of communities that offer true western hospitality, accommodations, activities, culture, and food. There are many things to do along the trail from staying at a guest or working ranch, experience First Nations culture at a powwow or other cultural events, hop on a horse and head out on the trail with a horseback adventure outfitter, take in a rodeo, visit a general store and classic soda shoppe, and help herd cattle on horseback. In guaranteed your kids will love the whole experience, especially if they're going through an "Wild West" or "pony" phase.
Learn more about how to plan your trip to The Cowboy Trail here.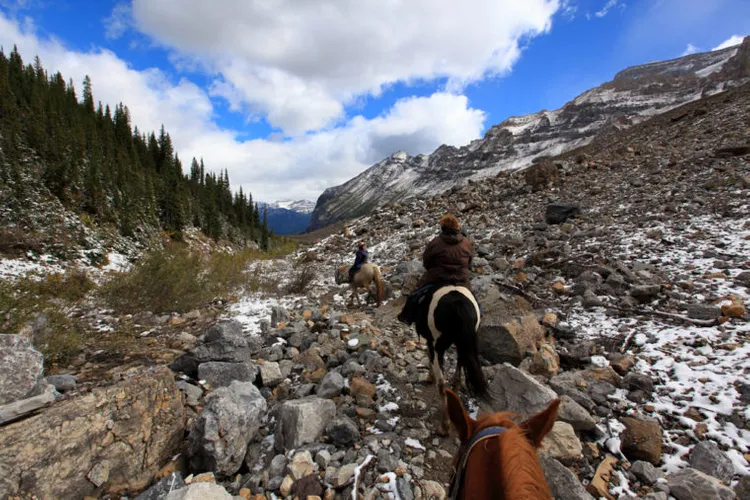 Halifax, Nova Scotia
Best time to visit: May through October
There are some incredible things to do across the province of Nova Scotia and some truly beautiful quaint towns, but Halifax is the best place to stay if you're willing to do day trips outside of the capital. In the city, take a sailing or kayak trip or jump aboard the Harbour Hopper; take a wagon or trail ride at Hatfield Farm; or try scuba diving. There is also a ton of light to moderate hiking just outside of the city at places like Blueberry Hill Nature Preserve, Irving Nature Preserve, Rockwood Park, or Fundy Trail.
The Bay of Fundy also has one of the coolest outdoor activities I've ever heard of – tidal bore rafting. You go out on the bay (with an experienced guide) in a motorized boat to take on the highest tides in the world – up to 16 meters. All you do is hold on! Different times of day have different intensities, so it's great for all ages. Plus, you get to go mud sliding afterward, which your kiddo is definitely going to enjoy!
As for where to stay, while you can opt for more traditional accommodations, why not try some East Coast Glamping?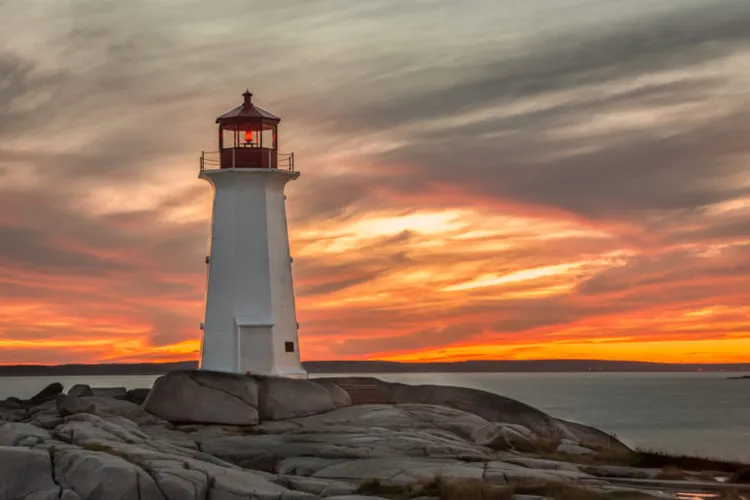 Chéticamp, Nova Scotia
Best time to visit: May through October
Head 4 hours away from Halifax to Chéticamp – the gateway to Cape Breton Highlands National Park. If you want to camp (I know I would!) but gear is an issue, consider getting a fully equipped campsite in the park through the MEC and Parks Canada partnership. Alternatively, if you're not into camping, check out one of the many inexpensive Airbnb rentals in the park for accommodations. Whether you stay in the park or now, this beautiful hardwoods forest is not to be missed. It's full of hiking and biking trails, rocky beaches, and fishing. They also have curated experiences like "Learn to Lobster Boil", night hikes, park-prepared picnic baskets (full of local foods!), and so many more, which you can check out here. Another amazing activity that your family will love is seabird, dolphin and whale watching. Zodiac, fishing boat, or sea kayak – it's your choice – but no matter your watercraft, it's sure to be quite the experience!
In this area, you can also hike or cycle the infamous Cabot Trail either on your own or with a tour company. While the whole trail would take 3-5 days, you should at least consider taking in part of the trail, with small communities along the way that boast kitchen parties, ceilidhs (dances with traditional Scottish or Irish music) and festivals.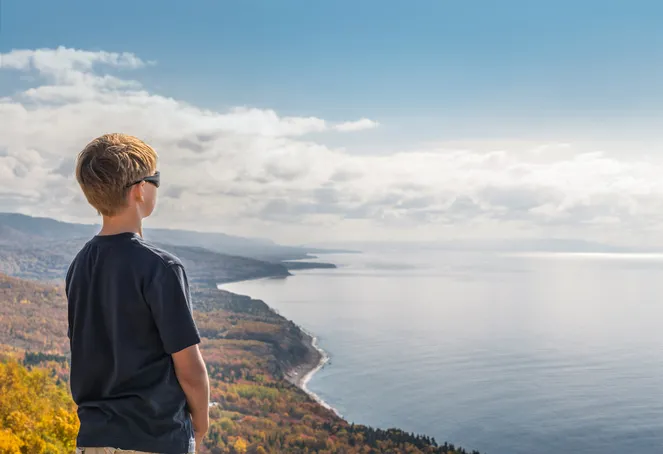 St. Johns, Newfoundland
Best time to visit: July and August
The Maritimes is perhaps my favorite place to travel in all of Canada due to its slower pace of life and extremely friendly people. St. John's is a city with lots to offer, from delicious seafood dining and boutique shopping to more traditional outdoor activities. Your kiddos will love looking at all the colorful row houses and waking down by the waterfront. But just outside of town, there are incredible outdoorsy things to see and do!
Some of the best outdoor activities in the area include sea kayaking, hiking Signal Hill, swimming at Middle Cove Beach, minke whale and puffin watching from a boat, and ziplining on Canada's longest course. There are many hiking and biking trails near the city for all ages and abilities too! You'll meet some of the kindest, most friendly people in the world in this quaint little city that'll have you dreaming about going back for years to come.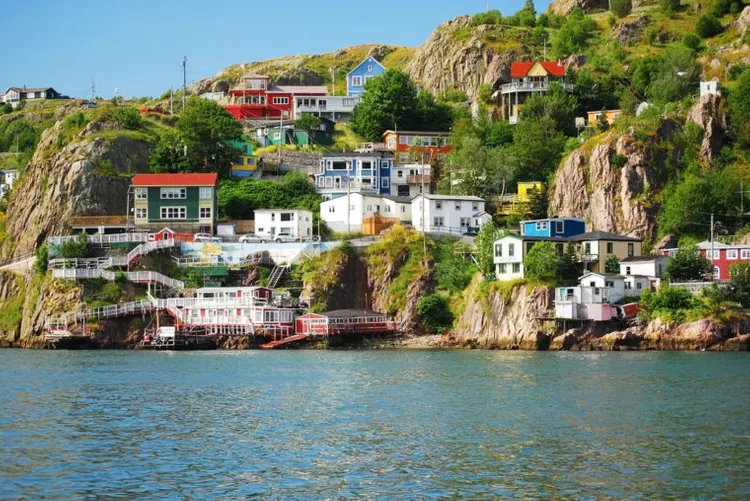 Norris Point, Newfoundland
Best time to visit: June through August
Norris Point is one of many quaint little towns on the East coast. While it may be a bit small to be the only place you go on the east coast (Newfoundland makes a great road trip!), it truly is a gem of a city. There are many opportunities for whale watching and hiking. While accommodations may not be as plentiful as in a big city, there are some beautiful family-friendly Airbnb rentals and the gorgeous Neddie's Harbour Inn. Norris Point is also the gateway to Gros Morne National Park, which is known for its unusual rock formations created by the collision of the earth's tectonic plates. While you're there, take a memorable boat tour of Western Brook Pond, a landlocked body of water carved out by glaciers. Plan on spending some time in the park, so make sure to go in summer since there continues to be snow on the peaks into June. However, if you're there in May, you've got to check out the Trail Tales Tunes festival, which features musicians, great local food, and all the East coast culture you can dream of.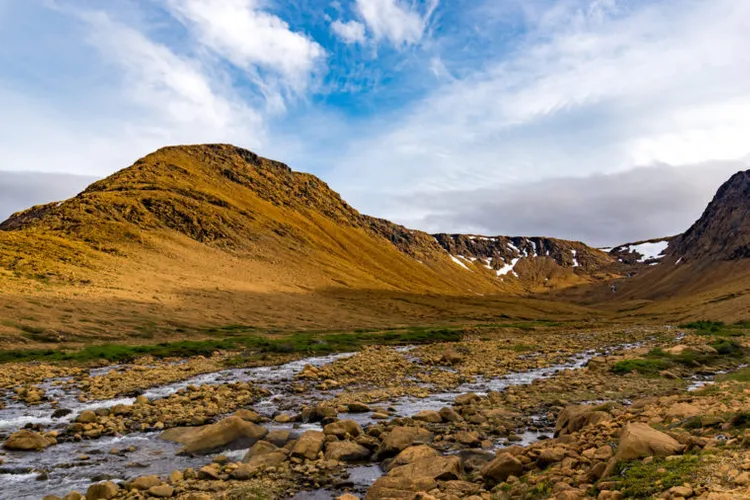 Prince Edward Island
Best time to visit: June through August
Okay, so PEI is actually an entire province, but at only 280 kilometers from tip to tip, you can see the whole island in one trip (though it's so beautiful you may want to return)!
Known best for Anne of Green Gables (you can the musical production and tour the original house while you're there!), experiencing the Islander way of life as a family will be a breeze. Many outdoors activities are free or inexpensive! You can climb one of the many original lighthouses, relax and swim at one of the sandy beaches, canoe/kayak/SUP in the ocean, cycle around the island, and trail ride on a horse. Deep-sea fishing for giant bluefin tuna, sailing excursions, riverboat cruises, and whale watching are all kid-friendly activities on the water as well. Finally, hike and geocache (1600 sites!) on part of the 435 kilometer Confederation Trail, which is PEI's part of the Trans Canada Trail. The province also boasts unique PEI experiences such as "Starfish Hunting", "Pick and Press Apples", "Lobster Boil on the Beach", and "Taters, Tractors and Tales" – just to name a few. Check out all the PEI has to offer here.
The province experiences beautiful weather outside of the months of July and August, with September being particularly lovely. However, many tourist attractions shut down for the season after the Labour Day weekend, so there will be less to do and see after tourist season is over. Make sure you check when specific sites close for the season to avoid disappointing your little ones!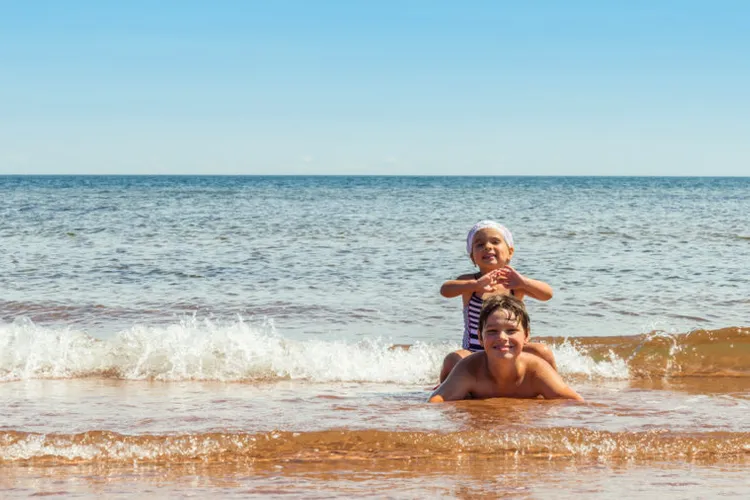 St. John, New Brunswick
Best time to visit: August and September
Depending on the length of your vacation, New Brunswick is another province that is perhaps best done as a road trip. It certainly is easier to get around to see and do when you've got a car!
Close to St. John are the Reversing Falls Rapids, which is a phenomenon created by the meeting of the Bay of Fundy and the Saint John River that cannot be missed! A few other activities you can't miss are TimberTop Adventures – an aerial, natural playground that includes obstacles, climbing, ziplines, and more; picking wild blueberries or visiting the Wild Blueberry Festival in St. George; and walking the Fundy Parkway or visiting the almost-urban park of Irving Nature Preserve, which even has a Children's Forest!
I'd also highly recommend driving an hour up the coast to Fundy National Park. In addition to all of the normal-but-not-boring outdoor activities, your kiddos can swim with salmon and explore the ocean floor at low tide. Here you can also check out Flower Pot Rocks by either walking on the ocean floor during low tide or kayaking during high tide! If you're headed to that area, make sure you check out Magnetic Hill too – a natural phenomenon that will actually have your car roll uphill! Your kids will be asking questions for the next few hours, but it's so worth it.
Finally, if you're willing to make the 2-hour drive, visit Kouchibouguac National Park. In the park, you can help paddle a 9-person Voyageur canoe, see some of the hundreds of grey seals on the coast, wade through the lagoons in search of sea life, cycle the 60 kilometers of trails, and learn about Mi'kmaw traditions. The park also has a fun program for kids called "Club Parka", which encourages them to explore the park to look for specific items and complete photo missions using an app!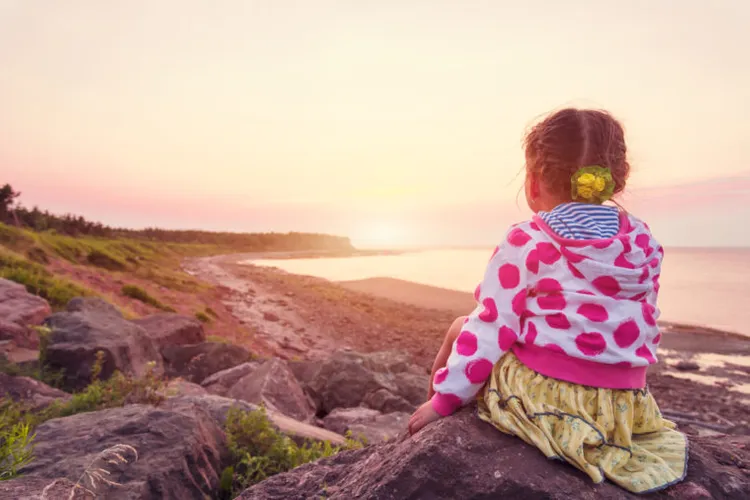 Churchill, Manitoba
Best time to visit: Late June – August (for whale watching) and July – November (for polar bear watching)
While this town may only be one stop on a prairies road trip, there are a number of cold-weather activities that make it worth the visit! Churchill is right smack dab in the middle of polar bears migration path from hunting on the frozen Hudson Bay and summers on land, so there are absolutely incredible opportunities to view wild polar bears, though a guide is always suggested for safety. You can also go whale watching, swimming, or snorkeling with some of the 57,000 wild belugas that gather between mid-June to mid-September. Or take a dog sled ride (or hike with sled dogs in warmer months) with Blue Sky Expeditions – a knowledgeable, ethical (respectful and no-cull) company. Round off the trip by watching the Northern Lights on a clear night from January to March and from late August to early September – a spectacle your kiddo will find awe-inspiring!