Rainbow Heart Suncatchers
This is an easy, inexpensive, colorful craft that is fun for kids of all ages! If your kid is older, they can do the whole thing independently. However if your kiddo is a little younger, consider cutting out the heart and tissue paper for them before they start. Plus, it may not look half-bad displayed in your kitchen! Get the full tutorial from Fireflies and Mudpies here.
Edible Valentines Playdough
While there are many recipes out there for you to choose from, but this one is easy, glittery, and totally perfect for Valentine's Day. Plus, it smells like Kool-Aid. Bonus! Get the full ingredient list and instructions by Housing a Forest here.
Cinnamon Heart Valen-Slime
The slime craze is still going strong, so why not embrace it and make a fun Valentine's Day slime? This recipe is actually made with real cinnamon heart candy, so it smells amazing! Slime is also a great sensory activity, which has many benefits for young children. To make this tasty craft, check out the full tutorial by Lemon Lime Adventures here.
Watercolor Faux Stained Glass
This is a simple and beautiful craft that you'll be extra proud to hang up on the fridge. Pro tip: When you're doing the first couple steps to create the black glue outline (which needs to dry completely before they're painted on), have your child make multiple designs so that they have a number of pieces to paint later on. Check out the full tutorial by The Artful Parent here.
Mixed Media Heart Collage
What I love most about this craft is that you only use stuff you've got around the house and recycling or garbage bin, which means less waste and a happy planet! It's simple, beautiful, and will really get your kiddo's creativity flowing. Get the simple tutorial by Make It Your Own here.
Paper Heart Animals and Characters
These little paper heart animals are adorable and are a great craft to do with your younger child or allow your older child to do alone. Housing a Forest has many tutorials for paper dinosaurs, ninja turtles, minions, emojis and a number of other cute animals your kiddo will love!
Window To My Heart Sugar Cookies
Okay, so this is technically baking, but it's super simple and very fun for kids! Use hard Jolly Rancher candies to give the cookies a see-through stained glass look. Why not spread some love and share them with neighbors or classmates after baking a batch? You can get the full recipe from Forkly here.
"Wooly Be My Valentine?" Card
This is a really cute card your child can make and give out to classmates, friends, or family. You can use the template included in the tutorial by Hello Wonderful here or better yet, have your child draw a sheep with a black marker on white paper. Either let them (if they can write fairly well) or write the text yourself before scanning it to your computer. You can then print off as many copies as you need and proceed with the craft as per the instructions. It's such a simple, but personalized valentine to give out this year!
Shaving Cream and Paint Splatter Hearts
This is a fun craft alternative to those nasty candy conversation hearts! This is a messy project, but well worth it. Put on an old t-shirt or smock and get splattering! Get the full instructions from Meri Cherry here.
Heart-Shaped Rock Candy
Many of us have made this fun, sugary craft/science experiment growing up, but did you know you can make it heart-shaped? This craft will take about 7-8 days until it's ready to give away or eat (let's be honest here), so you may want to plan ahead, especially if you're gifting this! Get the step-by-step instructions from Powerful Mothering here.
5-Minute Edible Chocolate Playdough
This is one our very favorite recipes and is perfect for Valentines with its rich chocolatey aroma! Although it won't taste as delicious as it smells, it's safe to eat, so if your little one sticks a chunk in their mouth before you can get to them, it's okay! If you put it in a sealed container once they're done playing with it it'll keep for weeks in the fridge, which means endless hours of play (and a break for you!) in the future. Get Forkly's full recipe here.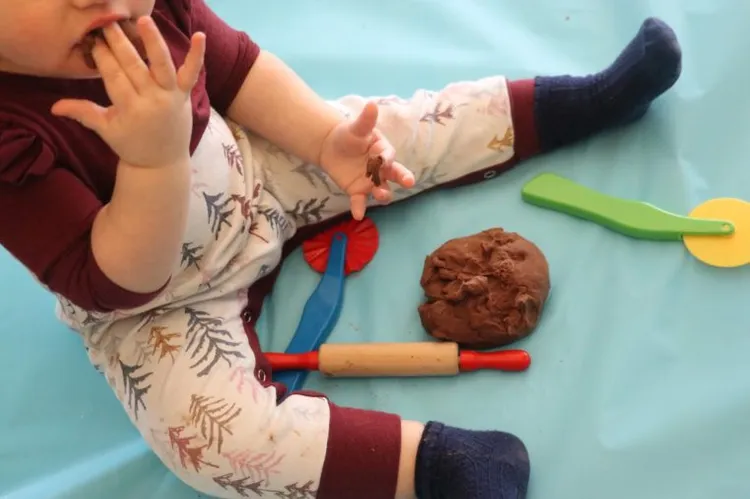 DIY Unicorn Valentines
This may be suited more for older school-age children, but it's a fun homemade valentine they can give out to their friends! Head to the dollar store to grab some foam, a black marker, and some yarn and you're good to go! Get the full tutorial by The DIY Mommy here.
DIY Bath Bombs
Who doesn't love a good soak in the tub? This 15-minute craft is fun and surprisingly simple – plus both you and your kiddo will benefit from it! You can use essential oils you've got already or head to the store, but just make sure they're safe for children. Get the full instructions from Make Life Lovely here.