Not everyone can be a Pinterest-level parent when it comes to celebrations and holidays. But we can try! Or we can accept fate and choose a recipe that is easy and no-fail. If that's the type of homemade treat you're looking for this Halloween, then look no further. With just three ingredients, you can whip up these spooky pretzel spiderwebs in no time.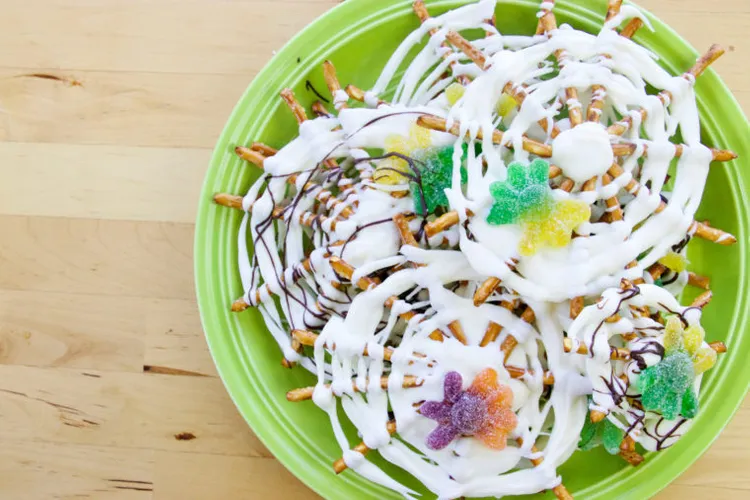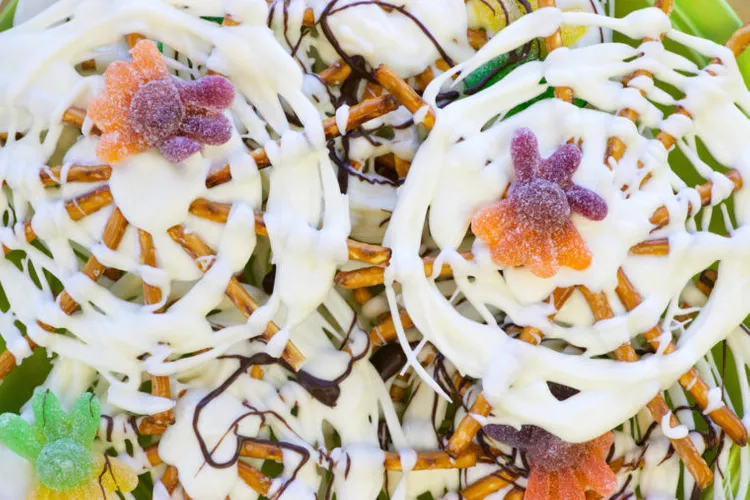 This simple treat is as delicious as it is cute! They're perfect to send for your child's school Halloween party or to enjoy as a spooky snack before you head out to trick or treat. You'll … erm I mean your kids will have a great time picking apart the candy-covered pretzels, which makes for the tastiest sweet and salty bite! So head out to your local bulk store and grab those three inexpensive ingredients and get cooking! Just kidding – you only need the microwave, so there's no way this could wrong.
Happy Halloween!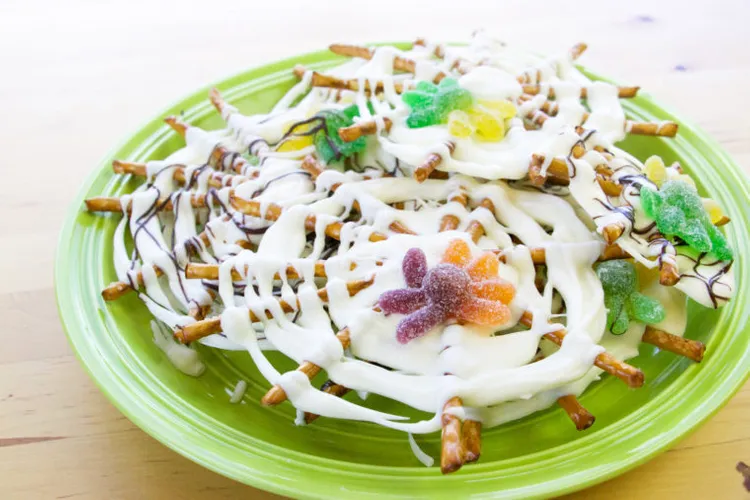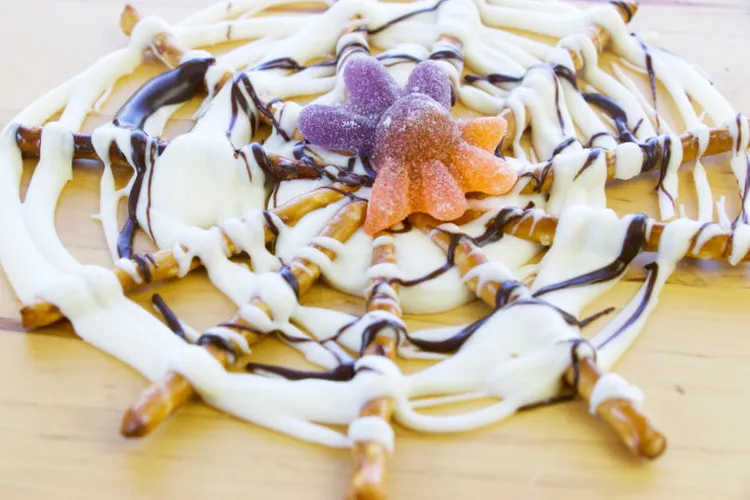 Ingredients
Pretzel sticks (approximately 12 per web)
2 cups white chocolate candy melts
1/2 cup dark chocolate candy melts
10 gummy spiders
Equipment
Parchment paper
Cookie sheets
Method
Place candy melts in separate microwave-safe bowls. Microwave 30 seconds at a time, stirring in between, until completely melted (about 60 seconds). Be careful to not overheat or they will burn.
Put a dab of the white chocolate candy melts on a parchment paper covered cookie sheet. Place pretzel sticks (about 12) in a fan shape with one end in the chocolate until you've got a full circle.
Drizzle 2 spoonfuls of white chocolate on top of the pretzel "fan" in a circular motion to achieve the "web" look.
Using a fork, drizzle a very small amount of dark chocolate on top of the web in a circular motion (if desired).
Place a gummy spider candy somewhere on the web, adding a small amount of extra chocolate to make it stick if necessary.
Let harden, putting them in the refrigerator if you want them to harden faster.
Carefully pull the webs off of the parchment paper and enjoy!