Tis the season … for road trips! I recently heard someone say that when you have young children you go on trips, not vacations. So while your dreams of jetting off on a romantic exotic getaway might be on hold for now, you can definitely still see the sights with your littles in tow. However amazing going on adventures, playing on the beach, or going for a thrill ride at the closest theme park may sound though, it also means time in the car driving to your vacation destination. And that, my friends, takes some serious planning and patience. So how do you do it? One of our favorite ways to keep kiddos occupied on long car rides is to make themed Pringles cans full of fun stuff for them to do! Keep scrolling for full instructions on how to make these boredom-busters.
One of the best things about this hack is how completely customizable it is! We created three different versions: Activities, Toys, and Snacks. It's so easy to tailor the theme to your child and their unique interests, which ultimately (read, hopefully) means that they'll be more engaged on that long car ride. Consider spacing them out and giving them a new can every hour or two! Customization also means that this road trip hack is good for all ages, as long as you fill the cans with developmentally appropriate things.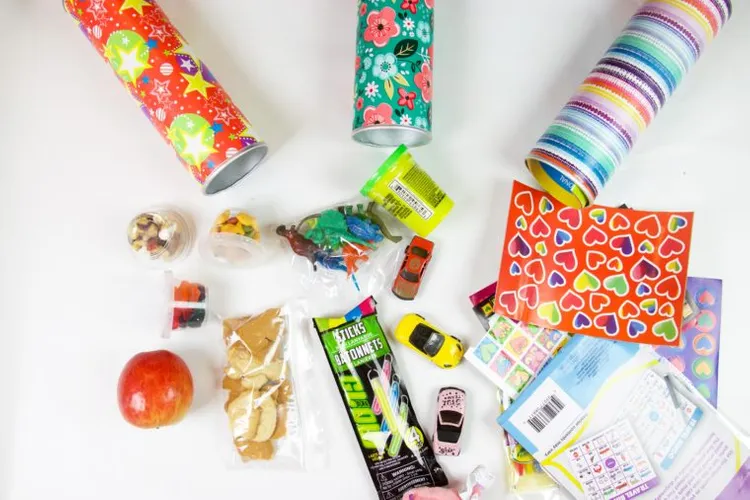 To make it even more convenient, Pringles cans fit perfectly in cup holders, so it's easy to load up the car with these whether you're going to the cottage, the beach, or driving across the country!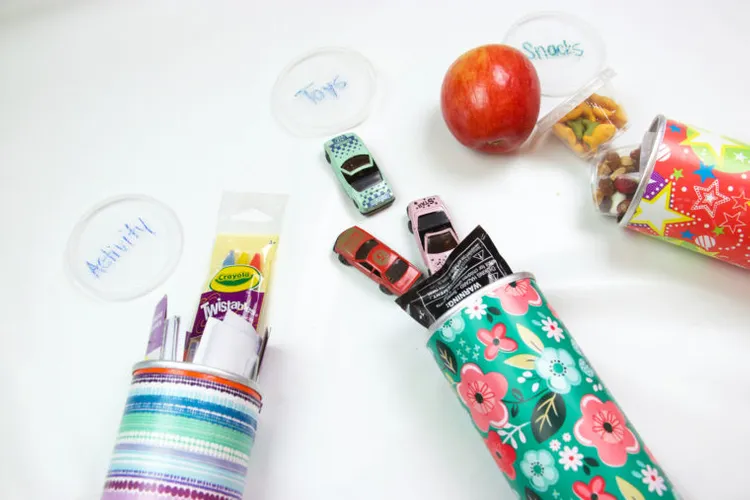 What You'll Need
1 Pringles can for every theme you want to create (you can also use the "Mega-sized" cans)
Wrapping paper
Double-sided tape*
Scissors
Permanent marker
Small round containers for snacks (often called dip or Jell-O shot containers)
Themed-content for the cans **
Instructions
Remove lid, dump Pringles into another container (for snacking on, obviously!), and clean out the inside of the can.
Measure the can and cut wrapping paper to fit.
Wrap the paper around the can and stick it in place using double-sided tape.
Fill the can with your child's favorite things that are on theme. Get creative! You can use things they already own or head to your local dollar or grocery store.
We used:
Activities: travel BINGO, sticker sheets, crayons, activity book
Snacks: trail mix, Goldfish crackers, fruit gummies, animal crackers, apple
Toys: playdough, plastic dinosaurs, cars, glow sticks, small stuffed animal
Using a permanent marker, write the theme on the lid (I.e. Activity, Toys, Snacks, Reading, etc.)
Repeat for as many cans as you want. You're done and ready to hit the road!
Notes
*Alternatively, you can use a glue stick or glue dots. However we found that double-sided tape worked the best!
**Be sure to measure the maximum height things can be, based on the height of the can. We recommend bringing the Pringles can with you when you shop to ensure things will fit.